Artist:
Masa
Circle Size:

Approach Rate:

Title:
Kitsune no Yomeiri
HP Drain:

Star Difficulty:

(5.82)
Creator:
Minky
Accuracy:

Length:
2:26 (2:11 drain)
Source:
Vocaloid
Genre:
Unspecified (Other)
BPM:
240
Tags:
hatsune miku megpoid gumi
User Rating:
Success Rate:
Points of Failure:


(graph is accumulative, based on % at fail/retry)

4.2% (45 of 1062 plays)

Submitted:
Loved:
Mar 13, 2014
Jan 2, 2018
Rating Spread:

Favourited 23 times in total

Users that love this map: Megpoid, WujekGrzyb, RAMPAGE88, Badis, Kosmit, AxorPL, Rainn_Wilson, Del, MBomb, Cris, Yostel, Oku, pgmulti, [Mustard], Michael Jordan, -Ken, Akenoo, Gabriel FFT, Lobsterr, 0Karma0 and many more!
Options:
Modding / Discussion
This map is in a LOVED state.
As such, it will not award any pp and leaderboards may be reset by the beatmap creator.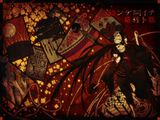 if you want to actually troll yourself
AR10 if you really want to hate your life
Majiyabakune is in the lead! ()
Score
33,569,360 (99.37%)
Max Combo
1057
300 / 100 / 50
1045 / 12 / 200
Misses
0
Geki (Elite Beat!)
88
Droplet misses
8
Mods
None
Top 50 Scoreboard
| | Rank | Score | Accuracy | Player | Max Combo | 300 / 100 / 50 | Geki | Droplet Miss | Misses | Mods | |
| --- | --- | --- | --- | --- | --- | --- | --- | --- | --- | --- | --- |
| #1 | | 33,569,360 | 99.37% | Majiyabakune | 1057 | 1045&nbsp&nbsp/ 12 / 200 | 88 | 8 | 0 | None | Report |
| #2 | | 29,696,610 | 99.84% | RAMPAGE88 | 992 | 1044&nbsp&nbsp/ 12 / 207 | 87 | 1 | 1 | None | Report |
| #3 | | 27,679,710 | 99.21% | lineqtxz | 956 | 1042&nbsp&nbsp/ 12 / 201 | 86 | 7 | 3 | None | Report |
| #4 | | 19,048,480 | 99.29% | Olib | 740 | 1042&nbsp&nbsp/ 12 / 202 | 86 | 6 | 3 | None | Report |
| #5 | | 17,314,280 | 99.68% | Motion | 716 | 1043&nbsp&nbsp/ 12 / 206 | 86 | 2 | 2 | None | Report |
| #6 | | 11,999,910 | 99.60% | Guillotine | 483 | 1041&nbsp&nbsp/ 12 / 207 | 84 | 1 | 4 | None | Report |
| #7 | | 11,709,180 | 98.81% | _Asriel | 483 | 1040&nbsp&nbsp/ 12 / 198 | 85 | 10 | 5 | None | Report |
| #8 | | 9,954,246 | 98.02% | FABninja | 514 | 1034&nbsp&nbsp/ 12 / 194 | 80 | 14 | 11 | HD | Report |
| #9 | | 9,574,280 | 98.50% | DakkyChan | 482 | 1034&nbsp&nbsp/ 12 / 200 | 81 | 8 | 11 | None | Report |
| #10 | | 8,712,080 | 99.21% | Shyeart | 396 | 1037&nbsp&nbsp/ 12 / 206 | 83 | 2 | 8 | None | Report |
| #11 | | 6,881,000 | 99.45% | -itsy_v2- | 557 | 1040&nbsp&nbsp/ 12 / 206 | 86 | 2 | 5 | NF | Report |
| #12 | | 5,847,210 | 99.29% | ItsLexii | 299 | 1037&nbsp&nbsp/ 12 / 207 | 80 | 1 | 8 | None | Report |
| #13 | | 5,410,684 | 97.15% | Michael Jordan | 209 | 1025&nbsp&nbsp/ 12 / 192 | 77 | 16 | 20 | HD | Report |
| #14 | | 4,817,450 | 97.00% | Hareimu | 283 | 1018&nbsp&nbsp/ 12 / 197 | 76 | 11 | 27 | None | Report |
| #15 | | 4,790,020 | 97.94% | Fensalir | 224 | 1025&nbsp&nbsp/ 12 / 202 | 76 | 6 | 20 | None | Report |
| #16 | | 4,540,780 | 98.02% | Nipah | 233 | 1026&nbsp&nbsp/ 12 / 202 | 77 | 6 | 19 | None | Report |
| #17 | | 4,209,690 | 95.89% | Alice Cartelet | 265 | 1006&nbsp&nbsp/ 12 / 195 | 69 | 13 | 39 | None | Report |
| #18 | | 3,925,880 | 96.28% | [-naniwa-] | 292 | 1012&nbsp&nbsp/ 12 / 194 | 68 | 14 | 33 | None | Report |
| #19 | | 3,855,890 | 96.52% | Kashou | 201 | 1012&nbsp&nbsp/ 12 / 197 | 70 | 11 | 33 | None | Report |
| #20 | | 3,821,720 | 95.73% | ROMAMANOS | 285 | 1005&nbsp&nbsp/ 12 / 194 | 68 | 14 | 40 | None | Report |
| #21 | | 3,805,780 | 97.15% | Smukur | 234 | 1021&nbsp&nbsp/ 12 / 196 | 72 | 12 | 24 | None | Report |
| #22 | | 3,675,250 | 96.92% | [ Seraf ] | 212 | 1021&nbsp&nbsp/ 12 / 193 | 73 | 15 | 24 | None | Report |
| #23 | | 3,418,570 | 97.00% | Nelly | 186 | 1016&nbsp&nbsp/ 12 / 199 | 69 | 9 | 29 | None | Report |
| #24 | | 3,393,410 | 96.84% | Latifah-sama | 200 | 1016&nbsp&nbsp/ 12 / 197 | 71 | 11 | 29 | None | Report |
| #25 | | 3,023,640 | 96.36% | BoberOfDarkness | 174 | 1009&nbsp&nbsp/ 12 / 198 | 68 | 10 | 36 | None | Report |
| #26 | | 2,236,495 | 96.05% | wwwww_ | 134 | 1004&nbsp&nbsp/ 12 / 199 | 63 | 9 | 41 | HD | Report |
| #27 | | 1,986,700 | 95.18% | My Angel Fumika | 117 | 996&nbsp&nbsp/ 12 / 196 | 56 | 12 | 49 | None | Report |
| #28 | | 1,925,741 | 94.94% | Henrick | 120 | 993&nbsp&nbsp/ 10 / 198 | 59 | 10 | 54 | HD | Report |
| #29 | | 1,780,550 | 94.15% | Ikillforpies | 120 | 988&nbsp&nbsp/ 12 / 191 | 60 | 17 | 57 | None | Report |
| #30 | | 947,440 | 89.49% | [A]bsolute | 77 | 948&nbsp&nbsp/ 12 / 172 | 35 | 36 | 97 | None | Report |
| #31 | | 807,200 | 89.88% | birdfire | 84 | 946&nbsp&nbsp/ 12 / 179 | 48 | 29 | 99 | NF | Report |
| #32 | | 614,492 | 85.85% | Gln_Markus | 89 | 884&nbsp&nbsp/ 12 / 190 | 34 | 18 | 161 | EZ,FL | Report |
| #33 | | 461,820 | 81.26% | Saw_VIII | 61 | 848&nbsp&nbsp/ 11 / 169 | 26 | 39 | 198 | NF | Report |