Beatmap Listing » Akiyama Uni (U2) - The Doll Maker of Bucuresti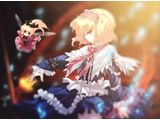 January 27:
Scarlet Weather Rhapsody mix.
Work-in-progress, but coming quickly, and it's not very long anyways. I only have Normal and Hard planned, but may very well put together additional difficulties.
Feedback and suggestions are appreciated as always.
Update (Jan.28):
Finished up Hard, added basic hitsounds, and added a background.
Update: Adjusted offset (thanks CW), put together a Lunatic, and put in the most awesome storyboarding ever. I also adjusted what used to be the first spinner.
Update: Set up the difficulty settings and added more sounds. Feedback on hitsounds is greatly appreciated (I'm not very comfortable with the normal samples).
Update: Everything complete (except for sound feedback if anyone wants to give any)! CW's guest difficulty added and the whole thing is now moved to Pending.
I think I broke a record. Pull a map in two (okay, sorry, three) days?
Update: Fixed the artist (thanks Lybydose).
Update (Feb.4):
Bump. Also made a fix to the storyboard which likes coming undone, it seems.