Beatmap Listing » Outer - Bullshit!! Hard problem!!
Artist:
Outer
Circle Size:

Approach Rate:

Title:
Bullshit!! Hard problem!!
HP Drain:

Star Difficulty:

(1.84)
Creator:
Aenna
Accuracy:

Length:
1:44 (1:36 drain)
Source:
Nekonade Distortion
Genre:
Video Game (Japanese)
BPM:
210
Tags:
whitesoft kotoko
User Rating:
Success Rate:
Points of Failure:


(graph is accumulative, based on % at fail/retry)

40.2% (14683 of 36505 plays)

Submitted:
Ranked:
Feb 26, 2011
Oct 22, 2011
Rating Spread:

Favourited 63 times in total

Users that love this map: mokku3, Remilia_Scarlet, twallen2813380, Nanakase Gizumo, Secchan Minji, rudelikku0, 65 Roco, Muffy, lololololita, Asagiri Mai, Cthulhu, Kitsuneko, Twinklesky, EpicFailure, Cupidx3, aster_tk, NAG, coash1328, reboooot, CanadianPlease and many more!
Options:
This Beatmap's Thread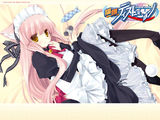 #20
もんごる..[1]
NixXSkate is in the lead! ()
Score
574,462 (100.00%)
Max Combo
261
300 / 100 / 50
121 / 0 / 0
Misses
0
Geki (Elite Beat!)
45
Katu (Beat!)
0
Mods
HD,HR,DT,FL
Top 50 Scoreboard
| | Rank | Score | Accuracy | Player | Max Combo | 300 / 100 / 50 | Geki | Katu | Misses | Mods | |
| --- | --- | --- | --- | --- | --- | --- | --- | --- | --- | --- | --- |
| #1 | | 574,462 | 100.00% | NixXSkate | 261 | 121&nbsp&nbsp/ 0 / 0 | 45 | 0 | 0 | HD,HR,DT,FL | Report |
| #2 | | 573,362 | 100.00% | 45450721F | 261 | 121&nbsp&nbsp/ 0 / 0 | 45 | 0 | 0 | HD,HR,DT,FL | Report |
| #3 | | 571,162 | 100.00% | alacat | 261 | 121&nbsp&nbsp/ 0 / 0 | 45 | 0 | 0 | HD,HR,DT,FL | Report |
| #4 | | 543,519 | 100.00% | LostMannnnnn | 261 | 121&nbsp&nbsp/ 0 / 0 | 45 | 0 | 0 | HR,DT,FL | Report |
| #5 | | 542,419 | 100.00% | amanatu2 | 261 | 121&nbsp&nbsp/ 0 / 0 | 45 | 0 | 0 | HR,NC,FL | Report |
| #6 | | 541,319 | 100.00% | DarknessAngel | 261 | 121&nbsp&nbsp/ 0 / 0 | 45 | 0 | 0 | HR,DT,FL,SD | Report |
| #7 | | 538,821 | 99.45% | Suwako | 261 | 120&nbsp&nbsp/ 1 / 0 | 44 | 1 | 0 | HR,DT,FL | Report |
| #8 | | 526,858 | 98.21% | jieusieu | 260 | 118&nbsp&nbsp/ 2 / 1 | 43 | 1 | 0 | HR,DT,FL | Report |
| #9 | | 516,884 | 100.00% | Cyan Cat | 261 | 121&nbsp&nbsp/ 0 / 0 | 45 | 0 | 0 | HD,HR,DT | Report |
| #10 | | 516,884 | 100.00% | MiraiNikki | 261 | 121&nbsp&nbsp/ 0 / 0 | 45 | 0 | 0 | HD,HR,DT | Report |
| #11 | | 515,784 | 100.00% | jeffywong | 261 | 121&nbsp&nbsp/ 0 / 0 | 45 | 0 | 0 | HD,HR,DT | Report |
| #12 | | 515,784 | 100.00% | woru3 | 261 | 121&nbsp&nbsp/ 0 / 0 | 45 | 0 | 0 | HD,HR,DT | Report |
| #13 | | 515,784 | 100.00% | Understand | 261 | 121&nbsp&nbsp/ 0 / 0 | 45 | 0 | 0 | HD,HR,DT | Report |
| #14 | | 515,784 | 100.00% | - SS or Quit - | 261 | 121&nbsp&nbsp/ 0 / 0 | 45 | 0 | 0 | HD,HR,DT,SD | Report |
| #15 | | 515,000 | 99.45% | TTKR | 261 | 120&nbsp&nbsp/ 1 / 0 | 44 | 1 | 0 | HD,HR,DT | Report |
| #16 | | 514,684 | 100.00% | pabuyan | 261 | 121&nbsp&nbsp/ 0 / 0 | 45 | 0 | 0 | HD,HR,DT | Report |
| #17 | | 514,684 | 100.00% | sera07912 | 261 | 121&nbsp&nbsp/ 0 / 0 | 45 | 0 | 0 | HD,HR,DT | Report |
| #18 | | 514,684 | 100.00% | skanoline | 261 | 121&nbsp&nbsp/ 0 / 0 | 45 | 0 | 0 | HD,HR,DT | Report |
| #19 | | 514,684 | 100.00% | Coolnesse | 261 | 121&nbsp&nbsp/ 0 / 0 | 45 | 0 | 0 | HD,HR,NC | Report |
| #20 | | 514,684 | 100.00% | 666unknowndevil666 | 261 | 121&nbsp&nbsp/ 0 / 0 | 45 | 0 | 0 | HD,HR,DT | Report |
| #21 | | 514,343 | 99.45% | - Junki - | 261 | 120&nbsp&nbsp/ 1 / 0 | 44 | 1 | 0 | HD,HR,DT | Report |
| #22 | | 513,584 | 100.00% | auroraflow12 | 261 | 121&nbsp&nbsp/ 0 / 0 | 45 | 0 | 0 | HD,HR,DT | Report |
| #23 | | 513,584 | 100.00% | Tolein | 261 | 121&nbsp&nbsp/ 0 / 0 | 45 | 0 | 0 | HD,HR,DT | Report |
| #24 | | 513,539 | 98.90% | shaneoyo | 261 | 119&nbsp&nbsp/ 2 / 0 | 43 | 2 | 0 | HD,HR,DT | Report |
| #25 | | 512,382 | 99.45% | -cr1mmy- | 261 | 120&nbsp&nbsp/ 1 / 0 | 44 | 1 | 0 | HD,HR,DT | Report |
| #26 | | 512,001 | 98.90% | yozo | 261 | 119&nbsp&nbsp/ 2 / 0 | 43 | 2 | 0 | HD,HR,DT | Report |
| #27 | | 511,517 | 99.45% | doOkz | 261 | 120&nbsp&nbsp/ 1 / 0 | 44 | 1 | 0 | HD,HR,DT | Report |
| #28 | | 510,996 | 98.35% | fushianatan | 261 | 118&nbsp&nbsp/ 3 / 0 | 42 | 3 | 0 | HD,HR,DT | Report |
| #29 | | 510,478 | 98.90% | hiro2008 | 261 | 119&nbsp&nbsp/ 2 / 0 | 43 | 2 | 0 | HD,HR,DT | Report |
| #30 | | 509,699 | 98.21% | lightdragon92 | 261 | 118&nbsp&nbsp/ 2 / 1 | 42 | 2 | 0 | HD,HR,DT | Report |
| #31 | | 509,490 | 99.45% | ganmo255 | 260 | 120&nbsp&nbsp/ 1 / 0 | 44 | 1 | 0 | HD,HR,DT | Report |
| #32 | | 509,173 | 97.80% | S u r a i | 261 | 117&nbsp&nbsp/ 4 / 0 | 42 | 3 | 0 | HD,HR,DT | Report |
| #33 | | 508,997 | 98.35% | tehbrrrz | 261 | 118&nbsp&nbsp/ 3 / 0 | 42 | 3 | 0 | HD,HR,DT | Report |
| #34 | | 508,783 | 97.80% | LiLY- | 261 | 117&nbsp&nbsp/ 4 / 0 | 41 | 4 | 0 | HD,HR,DT | Report |
| #35 | | 508,547 | 98.35% | Enotzja | 261 | 118&nbsp&nbsp/ 3 / 0 | 42 | 3 | 0 | HD,HR,DT | Report |
| #36 | | 508,397 | 99.45% | [ Rain ] | 260 | 120&nbsp&nbsp/ 1 / 0 | 44 | 1 | 0 | HD,HR,DT | Report |
| #37 | | 508,176 | 98.21% | Ookura Risona | 260 | 118&nbsp&nbsp/ 2 / 1 | 43 | 1 | 0 | HD,HR,NC | Report |
| #38 | | 508,032 | 97.80% | Sanagi | 261 | 117&nbsp&nbsp/ 4 / 0 | 41 | 4 | 0 | HD,HR,DT | Report |
| #39 | | 507,740 | 98.90% | Nanakase Gizumo | 261 | 119&nbsp&nbsp/ 2 / 0 | 44 | 1 | 0 | HD,HR,DT | Report |
| #40 | | 507,287 | 98.35% | Bazu | 260 | 118&nbsp&nbsp/ 3 / 0 | 43 | 2 | 0 | HD,HR,DT | Report |
| #41 | | 506,736 | 98.90% | hirollme | 260 | 119&nbsp&nbsp/ 2 / 0 | 43 | 2 | 0 | HD,HR,DT | Report |
| #42 | | 505,455 | 97.25% | Yuleiyu | 261 | 116&nbsp&nbsp/ 5 / 0 | 40 | 5 | 0 | HD,HR,DT | Report |
| #43 | | 505,438 | 98.35% | ResonaForma | 260 | 118&nbsp&nbsp/ 3 / 0 | 42 | 3 | 0 | HD,HR,DT | Report |
| #44 | | 505,229 | 98.76% | bestrefermic | 261 | 119&nbsp&nbsp/ 1 / 1 | 43 | 1 | 0 | HD,HR,DT | Report |
| #45 | | 505,132 | 98.35% | baek5000 | 261 | 118&nbsp&nbsp/ 3 / 0 | 42 | 3 | 0 | HD,HR,DT | Report |
| #46 | | 504,935 | 97.80% | kERo-NyO | 261 | 117&nbsp&nbsp/ 4 / 0 | 42 | 3 | 0 | HD,HR,DT | Report |
| #47 | | 504,682 | 96.56% | sunkusu | 261 | 115&nbsp&nbsp/ 5 / 1 | 40 | 4 | 0 | HD,HR,DT | Report |
| #48 | | 504,368 | 98.35% | citrinesio2 | 260 | 118&nbsp&nbsp/ 3 / 0 | 42 | 3 | 0 | HD,HR,DT | Report |
| #49 | | 504,145 | 98.35% | hinagiku-hayate | 261 | 118&nbsp&nbsp/ 3 / 0 | 42 | 3 | 0 | HD,HR,DT | Report |
| #50 | | 503,822 | 98.35% | wasaxa | 259 | 118&nbsp&nbsp/ 3 / 0 | 42 | 3 | 0 | HD,HR,DT | Report |