Beatmap Listing » Tamiyasu Tomoe - Dakko Shite Gyu!
Artist:
Tamiyasu Tomoe
Circle Size:

Approach Rate:

Title:
Dakko Shite Gyu!
HP Drain:

Star Difficulty:

(3.67)
Creator:
Vicho-kun
Accuracy:

Length:
2:12 (2:05 drain)
Source:
Dakko Shite Gyu! ~Ore no Yome wa Dakimakura~
Genre:
Video Game (Japanese)
BPM:
176
Tags:
tactics latte xierbaliti kenezzedward aenna nanji tonari no yome wo aise
User Rating:
Success Rate:
Points of Failure:


(graph is accumulative, based on % at fail/retry)

29.2% (55740 of 190716 plays)

Submitted:
Ranked:
Sep 26, 2010
Feb 4, 2011
Rating Spread:

Favourited 96 times in total

Users that love this map: Rezafor, ryehql, syarihu, freedomlxx, ts02329273, posiposiyive, Kuudere-Senpai, CramiZiA, NeNe_GoShyuJiN, chihiro1214, louiselulu, [yuyu]Coolish-w-, Hyuuji, Always 1miss, Dapyzux, mizukidx, kp831107, leozaza00123, oyhyun94, Recipep0q and many more!
Options:
Modding / Discussion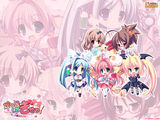 Opening of the PC Game "Dakko Shite Gyu! ~Ore no Yome wa Dakimakura~"
Easy xier: 100%
Kenezz's Normal: 100%
Hard: 100%
Aenna: 100%
SB by Kotomi-chan (only a try, not finished) :
http://puu.sh/Jlw
Uncensored video:
http://puu.sh/NIy
Hinacle is in the lead! ()
Score
9,290,321 (99.70%)
Max Combo
670
300 / 100 / 50
443 / 2 / 0
Misses
0
Geki (Elite Beat!)
65
Katu (Beat!)
2
Mods
HD,HR,FL
Top 50 Scoreboard
| | Rank | Score | Accuracy | Player | Max Combo | 300 / 100 / 50 | Geki | Katu | Misses | Mods | |
| --- | --- | --- | --- | --- | --- | --- | --- | --- | --- | --- | --- |
| #1 | | 9,290,321 | 99.70% | Hinacle | 670 | 443&nbsp&nbsp/ 2 / 0 | 65 | 2 | 0 | HD,HR,FL | Report |
| #2 | | 8,805,846 | 99.85% | TTTL | 672 | 444&nbsp&nbsp/ 1 / 0 | 66 | 1 | 0 | HD,DT | Report |
| #3 | | 8,803,940 | 99.70% | pyrowar56 | 672 | 443&nbsp&nbsp/ 2 / 0 | 66 | 1 | 0 | HD,DT | Report |
| #4 | | 8,646,675 | 98.46% | NerO | 672 | 435&nbsp&nbsp/ 9 / 1 | 60 | 6 | 0 | HD,DT | Report |
| #5 | | 8,498,112 | 96.70% | Metallugy | 672 | 423&nbsp&nbsp/ 22 / 0 | 51 | 16 | 0 | HD,DT | Report |
| #6 | | 8,449,928 | 96.85% | Icsia | 669 | 424&nbsp&nbsp/ 21 / 0 | 53 | 14 | 0 | HD,DT | Report |
| #7 | | 8,384,846 | 97.75% | Lran | 662 | 430&nbsp&nbsp/ 15 / 0 | 59 | 8 | 0 | HD,DT | Report |
| #8 | | 8,365,527 | 100.00% | azuraer | 672 | 445&nbsp&nbsp/ 0 / 0 | 67 | 0 | 0 | HD,HR | Report |
| #9 | | 8,365,527 | 100.00% | T_Liz | 672 | 445&nbsp&nbsp/ 0 / 0 | 67 | 0 | 0 | HD,HR | Report |
| #10 | | 8,364,427 | 100.00% | N i D i e | 672 | 445&nbsp&nbsp/ 0 / 0 | 67 | 0 | 0 | HD,HR | Report |
| #11 | | 8,364,427 | 100.00% | read00001234 | 672 | 445&nbsp&nbsp/ 0 / 0 | 67 | 0 | 0 | HD,HR | Report |
| #12 | | 8,364,427 | 100.00% | FreeSky | 672 | 445&nbsp&nbsp/ 0 / 0 | 67 | 0 | 0 | HD,HR | Report |
| #13 | | 8,364,427 | 100.00% | Brown K | 672 | 445&nbsp&nbsp/ 0 / 0 | 67 | 0 | 0 | HD,HR | Report |
| #14 | | 8,364,327 | 100.00% | Netz | 672 | 445&nbsp&nbsp/ 0 / 0 | 67 | 0 | 0 | HD,HR | Report |
| #15 | | 8,363,327 | 100.00% | bossan | 672 | 445&nbsp&nbsp/ 0 / 0 | 67 | 0 | 0 | HD,HR | Report |
| #16 | | 8,363,327 | 100.00% | xasuma | 672 | 445&nbsp&nbsp/ 0 / 0 | 67 | 0 | 0 | HD,HR | Report |
| #17 | | 8,363,227 | 100.00% | odajorigii | 672 | 445&nbsp&nbsp/ 0 / 0 | 67 | 0 | 0 | HD,HR,PF | Report |
| #18 | | 8,363,227 | 100.00% | K a n a y a | 672 | 445&nbsp&nbsp/ 0 / 0 | 67 | 0 | 0 | HD,HR | Report |
| #19 | | 8,362,227 | 100.00% | MiLu | 672 | 445&nbsp&nbsp/ 0 / 0 | 67 | 0 | 0 | HD,HR | Report |
| #20 | | 8,362,227 | 100.00% | DaIc | 672 | 445&nbsp&nbsp/ 0 / 0 | 67 | 0 | 0 | HD,HR | Report |
| #21 | | 8,362,227 | 100.00% | Asherly | 672 | 445&nbsp&nbsp/ 0 / 0 | 67 | 0 | 0 | HD,HR | Report |
| #22 | | 8,362,227 | 100.00% | puyokrl | 672 | 445&nbsp&nbsp/ 0 / 0 | 67 | 0 | 0 | HD,HR | Report |
| #23 | | 8,362,127 | 100.00% | Supy | 672 | 445&nbsp&nbsp/ 0 / 0 | 67 | 0 | 0 | HD,HR | Report |
| #24 | | 8,362,127 | 100.00% | InabaTewi | 672 | 445&nbsp&nbsp/ 0 / 0 | 67 | 0 | 0 | HD,HR | Report |
| #25 | | 8,362,127 | 100.00% | Remon_Coppola | 672 | 445&nbsp&nbsp/ 0 / 0 | 67 | 0 | 0 | HD,HR | Report |
| #26 | | 8,362,127 | 100.00% | Piticle | 672 | 445&nbsp&nbsp/ 0 / 0 | 67 | 0 | 0 | HD,HR | Report |
| #27 | | 8,362,127 | 100.00% | Merami San | 672 | 445&nbsp&nbsp/ 0 / 0 | 67 | 0 | 0 | HD,HR | Report |
| #28 | | 8,362,127 | 100.00% | Futaba aoi | 672 | 445&nbsp&nbsp/ 0 / 0 | 67 | 0 | 0 | HD,HR | Report |
| #29 | | 8,361,027 | 100.00% | El1as | 672 | 445&nbsp&nbsp/ 0 / 0 | 67 | 0 | 0 | HD,HR | Report |
| #30 | | 8,361,027 | 100.00% | Uan | 672 | 445&nbsp&nbsp/ 0 / 0 | 67 | 0 | 0 | HD,HR | Report |
| #31 | | 8,361,027 | 100.00% | ponta217 | 672 | 445&nbsp&nbsp/ 0 / 0 | 67 | 0 | 0 | HD,HR | Report |
| #32 | | 8,361,027 | 100.00% | S P A | 672 | 445&nbsp&nbsp/ 0 / 0 | 67 | 0 | 0 | HD,HR | Report |
| #33 | | 8,360,927 | 100.00% | ArisaRea | 672 | 445&nbsp&nbsp/ 0 / 0 | 67 | 0 | 0 | HD,HR | Report |
| #34 | | 8,359,927 | 100.00% | h3k1ru | 672 | 445&nbsp&nbsp/ 0 / 0 | 67 | 0 | 0 | HD,HR | Report |
| #35 | | 8,359,927 | 100.00% | slymaster | 672 | 445&nbsp&nbsp/ 0 / 0 | 67 | 0 | 0 | HD,HR | Report |
| #36 | | 8,359,927 | 100.00% | momotayan | 672 | 445&nbsp&nbsp/ 0 / 0 | 67 | 0 | 0 | HD,HR | Report |
| #37 | | 8,359,927 | 100.00% | Fata_Morgana | 672 | 445&nbsp&nbsp/ 0 / 0 | 67 | 0 | 0 | HD,HR | Report |
| #38 | | 8,359,927 | 100.00% | Hakoro-Senpai | 672 | 445&nbsp&nbsp/ 0 / 0 | 67 | 0 | 0 | HD,HR | Report |
| #39 | | 8,359,727 | 100.00% | ymkmys | 672 | 445&nbsp&nbsp/ 0 / 0 | 67 | 0 | 0 | HD,HR,PF | Report |
| #40 | | 8,358,827 | 100.00% | soinda | 672 | 445&nbsp&nbsp/ 0 / 0 | 67 | 0 | 0 | HD,HR | Report |
| #41 | | 8,358,827 | 100.00% | DuRL | 672 | 445&nbsp&nbsp/ 0 / 0 | 67 | 0 | 0 | HD,HR | Report |
| #42 | | 8,358,827 | 100.00% | Tohru | 672 | 445&nbsp&nbsp/ 0 / 0 | 67 | 0 | 0 | HD,HR | Report |
| #43 | | 8,358,727 | 100.00% | fushianatan | 672 | 445&nbsp&nbsp/ 0 / 0 | 67 | 0 | 0 | HD,HR | Report |
| #44 | | 8,358,727 | 100.00% | midorimegane | 672 | 445&nbsp&nbsp/ 0 / 0 | 67 | 0 | 0 | HD,HR | Report |
| #45 | | 8,358,627 | 100.00% | PEPOTTI | 672 | 445&nbsp&nbsp/ 0 / 0 | 67 | 0 | 0 | HD,HR | Report |
| #46 | | 8,356,937 | 99.85% | Shionji Yuuko | 672 | 444&nbsp&nbsp/ 1 / 0 | 66 | 1 | 0 | HD,HR | Report |
| #47 | | 8,351,248 | 99.85% | AnimaXisHere | 672 | 444&nbsp&nbsp/ 1 / 0 | 66 | 1 | 0 | HD,HR | Report |
| #48 | | 8,351,033 | 99.85% | vMAYUYUv | 672 | 444&nbsp&nbsp/ 1 / 0 | 66 | 1 | 0 | HD,HR | Report |
| #49 | | 8,351,027 | 99.70% | My Angel Eva | 672 | 443&nbsp&nbsp/ 2 / 0 | 66 | 1 | 0 | HD,HR | Report |
| #50 | | 8,350,673 | 99.85% | SUNAKE1192 | 672 | 444&nbsp&nbsp/ 1 / 0 | 66 | 1 | 0 | HD,HR | Report |