Beatmap Listing » ZUN - Corpse Voyage ~ Be of Good Cheer!
Artist:
ZUN
Circle Size:

Approach Rate:

Title:
Corpse Voyage ~ Be of Good Cheer!
HP Drain:

Star Difficulty:

(2.56)
Creator:
Alice Margatroid
Accuracy:

Length:
1:38 (1:25 drain)
Source:
TH11 Touhou Chireiden ~ Subterranean Animism
Genre:
Video Game (Instrumental)
BPM:
161
Tags:
rin kaenbyou orin
User Rating:
Success Rate:
Points of Failure:


(graph is accumulative, based on % at fail/retry)

40.4% (25297 of 62610 plays)

Submitted:
Ranked:
Jan 14, 2010
Feb 15, 2010
Rating Spread:

Favourited 55 times in total

Users that love this map: krius, cloness, retas, PatchyKnowledge, lokiluoluo, wwegame, levesterz, SM_Aya, Mayo, Milky Way, Maday, Leti Lunachi, RaindropDry, w_yswz, Sugarbits, lhyn52, Reimu nyan, kamataku77, Curseofdarkness, unfading and many more!
Options:
Modding / Discussion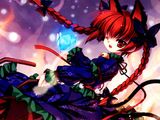 Stage 5 Boss (Kaenbyou Rin)'s theme from Subterranean Animism.
Forced Skin:
Download the Touhou Skin by Cyclone!
Kay- is in the lead! ()
Score
1,623,614 (94.32%)
Max Combo
276
300 / 100 / 50
161 / 15 / 0
Misses
0
Geki (Elite Beat!)
34
Katu (Beat!)
10
Mods
HD,DT,FL
Top 50 Scoreboard
| | Rank | Score | Accuracy | Player | Max Combo | 300 / 100 / 50 | Geki | Katu | Misses | Mods | |
| --- | --- | --- | --- | --- | --- | --- | --- | --- | --- | --- | --- |
| #1 | | 1,623,614 | 94.32% | Kay- | 276 | 161&nbsp&nbsp/ 15 / 0 | 34 | 10 | 0 | HD,DT,FL | Report |
| #2 | | 1,602,652 | 98.86% | Zestiny | 276 | 173&nbsp&nbsp/ 3 / 0 | 42 | 2 | 0 | HD,HR,FL | Report |
| #3 | | 1,592,482 | 97.73% | [ Lee ] | 276 | 170&nbsp&nbsp/ 6 / 0 | 40 | 4 | 0 | HD,HR,FL | Report |
| #4 | | 1,554,165 | 95.83% | kendo | 276 | 165&nbsp&nbsp/ 11 / 0 | 37 | 7 | 0 | HD,HR,FL | Report |
| #5 | | 1,546,495 | 100.00% | lanbokarn | 276 | 176&nbsp&nbsp/ 0 / 0 | 44 | 0 | 0 | HD,DT | Report |
| #6 | | 1,545,395 | 100.00% | LQX | 276 | 176&nbsp&nbsp/ 0 / 0 | 44 | 0 | 0 | HD,DT | Report |
| #7 | | 1,545,395 | 100.00% | WubWoofWolf | 276 | 176&nbsp&nbsp/ 0 / 0 | 44 | 0 | 0 | HD,DT | Report |
| #8 | | 1,543,195 | 100.00% | Last Remote | 276 | 176&nbsp&nbsp/ 0 / 0 | 44 | 0 | 0 | HD,NC | Report |
| #9 | | 1,542,095 | 100.00% | [ Beatrice ] | 276 | 176&nbsp&nbsp/ 0 / 0 | 44 | 0 | 0 | HD,DT | Report |
| #10 | | 1,537,946 | 99.62% | Patchouli | 276 | 175&nbsp&nbsp/ 1 / 0 | 43 | 1 | 0 | HD,FL,SD | Report |
| #11 | | 1,529,719 | 99.24% | Silvercross | 276 | 174&nbsp&nbsp/ 2 / 0 | 42 | 2 | 0 | HD,DT | Report |
| #12 | | 1,528,550 | 99.24% | Kaoru | 276 | 174&nbsp&nbsp/ 2 / 0 | 42 | 2 | 0 | HD,DT | Report |
| #13 | | 1,525,792 | 98.48% | Coppola | 276 | 172&nbsp&nbsp/ 4 / 0 | 42 | 2 | 0 | HD,DT | Report |
| #14 | | 1,520,790 | 98.86% | kazuikaki | 276 | 173&nbsp&nbsp/ 3 / 0 | 41 | 3 | 0 | HD,FL | Report |
| #15 | | 1,520,445 | 98.86% | hariryu | 276 | 173&nbsp&nbsp/ 3 / 0 | 41 | 3 | 0 | HD,DT | Report |
| #16 | | 1,517,557 | 98.86% | xasuma | 276 | 173&nbsp&nbsp/ 3 / 0 | 41 | 3 | 0 | HD,DT | Report |
| #17 | | 1,516,077 | 98.86% | FreeSky | 276 | 173&nbsp&nbsp/ 3 / 0 | 41 | 3 | 0 | HD,DT | Report |
| #18 | | 1,503,804 | 97.35% | distort | 276 | 169&nbsp&nbsp/ 7 / 0 | 39 | 5 | 0 | HD,DT | Report |
| #19 | | 1,497,392 | 96.21% | Pemlory | 276 | 166&nbsp&nbsp/ 10 / 0 | 38 | 6 | 0 | HD,DT | Report |
| #20 | | 1,485,202 | 96.59% | Sonozaki- | 276 | 167&nbsp&nbsp/ 9 / 0 | 39 | 5 | 0 | HD,DT | Report |
| #21 | | 1,484,829 | 96.59% | Akai- | 276 | 167&nbsp&nbsp/ 9 / 0 | 38 | 6 | 0 | HD,DT | Report |
| #22 | | 1,483,373 | 96.21% | dududuabc123 | 276 | 166&nbsp&nbsp/ 10 / 0 | 40 | 4 | 0 | HD,DT | Report |
| #23 | | 1,478,402 | 96.59% | forever | 276 | 167&nbsp&nbsp/ 9 / 0 | 38 | 6 | 0 | HD,DT | Report |
| #24 | | 1,478,396 | 96.21% | UADJ | 276 | 166&nbsp&nbsp/ 10 / 0 | 38 | 6 | 0 | HD,DT | Report |
| #25 | | 1,474,859 | 94.70% | dazzulay | 276 | 162&nbsp&nbsp/ 14 / 0 | 35 | 9 | 0 | HD,DT | Report |
| #26 | | 1,469,920 | 95.36% | EnderoftheEnd | 276 | 164&nbsp&nbsp/ 11 / 1 | 36 | 7 | 0 | HD,DT | Report |
| #27 | | 1,464,001 | 95.08% | Lokovodo | 276 | 163&nbsp&nbsp/ 13 / 0 | 38 | 6 | 0 | HD,DT | Report |
| #28 | | 1,462,784 | 100.00% | Frandre | 276 | 176&nbsp&nbsp/ 0 / 0 | 44 | 0 | 0 | FL | Report |
| #29 | | 1,459,562 | 95.74% | -HM | 276 | 165&nbsp&nbsp/ 10 / 1 | 37 | 6 | 0 | HD,DT | Report |
| #30 | | 1,459,484 | 100.00% | NekoMimiMode | 276 | 176&nbsp&nbsp/ 0 / 0 | 44 | 0 | 0 | DT | Report |
| #31 | | 1,459,484 | 100.00% | Satellite | 276 | 176&nbsp&nbsp/ 0 / 0 | 44 | 0 | 0 | FL | Report |
| #32 | | 1,459,484 | 100.00% | kuroneko2525 | 276 | 176&nbsp&nbsp/ 0 / 0 | 44 | 0 | 0 | FL | Report |
| #33 | | 1,455,667 | 99.62% | KogumaX | 276 | 175&nbsp&nbsp/ 1 / 0 | 43 | 1 | 0 | DT | Report |
| #34 | | 1,453,984 | 100.00% | Kolian | 276 | 176&nbsp&nbsp/ 0 / 0 | 44 | 0 | 0 | FL | Report |
| #35 | | 1,452,800 | 99.62% | Blatzk | 276 | 175&nbsp&nbsp/ 1 / 0 | 43 | 1 | 0 | FL | Report |
| #36 | | 1,451,662 | 95.45% | akgy159 | 276 | 164&nbsp&nbsp/ 12 / 0 | 36 | 8 | 0 | HD,DT | Report |
| #37 | | 1,451,352 | 99.62% | Touhou Project | 276 | 175&nbsp&nbsp/ 1 / 0 | 43 | 1 | 0 | DT | Report |
| #38 | | 1,451,267 | 99.62% | Work It | 276 | 175&nbsp&nbsp/ 1 / 0 | 43 | 1 | 0 | DT | Report |
| #39 | | 1,449,886 | 93.94% | [ M a r i n ] | 276 | 160&nbsp&nbsp/ 16 / 0 | 37 | 7 | 0 | HD,DT | Report |
| #40 | | 1,438,203 | 93.56% | 414-2 | 276 | 159&nbsp&nbsp/ 17 / 0 | 33 | 11 | 0 | HD,DT | Report |
| #41 | | 1,436,564 | 98.86% | Unizer | 276 | 173&nbsp&nbsp/ 3 / 0 | 41 | 3 | 0 | FL | Report |
| #42 | | 1,434,324 | 98.86% | WiMpN | 276 | 173&nbsp&nbsp/ 3 / 0 | 42 | 2 | 0 | DT | Report |
| #43 | | 1,433,239 | 93.94% | [Solaire] | 276 | 160&nbsp&nbsp/ 16 / 0 | 35 | 9 | 0 | HD,DT | Report |
| #44 | | 1,431,074 | 98.48% | Moyaso | 276 | 172&nbsp&nbsp/ 4 / 0 | 40 | 4 | 0 | DT | Report |
| #45 | | 1,430,454 | 98.11% | fushianatan | 276 | 171&nbsp&nbsp/ 5 / 0 | 40 | 4 | 0 | HD,HR | Report |
| #46 | | 1,428,238 | 98.86% | sam40512 | 276 | 173&nbsp&nbsp/ 3 / 0 | 42 | 2 | 0 | FL | Report |
| #47 | | 1,428,130 | 94.22% | Anhedonia | 276 | 161&nbsp&nbsp/ 14 / 1 | 37 | 6 | 0 | HD,DT | Report |
| #48 | | 1,427,709 | 98.11% | _MasterPiece_ | 276 | 171&nbsp&nbsp/ 5 / 0 | 39 | 5 | 0 | DT | Report |
| #49 | | 1,424,687 | 98.11% | harunya | 276 | 171&nbsp&nbsp/ 5 / 0 | 40 | 4 | 0 | DT | Report |
| #50 | | 1,421,050 | 97.35% | SzkNn | 276 | 169&nbsp&nbsp/ 7 / 0 | 37 | 7 | 0 | DT | Report |