Beatmap Listing » ZUN - Deaf to all but the Song
Artist:
ZUN
Circle Size:

Approach Rate:

Title:
Deaf to all but the Song
HP Drain:

Star Difficulty:

(4.95)
Creator:
Zekira
Accuracy:

Length:
2:47 (2:40 drain)
Source:
Touhou Eiyashou 8 Imperishable Night
Genre:
Video Game (Instrumental)
BPM:
163
Tags:
mystia lorelei jinxyjem
User Rating:
Success Rate:
Points of Failure:


(graph is accumulative, based on % at fail/retry)

14.4% (16510 of 114445 plays)

Submitted:
Ranked:
Dec 17, 2009
Feb 7, 2010
Rating Spread:

Favourited 70 times in total

Users that love this map: skriptmenHOBBIT, heartnetkung, vVThatOneGuyVv, lichform, Pingasnik, Renzan, Xianyubaodan, Alightning-Fire, kazuma_kamikaze, Kibatu, deLord, GTautotypfer, pronder, WolfStrikes, cram26, zx4698210, kurohime0, 88073091, Renouria, tinynewtman and many more!
Options:
Modding / Discussion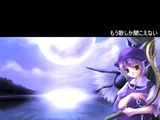 Wow, BSS already changes the subject to include [Taiko|Osu] in the subject title lol. Thanks BSS but I prefer it to look like [Osu|Taiko]... wait actually that's misleading. Deleting that. Lol.
WIP since I need to do Hard and wait for JInx's diff
2009-12-17 20:11: Hard done. JInxyjem where the heck are you lol
2009-12-17 23:16: Put stuff in tags instead
2009-12-18 15:47: Fixed up offset... again. God I really hate timing my own maps lol
2009-12-18 17:35: Jinx's diff here yey. Pending yey.
2009-12-18 22:40: Applied some mods below.
2009-12-19 16:45: Mods applied again
2010-01-30 18:18: Re-mapped Hard and Lunatic so that it doesn't look entirely copy-pasted.
2010-02-05 10:23: Re-mapped the blargh on Lunatic a bit.
Cookiezi is in the lead! ()
Score
15,365,883 (98.36%)
Max Combo
899
300 / 100 / 50
595 / 15 / 0
Misses
0
Geki (Elite Beat!)
78
Katu (Beat!)
7
Mods
HD,DT
Top 50 Scoreboard
| | Rank | Score | Accuracy | Player | Max Combo | 300 / 100 / 50 | Geki | Katu | Misses | Mods | |
| --- | --- | --- | --- | --- | --- | --- | --- | --- | --- | --- | --- |
| #1 | | 15,365,883 | 98.36% | Cookiezi | 899 | 595&nbsp&nbsp/ 15 / 0 | 78 | 7 | 0 | HD,DT | Report |
| #2 | | 14,506,082 | 99.13% | Adamqs | 899 | 603&nbsp&nbsp/ 3 / 4 | 81 | 3 | 0 | HD,HR | Report |
| #3 | | 14,042,079 | 95.19% | TTTL | 899 | 566&nbsp&nbsp/ 44 / 0 | 58 | 27 | 0 | HD,HR | Report |
| #4 | | 13,930,889 | 100.00% | Takei Hisa | 900 | 610&nbsp&nbsp/ 0 / 0 | 85 | 0 | 0 | HD | Report |
| #5 | | 13,915,322 | 99.78% | SiLviA | 900 | 608&nbsp&nbsp/ 2 / 0 | 83 | 2 | 0 | HD | Report |
| #6 | | 13,888,083 | 99.56% | Ekoro | 900 | 606&nbsp&nbsp/ 4 / 0 | 82 | 3 | 0 | HD | Report |
| #7 | | 13,834,345 | 99.45% | B1oody | 900 | 605&nbsp&nbsp/ 5 / 0 | 80 | 5 | 0 | HD | Report |
| #8 | | 13,824,302 | 99.54% | pyrowar56 | 899 | 606&nbsp&nbsp/ 3 / 1 | 81 | 3 | 0 | HD | Report |
| #9 | | 13,812,663 | 99.45% | Ldd-D | 900 | 605&nbsp&nbsp/ 5 / 0 | 83 | 2 | 0 | HD | Report |
| #10 | | 13,785,189 | 99.34% | hvick225 | 900 | 604&nbsp&nbsp/ 6 / 0 | 79 | 6 | 0 | HD | Report |
| #11 | | 13,728,590 | 98.66% | takeki3gou | 899 | 598&nbsp&nbsp/ 11 / 1 | 78 | 6 | 0 | HD | Report |
| #12 | | 13,701,635 | 98.31% | Last Remote | 900 | 595&nbsp&nbsp/ 13 / 2 | 79 | 5 | 0 | HD | Report |
| #13 | | 13,680,106 | 97.70% | Doomsday | 898 | 589&nbsp&nbsp/ 21 / 0 | 79 | 6 | 0 | HD | Report |
| #14 | | 13,479,355 | 96.39% | shunsatu | 900 | 578&nbsp&nbsp/ 28 / 4 | 76 | 7 | 0 | HD | Report |
| #15 | | 13,460,608 | 96.72% | fartownik | 863 | 582&nbsp&nbsp/ 24 / 0 | 69 | 14 | 4 | HD,HR | Report |
| #16 | | 13,169,272 | 100.00% | serea | 900 | 610&nbsp&nbsp/ 0 / 0 | 85 | 0 | 0 | None | Report |
| #17 | | 13,168,072 | 100.00% | - Auto - | 900 | 610&nbsp&nbsp/ 0 / 0 | 85 | 0 | 0 | None | Report |
| #18 | | 13,164,772 | 100.00% | Roro Rosset | 900 | 610&nbsp&nbsp/ 0 / 0 | 85 | 0 | 0 | None | Report |
| #19 | | 13,156,772 | 100.00% | ShaggoN | 900 | 610&nbsp&nbsp/ 0 / 0 | 85 | 0 | 0 | None | Report |
| #20 | | 13,156,620 | 96.50% | KoTo | 893 | 578&nbsp&nbsp/ 32 / 0 | 73 | 12 | 0 | HD | Report |
| #21 | | 13,153,536 | 99.89% | KBT | 900 | 609&nbsp&nbsp/ 1 / 0 | 84 | 1 | 0 | None | Report |
| #22 | | 13,153,172 | 99.89% | Seles | 900 | 609&nbsp&nbsp/ 1 / 0 | 84 | 1 | 0 | None | Report |
| #23 | | 13,150,499 | 95.79% | Xanc | 900 | 572&nbsp&nbsp/ 36 / 2 | 75 | 9 | 0 | HD | Report |
| #24 | | 13,148,252 | 99.45% | WubWoofWolf | 900 | 605&nbsp&nbsp/ 5 / 0 | 84 | 1 | 0 | None | Report |
| #25 | | 13,145,172 | 100.00% | kiyumi | 900 | 610&nbsp&nbsp/ 0 / 0 | 85 | 0 | 0 | None | Report |
| #26 | | 13,143,072 | 100.00% | Rei24 | 900 | 610&nbsp&nbsp/ 0 / 0 | 85 | 0 | 0 | None | Report |
| #27 | | 13,142,124 | 99.56% | amom12 | 900 | 606&nbsp&nbsp/ 4 / 0 | 83 | 2 | 0 | None | Report |
| #28 | | 13,140,784 | 99.67% | Dungeon | 900 | 607&nbsp&nbsp/ 3 / 0 | 82 | 3 | 0 | None | Report |
| #29 | | 13,138,344 | 99.67% | Homura- | 900 | 607&nbsp&nbsp/ 3 / 0 | 82 | 3 | 0 | None | Report |
| #30 | | 13,135,976 | 99.78% | SadnessWillSear | 900 | 608&nbsp&nbsp/ 2 / 0 | 83 | 2 | 0 | None | Report |
| #31 | | 13,133,752 | 99.78% | laport | 900 | 608&nbsp&nbsp/ 2 / 0 | 84 | 1 | 0 | None | Report |
| #32 | | 13,131,528 | 99.78% | _index | 900 | 608&nbsp&nbsp/ 2 / 0 | 83 | 2 | 0 | None | Report |
| #33 | | 13,126,876 | 99.89% | Rorry | 900 | 609&nbsp&nbsp/ 1 / 0 | 84 | 1 | 0 | None | Report |
| #34 | | 13,123,856 | 99.78% | ksg | 900 | 608&nbsp&nbsp/ 2 / 0 | 83 | 2 | 0 | None | Report |
| #35 | | 13,123,336 | 99.89% | AmericanPenguin | 900 | 609&nbsp&nbsp/ 1 / 0 | 84 | 1 | 0 | None | Report |
| #36 | | 13,123,070 | 99.89% | Krom1 | 899 | 609&nbsp&nbsp/ 1 / 0 | 84 | 1 | 0 | None | Report |
| #37 | | 13,119,704 | 99.67% | Salvage | 900 | 607&nbsp&nbsp/ 3 / 0 | 82 | 3 | 0 | None | Report |
| #38 | | 13,111,192 | 99.67% | Neutral | 900 | 607&nbsp&nbsp/ 3 / 0 | 82 | 3 | 0 | None | Report |
| #39 | | 13,108,568 | 99.56% | 123123123 | 900 | 606&nbsp&nbsp/ 4 / 0 | 81 | 4 | 0 | None | Report |
| #40 | | 13,105,584 | 99.67% | pekolove | 900 | 607&nbsp&nbsp/ 3 / 0 | 82 | 3 | 0 | None | Report |
| #41 | | 13,097,440 | 99.56% | Bianco | 900 | 606&nbsp&nbsp/ 4 / 0 | 83 | 2 | 0 | None | Report |
| #42 | | 13,096,710 | 99.56% | Sinch | 899 | 606&nbsp&nbsp/ 4 / 0 | 82 | 3 | 0 | None | Report |
| #43 | | 13,090,736 | 99.56% | Moyaso | 900 | 606&nbsp&nbsp/ 4 / 0 | 82 | 3 | 0 | None | Report |
| #44 | | 13,089,036 | 99.34% | Rucker | 900 | 604&nbsp&nbsp/ 6 / 0 | 82 | 3 | 0 | None | Report |
| #45 | | 13,087,172 | 98.55% | Sayapis | 899 | 598&nbsp&nbsp/ 7 / 5 | 83 | 1 | 0 | None | Report |
| #46 | | 13,083,240 | 99.45% | Shurgot | 900 | 605&nbsp&nbsp/ 5 / 0 | 80 | 5 | 0 | None | Report |
| #47 | | 13,083,056 | 99.56% | HeoJeanYeong | 900 | 606&nbsp&nbsp/ 4 / 0 | 81 | 4 | 0 | None | Report |
| #48 | | 13,081,434 | 99.45% | Apple | 899 | 605&nbsp&nbsp/ 5 / 0 | 80 | 5 | 0 | None | Report |
| #49 | | 13,081,252 | 98.25% | kouyou | 900 | 594&nbsp&nbsp/ 16 / 0 | 80 | 5 | 0 | None | Report |
| #50 | | 13,077,980 | 99.02% | Uan | 900 | 601&nbsp&nbsp/ 9 / 0 | 81 | 4 | 0 | None | Report |