Beatmap Listing » Aso Natsuko - More-more LOVERS!!
Artist:
Aso Natsuko
Circle Size:

Approach Rate:

Title:
More-more LOVERS!!
HP Drain:

Star Difficulty:

(4.33)
Creator:
B2IN
Accuracy:

Length:
2:35 (2:24 drain)
Source:
MM!
Genre:
Anime (Japanese)
BPM:
182
Tags:
reyshel ending emuemu isurugi mio yuno arashiko
User Rating:
Success Rate:
Points of Failure:


(graph is accumulative, based on % at fail/retry)

22.2% (71169 of 321174 plays)

Submitted:
Ranked:
Dec 21, 2012
Feb 4, 2013
Rating Spread:

Favourited 271 times in total

Users that love this map: hvick225, sasukettya, hy1hy1hy, as269, Izardwizard, zhongweixiao, technot6036, Mr Hyde, Saten, iLikeMudkipz, becks07, jimmyman3, sannuhouz, anchobi, AlphaAlfalfa, Secudead, Miki, konkon_phy, Mikan, ovidio26-9 and many more!
Options:
Modding / Discussion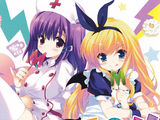 MM!! LOVE ME ! LOVE ME !
> v < <3<3<3<3<3
Normal done
Hard done
Insane done
Taiko by
ReySHeL
done
Thanks ~
Yasen is in the lead! ()
Score
13,019,872 (99.52%)
Max Combo
809
300 / 100 / 50
547 / 4 / 0
Misses
0
Geki (Elite Beat!)
108
Katu (Beat!)
4
Mods
HD,DT
Top 50 Scoreboard
| | Rank | Score | Accuracy | Player | Max Combo | 300 / 100 / 50 | Geki | Katu | Misses | Mods | |
| --- | --- | --- | --- | --- | --- | --- | --- | --- | --- | --- | --- |
| #1 | | 13,019,872 | 99.52% | Yasen | 809 | 547&nbsp&nbsp/ 4 / 0 | 108 | 4 | 0 | HD,DT | Report |
| #2 | | 12,995,264 | 99.52% | Spare | 807 | 547&nbsp&nbsp/ 4 / 0 | 109 | 3 | 0 | HD,DT | Report |
| #3 | | 12,972,275 | 98.91% | Rafis | 809 | 542&nbsp&nbsp/ 9 / 0 | 105 | 7 | 0 | HD,DT | Report |
| #4 | | 12,962,584 | 99.15% | Colt | 809 | 544&nbsp&nbsp/ 7 / 0 | 105 | 7 | 0 | HD,NC | Report |
| #5 | | 12,915,866 | 98.31% | Reimu-Desu | 809 | 537&nbsp&nbsp/ 14 / 0 | 104 | 8 | 0 | HD,DT | Report |
| #6 | | 12,869,929 | 98.25% | unberlin | 809 | 537&nbsp&nbsp/ 12 / 2 | 104 | 6 | 0 | HD,DT | Report |
| #7 | | 12,838,806 | 98.31% | No01 | 808 | 537&nbsp&nbsp/ 14 / 0 | 100 | 12 | 0 | HD,DT | Report |
| #8 | | 12,805,135 | 97.76% | Leaf | 808 | 533&nbsp&nbsp/ 16 / 2 | 103 | 7 | 0 | HD,DT | Report |
| #9 | | 12,786,814 | 98.03% | OhAHO | 806 | 535&nbsp&nbsp/ 15 / 1 | 101 | 10 | 0 | HD,DT | Report |
| #10 | | 12,382,490 | 100.00% | SyeruP | 809 | 551&nbsp&nbsp/ 0 / 0 | 112 | 0 | 0 | HD,HR | Report |
| #11 | | 12,379,018 | 99.88% | PeaChick | 809 | 550&nbsp&nbsp/ 1 / 0 | 111 | 1 | 0 | HD,HR | Report |
| #12 | | 12,361,126 | 99.88% | Mikkuri | 809 | 550&nbsp&nbsp/ 1 / 0 | 111 | 1 | 0 | HD,HR | Report |
| #13 | | 12,354,174 | 99.27% | Glazbom | 809 | 545&nbsp&nbsp/ 6 / 0 | 110 | 2 | 0 | HD,HR | Report |
| #14 | | 12,350,526 | 99.40% | Grape | 809 | 546&nbsp&nbsp/ 5 / 0 | 108 | 4 | 0 | HD,HR | Report |
| #15 | | 12,349,920 | 99.64% | TCN | 809 | 548&nbsp&nbsp/ 3 / 0 | 109 | 3 | 0 | HD,HR | Report |
| #16 | | 12,345,978 | 99.64% | Wilchq | 809 | 548&nbsp&nbsp/ 3 / 0 | 110 | 2 | 0 | HD,HR | Report |
| #17 | | 12,333,401 | 99.64% | Thatgooey | 809 | 548&nbsp&nbsp/ 3 / 0 | 109 | 3 | 0 | HD,HR | Report |
| #18 | | 12,332,013 | 99.64% | kablaze | 809 | 548&nbsp&nbsp/ 3 / 0 | 109 | 3 | 0 | HD,HR | Report |
| #19 | | 12,324,691 | 99.64% | kuu01 | 809 | 548&nbsp&nbsp/ 3 / 0 | 109 | 3 | 0 | HD,HR | Report |
| #20 | | 12,324,270 | 99.52% | bossan | 809 | 547&nbsp&nbsp/ 4 / 0 | 108 | 4 | 0 | HD,HR | Report |
| #21 | | 12,323,435 | 99.52% | Number | 809 | 547&nbsp&nbsp/ 4 / 0 | 108 | 4 | 0 | HD,HR | Report |
| #22 | | 12,318,597 | 99.40% | Nicokarl | 809 | 546&nbsp&nbsp/ 5 / 0 | 107 | 5 | 0 | HD,HR | Report |
| #23 | | 12,318,236 | 99.09% | mokoro | 809 | 544&nbsp&nbsp/ 5 / 2 | 107 | 3 | 0 | HD,HR | Report |
| #24 | | 12,316,740 | 99.52% | - Slice - | 809 | 547&nbsp&nbsp/ 4 / 0 | 109 | 3 | 0 | HD,HR | Report |
| #25 | | 12,314,965 | 99.52% | Darksonic | 809 | 547&nbsp&nbsp/ 4 / 0 | 108 | 4 | 0 | HD,HR | Report |
| #26 | | 12,314,003 | 98.79% | K N i S | 809 | 541&nbsp&nbsp/ 10 / 0 | 105 | 7 | 0 | HD,HR | Report |
| #27 | | 12,312,196 | 99.52% | Shayna | 809 | 547&nbsp&nbsp/ 4 / 0 | 109 | 3 | 0 | DT | Report |
| #28 | | 12,311,074 | 99.52% | Fenrir | 809 | 547&nbsp&nbsp/ 4 / 0 | 109 | 3 | 0 | HD,HR | Report |
| #29 | | 12,310,644 | 99.52% | Sayapis | 809 | 547&nbsp&nbsp/ 4 / 0 | 108 | 4 | 0 | HD,HR | Report |
| #30 | | 12,308,711 | 99.27% | yuuch | 809 | 545&nbsp&nbsp/ 6 / 0 | 107 | 5 | 0 | HD,HR | Report |
| #31 | | 12,305,219 | 99.15% | Mythol | 809 | 544&nbsp&nbsp/ 7 / 0 | 105 | 7 | 0 | HD,HR | Report |
| #32 | | 12,297,498 | 99.40% | [ Destroid ] | 809 | 546&nbsp&nbsp/ 5 / 0 | 107 | 5 | 0 | HD,HR | Report |
| #33 | | 12,289,670 | 99.27% | iyasine | 809 | 545&nbsp&nbsp/ 6 / 0 | 108 | 4 | 0 | HD,HR | Report |
| #34 | | 12,287,397 | 99.27% | yandri | 809 | 545&nbsp&nbsp/ 6 / 0 | 109 | 3 | 0 | HD,HR | Report |
| #35 | | 12,285,135 | 99.03% | Rzzzzz | 809 | 543&nbsp&nbsp/ 8 / 0 | 105 | 7 | 0 | HD,HR | Report |
| #36 | | 12,283,865 | 98.79% | Mei misakii | 809 | 541&nbsp&nbsp/ 10 / 0 | 104 | 8 | 0 | HD,HR | Report |
| #37 | | 12,283,448 | 99.15% | rjweqhriuweqh | 809 | 544&nbsp&nbsp/ 7 / 0 | 107 | 5 | 0 | HD,HR | Report |
| #38 | | 12,283,099 | 99.03% | sawagani | 809 | 543&nbsp&nbsp/ 8 / 0 | 106 | 6 | 0 | HD,HR | Report |
| #39 | | 12,282,367 | 98.91% | Mirai Akari | 809 | 542&nbsp&nbsp/ 9 / 0 | 106 | 6 | 0 | HD,HR | Report |
| #40 | | 12,281,397 | 99.12% | Lucid Astray | 809 | 544&nbsp&nbsp/ 6 / 1 | 105 | 6 | 0 | HD,HR | Report |
| #41 | | 12,279,910 | 99.40% | gasanww | 809 | 546&nbsp&nbsp/ 5 / 0 | 107 | 5 | 0 | HD,HR | Report |
| #42 | | 12,279,131 | 99.40% | hvick225 | 809 | 546&nbsp&nbsp/ 5 / 0 | 107 | 5 | 0 | HD,HR | Report |
| #43 | | 12,274,870 | 99.27% | Sinch | 809 | 545&nbsp&nbsp/ 6 / 0 | 106 | 6 | 0 | HD,HR | Report |
| #44 | | 12,272,787 | 99.15% | Gaburieru- | 809 | 544&nbsp&nbsp/ 7 / 0 | 107 | 5 | 0 | HD,HR | Report |
| #45 | | 12,271,096 | 99.15% | Gnuu | 809 | 544&nbsp&nbsp/ 7 / 0 | 105 | 7 | 0 | HD,HR | Report |
| #46 | | 12,266,414 | 99.15% | Nitro | 809 | 544&nbsp&nbsp/ 7 / 0 | 107 | 5 | 0 | HD,HR | Report |
| #47 | | 12,265,717 | 99.03% | Pocket | 809 | 543&nbsp&nbsp/ 8 / 0 | 104 | 8 | 0 | HD,HR | Report |
| #48 | | 12,264,705 | 98.91% | Synchrostar | 808 | 542&nbsp&nbsp/ 9 / 0 | 104 | 8 | 0 | HD,HR | Report |
| #49 | | 12,262,368 | 99.00% | Saizen | 809 | 543&nbsp&nbsp/ 7 / 1 | 105 | 6 | 0 | HD,HR | Report |
| #50 | | 12,262,197 | 98.79% | Puccho | 809 | 541&nbsp&nbsp/ 10 / 0 | 103 | 9 | 0 | HD,HR | Report |