Artist:
xi
Circle Size:

Approach Rate:

Title:
FREEDOM DiVE
HP Drain:

Star Difficulty:

(7.07)
Creator:
Nakagawa-Kanon
Accuracy:

Length:
4:18 (3:46 drain)
Source:
BMS
Genre:
Video Game (Instrumental)
BPM:
222.22
Tags:
parousia onosakihito kirisaki_hayashi
User Rating:
Success Rate:
Points of Failure:


(graph is accumulative, based on % at fail/retry)

4.3% (179927 of 4220348 plays)

Submitted:
Ranked:
Nov 15, 2011
Jun 24, 2012
Rating Spread:

Favourited 1975 times in total

Users that love this map: HineX, Sangni, Kim Jin Seok, Last Remote, An-Don, micfly, 0290jbb, zenki0013, Qwho, kgdbian, Cifica, kikyo, Himitsu-, Taka-kun, HanazawaKana, Vils, bhyper, Megpoid, Pepsior, Zook and many more!
Options:
Modding / Discussion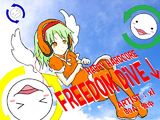 I can't pass this map.
Another : Fun and playable
FOUR DIMENTIONS : Hell diff. this is easy diff but hell difficult.
real stream.

External Download:
Taiko Futsuu & Taiko Muzukashii
Cookiezi is in the lead! ()
Score
132,408,001 (99.83%)
Max Combo
2385
300 / 100 / 50
1978 / 5 / 0
Misses
0
Geki (Elite Beat!)
247
Katu (Beat!)
4
Mods
HD,HR
Top 50 Scoreboard
| | Rank | Score | Accuracy | Player | Max Combo | 300 / 100 / 50 | Geki | Katu | Misses | Mods | |
| --- | --- | --- | --- | --- | --- | --- | --- | --- | --- | --- | --- |
| #1 | | 132,408,001 | 99.83% | Cookiezi | 2385 | 1978&nbsp&nbsp/ 5 / 0 | 247 | 4 | 0 | HD,HR | Report |
| #2 | | 118,016,282 | 99.93% | Rafis | 2385 | 1981&nbsp&nbsp/ 2 / 0 | 249 | 2 | 0 | None | Report |
| #3 | | 116,845,640 | 99.23% | cptnXn | 2384 | 1960&nbsp&nbsp/ 23 / 0 | 240 | 11 | 0 | None | Report |
| #4 | | 115,717,546 | 98.55% | rrtyui | 2383 | 1941&nbsp&nbsp/ 40 / 0 | 232 | 17 | 2 | None | Report |
| #5 | | 110,459,256 | 99.38% | Abyssal | 2317 | 1965&nbsp&nbsp/ 17 / 0 | 244 | 6 | 1 | None | Report |
| #6 | | 68,397,102 | 95.81% | r0ck | 1780 | 1870&nbsp&nbsp/ 84 / 11 | 225 | 17 | 18 | None | Report |
| #7 | | 65,388,964 | 99.04% | Dustice | 1743 | 1958&nbsp&nbsp/ 18 / 0 | 241 | 8 | 7 | None | Report |
| #8 | | 63,538,650 | 97.90% | Doomsday | 1689 | 1923&nbsp&nbsp/ 53 / 4 | 224 | 22 | 3 | None | Report |
| #9 | | 61,674,524 | 92.83% | Yaong | 1688 | 1780&nbsp&nbsp/ 173 / 19 | 201 | 41 | 11 | HR | Report |
| #10 | | 61,409,540 | 94.03% | Axarious | 1731 | 1807&nbsp&nbsp/ 173 / 0 | 195 | 56 | 3 | None | Report |
| #11 | | 59,271,086 | 99.87% | Mafham | 2385 | 1979&nbsp&nbsp/ 4 / 0 | 249 | 2 | 0 | EZ | Report |
| #12 | | 59,126,538 | 99.70% | -GN | 2385 | 1974&nbsp&nbsp/ 9 / 0 | 248 | 3 | 0 | EZ | Report |
| #13 | | 58,831,782 | 99.39% | Ekoro | 2383 | 1965&nbsp&nbsp/ 18 / 0 | 246 | 5 | 0 | EZ | Report |
| #14 | | 57,526,227 | 95.60% | talala | 1514 | 1855&nbsp&nbsp/ 120 / 4 | 189 | 57 | 4 | HR | Report |
| #15 | | 50,602,158 | 94.26% | rustbell | 1518 | 1821&nbsp&nbsp/ 141 / 7 | 213 | 32 | 14 | None | Report |
| #16 | | 49,796,876 | 97.34% | DenierNezzar | 1368 | 1912&nbsp&nbsp/ 54 / 2 | 227 | 19 | 15 | None | Report |
| #17 | | 49,731,294 | 98.73% | ExpertBOT | 1346 | 1947&nbsp&nbsp/ 32 / 1 | 233 | 15 | 3 | None | Report |
| #18 | | 46,837,420 | 93.02% | WubWoofWolf | 1489 | 1794&nbsp&nbsp/ 138 / 28 | 214 | 21 | 23 | None | Report |
| #19 | | 46,366,234 | 96.40% | Astar | 1397 | 1881&nbsp&nbsp/ 92 / 0 | 213 | 34 | 10 | None | Report |
| #20 | | 43,916,378 | 98.42% | pyon | 1233 | 1937&nbsp&nbsp/ 44 / 0 | 235 | 14 | 2 | None | Report |
| #21 | | 42,839,429 | 95.23% | 1E308 | 1905 | 1852&nbsp&nbsp/ 109 / 1 | 210 | 34 | 21 | NF,HD,HR | Report |
| #22 | | 41,874,982 | 98.55% | follon | 1128 | 1942&nbsp&nbsp/ 37 / 0 | 234 | 15 | 4 | None | Report |
| #23 | | 41,049,012 | 96.97% | lain | 1230 | 1897&nbsp&nbsp/ 77 / 1 | 215 | 33 | 8 | None | Report |
| #24 | | 39,716,904 | 97.94% | Zekker | 1151 | 1926&nbsp&nbsp/ 48 / 1 | 227 | 19 | 8 | None | Report |
| #25 | | 38,439,320 | 93.31% | idke | 849 | 1791&nbsp&nbsp/ 174 / 8 | 191 | 55 | 10 | HR | Report |
| #26 | | 37,647,941 | 99.23% | Cappy | 2384 | 1960&nbsp&nbsp/ 23 / 0 | 236 | 15 | 0 | HR,HT | Report |
| #27 | | 36,989,004 | 91.42% | neko ds | 1154 | 1746&nbsp&nbsp/ 180 / 41 | 203 | 34 | 16 | None | Report |
| #28 | | 36,853,815 | 97.24% | Sheba | 2385 | 1901&nbsp&nbsp/ 82 / 0 | 211 | 40 | 0 | HR,HT | Report |
| #29 | | 36,653,544 | 91.91% | DuNai | 1183 | 1755&nbsp&nbsp/ 199 / 8 | 200 | 40 | 21 | None | Report |
| #30 | | 36,583,660 | 93.62% | - Phantasma - | 1265 | 1811&nbsp&nbsp/ 128 / 17 | 199 | 40 | 27 | None | Report |
| #31 | | 36,305,501 | 97.09% | Firika | 2383 | 1897&nbsp&nbsp/ 84 / 2 | 218 | 32 | 0 | HD,HT | Report |
| #32 | | 35,706,345 | 99.60% | ShaggoN | 2384 | 1971&nbsp&nbsp/ 12 / 0 | 244 | 7 | 0 | HT | Report |
| #33 | | 35,509,800 | 99.13% | Neko Mimi | 2385 | 1957&nbsp&nbsp/ 26 / 0 | 241 | 10 | 0 | HT | Report |
| #34 | | 35,459,147 | 98.99% | Mooha | 2385 | 1953&nbsp&nbsp/ 30 / 0 | 240 | 11 | 0 | HT | Report |
| #35 | | 35,400,718 | 99.06% | clayton | 2385 | 1955&nbsp&nbsp/ 28 / 0 | 242 | 9 | 0 | HT,SD | Report |
| #36 | | 35,309,039 | 98.05% | BigBadWolf | 2385 | 1925&nbsp&nbsp/ 58 / 0 | 231 | 20 | 0 | HT | Report |
| #37 | | 35,285,830 | 98.79% | -N a n a k o- | 2383 | 1947&nbsp&nbsp/ 36 / 0 | 236 | 15 | 0 | HT | Report |
| #38 | | 35,153,783 | 98.55% | [ Beatrice ] | 2382 | 1940&nbsp&nbsp/ 42 / 1 | 234 | 16 | 0 | HT | Report |
| #39 | | 34,776,162 | 97.90% | firebat92 | 1027 | 1925&nbsp&nbsp/ 49 / 0 | 218 | 27 | 9 | HR | Report |
| #40 | | 33,687,817 | 94.82% | fieryrage | 2380 | 1829&nbsp&nbsp/ 154 / 0 | 203 | 48 | 0 | HT | Report |
| #41 | | 33,231,718 | 92.03% | Idealism | 1224 | 1754&nbsp&nbsp/ 209 / 8 | 177 | 64 | 12 | None | Report |
| #42 | | 33,150,642 | 98.39% | Reimu-Desu | 1109 | 1939&nbsp&nbsp/ 34 / 4 | 236 | 11 | 6 | None | Report |
| #43 | | 33,137,864 | 94.04% | Chiu | 2283 | 1811&nbsp&nbsp/ 156 / 11 | 200 | 46 | 5 | HR,HT | Report |
| #44 | | 32,996,992 | 98.61% | FeriOP | 1039 | 1948&nbsp&nbsp/ 22 / 1 | 232 | 12 | 12 | None | Report |
| #45 | | 31,915,583 | 95.25% | filsdelama | 886 | 1850&nbsp&nbsp/ 115 / 3 | 194 | 52 | 15 | HR | Report |
| #46 | | 31,837,305 | 99.65% | Rorry | 2255 | 1973&nbsp&nbsp/ 9 / 0 | 241 | 9 | 1 | HT | Report |
| #47 | | 31,626,972 | 94.64% | Karthy | 1027 | 1830&nbsp&nbsp/ 139 / 2 | 198 | 43 | 12 | HD,HR | Report |
| #48 | | 30,816,477 | 95.61% | Tetla | 2191 | 1856&nbsp&nbsp/ 118 / 4 | 194 | 54 | 5 | HR,HT | Report |
| #49 | | 30,640,122 | 98.59% | Incera | 2157 | 1942&nbsp&nbsp/ 39 / 0 | 227 | 23 | 2 | HR,HT | Report |
| #50 | | 30,424,867 | 98.03% | Kip | 2204 | 1929&nbsp&nbsp/ 42 / 6 | 240 | 7 | 6 | HT | Report |