Artist:
CROW'SCLAW
Circle Size:

Approach Rate:

Title:
Possession
HP Drain:

Star Difficulty:

(5.25)
Creator:
Faust
Accuracy:

Length:
4:23 (4:14 drain)
Source:
Fate/Hollow Ataraxia
Genre:
Video Game (Instrumental)
BPM:
186
Tags:
metal taka lepidopodus type-moon broken phantasm
User Rating:
Success Rate:
Points of Failure:


(graph is accumulative, based on % at fail/retry)

9.2% (10410 of 112850 plays)

Submitted:
Ranked:
Jul 1, 2010
Nov 29, 2011
Rating Spread:

Favourited 72 times in total

Users that love this map: niedz, ShaBaoFaSAMA, Zook, Satoru, TMAstraf, Nadina120, Ch1ka, Neviel, ddyamazaki, Nyzumi, lin820902, jeykol233, Fifth Maiden, funshine, Yuzmi, dbzguru32, rinkon, GrimRe4per, Yuugo, Ruitare and many more!
Options:
This Beatmap's Thread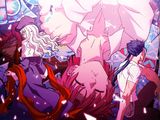 #1

Caren Ortensia

fan !
I strongly suggest playing without the SB and then inserting it back afterwards if continuously moving backgrounds disorient or annoy you.
From the album "

Broken Phantasm

".
Fenrir is in the lead! ()
Score
39,214,967 (99.20%)
Max Combo
1438
300 / 100 / 50
993 / 12 / 0
Misses
0
Geki (Elite Beat!)
109
Katu (Beat!)
8
Mods
HD,HR
Top 50 Scoreboard
| | Rank | Score | Accuracy | Player | Max Combo | 300 / 100 / 50 | Geki | Katu | Misses | Mods | |
| --- | --- | --- | --- | --- | --- | --- | --- | --- | --- | --- | --- |
| #1 | | 39,214,967 | 99.20% | Fenrir | 1438 | 993&nbsp&nbsp/ 12 / 0 | 109 | 8 | 0 | HD,HR | Report |
| #2 | | 39,202,304 | 99.14% | Emperorpenguin83 | 1438 | 992&nbsp&nbsp/ 13 / 0 | 108 | 9 | 0 | HD,HR | Report |
| #3 | | 39,040,942 | 98.72% | WubWoofWolf | 1438 | 986&nbsp&nbsp/ 18 / 1 | 105 | 11 | 0 | HD,HR | Report |
| #4 | | 38,547,598 | 97.81% | Vmx | 1436 | 972&nbsp&nbsp/ 33 / 0 | 99 | 15 | 0 | HD,HR | Report |
| #5 | | 38,282,274 | 97.88% | Small K | 1438 | 973&nbsp&nbsp/ 32 / 0 | 101 | 13 | 0 | HD,HR | Report |
| #6 | | 38,162,742 | 96.88% | Guminis | 1435 | 958&nbsp&nbsp/ 47 / 0 | 93 | 24 | 0 | HD,HR | Report |
| #7 | | 37,723,178 | 96.12% | JuZu | 1438 | 947&nbsp&nbsp/ 56 / 2 | 87 | 26 | 0 | HD,HR | Report |
| #8 | | 37,170,966 | 99.59% | mukachu | 1438 | 999&nbsp&nbsp/ 5 / 1 | 110 | 3 | 0 | HD | Report |
| #9 | | 37,128,453 | 99.54% | Icicle Fall | 1438 | 998&nbsp&nbsp/ 7 / 0 | 113 | 4 | 0 | HD | Report |
| #10 | | 37,063,131 | 99.34% | Kyusa | 1438 | 995&nbsp&nbsp/ 10 / 0 | 111 | 6 | 0 | HD | Report |
| #11 | | 36,756,990 | 98.67% | Ldd-D | 1437 | 985&nbsp&nbsp/ 20 / 0 | 106 | 11 | 0 | HD | Report |
| #12 | | 36,698,149 | 98.41% | BiG_ChilD | 1438 | 981&nbsp&nbsp/ 24 / 0 | 106 | 8 | 0 | HD | Report |
| #13 | | 36,692,617 | 98.62% | hzGfa | 1436 | 985&nbsp&nbsp/ 17 / 3 | 105 | 7 | 0 | HD | Report |
| #14 | | 36,463,786 | 97.81% | Arieruco | 1437 | 972&nbsp&nbsp/ 33 / 0 | 96 | 18 | 0 | HR | Report |
| #15 | | 36,063,018 | 96.95% | GaTu | 1435 | 959&nbsp&nbsp/ 46 / 0 | 95 | 22 | 0 | HR | Report |
| #16 | | 36,056,232 | 97.08% | -cr1mmy- | 1437 | 961&nbsp&nbsp/ 44 / 0 | 101 | 13 | 0 | HD | Report |
| #17 | | 35,980,807 | 97.06% | Katsumi | 1435 | 961&nbsp&nbsp/ 43 / 1 | 102 | 14 | 0 | HD | Report |
| #18 | | 35,643,526 | 96.14% | Dungeon | 1438 | 947&nbsp&nbsp/ 57 / 1 | 89 | 24 | 0 | HR | Report |
| #19 | | 35,516,060 | 95.89% | Teae | 1438 | 943&nbsp&nbsp/ 62 / 0 | 90 | 24 | 0 | HR | Report |
| #20 | | 35,265,508 | 100.00% | wiza | 1438 | 1005&nbsp&nbsp/ 0 / 0 | 114 | 0 | 0 | None | Report |
| #21 | | 35,264,557 | 95.37% | Pyro Knight | 1438 | 936&nbsp&nbsp/ 66 / 3 | 92 | 23 | 0 | HD | Report |
| #22 | | 35,261,108 | 100.00% | doctorindark | 1438 | 1005&nbsp&nbsp/ 0 / 0 | 114 | 0 | 0 | None | Report |
| #23 | | 35,260,008 | 100.00% | Potofu | 1438 | 1005&nbsp&nbsp/ 0 / 0 | 117 | 0 | 0 | None | Report |
| #24 | | 35,247,603 | 94.69% | Kynan | 1438 | 925&nbsp&nbsp/ 80 / 0 | 82 | 32 | 0 | HR | Report |
| #25 | | 35,223,392 | 99.87% | Regnall | 1438 | 1003&nbsp&nbsp/ 2 / 0 | 112 | 2 | 0 | None | Report |
| #26 | | 35,202,348 | 99.87% | whosthebox | 1438 | 1003&nbsp&nbsp/ 2 / 0 | 115 | 2 | 0 | None | Report |
| #27 | | 35,197,888 | 99.87% | GermanAE | 1438 | 1003&nbsp&nbsp/ 2 / 0 | 115 | 2 | 0 | None | Report |
| #28 | | 35,192,896 | 99.73% | Snowslide | 1438 | 1001&nbsp&nbsp/ 4 / 0 | 113 | 4 | 0 | None | Report |
| #29 | | 35,191,104 | 99.87% | Apple | 1438 | 1003&nbsp&nbsp/ 2 / 0 | 112 | 2 | 0 | None | Report |
| #30 | | 35,174,872 | 99.80% | _lai | 1438 | 1002&nbsp&nbsp/ 3 / 0 | 116 | 1 | 0 | None | Report |
| #31 | | 35,174,076 | 99.73% | GoldenWolf | 1438 | 1001&nbsp&nbsp/ 4 / 0 | 113 | 4 | 0 | None | Report |
| #32 | | 35,172,936 | 99.80% | Uryuwei | 1438 | 1002&nbsp&nbsp/ 3 / 0 | 112 | 2 | 0 | None | Report |
| #33 | | 35,167,466 | 99.80% | Another6_4 | 1437 | 1002&nbsp&nbsp/ 3 / 0 | 114 | 3 | 0 | None | Report |
| #34 | | 35,166,644 | 99.73% | Weber | 1438 | 1001&nbsp&nbsp/ 4 / 0 | 115 | 2 | 0 | None | Report |
| #35 | | 35,161,328 | 99.87% | serobor | 1438 | 1003&nbsp&nbsp/ 2 / 0 | 115 | 2 | 0 | None | Report |
| #36 | | 35,154,540 | 99.54% | waefwerf | 1438 | 998&nbsp&nbsp/ 7 / 0 | 113 | 4 | 0 | None | Report |
| #37 | | 35,151,964 | 99.80% | tfg50 | 1438 | 1002&nbsp&nbsp/ 3 / 0 | 115 | 2 | 0 | None | Report |
| #38 | | 35,150,916 | 99.73% | dat boi waffle | 1438 | 1001&nbsp&nbsp/ 4 / 0 | 113 | 4 | 0 | None | Report |
| #39 | | 35,142,236 | 99.67% | WiMpN | 1438 | 1000&nbsp&nbsp/ 5 / 0 | 112 | 5 | 0 | None | Report |
| #40 | | 35,140,952 | 99.73% | WeirdF | 1438 | 1001&nbsp&nbsp/ 4 / 0 | 113 | 4 | 0 | None | Report |
| #41 | | 35,133,796 | 99.73% | Mythology | 1438 | 1001&nbsp&nbsp/ 4 / 0 | 112 | 2 | 0 | None | Report |
| #42 | | 35,125,824 | 99.67% | Valentiino | 1438 | 1000&nbsp&nbsp/ 5 / 0 | 111 | 3 | 0 | None | Report |
| #43 | | 35,120,144 | 99.80% | KAKALOTE | 1436 | 1002&nbsp&nbsp/ 3 / 0 | 114 | 3 | 0 | None | Report |
| #44 | | 35,116,970 | 99.80% | kafaN | 1435 | 1002&nbsp&nbsp/ 3 / 0 | 114 | 3 | 0 | None | Report |
| #45 | | 35,115,584 | 99.67% | Bokenashu | 1438 | 1000&nbsp&nbsp/ 5 / 0 | 114 | 3 | 0 | None | Report |
| #46 | | 35,112,558 | 99.67% | Physalis | 1437 | 1000&nbsp&nbsp/ 5 / 0 | 115 | 2 | 0 | None | Report |
| #47 | | 35,093,148 | 99.60% | AdveNt | 1438 | 999&nbsp&nbsp/ 6 / 0 | 110 | 4 | 0 | None | Report |
| #48 | | 35,084,726 | 99.67% | sumomo EX | 1437 | 1000&nbsp&nbsp/ 5 / 0 | 112 | 5 | 0 | None | Report |
| #49 | | 35,082,606 | 99.67% | Suzutsuki- | 1437 | 1000&nbsp&nbsp/ 5 / 0 | 109 | 5 | 0 | None | Report |
| #50 | | 35,078,068 | 99.47% | O_xOB | 1438 | 997&nbsp&nbsp/ 8 / 0 | 111 | 6 | 0 | None | Report |