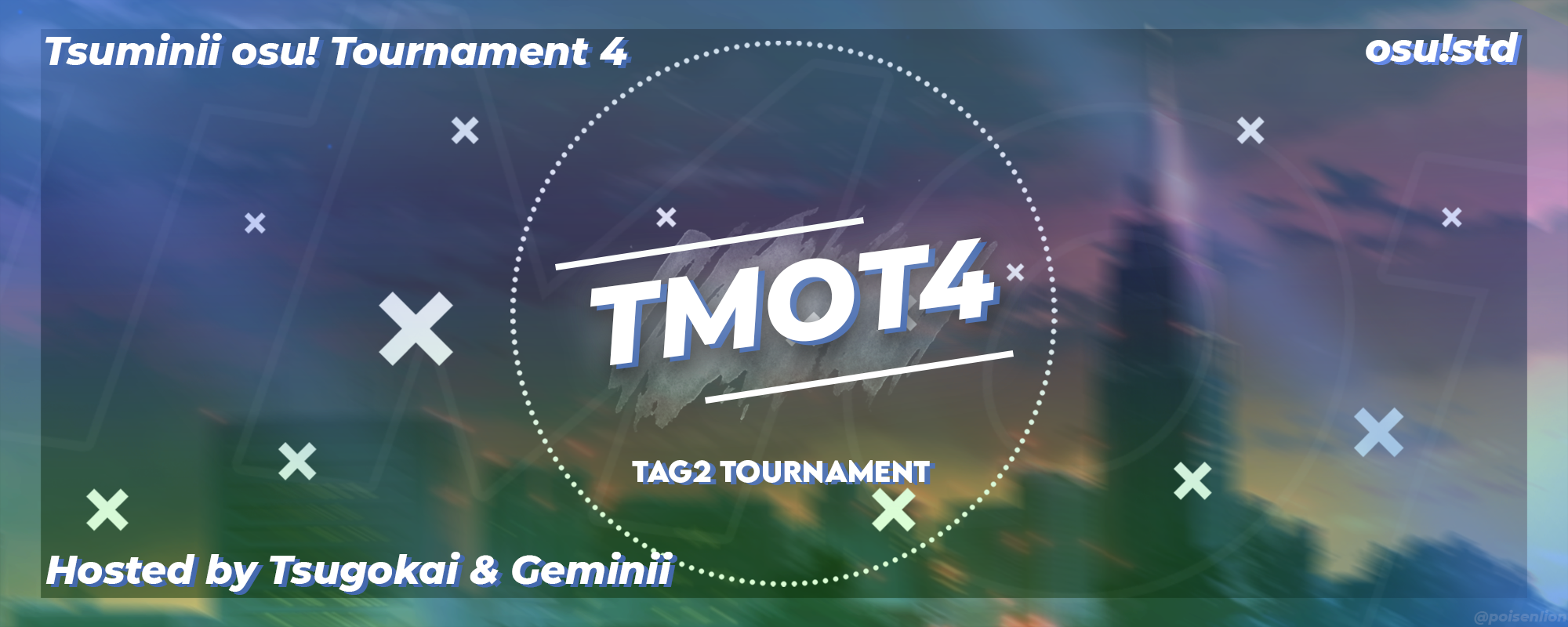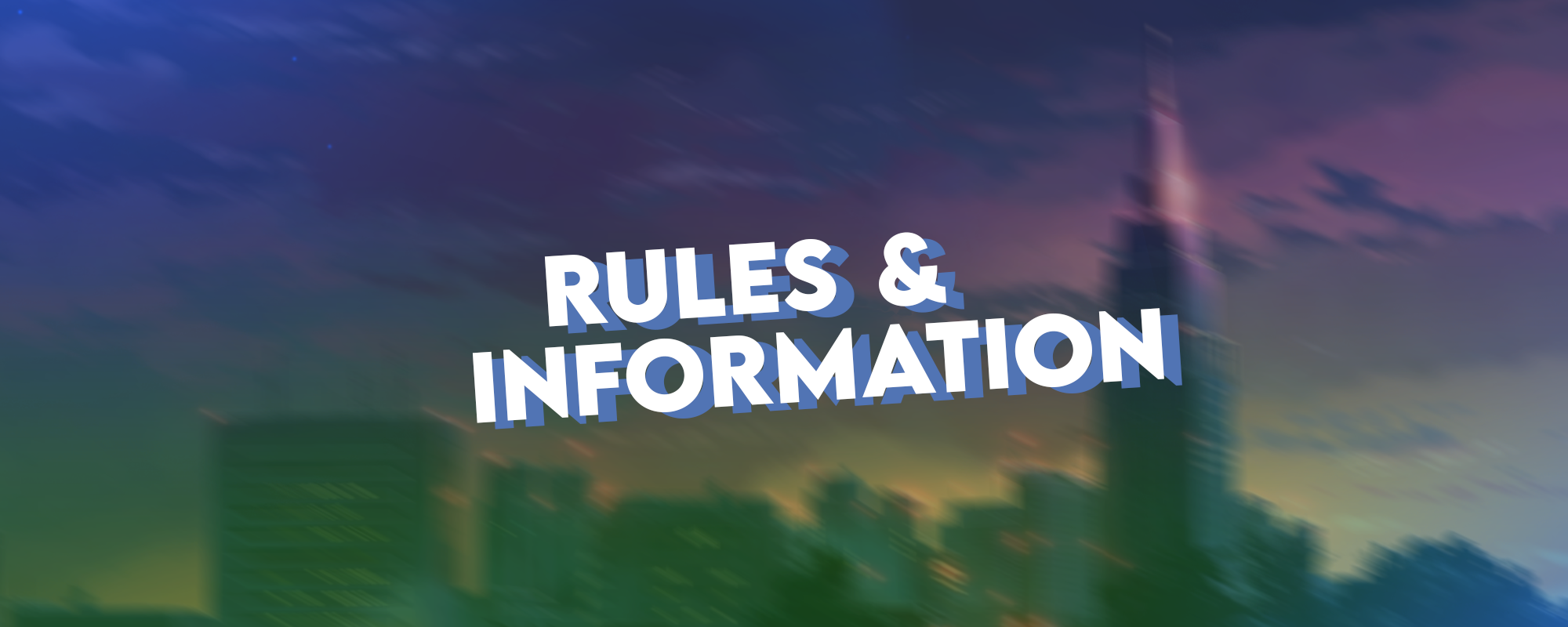 This tournament is an osu!standard 2v2, TAG2, double elimination Tournament.
Matches will be played with the Tag-team VS mode, matches will be played with ScoreV2, but in order for the match results to be accurate, the players will be judged based on the team's average accuracy .
There will be two tiers :
- Tier 1 : Open rank
- Tier 2 : 30k - ∞, BWS is applied (rank^(0.9937^(badges^2)))
The mappools will consist of a set of

NoMod

,

Easy

,

HardRock

,

Hidden

and

DoubleTime

maps.
In order to join, you must sign up with the

Registration Form

Your registration will only be validated if all team members have joined the discord.
Team sizes must be between at least 2 players and at most 3 players.
Prize pool is the following :
-

1st place

: 6 months of Supporter Tag & Profile Badge (Pending)
-

2nd place

: 2 months of Supporter Tag
-

3rd place

: 1 months of Supporter Tag
MATCH RULES
Matches will always be played on weekends, unless both teams agree to play on another day and a referee is available.
New pools will be released on Mondays, and will be showcased on YouTube.
Mappools can be found on the

Spreadsheet

after release.
The first player on each team (every odd match slot) will be the first map combo.
All maps will be played with NoFail.
Maps can only be played in a 2v2 format.
Players are free to stream their POV.
Staff members will NOT be able to participate in the tournament. Referees will be able to participate as long as they do not ref the tier they are playing in.



QUALIFIERS

During qualifiers, players will play maps in order.
After all maps are played, players are free to either leave or choose to replay any map a second time. Only the best accuracy play out of the two plays will be counted.
Every team will play the qualifiers, the Top 32 from each tier will move onto the elimination stage.



ELIMINATION STAGE

Referees will ping the teams 10 to 30 minutes before the match and will send invites accordingly.
- If a team fails to show up with enough players after 15 minutes, the team with the most players will win by default
- If both teams fail to show up, they will both be eliminated
At the beginning of the match, both teams are free to pick one warmup match each (max. length < 4:00 minutes).
The warmup will be played with TAG-Team VS
Both team captains will then !roll.
- The winner of the !roll gets to pick between First pick (second ban) or First ban (second pick).
Teams will be placed as such : Team

Blue

(Slots 1 & 2) and Team

Red

(Slots 3 & 4).
Maps that have already been played cannot be picked again.
Tiebreakers are Freemod. Players from the same team are not required to use the same mod. Players are free to use no mods but all players are required to at least use NoFail.
Starting Finals, teams will be offered two bans.
In the case of a draw, the map will be replayed.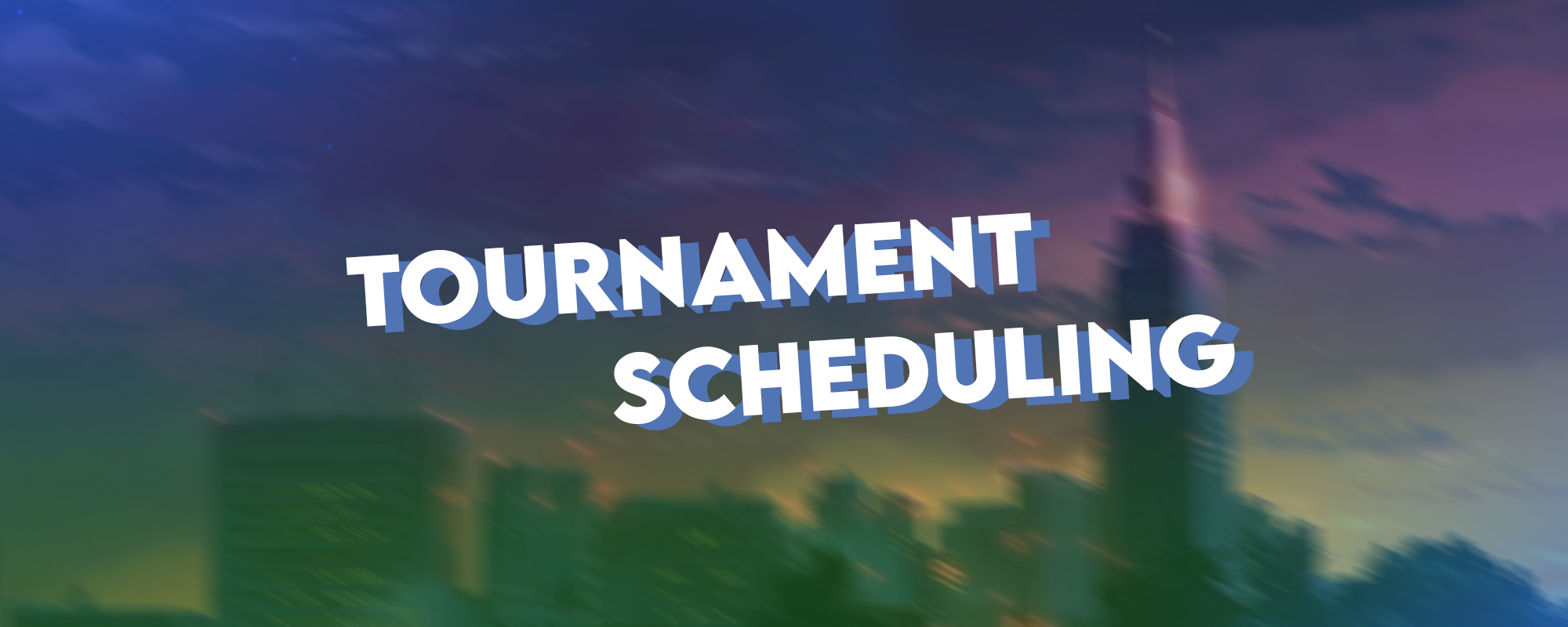 05/07/2021 : Regs. OPEN
19/07/2021 : Regs. CLOSE
26/07/2021 : Screening ends
30/07/2021 : Qualifiers
06/07/2021 : RO32
13/08/2021 : RO16
20/08/2021 : QuarterFinals
27/08/2021 : SemiFinals
03/09/2021 : Finals
10/09/2021 : GrandFinals
Depending on the screening length, Qualifiers may start later.