Artist:
Eagle
Circle Size:

Approach Rate:

Title:
Reflux
HP Drain:

Star Difficulty:

(6.19)
Creator:
rrtyui
Accuracy:

Length:
1:57 (1:43 drain)
Source:
beatmania IIDX 22 PENDUAL
Genre:
Unspecified (Other)
BPM:
150
Tags:
trancestep kors k 斎藤広祐
User Rating:
Success Rate:
Points of Failure:


(graph is accumulative, based on % at fail/retry)

8.6% (2007 of 23283 plays)

Submitted:
Loved:
Dec 9, 2015
Oct 2, 2017
Rating Spread:

Favourited 125 times in total

Users that love this map: Taikuta, -kevincela-, Ekoro, 09kami, Komari, Gamu, taku, Rad-, D D D, electrolytes, Happy911, WEIRD FACE, SilveRain, Tobimay, Asphyxia, Nelsia, Kirin, SavleR, Black Wolf159, Ikpot and many more!
Options:
Modding / Discussion
This map is in a LOVED state.
As such, it will not award any pp and leaderboards may be reset by the beatmap creator.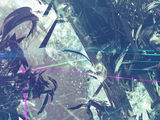 SB by me
_人人人人人人人_
>  6.19 stars  <
 ̄Y^Y^Y^Y^Y^Y ̄
osu player84 is in the lead! ()
Score
13,382,302 (97.94%)
Max Combo
874
300 / 100 / 50
595 / 19 / 0
Misses
0
Geki (Elite Beat!)
155
Katu (Beat!)
16
Mods
HD
Top 50 Scoreboard
| | Rank | Score | Accuracy | Player | Max Combo | 300 / 100 / 50 | Geki | Katu | Misses | Mods | |
| --- | --- | --- | --- | --- | --- | --- | --- | --- | --- | --- | --- |
| #1 | | 13,382,302 | 97.94% | osu player84 | 874 | 595&nbsp&nbsp/ 19 / 0 | 155 | 16 | 0 | HD | Report |
| #2 | | 13,263,522 | 97.39% | Azer | 871 | 590&nbsp&nbsp/ 24 / 0 | 154 | 17 | 0 | HD | Report |
| #3 | | 12,912,212 | 95.44% | Bubbleman | 865 | 572&nbsp&nbsp/ 42 / 0 | 145 | 26 | 0 | HD | Report |
| #4 | | 12,583,763 | 92.89% | WubWoofWolf | 865 | 550&nbsp&nbsp/ 58 / 6 | 128 | 38 | 0 | HD | Report |
| #5 | | 12,395,230 | 97.18% | Yaong | 865 | 588&nbsp&nbsp/ 26 / 0 | 152 | 19 | 0 | None | Report |
| #6 | | 11,919,498 | 94.68% | Tetla | 855 | 565&nbsp&nbsp/ 49 / 0 | 138 | 33 | 0 | None | Report |
| #7 | | 11,068,472 | 95.06% | Doomsday | 799 | 569&nbsp&nbsp/ 44 / 0 | 137 | 33 | 1 | None | Report |
| #8 | | 10,519,770 | 95.44% | Rafis | 774 | 572&nbsp&nbsp/ 42 / 0 | 141 | 30 | 0 | None | Report |
| #9 | | 9,485,962 | 90.93% | Aden | 736 | 532&nbsp&nbsp/ 78 / 2 | 112 | 55 | 2 | None | Report |
| #10 | | 9,243,088 | 93.43% | Jameslike | 717 | 556&nbsp&nbsp/ 52 / 2 | 135 | 33 | 4 | None | Report |
| #11 | | 8,817,976 | 93.35% | firebat92 | 656 | 553&nbsp&nbsp/ 60 / 1 | 130 | 40 | 0 | HR | Report |
| #12 | | 8,809,306 | 89.25% | Crystal | 725 | 517&nbsp&nbsp/ 92 / 2 | 121 | 48 | 3 | None | Report |
| #13 | | 8,653,265 | 94.98% | Tem | 673 | 569&nbsp&nbsp/ 42 / 1 | 137 | 31 | 2 | HD | Report |
| #14 | | 8,399,698 | 88.49% | haruchi | 713 | 510&nbsp&nbsp/ 97 / 6 | 104 | 62 | 1 | None | Report |
| #15 | | 8,024,066 | 93.00% | -Trigger | 658 | 550&nbsp&nbsp/ 63 / 0 | 119 | 51 | 1 | None | Report |
| #16 | | 7,712,228 | 90.72% | Skystar | 647 | 530&nbsp&nbsp/ 80 / 2 | 120 | 48 | 2 | None | Report |
| #17 | | 7,290,792 | 90.93% | Kosmonautas | 621 | 535&nbsp&nbsp/ 69 / 2 | 130 | 36 | 8 | None | Report |
| #18 | | 6,729,259 | 92.35% | Fedora Goose | 548 | 545&nbsp&nbsp/ 66 / 0 | 126 | 42 | 3 | HD | Report |
| #19 | | 6,556,077 | 92.54% | Toy | 546 | 550&nbsp&nbsp/ 54 / 1 | 137 | 28 | 9 | HD | Report |
| #20 | | 6,444,696 | 80.05% | jhoo902 | 652 | 436&nbsp&nbsp/ 158 / 17 | 94 | 65 | 3 | None | Report |
| #21 | | 6,332,124 | 97.18% | Woey | 527 | 589&nbsp&nbsp/ 22 / 2 | 154 | 14 | 1 | HD | Report |
| #22 | | 6,057,620 | 93.46% | callmebatya | 555 | 558&nbsp&nbsp/ 47 / 1 | 132 | 35 | 8 | None | Report |
| #23 | | 5,520,346 | 93.13% | smh | 518 | 553&nbsp&nbsp/ 56 / 1 | 131 | 35 | 4 | None | Report |
| #24 | | 5,307,139 | 97.04% | -GN | 456 | 587&nbsp&nbsp/ 26 / 1 | 152 | 18 | 0 | HD | Report |
| #25 | | 5,229,672 | 86.48% | Emilia | 501 | 493&nbsp&nbsp/ 110 / 8 | 116 | 52 | 3 | HD | Report |
| #26 | | 5,033,284 | 93.54% | Blazink | 531 | 558&nbsp&nbsp/ 48 / 2 | 133 | 33 | 6 | None | Report |
| #27 | | 4,901,446 | 92.59% | HappyStick | 463 | 547&nbsp&nbsp/ 64 / 1 | 124 | 44 | 2 | None | Report |
| #28 | | 4,761,494 | 95.52% | Apraxia | 393 | 575&nbsp&nbsp/ 34 / 1 | 142 | 26 | 4 | None | Report |
| #29 | | 4,679,228 | 95.60% | Kyoko | 370 | 574&nbsp&nbsp/ 39 / 0 | 145 | 25 | 1 | None | Report |
| #30 | | 4,566,000 | 84.61% | Kamykazi | 448 | 479&nbsp&nbsp/ 119 / 5 | 99 | 64 | 11 | None | Report |
| #31 | | 4,488,364 | 95.01% | -Kazuki- | 453 | 568&nbsp&nbsp/ 46 / 0 | 137 | 34 | 0 | None | Report |
| #32 | | 4,434,662 | 93.70% | Lunirs | 367 | 559&nbsp&nbsp/ 49 / 0 | 131 | 37 | 6 | HD | Report |
| #33 | | 4,408,924 | 93.32% | SSaturday | 410 | 555&nbsp&nbsp/ 54 / 0 | 130 | 39 | 5 | None | Report |
| #34 | | 4,393,308 | 94.19% | Fataliis | 429 | 562&nbsp&nbsp/ 49 / 0 | 136 | 32 | 3 | None | Report |
| #35 | | 4,349,300 | 83.28% | Zanik | 470 | 463&nbsp&nbsp/ 143 / 4 | 87 | 77 | 4 | None | Report |
| #36 | | 4,343,562 | 85.42% | peng | 494 | 488&nbsp&nbsp/ 101 / 17 | 116 | 47 | 8 | None | Report |
| #37 | | 4,318,332 | 89.44% | Totoki | 367 | 519&nbsp&nbsp/ 90 / 1 | 111 | 58 | 4 | None | Report |
| #38 | | 4,271,920 | 89.09% | yuilemo | 445 | 515&nbsp&nbsp/ 96 / 0 | 107 | 61 | 3 | None | Report |
| #39 | | 4,175,428 | 93.19% | Vaxei | 425 | 554&nbsp&nbsp/ 53 / 3 | 134 | 33 | 4 | HR | Report |
| #40 | | 4,161,588 | 88.74% | L1NKED | 470 | 517&nbsp&nbsp/ 80 / 7 | 118 | 46 | 10 | None | Report |
| #41 | | 4,155,286 | 93.08% | Seouless | 474 | 554&nbsp&nbsp/ 52 / 1 | 129 | 37 | 7 | HD | Report |
| #42 | | 3,929,700 | 91.97% | Slips | 402 | 544&nbsp&nbsp/ 61 / 2 | 121 | 45 | 7 | None | Report |
| #43 | | 3,878,586 | 92.40% | DT-sama | 344 | 544&nbsp&nbsp/ 70 / 0 | 119 | 52 | 0 | None | Report |
| #44 | | 3,840,068 | 95.06% | JappyBabes | 353 | 571&nbsp&nbsp/ 38 / 0 | 144 | 23 | 5 | None | Report |
| #45 | | 3,785,979 | 94.30% | rustbell | 386 | 563&nbsp&nbsp/ 48 / 0 | 137 | 31 | 3 | HD | Report |
| #46 | | 3,740,892 | 91.75% | Piggey | 336 | 540&nbsp&nbsp/ 70 / 0 | 120 | 47 | 4 | None | Report |
| #47 | | 3,698,268 | 93.05% | GiraffekNuL | 352 | 553&nbsp&nbsp/ 52 / 6 | 130 | 36 | 3 | None | Report |
| #48 | | 3,686,072 | 90.50% | Megure | 335 | 529&nbsp&nbsp/ 79 / 2 | 120 | 47 | 4 | None | Report |
| #49 | | 3,634,474 | 90.80% | Alien | 435 | 533&nbsp&nbsp/ 73 / 1 | 126 | 41 | 7 | None | Report |
| #50 | | 3,568,406 | 93.00% | badeu | 383 | 551&nbsp&nbsp/ 60 / 0 | 132 | 36 | 3 | None | Report |