Nekrogoblikon
Crashing into Earth one fateful day in 2006, Nekrogoblikon emerged from the rubble of Los Angeles, USA with an appetite for mayhem and a titular fascination with goblins. Frequently pairing heavier, head-banging riffs alongside unorthodox sounds including glockenspiel melodies, banjo solos, and even electronic and techno grooves, Nekrogoblikon remains unafraid of warping the typical conventions of the death metal genre all while holding firm band's overarching marauding goblin motif.
Going viral in 2012 with their music video for No One Survives featuring the life of band mascot and hype-man John Goblikon, Nekrogoblikon has since toured internationally alongside iconic powerhouses such as Limp Bizkit and Alestorm, before returning to their lair only to set out and raid the public with their latest critically acclaimed album titled Welcome to Bonkers in 2018.
Harsh and frenzied yet catchy and melodic, Nekrogoblikon is a shining introduction to the rhythmic world of death metal, poised to interest mappers of all experience levels. Those who seek to find both serious and playful will find no shortage of either in the band's work, all ensconced in layers upon layers of musical mastery from some of the strongest names in the genre.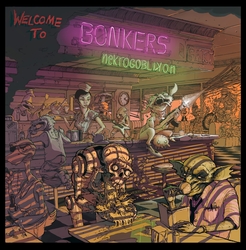 Welcome to Bonkers