Beatmap Listing » t+pazolite - Luv-Lab-Poison 22ate!
Artist:
t+pazolite
Circle Size:

Approach Rate:

Title:
Luv-Lab-Poison 22ate!
HP Drain:

Star Difficulty:

(5.50)
Creator:
Xgor
Accuracy:

Length:
2:14 (1:46 drain)
Source:
Genre:
Video Game (Instrumental)
BPM:
228
Tags:
touhou 9 phantasmagoria of flower view crazy remix medicine melancholy poison body ~ forsaken doll
User Rating:
Success Rate:
Points of Failure:


(graph is accumulative, based on % at fail/retry)

10.4% (16333 of 156562 plays)

Submitted:
Ranked:
Sep 2, 2009
Jan 19, 2010
Rating Spread:

Favourited 101 times in total

Users that love this map: ultimateX21xx, futaba-, misa, KonMio, Kandras, MrCamel, Onizuki, PerspicaciousHaze, Nightscream, fx6200lol, Wuiss, 1ika1, goo_plus, MahouLovesSugar, C h i r u n O, Nyu-Horo, ft1590804, kelasusi, SpringDay, [H]estiaSama and many more!
Options:
Modding / Discussion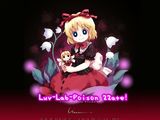 If you downloaded this before 17 november please re-download for skin :)
IT'S **** DONE!!!!!!!!!! GAHHHHH!!
It's a very, VERY strage remix of Poison Body ~ Forsaken Doll from Phantasmagoria of Flower View
Anyway, i experimented a lot in this map and i want to know if the map is good or not.....
Dsan is in the lead! ()
Score
13,978,094 (99.06%)
Max Combo
807
300 / 100 / 50
557 / 8 / 0
Misses
0
Geki (Elite Beat!)
62
Katu (Beat!)
7
Mods
HD,HR
Top 50 Scoreboard
| | Rank | Score | Accuracy | Player | Max Combo | 300 / 100 / 50 | Geki | Katu | Misses | Mods | |
| --- | --- | --- | --- | --- | --- | --- | --- | --- | --- | --- | --- |
| #1 | | 13,978,094 | 99.06% | Dsan | 807 | 557&nbsp&nbsp/ 8 / 0 | 62 | 7 | 0 | HD,HR | Report |
| #2 | | 13,862,669 | 97.05% | Toy | 807 | 540&nbsp&nbsp/ 25 / 0 | 56 | 13 | 0 | HD,HR | Report |
| #3 | | 13,826,712 | 98.47% | WubWoofWolf | 807 | 552&nbsp&nbsp/ 13 / 0 | 62 | 7 | 0 | HD,HR | Report |
| #4 | | 13,768,425 | 97.52% | Karthy | 807 | 544&nbsp&nbsp/ 21 / 0 | 58 | 11 | 0 | HD,HR | Report |
| #5 | | 13,231,429 | 99.29% | hvick225 | 807 | 559&nbsp&nbsp/ 6 / 0 | 64 | 5 | 0 | HD | Report |
| #6 | | 13,030,501 | 93.63% | -GN | 807 | 511&nbsp&nbsp/ 54 / 0 | 43 | 26 | 0 | HD,HR | Report |
| #7 | | 13,005,591 | 96.93% | bahamete | 807 | 539&nbsp&nbsp/ 26 / 0 | 53 | 16 | 0 | HR | Report |
| #8 | | 12,794,949 | 97.23% | Arnold24x24 | 765 | 542&nbsp&nbsp/ 21 / 2 | 54 | 13 | 0 | HD | Report |
| #9 | | 12,595,920 | 100.00% | mugio3 | 807 | 565&nbsp&nbsp/ 0 / 0 | 69 | 0 | 0 | None | Report |
| #10 | | 12,584,112 | 94.22% | Teachu | 804 | 516&nbsp&nbsp/ 49 / 0 | 47 | 22 | 0 | HD | Report |
| #11 | | 12,561,420 | 99.76% | Krom1 | 807 | 563&nbsp&nbsp/ 2 / 0 | 67 | 2 | 0 | None | Report |
| #12 | | 12,531,780 | 99.53% | Checker | 807 | 561&nbsp&nbsp/ 4 / 0 | 65 | 4 | 0 | None | Report |
| #13 | | 12,487,640 | 99.17% | Gomo Pslvarh | 807 | 558&nbsp&nbsp/ 7 / 0 | 63 | 6 | 0 | None | Report |
| #14 | | 12,478,060 | 98.58% | Mismagius | 807 | 553&nbsp&nbsp/ 12 / 0 | 61 | 8 | 0 | None | Report |
| #15 | | 12,457,920 | 98.94% | HappyStick | 807 | 556&nbsp&nbsp/ 9 / 0 | 64 | 5 | 0 | None | Report |
| #16 | | 12,455,880 | 99.29% | 404 AimNotFound | 807 | 559&nbsp&nbsp/ 6 / 0 | 63 | 6 | 0 | None | Report |
| #17 | | 12,453,120 | 98.70% | TTTL | 807 | 554&nbsp&nbsp/ 11 / 0 | 61 | 8 | 0 | None | Report |
| #18 | | 12,450,800 | 98.70% | takeki3gou | 807 | 554&nbsp&nbsp/ 11 / 0 | 63 | 6 | 0 | None | Report |
| #19 | | 12,439,920 | 98.94% | haxsu | 807 | 556&nbsp&nbsp/ 9 / 0 | 62 | 7 | 0 | None | Report |
| #20 | | 12,437,862 | 93.86% | TheCoon324 | 782 | 513&nbsp&nbsp/ 52 / 0 | 46 | 23 | 0 | HR | Report |
| #21 | | 12,433,970 | 98.32% | _index | 807 | 551&nbsp&nbsp/ 13 / 1 | 60 | 8 | 0 | None | Report |
| #22 | | 12,425,410 | 98.94% | Spare | 806 | 556&nbsp&nbsp/ 9 / 0 | 61 | 8 | 0 | None | Report |
| #23 | | 12,421,260 | 98.47% | Remilia-Scarlet | 807 | 552&nbsp&nbsp/ 13 / 0 | 62 | 7 | 0 | None | Report |
| #24 | | 12,395,510 | 98.44% | lain | 807 | 552&nbsp&nbsp/ 12 / 1 | 62 | 6 | 0 | None | Report |
| #25 | | 12,361,320 | 97.99% | rustbell | 807 | 548&nbsp&nbsp/ 17 / 0 | 57 | 12 | 0 | None | Report |
| #26 | | 12,360,080 | 98.47% | CookEasy | 807 | 552&nbsp&nbsp/ 13 / 0 | 61 | 8 | 0 | None | Report |
| #27 | | 12,350,840 | 98.32% | Teppichreini | 807 | 551&nbsp&nbsp/ 13 / 1 | 60 | 8 | 0 | None | Report |
| #28 | | 12,341,960 | 98.35% | Anze | 807 | 551&nbsp&nbsp/ 14 / 0 | 62 | 7 | 0 | None | Report |
| #29 | | 12,321,900 | 97.64% | - Phantasma - | 807 | 545&nbsp&nbsp/ 20 / 0 | 61 | 8 | 0 | None | Report |
| #30 | | 12,313,240 | 97.99% | pyon | 807 | 548&nbsp&nbsp/ 17 / 0 | 57 | 12 | 0 | None | Report |
| #31 | | 12,293,560 | 97.99% | kiddly | 807 | 548&nbsp&nbsp/ 17 / 0 | 57 | 12 | 0 | None | Report |
| #32 | | 12,268,540 | 95.87% | Iris | 807 | 530&nbsp&nbsp/ 35 / 0 | 51 | 18 | 0 | None | Report |
| #33 | | 12,239,380 | 96.81% | Black Sheep | 807 | 538&nbsp&nbsp/ 27 / 0 | 52 | 17 | 0 | None | Report |
| #34 | | 12,222,230 | 96.81% | Ekoro | 806 | 538&nbsp&nbsp/ 27 / 0 | 49 | 20 | 0 | None | Report |
| #35 | | 12,208,780 | 97.88% | Vaxei | 807 | 547&nbsp&nbsp/ 18 / 0 | 64 | 5 | 0 | None | Report |
| #36 | | 12,188,930 | 96.78% | Scarlet Sisters | 780 | 538&nbsp&nbsp/ 26 / 1 | 53 | 15 | 0 | None | Report |
| #37 | | 12,175,920 | 96.81% | N a n o | 786 | 538&nbsp&nbsp/ 27 / 0 | 53 | 16 | 0 | None | Report |
| #38 | | 12,172,920 | 96.93% | MeRcYyy | 807 | 539&nbsp&nbsp/ 26 / 0 | 49 | 20 | 0 | None | Report |
| #39 | | 12,129,460 | 95.28% | GGBY | 807 | 525&nbsp&nbsp/ 40 / 0 | 51 | 18 | 0 | None | Report |
| #40 | | 12,128,960 | 96.70% | AmaiHachimitsu | 807 | 537&nbsp&nbsp/ 28 / 0 | 52 | 17 | 0 | None | Report |
| #41 | | 12,126,280 | 96.34% | ShaggoN | 807 | 534&nbsp&nbsp/ 31 / 0 | 49 | 20 | 0 | None | Report |
| #42 | | 12,110,920 | 95.52% | Pring | 807 | 527&nbsp&nbsp/ 38 / 0 | 49 | 20 | 0 | None | Report |
| #43 | | 12,103,600 | 96.58% | Rucker | 807 | 536&nbsp&nbsp/ 29 / 0 | 56 | 13 | 0 | None | Report |
| #44 | | 12,098,750 | 95.01% | Neliel | 807 | 523&nbsp&nbsp/ 41 / 1 | 51 | 17 | 0 | None | Report |
| #45 | | 12,083,600 | 96.34% | DrakRainbow | 784 | 534&nbsp&nbsp/ 31 / 0 | 52 | 17 | 0 | None | Report |
| #46 | | 12,076,000 | 96.34% | Okinotori | 807 | 534&nbsp&nbsp/ 31 / 0 | 49 | 20 | 0 | None | Report |
| #47 | | 12,042,400 | 95.75% | sayonara-bye | 807 | 529&nbsp&nbsp/ 36 / 0 | 51 | 18 | 0 | None | Report |
| #48 | | 12,041,460 | 95.75% | val0108 | 807 | 529&nbsp&nbsp/ 36 / 0 | 48 | 21 | 0 | None | Report |
| #49 | | 12,038,000 | 95.52% | Maxe191 | 807 | 527&nbsp&nbsp/ 38 / 0 | 46 | 23 | 0 | None | Report |
| #50 | | 12,033,340 | 95.04% | scuoa | 807 | 523&nbsp&nbsp/ 42 / 0 | 47 | 22 | 0 | None | Report |