Artist:
Last Note.
Circle Size:

Approach Rate:

Title:
Caramel Heaven
HP Drain:

Star Difficulty:

(4.91)
Creator:
Snepif
Accuracy:

Length:
3:48 (3:38 drain)
Source:
Genre:
Novelty (Japanese)
BPM:
194
Tags:
megpoid gumi vocaloid 3 kyarameru heavun hea vun vocarock collection nyquill winber1
User Rating:
Success Rate:
Points of Failure:


(graph is accumulative, based on % at fail/retry)

13.9% (145936 of 1051071 plays)

Submitted:
Ranked:
Apr 25, 2013
Jul 1, 2013
Rating Spread:

Favourited 1727 times in total

Users that love this map: BurnElite, Dangaard, simsda, zwsr, Jetzu, Mikethefox, vini9204, Punishment, DarkE, Centribo, iys, Gravified, micosino19, alarm1234, Bruck8, FakeNem, don008, RayathLP, Shot4U, tempe and many more!
Options:
This Beatmap's Thread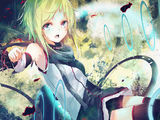 KYARAMERU HEAVUNNNNN!!
Heaven:
Hardest diff, by me.
Nyquill's Insane:
by Nyquill
Hard:
by me
W1's normal:
by Winber1
Easy:
by me
SB by me, simple but fun c:
Thanks for the guests guys o/
Bikko is in the lead! ()
Score
47,115,823 (99.93%)
Max Combo
1448
300 / 100 / 50
959 / 1 / 0
Misses
0
Geki (Elite Beat!)
173
Katu (Beat!)
1
Mods
HD,HR
Top 50 Scoreboard
| | Rank | Score | Accuracy | Player | Max Combo | 300 / 100 / 50 | Geki | Katu | Misses | Mods | |
| --- | --- | --- | --- | --- | --- | --- | --- | --- | --- | --- | --- |
| #1 | | 47,115,823 | 99.93% | Bikko | 1448 | 959&nbsp&nbsp/ 1 / 0 | 173 | 1 | 0 | HD,HR | Report |
| #2 | | 47,108,109 | 99.93% | Thunderbolt235 | 1448 | 959&nbsp&nbsp/ 1 / 0 | 173 | 1 | 0 | HD,HR | Report |
| #3 | | 47,062,312 | 99.86% | Yaong | 1448 | 958&nbsp&nbsp/ 2 / 0 | 172 | 2 | 0 | HD,HR | Report |
| #4 | | 46,991,501 | 99.65% | Vendemmia | 1448 | 955&nbsp&nbsp/ 5 / 0 | 168 | 5 | 0 | HD,HR | Report |
| #5 | | 46,958,627 | 99.65% | WubWoofWolf | 1448 | 955&nbsp&nbsp/ 5 / 0 | 168 | 5 | 0 | HD,HR | Report |
| #6 | | 46,948,672 | 99.65% | Recia | 1448 | 955&nbsp&nbsp/ 5 / 0 | 169 | 5 | 0 | HD,HR | Report |
| #7 | | 46,931,588 | 99.65% | Beafowl | 1448 | 955&nbsp&nbsp/ 5 / 0 | 169 | 5 | 0 | HD,HR | Report |
| #8 | | 46,916,675 | 99.51% | dat boi waffle | 1448 | 953&nbsp&nbsp/ 7 / 0 | 167 | 7 | 0 | HD,HR | Report |
| #9 | | 46,913,306 | 99.58% | Alumetorz | 1447 | 954&nbsp&nbsp/ 6 / 0 | 170 | 4 | 0 | HD,HR | Report |
| #10 | | 46,898,719 | 99.38% | NH2-Suika | 1448 | 951&nbsp&nbsp/ 9 / 0 | 166 | 8 | 0 | HD,HR | Report |
| #11 | | 46,876,507 | 99.51% | FzimoNN | 1448 | 953&nbsp&nbsp/ 7 / 0 | 167 | 7 | 0 | HD,HR | Report |
| #12 | | 46,848,784 | 99.20% | ClawViper | 1448 | 949&nbsp&nbsp/ 9 / 2 | 167 | 6 | 0 | HD,HR | Report |
| #13 | | 46,843,017 | 99.17% | Maffe | 1447 | 948&nbsp&nbsp/ 12 / 0 | 166 | 8 | 0 | HD,HR | Report |
| #14 | | 46,781,067 | 99.17% | Neta | 1447 | 948&nbsp&nbsp/ 12 / 0 | 167 | 7 | 0 | HD,HR | Report |
| #15 | | 46,742,817 | 99.24% | Mercurius | 1447 | 949&nbsp&nbsp/ 11 / 0 | 164 | 10 | 0 | HD,HR | Report |
| #16 | | 46,742,019 | 99.24% | Game | 1448 | 949&nbsp&nbsp/ 11 / 0 | 164 | 10 | 0 | HD,HR | Report |
| #17 | | 46,723,739 | 98.96% | CXu | 1448 | 945&nbsp&nbsp/ 15 / 0 | 164 | 10 | 0 | HD,HR | Report |
| #18 | | 46,713,579 | 99.17% | Naxurin | 1448 | 948&nbsp&nbsp/ 12 / 0 | 165 | 9 | 0 | HD,HR | Report |
| #19 | | 46,687,676 | 99.13% | thelewa | 1447 | 948&nbsp&nbsp/ 10 / 2 | 163 | 8 | 0 | HD,HR | Report |
| #20 | | 46,676,848 | 99.03% | Myjowski | 1445 | 946&nbsp&nbsp/ 14 / 0 | 162 | 12 | 0 | HD,HR | Report |
| #21 | | 46,625,779 | 98.96% | Nectarine | 1448 | 945&nbsp&nbsp/ 15 / 0 | 161 | 13 | 0 | HD,HR | Report |
| #22 | | 46,600,124 | 98.75% | pooptartsonas | 1448 | 942&nbsp&nbsp/ 18 / 0 | 160 | 14 | 0 | HD,HR | Report |
| #23 | | 46,592,755 | 98.61% | Broccoly | 1448 | 940&nbsp&nbsp/ 20 / 0 | 158 | 16 | 0 | HD,HR | Report |
| #24 | | 46,563,327 | 99.03% | Kairi | 1446 | 946&nbsp&nbsp/ 14 / 0 | 162 | 12 | 0 | HD,HR | Report |
| #25 | | 46,539,493 | 98.75% | HappyStick | 1448 | 942&nbsp&nbsp/ 18 / 0 | 155 | 18 | 0 | HD,HR | Report |
| #26 | | 46,492,908 | 98.75% | FluffyLuffy | 1448 | 942&nbsp&nbsp/ 18 / 0 | 158 | 16 | 0 | HD,HR | Report |
| #27 | | 46,435,540 | 98.61% | Adamqs | 1448 | 940&nbsp&nbsp/ 20 / 0 | 158 | 16 | 0 | HD,HR | Report |
| #28 | | 46,409,806 | 98.44% | No01 | 1448 | 938&nbsp&nbsp/ 20 / 2 | 161 | 12 | 0 | HD,HR | Report |
| #29 | | 46,363,109 | 97.88% | Shirone | 1447 | 930&nbsp&nbsp/ 28 / 2 | 154 | 18 | 0 | HD,HR | Report |
| #30 | | 46,347,145 | 98.40% | Tetla | 1447 | 937&nbsp&nbsp/ 23 / 0 | 155 | 19 | 0 | HD,HR | Report |
| #31 | | 46,300,189 | 98.33% | - G I D Z - | 1448 | 936&nbsp&nbsp/ 24 / 0 | 155 | 19 | 0 | HD,HR | Report |
| #32 | | 46,256,489 | 98.47% | fartownik | 1448 | 938&nbsp&nbsp/ 22 / 0 | 157 | 16 | 0 | HD,HR | Report |
| #33 | | 46,211,600 | 98.47% | beeco | 1447 | 938&nbsp&nbsp/ 22 / 0 | 158 | 16 | 0 | HD,HR | Report |
| #34 | | 46,180,828 | 98.19% | mookss1231 | 1447 | 934&nbsp&nbsp/ 26 / 0 | 154 | 20 | 0 | HD,HR | Report |
| #35 | | 46,174,129 | 98.19% | xLeoSOULx | 1446 | 934&nbsp&nbsp/ 26 / 0 | 149 | 25 | 0 | HD,HR | Report |
| #36 | | 46,168,404 | 97.48% | Boy_314 | 1448 | 924&nbsp&nbsp/ 35 / 1 | 148 | 25 | 0 | HD,HR | Report |
| #37 | | 46,134,450 | 98.11% | WilczekCK | 1446 | 933&nbsp&nbsp/ 26 / 1 | 153 | 20 | 0 | HD,HR | Report |
| #38 | | 46,124,379 | 98.04% | talala | 1448 | 932&nbsp&nbsp/ 27 / 1 | 149 | 23 | 0 | HD,HR | Report |
| #39 | | 46,114,171 | 98.58% | KoTo | 1444 | 940&nbsp&nbsp/ 19 / 0 | 161 | 12 | 1 | HD,HR | Report |
| #40 | | 46,103,663 | 98.18% | Gokuri | 1444 | 935&nbsp&nbsp/ 21 / 3 | 155 | 16 | 1 | HD,HR | Report |
| #41 | | 46,077,416 | 97.50% | Lexalia | 1448 | 924&nbsp&nbsp/ 36 / 0 | 148 | 26 | 0 | HD,HR | Report |
| #42 | | 46,064,826 | 97.78% | Fenrir | 1444 | 928&nbsp&nbsp/ 32 / 0 | 147 | 27 | 0 | HD,HR | Report |
| #43 | | 46,057,717 | 97.74% | Warrock | 1445 | 928&nbsp&nbsp/ 31 / 0 | 157 | 16 | 1 | HD,HR | Report |
| #44 | | 46,027,417 | 97.43% | Muffins13 | 1448 | 923&nbsp&nbsp/ 37 / 0 | 145 | 29 | 0 | HD,HR | Report |
| #45 | | 46,017,892 | 97.62% | Blackskyline | 1448 | 926&nbsp&nbsp/ 33 / 1 | 150 | 23 | 0 | HD,HR | Report |
| #46 | | 46,012,793 | 98.06% | harunaruna | 1448 | 932&nbsp&nbsp/ 28 / 0 | 156 | 18 | 0 | HD,HR | Report |
| #47 | | 45,995,859 | 96.72% | Tengu | 1448 | 913&nbsp&nbsp/ 46 / 1 | 146 | 27 | 0 | HD,HR | Report |
| #48 | | 45,979,358 | 97.67% | OK_Kenny | 1448 | 927&nbsp&nbsp/ 31 / 2 | 150 | 22 | 0 | HD,HR | Report |
| #49 | | 45,947,383 | 97.71% | P a l a d i n | 1448 | 927&nbsp&nbsp/ 33 / 0 | 149 | 25 | 0 | HD,HR | Report |
| #50 | | 45,881,527 | 97.29% | Startrick | 1447 | 921&nbsp&nbsp/ 39 / 0 | 148 | 26 | 0 | HD,HR | Report |