Artist:
Yuu
Circle Size:

Approach Rate:

Title:
U.N. Owen was Her?
HP Drain:

Star Difficulty:

(4.58)
Creator:
ignorethis
Accuracy:

Length:
3:03 (2:15 drain)
Source:
Sound Sepher
Genre:
Video Game (Instrumental)
BPM:
157
Tags:
touhou flandre scarlet
User Rating:
Success Rate:
Points of Failure:


(graph is accumulative, based on % at fail/retry)

11.2% (60715 of 540359 plays)

Submitted:
Ranked:
May 19, 2009
Jul 31, 2009
Rating Spread:

Favourited 498 times in total

Users that love this map: RemmyX25, deepsea, Aoshido, Miu Matsuoka, Gamechamp, cheesebandit, zyhstudio, a22755992, rkd7948, Toxicoow, farlllide, Demmah, mies, Orkel, WubWoofWolf, Moyashi, axel1456, Blizzart, thekillerhjkhjk, UUSKA and many more!
Options:
Modding / Discussion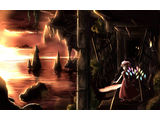 Finished, move to pending.
Normal/Hard/Taiko: Myself
Insane: DJPop(warning!)
First time making a taiko difficulty, if there's anything wrong please point out, thx.
Got some new BGs, arranged according to difficulty.
Ekoro is in the lead! ()
Score
15,422,482 (99.52%)
Max Combo
814
300 / 100 / 50
684 / 5 / 0
Misses
0
Geki (Elite Beat!)
85
Katu (Beat!)
4
Mods
FL
Top 50 Scoreboard
| | Rank | Score | Accuracy | Player | Max Combo | 300 / 100 / 50 | Geki | Katu | Misses | Mods | |
| --- | --- | --- | --- | --- | --- | --- | --- | --- | --- | --- | --- |
| #1 | | 15,422,482 | 99.52% | Ekoro | 814 | 684&nbsp&nbsp/ 5 / 0 | 85 | 4 | 0 | FL | Report |
| #2 | | 15,399,816 | 99.23% | Dearoom | 814 | 681&nbsp&nbsp/ 8 / 0 | 82 | 7 | 0 | FL | Report |
| #3 | | 15,303,824 | 97.87% | WubWoofWolf | 814 | 667&nbsp&nbsp/ 22 / 0 | 76 | 13 | 0 | HD,HR | Report |
| #4 | | 14,687,079 | 99.81% | SiLviA | 814 | 687&nbsp&nbsp/ 2 / 0 | 87 | 2 | 0 | HD | Report |
| #5 | | 14,674,335 | 93.23% | wobeinimacao | 814 | 619&nbsp&nbsp/ 70 / 0 | 54 | 35 | 0 | HD,HR | Report |
| #6 | | 14,649,764 | 99.61% | Reisen Udongein | 814 | 685&nbsp&nbsp/ 4 / 0 | 86 | 3 | 0 | HD,SD | Report |
| #7 | | 14,646,154 | 99.61% | Cyclone | 814 | 685&nbsp&nbsp/ 4 / 0 | 86 | 3 | 0 | HD | Report |
| #8 | | 14,631,496 | 99.32% | Rucker | 814 | 682&nbsp&nbsp/ 7 / 0 | 84 | 5 | 0 | HD | Report |
| #9 | | 14,495,535 | 98.84% | Tem | 814 | 677&nbsp&nbsp/ 12 / 0 | 79 | 10 | 0 | HD | Report |
| #10 | | 14,466,966 | 98.65% | Game | 814 | 675&nbsp&nbsp/ 14 / 0 | 80 | 9 | 0 | HD | Report |
| #11 | | 14,394,693 | 97.87% | pyrowar56 | 814 | 667&nbsp&nbsp/ 22 / 0 | 76 | 13 | 0 | HD | Report |
| #12 | | 14,300,758 | 97.29% | little Agile | 814 | 661&nbsp&nbsp/ 28 / 0 | 76 | 13 | 0 | HD | Report |
| #13 | | 14,254,260 | 88.32% | Cookiezi | 814 | 572&nbsp&nbsp/ 102 / 15 | 64 | 20 | 0 | HD,DT | Report |
| #14 | | 14,024,547 | 94.87% | hvick225 | 814 | 636&nbsp&nbsp/ 53 / 0 | 62 | 27 | 0 | HD | Report |
| #15 | | 13,902,724 | 100.00% | mugio3 | 814 | 689&nbsp&nbsp/ 0 / 0 | 89 | 0 | 0 | None | Report |
| #16 | | 13,901,578 | 94.58% | Icsia | 814 | 633&nbsp&nbsp/ 56 / 0 | 67 | 22 | 0 | HD | Report |
| #17 | | 13,890,492 | 99.90% | Rizzo | 814 | 688&nbsp&nbsp/ 1 / 0 | 88 | 1 | 0 | None | Report |
| #18 | | 13,873,627 | 93.83% | Henkie | 814 | 626&nbsp&nbsp/ 60 / 3 | 66 | 22 | 0 | HD | Report |
| #19 | | 13,828,748 | 99.61% | Ayakura Mei | 814 | 685&nbsp&nbsp/ 4 / 0 | 85 | 4 | 0 | None | Report |
| #20 | | 13,826,152 | 99.42% | Darksonic | 814 | 683&nbsp&nbsp/ 6 / 0 | 87 | 2 | 0 | None | Report |
| #21 | | 13,821,600 | 99.32% | Apricot | 814 | 682&nbsp&nbsp/ 7 / 0 | 85 | 4 | 0 | None | Report |
| #22 | | 13,804,935 | 93.98% | 5231_Kinoko | 814 | 627&nbsp&nbsp/ 61 / 1 | 63 | 25 | 0 | HD | Report |
| #23 | | 13,803,956 | 99.13% | - Auto - | 814 | 680&nbsp&nbsp/ 9 / 0 | 84 | 5 | 0 | None | Report |
| #24 | | 13,801,724 | 99.32% | DO96CH | 814 | 682&nbsp&nbsp/ 7 / 0 | 83 | 6 | 0 | None | Report |
| #25 | | 13,797,356 | 99.23% | Moyaso | 814 | 681&nbsp&nbsp/ 8 / 0 | 82 | 7 | 0 | None | Report |
| #26 | | 13,789,392 | 99.42% | AutchaCyC | 814 | 683&nbsp&nbsp/ 6 / 0 | 84 | 5 | 0 | None | Report |
| #27 | | 13,783,120 | 99.13% | Rorry | 814 | 680&nbsp&nbsp/ 9 / 0 | 82 | 7 | 0 | None | Report |
| #28 | | 13,781,488 | 99.13% | rustbell | 814 | 680&nbsp&nbsp/ 9 / 0 | 83 | 6 | 0 | None | Report |
| #29 | | 13,780,520 | 99.32% | morizo | 814 | 682&nbsp&nbsp/ 7 / 0 | 83 | 6 | 0 | None | Report |
| #30 | | 13,779,312 | 99.03% | 0290jbb | 814 | 679&nbsp&nbsp/ 10 / 0 | 83 | 6 | 0 | None | Report |
| #31 | | 13,770,946 | 99.20% | Remilia-Scarlet | 814 | 681&nbsp&nbsp/ 7 / 1 | 83 | 5 | 0 | None | Report |
| #32 | | 13,766,924 | 98.94% | ShaggoN | 814 | 678&nbsp&nbsp/ 11 / 0 | 84 | 5 | 0 | None | Report |
| #33 | | 13,764,800 | 99.23% | Sure | 814 | 681&nbsp&nbsp/ 8 / 0 | 82 | 7 | 0 | None | Report |
| #34 | | 13,744,296 | 99.13% | serea | 814 | 680&nbsp&nbsp/ 9 / 0 | 84 | 5 | 0 | None | Report |
| #35 | | 13,731,240 | 98.84% | Asai Kei | 814 | 677&nbsp&nbsp/ 12 / 0 | 79 | 10 | 0 | SD | Report |
| #36 | | 13,719,580 | 99.03% | TTTL | 814 | 679&nbsp&nbsp/ 10 / 0 | 81 | 8 | 0 | None | Report |
| #37 | | 13,704,294 | 98.57% | Toyster | 814 | 675&nbsp&nbsp/ 11 / 3 | 81 | 7 | 0 | None | Report |
| #38 | | 13,690,524 | 98.55% | Elder3 | 814 | 674&nbsp&nbsp/ 15 / 0 | 80 | 9 | 0 | None | Report |
| #39 | | 13,689,378 | 98.67% | Okinotori | 814 | 676&nbsp&nbsp/ 10 / 3 | 81 | 6 | 0 | None | Report |
| #40 | | 13,687,436 | 98.74% | Orange | 814 | 676&nbsp&nbsp/ 13 / 0 | 82 | 7 | 0 | None | Report |
| #41 | | 13,674,918 | 98.16% | Woey | 813 | 670&nbsp&nbsp/ 19 / 0 | 74 | 15 | 0 | None | Report |
| #42 | | 13,672,598 | 98.52% | OK_oreGENKI | 814 | 674&nbsp&nbsp/ 14 / 1 | 81 | 7 | 0 | None | Report |
| #43 | | 13,668,680 | 94.41% | Flute | 809 | 632&nbsp&nbsp/ 55 / 1 | 63 | 24 | 1 | HR | Report |
| #44 | | 13,666,486 | 92.82% | xodbs3328 | 814 | 615&nbsp&nbsp/ 73 / 1 | 66 | 22 | 0 | HD | Report |
| #45 | | 13,659,886 | 97.87% | SapphireGhost | 813 | 667&nbsp&nbsp/ 22 / 0 | 71 | 18 | 0 | None | Report |
| #46 | | 13,636,640 | 97.73% | 0203okaT | 814 | 666&nbsp&nbsp/ 21 / 2 | 76 | 12 | 0 | None | Report |
| #47 | | 13,616,884 | 98.16% | Uan | 814 | 670&nbsp&nbsp/ 19 / 0 | 76 | 13 | 0 | None | Report |
| #48 | | 13,604,564 | 98.06% | Henry- | 814 | 669&nbsp&nbsp/ 20 / 0 | 78 | 11 | 0 | None | Report |
| #49 | | 13,597,376 | 97.68% | Kubu | 814 | 665&nbsp&nbsp/ 24 / 0 | 74 | 15 | 0 | None | Report |
| #50 | | 13,568,364 | 98.06% | matsunami | 814 | 669&nbsp&nbsp/ 20 / 0 | 78 | 11 | 0 | None | Report |