Beatmap Listing » Caramell - Caramelldansen (Speedycake Remix)
Artist:
Caramell
Circle Size:

Approach Rate:

Title:
Caramelldansen (Speedycake Remix)
HP Drain:

Star Difficulty:

(2.93)
Creator:
MaxwellDemon
Accuracy:

Length:
2:52 (2:22 drain)
Source:
Genre:
Novelty (Swedish)
BPM:
164.22
Tags:
User Rating:
Success Rate:
Points of Failure:


(graph is accumulative, based on % at fail/retry)

19.5% (50088 of 256240 plays)

Submitted:
Ranked:
Mar 31, 2008
May 4, 2008
Rating Spread:

Favourited 427 times in total

Users that love this map: rbjwest16, pouer, altruisticcrono, dxball, Xanjos, nilsonneto, Yakanomura, AceOfArrows, Kiiwi_old, slowlancer, CowNoseThe50PoundCat, tigna, archerlovesaber, 77498864, asd950515, Toxicoow, Deleybear, Orkel, RedFox, Chistral and many more!
Options:
Modding / Discussion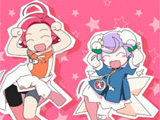 Yeah, I know there is already a Caramelldansen in the ranked bit... but this one is the speedy mix. :P
Since I needed a break from Houkiboshi (and that there is only minor changes here and there suggested by the mods so far...), I went on and did this one!
Of course, it is incomplete, I wanted to make sure my timing and beats are on the right spots before I do the beat spacing, sliders, sounds, and combos for this.
I probably would make an easier version on top of that too.
Anyway, thanks in advance to those that take a look in it (great, now I have three maps working in progress XD).
EDIT: Easy mode is finished. Feel free to test and criticize. :P
EDIT: Fixed overlapping sliders/spinners since these are now prohibited from rank. :P
EDIT: Created normal, and this probably will be the last difficulty (depending on whether if I can come up with something creative for hard... XD)
WubWoofWolf is in the lead! ()
Score
4,636,150 (98.28%)
Max Combo
470
300 / 100 / 50
322 / 6 / 2
Misses
0
Geki (Elite Beat!)
48
Katu (Beat!)
6
Mods
HD,HR,DT
Top 50 Scoreboard
| | Rank | Score | Accuracy | Player | Max Combo | 300 / 100 / 50 | Geki | Katu | Misses | Mods | |
| --- | --- | --- | --- | --- | --- | --- | --- | --- | --- | --- | --- |
| #1 | | 4,636,150 | 98.28% | WubWoofWolf | 470 | 322&nbsp&nbsp/ 6 / 2 | 48 | 6 | 0 | HD,HR,DT | Report |
| #2 | | 4,581,416 | 95.56% | bjbmw | 470 | 309&nbsp&nbsp/ 17 / 4 | 43 | 9 | 0 | HD,HR,DT | Report |
| #3 | | 4,508,702 | 95.81% | xasuma | 470 | 310&nbsp&nbsp/ 17 / 3 | 44 | 9 | 0 | HD,HR,DT | Report |
| #4 | | 4,453,827 | 94.19% | FantasyBreaker | 470 | 302&nbsp&nbsp/ 25 / 3 | 41 | 12 | 0 | HD,HR,DT | Report |
| #5 | | 4,409,979 | 99.09% | Fable | 470 | 326&nbsp&nbsp/ 2 / 2 | 52 | 2 | 0 | HD,FL | Report |
| #6 | | 4,409,565 | 93.43% | SpitsLife | 470 | 298&nbsp&nbsp/ 30 / 2 | 37 | 17 | 0 | HD,HR,DT | Report |
| #7 | | 4,400,012 | 93.99% | Toy | 470 | 301&nbsp&nbsp/ 26 / 3 | 42 | 11 | 0 | HD,HR,DT | Report |
| #8 | | 4,386,954 | 93.18% | Jaffulee | 470 | 297&nbsp&nbsp/ 30 / 3 | 36 | 17 | 0 | HD,HR,NC | Report |
| #9 | | 4,359,659 | 97.68% | ShadowSoul | 470 | 319&nbsp&nbsp/ 9 / 2 | 46 | 8 | 0 | HD,DT | Report |
| #10 | | 4,318,487 | 96.41% | smkYY_QT | 470 | 313&nbsp&nbsp/ 14 / 3 | 45 | 8 | 0 | HD,DT | Report |
| #11 | | 4,315,726 | 97.58% | Toyster | 470 | 319&nbsp&nbsp/ 7 / 4 | 47 | 5 | 0 | HD,NC | Report |
| #12 | | 4,295,785 | 94.55% | Spazza17 | 468 | 304&nbsp&nbsp/ 22 / 4 | 37 | 15 | 0 | HR,DT | Report |
| #13 | | 4,276,933 | 95.96% | sevilla6532 | 470 | 311&nbsp&nbsp/ 15 / 4 | 44 | 8 | 0 | HD,DT | Report |
| #14 | | 4,269,641 | 89.29% | Szczur | 470 | 278&nbsp&nbsp/ 48 / 4 | 24 | 28 | 0 | HD,HR,DT | Report |
| #15 | | 4,251,268 | 94.80% | Chupalika | 470 | 305&nbsp&nbsp/ 22 / 3 | 40 | 13 | 0 | HD,NC | Report |
| #16 | | 4,244,166 | 95.25% | Jollumi | 470 | 307&nbsp&nbsp/ 21 / 2 | 43 | 11 | 0 | HR,DT | Report |
| #17 | | 4,237,602 | 95.81% | Fretzi | 469 | 310&nbsp&nbsp/ 17 / 3 | 41 | 12 | 0 | HD,DT | Report |
| #18 | | 4,232,604 | 95.71% | DuRL | 469 | 309&nbsp&nbsp/ 20 / 1 | 40 | 15 | 0 | HR,FL | Report |
| #19 | | 4,211,654 | 93.84% | nenoriu | 470 | 300&nbsp&nbsp/ 28 / 2 | 36 | 18 | 0 | HR,DT | Report |
| #20 | | 4,176,994 | 98.94% | BabaMan | 470 | 325&nbsp&nbsp/ 4 / 1 | 51 | 4 | 0 | HD,HR | Report |
| #21 | | 4,173,056 | 98.69% | - [ H e n r Y ] - | 470 | 324&nbsp&nbsp/ 4 / 2 | 50 | 4 | 0 | HD,HR | Report |
| #22 | | 4,163,335 | 93.54% | _Stoney | 470 | 299&nbsp&nbsp/ 27 / 4 | 36 | 16 | 0 | HR,DT | Report |
| #23 | | 4,152,557 | 90.15% | Muxy | 470 | 282&nbsp&nbsp/ 45 / 3 | 34 | 19 | 0 | HR,DT | Report |
| #24 | | 4,150,549 | 98.48% | Mismagius | 470 | 323&nbsp&nbsp/ 5 / 2 | 50 | 4 | 0 | NC | Report |
| #25 | | 4,139,358 | 97.42% | Card N'FoRcE | 470 | 318&nbsp&nbsp/ 9 / 3 | 46 | 7 | 0 | HD,HR | Report |
| #26 | | 4,138,537 | 98.13% | Tenshi | 470 | 321&nbsp&nbsp/ 8 / 1 | 47 | 8 | 0 | HD,HR | Report |
| #27 | | 4,136,385 | 96.21% | Orkel | 470 | 312&nbsp&nbsp/ 15 / 3 | 43 | 10 | 0 | HD,HR | Report |
| #28 | | 4,122,042 | 98.13% | fartownik | 470 | 321&nbsp&nbsp/ 8 / 1 | 49 | 6 | 0 | DT | Report |
| #29 | | 4,121,616 | 97.47% | Keichii | 470 | 318&nbsp&nbsp/ 10 / 2 | 44 | 10 | 0 | HD,HR | Report |
| #30 | | 4,119,925 | 96.72% | Sun1180 | 470 | 314&nbsp&nbsp/ 15 / 1 | 45 | 10 | 0 | HD,HR | Report |
| #31 | | 4,118,829 | 97.12% | Mai Minakami | 470 | 316&nbsp&nbsp/ 13 / 1 | 45 | 10 | 0 | HD,HR | Report |
| #32 | | 4,117,444 | 97.27% | Tolein | 470 | 317&nbsp&nbsp/ 11 / 2 | 45 | 9 | 0 | HD,HR | Report |
| #33 | | 4,106,673 | 91.11% | Koizumi Chineko | 470 | 287&nbsp&nbsp/ 39 / 4 | 35 | 17 | 0 | HR,DT | Report |
| #34 | | 4,106,394 | 97.07% | BinJip | 470 | 316&nbsp&nbsp/ 12 / 2 | 44 | 10 | 0 | DT | Report |
| #35 | | 4,105,222 | 96.77% | Luke Lack Luck | 470 | 315&nbsp&nbsp/ 11 / 4 | 45 | 7 | 0 | DT | Report |
| #36 | | 4,098,287 | 95.15% | reinacyan | 470 | 307&nbsp&nbsp/ 19 / 4 | 40 | 12 | 0 | HD,HR | Report |
| #37 | | 4,090,422 | 97.22% | RyuuBei | 470 | 317&nbsp&nbsp/ 10 / 3 | 47 | 6 | 0 | DT | Report |
| #38 | | 4,089,775 | 97.63% | makkura | 470 | 319&nbsp&nbsp/ 8 / 3 | 48 | 5 | 0 | DT | Report |
| #39 | | 4,087,406 | 96.62% | Misti | 470 | 314&nbsp&nbsp/ 13 / 3 | 44 | 9 | 0 | DT | Report |
| #40 | | 4,081,204 | 97.22% | Shimox | 470 | 317&nbsp&nbsp/ 10 / 3 | 43 | 10 | 0 | DT | Report |
| #41 | | 4,078,595 | 95.00% | yearcoa | 470 | 306&nbsp&nbsp/ 21 / 3 | 40 | 13 | 0 | HD,HR | Report |
| #42 | | 4,078,089 | 96.67% | CODE | 470 | 314&nbsp&nbsp/ 14 / 2 | 43 | 11 | 0 | HD,HR | Report |
| #43 | | 4,072,222 | 96.16% | Lupi | 470 | 312&nbsp&nbsp/ 14 / 4 | 41 | 11 | 0 | DT | Report |
| #44 | | 4,070,587 | 96.26% | katatakatata | 469 | 312&nbsp&nbsp/ 16 / 2 | 43 | 11 | 0 | HD,HR,SD | Report |
| #45 | | 4,066,735 | 96.26% | Suler | 469 | 312&nbsp&nbsp/ 16 / 2 | 45 | 9 | 0 | HD,HR | Report |
| #46 | | 4,063,731 | 96.11% | BakaMarisa | 470 | 311&nbsp&nbsp/ 18 / 1 | 41 | 14 | 0 | HD,HR | Report |
| #47 | | 4,061,340 | 95.96% | jesse1412 | 470 | 311&nbsp&nbsp/ 15 / 4 | 41 | 11 | 0 | DT | Report |
| #48 | | 4,058,480 | 91.46% | Maxe191 | 468 | 290&nbsp&nbsp/ 32 / 7 | 38 | 10 | 1 | HD,DT | Report |
| #49 | | 4,054,981 | 95.61% | Satellite | 470 | 309&nbsp&nbsp/ 18 / 3 | 39 | 14 | 0 | HD,HR | Report |
| #50 | | 4,053,499 | 96.77% | MouseEasy | 470 | 315&nbsp&nbsp/ 11 / 4 | 43 | 9 | 0 | DT | Report |