Beatmap Listing » Sakakibara Yui - Furu Furu (Short Ver.)
Artist:
Sakakibara Yui
Circle Size:

Approach Rate:

Title:
Furu Furu (Short Ver.)
HP Drain:

Star Difficulty:

(3.62)
Creator:
osuplayer111
Accuracy:

Length:
1:54 (1:51 drain)
Source:
Furufuru Full Moon
Genre:
Video Game (Japanese)
BPM:
160
Tags:
hentai game little princess kanpakyin andrea
User Rating:
Success Rate:
Points of Failure:


(graph is accumulative, based on % at fail/retry)

19.8% (20371 of 102961 plays)

Submitted:
Ranked:
Apr 20, 2011
Apr 24, 2011
Rating Spread:

Favourited 23 times in total

Users that love this map: Vicho, jim9, Izumi Mitsu, yu199035, NeNe_GoShyuJiN, 211314, Nojob, lgku380, remiiii, ReviveFullHP, mdl1996, Sekaii, 96Maatcha, or not, momiji0909, Celleste, Koromo25, cristmas2011, CatSamurai, kaitolucius and many more!
Options:
Modding / Discussion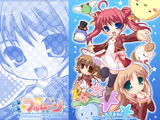 My 124th Beatmap.

A kawaii song from a game that isn't suggested to play if you have under 18 years, I suppose xD

Dedicated to Vicho-kun <3

Special thanks to ykcarrot for the awesome mp3 and video, and to Vicho-kun for the BG!
Mapset:
Hard - Done.
Normal - Done.
Easy - Done.
SiLviA is in the lead! ()
Score
4,904,249 (100.00%)
Max Combo
421
300 / 100 / 50
305 / 0 / 0
Misses
0
Geki (Elite Beat!)
55
Katu (Beat!)
0
Mods
HD,DT
Top 50 Scoreboard
| | Rank | Score | Accuracy | Player | Max Combo | 300 / 100 / 50 | Geki | Katu | Misses | Mods | |
| --- | --- | --- | --- | --- | --- | --- | --- | --- | --- | --- | --- |
| #1 | | 4,904,249 | 100.00% | SiLviA | 421 | 305&nbsp&nbsp/ 0 / 0 | 55 | 0 | 0 | HD,DT | Report |
| #2 | | 4,904,249 | 100.00% | WubWoofWolf | 421 | 305&nbsp&nbsp/ 0 / 0 | 55 | 0 | 0 | HD,DT | Report |
| #3 | | 4,904,249 | 100.00% | B e N i | 421 | 305&nbsp&nbsp/ 0 / 0 | 55 | 0 | 0 | HD,DT | Report |
| #4 | | 4,904,249 | 100.00% | [ Beatrice ] | 421 | 305&nbsp&nbsp/ 0 / 0 | 55 | 0 | 0 | HD,DT | Report |
| #5 | | 4,904,249 | 100.00% | Darksonic | 421 | 305&nbsp&nbsp/ 0 / 0 | 55 | 0 | 0 | HD,DT | Report |
| #6 | | 4,891,322 | 99.78% | L u R i | 421 | 304&nbsp&nbsp/ 1 / 0 | 54 | 1 | 0 | HD,NC | Report |
| #7 | | 4,882,147 | 99.56% | Yuleiyu | 421 | 303&nbsp&nbsp/ 2 / 0 | 53 | 2 | 0 | HD,DT | Report |
| #8 | | 4,880,627 | 99.56% | fabriciorby | 421 | 303&nbsp&nbsp/ 2 / 0 | 53 | 2 | 0 | HD,DT | Report |
| #9 | | 4,879,277 | 99.13% | LiB | 421 | 301&nbsp&nbsp/ 4 / 0 | 52 | 3 | 0 | HD,DT | Report |
| #10 | | 4,870,075 | 99.34% | Yuh | 421 | 302&nbsp&nbsp/ 3 / 0 | 52 | 3 | 0 | HD,DT | Report |
| #11 | | 4,868,355 | 99.13% | Supy | 421 | 301&nbsp&nbsp/ 4 / 0 | 51 | 4 | 0 | HD,DT | Report |
| #12 | | 4,865,032 | 99.34% | M A I D | 420 | 302&nbsp&nbsp/ 3 / 0 | 52 | 3 | 0 | HD,DT | Report |
| #13 | | 4,864,874 | 99.07% | ReusoL | 421 | 301&nbsp&nbsp/ 3 / 1 | 52 | 2 | 0 | HD,DT | Report |
| #14 | | 4,847,604 | 99.13% | fs000 | 421 | 301&nbsp&nbsp/ 4 / 0 | 51 | 4 | 0 | HD,DT | Report |
| #15 | | 4,841,742 | 98.69% | cc5838p | 421 | 299&nbsp&nbsp/ 6 / 0 | 50 | 5 | 0 | HD,DT | Report |
| #16 | | 4,840,707 | 98.91% | F i n | 421 | 300&nbsp&nbsp/ 5 / 0 | 50 | 5 | 0 | HD,DT | Report |
| #17 | | 4,839,341 | 99.13% | Dsan | 421 | 301&nbsp&nbsp/ 4 / 0 | 51 | 4 | 0 | HD,NC | Report |
| #18 | | 4,828,075 | 98.91% | Rei24 | 421 | 300&nbsp&nbsp/ 5 / 0 | 51 | 4 | 0 | HD,DT | Report |
| #19 | | 4,820,363 | 98.47% | TTTL | 421 | 298&nbsp&nbsp/ 7 / 0 | 48 | 7 | 0 | HD,DT | Report |
| #20 | | 4,820,267 | 98.47% | calpi- | 421 | 298&nbsp&nbsp/ 7 / 0 | 49 | 6 | 0 | HD,DT | Report |
| #21 | | 4,819,838 | 98.47% | Sonoda Umi | 421 | 298&nbsp&nbsp/ 7 / 0 | 48 | 7 | 0 | HD,DT | Report |
| #22 | | 4,817,361 | 98.25% | Teriyaki | 421 | 297&nbsp&nbsp/ 8 / 0 | 50 | 5 | 0 | HD,DT | Report |
| #23 | | 4,814,958 | 98.69% | spark_sk | 421 | 299&nbsp&nbsp/ 6 / 0 | 50 | 5 | 0 | HD,DT | Report |
| #24 | | 4,809,287 | 98.25% | siki | 421 | 297&nbsp&nbsp/ 8 / 0 | 48 | 7 | 0 | HD,DT | Report |
| #25 | | 4,808,054 | 98.25% | MiLu | 421 | 297&nbsp&nbsp/ 8 / 0 | 50 | 5 | 0 | HD,DT | Report |
| #26 | | 4,798,033 | 98.25% | T-lex | 421 | 297&nbsp&nbsp/ 8 / 0 | 50 | 5 | 0 | HD,DT | Report |
| #27 | | 4,796,265 | 98.03% | calpo- | 421 | 296&nbsp&nbsp/ 9 / 0 | 48 | 7 | 0 | HD,DT | Report |
| #28 | | 4,795,327 | 98.25% | YuaKKuma | 421 | 297&nbsp&nbsp/ 8 / 0 | 50 | 5 | 0 | HD,DT | Report |
| #29 | | 4,794,090 | 98.20% | waruo | 421 | 297&nbsp&nbsp/ 7 / 1 | 48 | 6 | 0 | HD,DT | Report |
| #30 | | 4,793,511 | 98.03% | 5231_Kinoko | 421 | 296&nbsp&nbsp/ 9 / 0 | 49 | 6 | 0 | HD,DT | Report |
| #31 | | 4,786,161 | 98.25% | Mikkuri | 421 | 297&nbsp&nbsp/ 8 / 0 | 48 | 7 | 0 | HD,DT | Report |
| #32 | | 4,786,047 | 97.81% | xasuma | 421 | 295&nbsp&nbsp/ 10 / 0 | 49 | 6 | 0 | HD,DT | Report |
| #33 | | 4,783,207 | 98.03% | KaODia | 421 | 296&nbsp&nbsp/ 9 / 0 | 48 | 7 | 0 | HD,DT | Report |
| #34 | | 4,777,857 | 97.38% | In those days | 421 | 293&nbsp&nbsp/ 12 / 0 | 43 | 12 | 0 | HD,DT | Report |
| #35 | | 4,770,887 | 97.60% | TrainStation | 421 | 294&nbsp&nbsp/ 11 / 0 | 48 | 7 | 0 | HD,DT | Report |
| #36 | | 4,768,686 | 98.25% | Misure | 421 | 297&nbsp&nbsp/ 8 / 0 | 49 | 6 | 0 | HD,DT | Report |
| #37 | | 4,763,451 | 98.03% | AntoN | 421 | 296&nbsp&nbsp/ 9 / 0 | 51 | 4 | 0 | HD,DT | Report |
| #38 | | 4,745,472 | 97.38% | Hunsaker | 421 | 293&nbsp&nbsp/ 12 / 0 | 48 | 7 | 0 | HD,DT | Report |
| #39 | | 4,744,031 | 96.07% | Celleste | 421 | 287&nbsp&nbsp/ 18 / 0 | 43 | 12 | 0 | HD,DT | Report |
| #40 | | 4,735,516 | 96.67% | Icsia | 421 | 290&nbsp&nbsp/ 14 / 1 | 44 | 10 | 0 | HD,DT | Report |
| #41 | | 4,724,271 | 96.94% | Supi | 421 | 291&nbsp&nbsp/ 14 / 0 | 46 | 9 | 0 | HD,DT | Report |
| #42 | | 4,715,037 | 96.50% | TK- | 421 | 289&nbsp&nbsp/ 16 / 0 | 42 | 13 | 0 | HD,DT | Report |
| #43 | | 4,710,366 | 96.89% | Noiraku | 421 | 291&nbsp&nbsp/ 13 / 1 | 45 | 9 | 0 | HD,DT | Report |
| #44 | | 4,710,326 | 96.28% | oppaiman | 421 | 288&nbsp&nbsp/ 17 / 0 | 45 | 10 | 0 | HD,DT | Report |
| #45 | | 4,707,964 | 96.50% | uzuran | 421 | 289&nbsp&nbsp/ 16 / 0 | 43 | 12 | 0 | HD,DT | Report |
| #46 | | 4,690,355 | 95.85% | mukachu | 420 | 286&nbsp&nbsp/ 19 / 0 | 40 | 15 | 0 | HD,DT | Report |
| #47 | | 4,688,547 | 95.63% | rjweqhriuweqh | 421 | 285&nbsp&nbsp/ 20 / 0 | 42 | 13 | 0 | HD,DT | Report |
| #48 | | 4,678,613 | 95.41% | shAe1eck | 421 | 284&nbsp&nbsp/ 21 / 0 | 38 | 17 | 0 | HD,DT | Report |
| #49 | | 4,672,436 | 96.50% | aod | 420 | 289&nbsp&nbsp/ 16 / 0 | 43 | 12 | 0 | HD,DT | Report |
| #50 | | 4,666,961 | 96.07% | -Zirba- | 421 | 287&nbsp&nbsp/ 18 / 0 | 42 | 13 | 0 | HD,DT | Report |