Beatmap Listing » Akita Neru - Gotya Gotya Uruse~!
Artist:
Akita Neru
Circle Size:

Approach Rate:

Title:
Gotya Gotya Uruse~!
HP Drain:

Star Difficulty:

(2.63)
Creator:
Mafiamaster
Accuracy:

Length:
2:11 (1:55 drain)
Source:
owatap
Genre:
Novelty (Japanese)
BPM:
220
Tags:
vocaloid hatsune miku vicho-kun sanjenin nagi -u kite
User Rating:
Success Rate:
Points of Failure:


(graph is accumulative, based on % at fail/retry)

29.7% (134490 of 452950 plays)

Submitted:
Ranked:
Nov 5, 2010
Feb 20, 2011
Rating Spread:

Favourited 568 times in total

Users that love this map: Kunagisa Tomo, Jonkku, Pedobear, kudi123, Cowcom, AniDachi, Kyoyagoon, Karuta-, Sweet, Sanjenin Nagi, abcd703128, Timekiller, virustw, Grabz, ts02329273, abcd21739, rokujo, Aliza Margaretha, netofe, oldwon and many more!
Options:
This Beatmap's Thread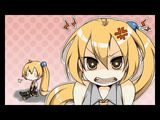 How I spent my day on November 4th.
Hard: Kite
Light Insane: Vicho-kun
Taiko: Sanjenin Nagi -U
Gomo Psivarh is in the lead! ()
Score
5,733,417 (100.00%)
Max Combo
601
300 / 100 / 50
311 / 0 / 0
Misses
0
Geki (Elite Beat!)
78
Katu (Beat!)
0
Mods
HD,HR,FL
Top 50 Scoreboard
| | Rank | Score | Accuracy | Player | Max Combo | 300 / 100 / 50 | Geki | Katu | Misses | Mods | |
| --- | --- | --- | --- | --- | --- | --- | --- | --- | --- | --- | --- |
| #1 | | 5,733,417 | 100.00% | Gomo Psivarh | 601 | 311&nbsp&nbsp/ 0 / 0 | 78 | 0 | 0 | HD,HR,FL | Report |
| #2 | | 5,733,417 | 100.00% | -Nanase- | 601 | 311&nbsp&nbsp/ 0 / 0 | 78 | 0 | 0 | HD,HR,FL | Report |
| #3 | | 5,713,283 | 99.79% | Jeby | 601 | 310&nbsp&nbsp/ 1 / 0 | 77 | 1 | 0 | HD,HR,DT | Report |
| #4 | | 5,526,465 | 96.89% | Fowear | 600 | 297&nbsp&nbsp/ 12 / 2 | 67 | 10 | 0 | HD,HR,DT | Report |
| #5 | | 5,415,022 | 100.00% | ShadowSoul | 601 | 311&nbsp&nbsp/ 0 / 0 | 78 | 0 | 0 | HD,DT | Report |
| #6 | | 5,415,022 | 100.00% | [-Nightmare-] | 601 | 311&nbsp&nbsp/ 0 / 0 | 78 | 0 | 0 | HD,DT | Report |
| #7 | | 5,415,022 | 100.00% | Reclude | 601 | 311&nbsp&nbsp/ 0 / 0 | 78 | 0 | 0 | HD,DT,PF | Report |
| #8 | | 5,415,022 | 100.00% | Sanji | 601 | 311&nbsp&nbsp/ 0 / 0 | 78 | 0 | 0 | HD,NC | Report |
| #9 | | 5,415,022 | 100.00% | Game | 601 | 311&nbsp&nbsp/ 0 / 0 | 78 | 0 | 0 | HD,DT | Report |
| #10 | | 5,415,022 | 100.00% | rorineko | 601 | 311&nbsp&nbsp/ 0 / 0 | 78 | 0 | 0 | HD,NC | Report |
| #11 | | 5,415,022 | 100.00% | Nidert | 601 | 311&nbsp&nbsp/ 0 / 0 | 78 | 0 | 0 | HD,DT | Report |
| #12 | | 5,415,022 | 100.00% | Mr Colbert | 601 | 311&nbsp&nbsp/ 0 / 0 | 78 | 0 | 0 | HD,DT,PF | Report |
| #13 | | 5,415,022 | 100.00% | My Accuracy Sucks | 601 | 311&nbsp&nbsp/ 0 / 0 | 78 | 0 | 0 | HD,DT | Report |
| #14 | | 5,415,022 | 100.00% | T o y | 601 | 311&nbsp&nbsp/ 0 / 0 | 78 | 0 | 0 | HD,DT | Report |
| #15 | | 5,415,022 | 100.00% | [ Beatrice ] | 601 | 311&nbsp&nbsp/ 0 / 0 | 78 | 0 | 0 | HD,DT | Report |
| #16 | | 5,415,022 | 100.00% | [ Larc ] | 601 | 311&nbsp&nbsp/ 0 / 0 | 78 | 0 | 0 | HD,DT | Report |
| #17 | | 5,415,022 | 100.00% | novaaa | 601 | 311&nbsp&nbsp/ 0 / 0 | 78 | 0 | 0 | HD,DT | Report |
| #18 | | 5,415,022 | 100.00% | noraRcat | 601 | 311&nbsp&nbsp/ 0 / 0 | 78 | 0 | 0 | HD,DT | Report |
| #19 | | 5,415,022 | 100.00% | NixXSkate | 601 | 311&nbsp&nbsp/ 0 / 0 | 78 | 0 | 0 | HD,DT | Report |
| #20 | | 5,415,022 | 100.00% | Crystal- | 601 | 311&nbsp&nbsp/ 0 / 0 | 78 | 0 | 0 | HD,DT | Report |
| #21 | | 5,415,022 | 100.00% | Nicokarl | 601 | 311&nbsp&nbsp/ 0 / 0 | 78 | 0 | 0 | HD,DT,PF | Report |
| #22 | | 5,415,022 | 100.00% | Genki1000 | 601 | 311&nbsp&nbsp/ 0 / 0 | 78 | 0 | 0 | HD,DT | Report |
| #23 | | 5,415,022 | 100.00% | Futaba aoi | 601 | 311&nbsp&nbsp/ 0 / 0 | 78 | 0 | 0 | HD,DT | Report |
| #24 | | 5,415,022 | 100.00% | NaCoIa | 601 | 311&nbsp&nbsp/ 0 / 0 | 78 | 0 | 0 | HD,DT | Report |
| #25 | | 5,415,022 | 100.00% | Sure | 601 | 311&nbsp&nbsp/ 0 / 0 | 78 | 0 | 0 | HD,NC | Report |
| #26 | | 5,413,188 | 99.79% | xasuma | 601 | 310&nbsp&nbsp/ 1 / 0 | 77 | 1 | 0 | HD,DT | Report |
| #27 | | 5,410,301 | 99.79% | hpk 1 | 601 | 310&nbsp&nbsp/ 1 / 0 | 77 | 1 | 0 | HD,DT | Report |
| #28 | | 5,403,919 | 99.79% | xodbs3328 | 601 | 310&nbsp&nbsp/ 1 / 0 | 77 | 1 | 0 | HD,DT | Report |
| #29 | | 5,403,463 | 99.79% | SUNAKE1192 | 601 | 310&nbsp&nbsp/ 1 / 0 | 77 | 1 | 0 | HD,DT | Report |
| #30 | | 5,403,263 | 99.57% | FujiwaraNoMokou | 601 | 309&nbsp&nbsp/ 2 / 0 | 76 | 2 | 0 | HD,DT | Report |
| #31 | | 5,403,159 | 99.79% | Albafica | 601 | 310&nbsp&nbsp/ 1 / 0 | 77 | 1 | 0 | HD,DT | Report |
| #32 | | 5,401,021 | 99.57% | Arnchan | 601 | 309&nbsp&nbsp/ 2 / 0 | 76 | 2 | 0 | HD,DT | Report |
| #33 | | 5,398,742 | 99.57% | sinboizuki | 601 | 309&nbsp&nbsp/ 2 / 0 | 76 | 2 | 0 | HD,DT | Report |
| #34 | | 5,396,006 | 99.57% | Silynn | 601 | 309&nbsp&nbsp/ 2 / 0 | 76 | 2 | 0 | HD,DT | Report |
| #35 | | 5,395,901 | 99.57% | W-GLINT | 600 | 309&nbsp&nbsp/ 2 / 0 | 76 | 2 | 0 | HD,DT | Report |
| #36 | | 5,392,349 | 99.36% | 6AHAH4IK | 601 | 308&nbsp&nbsp/ 3 / 0 | 75 | 3 | 0 | HD,DT | Report |
| #37 | | 5,392,066 | 99.79% | Ilayu | 601 | 310&nbsp&nbsp/ 1 / 0 | 77 | 1 | 0 | HD,DT | Report |
| #38 | | 5,391,334 | 99.57% | -Cirnon- | 601 | 309&nbsp&nbsp/ 2 / 0 | 77 | 1 | 0 | HD,NC | Report |
| #39 | | 5,391,286 | 99.36% | Sylfear | 601 | 308&nbsp&nbsp/ 3 / 0 | 75 | 3 | 0 | HD,DT,SD | Report |
| #40 | | 5,390,363 | 99.36% | -NAMELESS- | 600 | 308&nbsp&nbsp/ 3 / 0 | 76 | 2 | 0 | HD,DT | Report |
| #41 | | 5,387,231 | 99.57% | Doomsday | 601 | 309&nbsp&nbsp/ 2 / 0 | 76 | 2 | 0 | HD,DT | Report |
| #42 | | 5,385,615 | 99.14% | rockleejkooo | 601 | 307&nbsp&nbsp/ 4 / 0 | 74 | 4 | 0 | HD,DT | Report |
| #43 | | 5,384,552 | 99.14% | _reol | 601 | 307&nbsp&nbsp/ 4 / 0 | 74 | 4 | 0 | HD,DT | Report |
| #44 | | 5,384,207 | 99.36% | sevilla6532 | 600 | 308&nbsp&nbsp/ 3 / 0 | 75 | 3 | 0 | HD,DT | Report |
| #45 | | 5,383,639 | 99.14% | Zyph | 601 | 307&nbsp&nbsp/ 4 / 0 | 74 | 4 | 0 | HD,DT | Report |
| #46 | | 5,383,184 | 99.14% | yaric | 601 | 307&nbsp&nbsp/ 4 / 0 | 74 | 4 | 0 | HD,DT | Report |
| #47 | | 5,382,824 | 99.57% | Mikoto | 601 | 309&nbsp&nbsp/ 2 / 0 | 76 | 2 | 0 | HD,FL | Report |
| #48 | | 5,381,226 | 99.52% | Kuroino | 601 | 309&nbsp&nbsp/ 1 / 1 | 76 | 1 | 0 | HD,NC | Report |
| #49 | | 5,380,963 | 99.57% | slpdavid | 601 | 309&nbsp&nbsp/ 2 / 0 | 76 | 2 | 0 | HD,DT | Report |
| #50 | | 5,380,003 | 99.36% | kamuiro | 601 | 308&nbsp&nbsp/ 3 / 0 | 75 | 3 | 0 | HD,DT | Report |