Artist:
KOTOKO
Circle Size:

Approach Rate:

Title:
bumpy-Jumpy!
HP Drain:

Star Difficulty:

(1.13)
Creator:
MeLLoN
Accuracy:

Length:
1:43 (1:32 drain)
Source:
Natsuyume Nagisa
Genre:
Video Game (Japanese)
BPM:
190
Tags:
saga planets cyborg taka1235 frost-b-spec
User Rating:
Success Rate:
Points of Failure:


(graph is accumulative, based on % at fail/retry)

38.4% (10097 of 26297 plays)

Submitted:
Ranked:
Mar 23, 2010
Jun 25, 2010
Rating Spread:

Favourited 47 times in total

Users that love this map: ponsaku, frost-b-spec, f1869105, Micia, hion, L i n a l y, LemonWater, emirin1984, fabriciorby, Thite, Susagano Karen, kappasan, Cthulhu, jiyong5588, zmzmm123, _onisha_, s0870057, merchat7, yasupi, volence and many more!
Options:
This Beatmap's Thread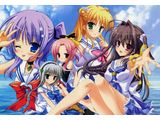 My 4th Beatmap.
fbs's Easy -
frost-b-spec
Cyborg's Insane -
Cyborg
taka's Insane -
taka1235
(。´-ω・)
Glaceon is in the lead! ()
Score
270,379 (100.00%)
Max Combo
154
300 / 100 / 50
79 / 0 / 0
Misses
0
Geki (Elite Beat!)
26
Katu (Beat!)
0
Mods
HD,HR,NC,FL
Top 50 Scoreboard
| | Rank | Score | Accuracy | Player | Max Combo | 300 / 100 / 50 | Geki | Katu | Misses | Mods | |
| --- | --- | --- | --- | --- | --- | --- | --- | --- | --- | --- | --- |
| #1 | | 270,379 | 100.00% | Glaceon | 154 | 79&nbsp&nbsp/ 0 / 0 | 26 | 0 | 0 | HD,HR,NC,FL | Report |
| #2 | | 264,879 | 100.00% | Riclon | 154 | 79&nbsp&nbsp/ 0 / 0 | 26 | 0 | 0 | HD,HR,DT,FL | Report |
| #3 | | 262,679 | 100.00% | Urza Planeis | 154 | 79&nbsp&nbsp/ 0 / 0 | 26 | 0 | 0 | HD,HR,DT,FL | Report |
| #4 | | 256,079 | 100.00% | AisamaDX | 154 | 79&nbsp&nbsp/ 0 / 0 | 26 | 0 | 0 | HD,HR,DT,FL | Report |
| #5 | | 255,952 | 100.00% | LostMannnnnn | 154 | 79&nbsp&nbsp/ 0 / 0 | 26 | 0 | 0 | HR,DT,FL | Report |
| #6 | | 253,752 | 100.00% | rain150199 | 154 | 79&nbsp&nbsp/ 0 / 0 | 26 | 0 | 0 | HR,DT,FL | Report |
| #7 | | 251,679 | 100.00% | spring ephemera | 154 | 79&nbsp&nbsp/ 0 / 0 | 26 | 0 | 0 | HD,HR,NC,FL | Report |
| #8 | | 251,552 | 100.00% | frost-b-spec | 154 | 79&nbsp&nbsp/ 0 / 0 | 26 | 0 | 0 | HR,DT,FL | Report |
| #9 | | 250,579 | 100.00% | DarknessAngel | 154 | 79&nbsp&nbsp/ 0 / 0 | 26 | 0 | 0 | HD,HR,DT,FL,SD | Report |
| #10 | | 249,352 | 100.00% | Micia | 154 | 79&nbsp&nbsp/ 0 / 0 | 26 | 0 | 0 | HR,DT,FL | Report |
| #11 | | 248,554 | 100.00% | rorineko | 154 | 79&nbsp&nbsp/ 0 / 0 | 26 | 0 | 0 | NC,FL,SD | Report |
| #12 | | 246,052 | 100.00% | ponsaku | 154 | 79&nbsp&nbsp/ 0 / 0 | 26 | 0 | 0 | HR,DT,FL | Report |
| #13 | | 245,960 | 98.31% | KIRILLIANDR | 154 | 77&nbsp&nbsp/ 2 / 0 | 24 | 2 | 0 | HR,DT,FL,SD | Report |
| #14 | | 243,852 | 100.00% | SakiK | 154 | 79&nbsp&nbsp/ 0 / 0 | 26 | 0 | 0 | HR,DT,FL | Report |
| #15 | | 243,426 | 98.31% | a66482 | 154 | 77&nbsp&nbsp/ 2 / 0 | 24 | 2 | 0 | HR,DT,FL | Report |
| #16 | | 242,390 | 99.16% | WubWoofWolf | 154 | 78&nbsp&nbsp/ 1 / 0 | 25 | 1 | 0 | HR,DT,FL | Report |
| #17 | | 242,053 | 98.31% | kingbaka | 154 | 77&nbsp&nbsp/ 2 / 0 | 24 | 2 | 0 | HD,HR,DT,FL | Report |
| #18 | | 241,732 | 97.47% | M i y u r i | 154 | 76&nbsp&nbsp/ 3 / 0 | 23 | 3 | 0 | HR,DT,FL | Report |
| #19 | | 240,754 | 100.00% | Windy | 154 | 79&nbsp&nbsp/ 0 / 0 | 26 | 0 | 0 | DT,FL | Report |
| #20 | | 240,416 | 97.47% | AngelNote | 154 | 76&nbsp&nbsp/ 3 / 0 | 23 | 3 | 0 | HR,DT,FL,SD | Report |
| #21 | | 240,020 | 99.16% | S_Dog | 154 | 78&nbsp&nbsp/ 1 / 0 | 25 | 1 | 0 | HR,DT,FL | Report |
| #22 | | 239,728 | 97.26% | caramel | 154 | 76&nbsp&nbsp/ 2 / 1 | 23 | 2 | 0 | HD,HR,DT,FL | Report |
| #23 | | 239,452 | 100.00% | sssssssssssssss | 154 | 79&nbsp&nbsp/ 0 / 0 | 26 | 0 | 0 | HR,DT,FL | Report |
| #24 | | 238,748 | 98.31% | sirasira | 154 | 77&nbsp&nbsp/ 2 / 0 | 24 | 2 | 0 | HD,HR,DT,FL | Report |
| #25 | | 237,721 | 96.62% | hysterictiger | 154 | 75&nbsp&nbsp/ 4 / 0 | 22 | 4 | 0 | HR,DT,FL | Report |
| #26 | | 237,331 | 99.16% | squashy | 154 | 78&nbsp&nbsp/ 1 / 0 | 25 | 1 | 0 | HR,DT,FL | Report |
| #27 | | 237,252 | 100.00% | Suwako | 154 | 79&nbsp&nbsp/ 0 / 0 | 26 | 0 | 0 | HR,DT,FL | Report |
| #28 | | 237,177 | 100.00% | Adrelian | 154 | 79&nbsp&nbsp/ 0 / 0 | 26 | 0 | 0 | HR,FL | Report |
| #29 | | 236,840 | 99.16% | OnlyGoD | 154 | 78&nbsp&nbsp/ 1 / 0 | 25 | 1 | 0 | HR,DT,FL,SD | Report |
| #30 | | 236,237 | 98.31% | DevouringRain | 154 | 77&nbsp&nbsp/ 2 / 0 | 24 | 2 | 0 | HR,DT,FL | Report |
| #31 | | 236,152 | 100.00% | Rusty | 154 | 79&nbsp&nbsp/ 0 / 0 | 26 | 0 | 0 | HR,DT,FL | Report |
| #32 | | 235,052 | 100.00% | 9kuro_neko6 | 154 | 79&nbsp&nbsp/ 0 / 0 | 26 | 0 | 0 | HR,DT,FL | Report |
| #33 | | 235,031 | 99.16% | aziko | 154 | 78&nbsp&nbsp/ 1 / 0 | 25 | 1 | 0 | HR,DT,FL | Report |
| #34 | | 234,977 | 100.00% | Frill | 154 | 79&nbsp&nbsp/ 0 / 0 | 26 | 0 | 0 | HR,DT | Report |
| #35 | | 234,977 | 100.00% | hiro2008 | 154 | 79&nbsp&nbsp/ 0 / 0 | 26 | 0 | 0 | HR,DT | Report |
| #36 | | 234,414 | 98.31% | skrobatrob | 154 | 77&nbsp&nbsp/ 2 / 0 | 24 | 2 | 0 | HR,DT,FL | Report |
| #37 | | 232,852 | 100.00% | xup6112 | 154 | 79&nbsp&nbsp/ 0 / 0 | 26 | 0 | 0 | HR,DT,FL | Report |
| #38 | | 232,815 | 100.00% | auroraflow12 | 154 | 79&nbsp&nbsp/ 0 / 0 | 26 | 0 | 0 | HD,HR,DT | Report |
| #39 | | 232,469 | 99.16% | impossiblexu | 154 | 78&nbsp&nbsp/ 1 / 0 | 25 | 1 | 0 | HR,DT,FL | Report |
| #40 | | 232,021 | 96.41% | rock0204k | 154 | 75&nbsp&nbsp/ 3 / 1 | 22 | 3 | 0 | HR,DT,FL | Report |
| #41 | | 230,854 | 95.78% | a45084508 | 154 | 74&nbsp&nbsp/ 5 / 0 | 22 | 4 | 0 | HR,DT,FL | Report |
| #42 | | 230,652 | 100.00% | Alacartx | 154 | 79&nbsp&nbsp/ 0 / 0 | 26 | 0 | 0 | HR,DT,FL | Report |
| #43 | | 229,552 | 100.00% | Namii | 154 | 79&nbsp&nbsp/ 0 / 0 | 26 | 0 | 0 | HR,DT,FL | Report |
| #44 | | 229,477 | 100.00% | Luminas | 154 | 79&nbsp&nbsp/ 0 / 0 | 26 | 0 | 0 | HR,FL,PF | Report |
| #45 | | 229,226 | 93.88% | Incomplete Backflip | 154 | 72&nbsp&nbsp/ 6 / 1 | 21 | 4 | 0 | HR,DT,FL | Report |
| #46 | | 229,052 | 97.47% | Tricuta9 | 154 | 76&nbsp&nbsp/ 3 / 0 | 24 | 2 | 0 | HR,DT,FL | Report |
| #47 | | 228,452 | 100.00% | unco-chan | 154 | 79&nbsp&nbsp/ 0 / 0 | 26 | 0 | 0 | HR,DT,FL | Report |
| #48 | | 227,527 | 93.25% | woduq414 | 154 | 71&nbsp&nbsp/ 8 / 0 | 18 | 8 | 0 | HD,HR,DT | Report |
| #49 | | 227,277 | 100.00% | NadekoFL | 154 | 79&nbsp&nbsp/ 0 / 0 | 26 | 0 | 0 | HR,FL | Report |
| #50 | | 227,277 | 100.00% | ta110 | 154 | 79&nbsp&nbsp/ 0 / 0 | 26 | 0 | 0 | HR,NC | Report |