Artist:
COOL&CREATE
Circle Size:

Approach Rate:

Title:
Locked Girl
HP Drain:

Star Difficulty:

(4.07)
Creator:
varq
Accuracy:

Length:
3:17 (2:41 drain)
Source:
Touhou
Genre:
Video Game (Japanese)
BPM:
88.75
Tags:
patchuoli marisa laugh maker bump of chicken embodiment of scarlet devil
User Rating:
Success Rate:
Points of Failure:


(graph is accumulative, based on % at fail/retry)

10.3% (12704 of 122747 plays)

Submitted:
Ranked:
Aug 18, 2009
Dec 8, 2009
Rating Spread:

Favourited 137 times in total

Users that love this map: DemonicChocobo, shima_old, Toxicoow, DarkShinigami1, AxZ, Azure_Kite, CHAS, metroidfan555, Sondow, Paoro, Durante, casaol, Adonis1217, p857895, Minxix, zork787, Kirimyuu, shadowfoxe, Hwel, xCrazyAnimeFanx and many more!
Options:
Modding / Discussion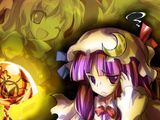 A parody of Bump of Chicken's "Laugh Maker," except with a touhou-ish twist by COOL&CREATE.
Locked Girl is love story between two girls, and one's hardships of trying to set the other free. It's quite a touching story, I would say so myself~
The translations were done by me with lots of help from google, WWWJDIC, and a Japa-Eng dictionary. Mind you, they're not exact translations, they're made to sound at least decent when sung in English.
WubWoofWolf is in the lead! ()
Score
10,031,232 (99.73%)
Max Combo
683
300 / 100 / 50
501 / 2 / 0
Misses
0
Geki (Elite Beat!)
88
Katu (Beat!)
2
Mods
HD,NC
Top 50 Scoreboard
| | Rank | Score | Accuracy | Player | Max Combo | 300 / 100 / 50 | Geki | Katu | Misses | Mods | |
| --- | --- | --- | --- | --- | --- | --- | --- | --- | --- | --- | --- |
| #1 | | 10,031,232 | 99.73% | WubWoofWolf | 683 | 501&nbsp&nbsp/ 2 / 0 | 88 | 2 | 0 | HD,NC | Report |
| #2 | | 9,975,347 | 99.20% | Bikko | 683 | 497&nbsp&nbsp/ 6 / 0 | 84 | 6 | 0 | HD,FL | Report |
| #3 | | 9,885,117 | 98.14% | mukachu | 683 | 489&nbsp&nbsp/ 14 / 0 | 80 | 10 | 0 | HD,DT | Report |
| #4 | | 9,323,311 | 98.24% | SiLviA | 683 | 490&nbsp&nbsp/ 12 / 1 | 78 | 11 | 0 | DT | Report |
| #5 | | 9,208,154 | 97.61% | Black Sheep | 683 | 485&nbsp&nbsp/ 18 / 0 | 77 | 13 | 0 | DT | Report |
| #6 | | 9,182,741 | 97.32% | erk | 682 | 483&nbsp&nbsp/ 19 / 1 | 75 | 14 | 0 | DT | Report |
| #7 | | 9,167,914 | 97.22% | porinki | 683 | 482&nbsp&nbsp/ 21 / 0 | 73 | 17 | 0 | HD,HR | Report |
| #8 | | 9,129,021 | 96.42% | Asagiri Mai | 682 | 476&nbsp&nbsp/ 27 / 0 | 73 | 17 | 0 | DT | Report |
| #9 | | 9,105,732 | 95.46% | Bupi | 681 | 469&nbsp&nbsp/ 33 / 1 | 67 | 22 | 0 | HD,HR | Report |
| #10 | | 8,988,239 | 94.80% | Kurakining | 683 | 464&nbsp&nbsp/ 38 / 1 | 68 | 21 | 0 | HD,HR | Report |
| #11 | | 8,982,098 | 93.47% | tit | 683 | 454&nbsp&nbsp/ 48 / 1 | 59 | 30 | 0 | HD,HR | Report |
| #12 | | 8,945,194 | 99.47% | Lybydose | 683 | 499&nbsp&nbsp/ 4 / 0 | 86 | 4 | 0 | HD | Report |
| #13 | | 8,944,040 | 98.81% | wobeinimacao | 683 | 494&nbsp&nbsp/ 9 / 0 | 82 | 8 | 0 | HR | Report |
| #14 | | 8,942,120 | 99.30% | Pink | 683 | 498&nbsp&nbsp/ 4 / 1 | 85 | 4 | 0 | HD | Report |
| #15 | | 8,937,279 | 93.64% | Diulenomo | 683 | 455&nbsp&nbsp/ 48 / 0 | 62 | 28 | 0 | DT | Report |
| #16 | | 8,903,317 | 93.77% | shaneoyo | 683 | 456&nbsp&nbsp/ 47 / 0 | 63 | 27 | 0 | HD,HR | Report |
| #17 | | 8,901,768 | 99.20% | O-Moei | 683 | 497&nbsp&nbsp/ 6 / 0 | 84 | 6 | 0 | HD | Report |
| #18 | | 8,899,162 | 94.40% | b o t t i n o w | 683 | 461&nbsp&nbsp/ 41 / 1 | 68 | 21 | 0 | HD,HR | Report |
| #19 | | 8,898,290 | 93.21% | Plushies | 682 | 452&nbsp&nbsp/ 50 / 1 | 55 | 34 | 0 | HD,HR | Report |
| #20 | | 8,894,741 | 98.81% | Valentiino | 683 | 494&nbsp&nbsp/ 9 / 0 | 84 | 6 | 0 | HR | Report |
| #21 | | 8,880,565 | 94.33% | Skidayo | 682 | 462&nbsp&nbsp/ 34 / 7 | 67 | 20 | 0 | DT | Report |
| #22 | | 8,879,315 | 98.94% | Dogeza orz | 683 | 495&nbsp&nbsp/ 8 / 0 | 84 | 6 | 0 | HD | Report |
| #23 | | 8,852,432 | 98.54% | nruu | 683 | 492&nbsp&nbsp/ 11 / 0 | 82 | 8 | 0 | HD | Report |
| #24 | | 8,849,893 | 94.86% | kasimona | 672 | 465&nbsp&nbsp/ 36 / 1 | 64 | 24 | 1 | HD,HR | Report |
| #25 | | 8,838,187 | 98.54% | taNa_Coppola | 683 | 492&nbsp&nbsp/ 11 / 0 | 83 | 7 | 0 | HD | Report |
| #26 | | 8,836,965 | 93.84% | MikiFlan | 683 | 457&nbsp&nbsp/ 44 / 2 | 57 | 31 | 0 | HD,HR | Report |
| #27 | | 8,835,632 | 98.81% | ba3 | 683 | 494&nbsp&nbsp/ 9 / 0 | 85 | 5 | 0 | HR | Report |
| #28 | | 8,834,677 | 98.01% | Ne-Lo | 683 | 488&nbsp&nbsp/ 15 / 0 | 77 | 13 | 0 | HR | Report |
| #29 | | 8,821,259 | 98.14% | Shilkey | 683 | 489&nbsp&nbsp/ 14 / 0 | 78 | 12 | 0 | HR | Report |
| #30 | | 8,781,899 | 98.01% | Lunatic | 683 | 488&nbsp&nbsp/ 15 / 0 | 77 | 13 | 0 | HR | Report |
| #31 | | 8,767,191 | 98.01% | GGBY | 683 | 488&nbsp&nbsp/ 15 / 0 | 80 | 10 | 0 | HR | Report |
| #32 | | 8,733,037 | 97.22% | Yap | 683 | 482&nbsp&nbsp/ 21 / 0 | 73 | 17 | 0 | HR | Report |
| #33 | | 8,727,406 | 96.16% | Chewin | 683 | 474&nbsp&nbsp/ 29 / 0 | 69 | 21 | 0 | HR | Report |
| #34 | | 8,713,837 | 96.16% | Sinch | 683 | 474&nbsp&nbsp/ 29 / 0 | 71 | 19 | 0 | HR | Report |
| #35 | | 8,711,249 | 97.48% | Marry | 681 | 484&nbsp&nbsp/ 19 / 0 | 76 | 14 | 0 | HR | Report |
| #36 | | 8,692,238 | 95.89% | Jetphase | 683 | 472&nbsp&nbsp/ 31 / 0 | 66 | 24 | 0 | HR | Report |
| #37 | | 8,691,262 | 96.02% | Mitty | 683 | 473&nbsp&nbsp/ 30 / 0 | 68 | 22 | 0 | HR | Report |
| #38 | | 8,675,546 | 96.69% | makkura | 682 | 478&nbsp&nbsp/ 25 / 0 | 73 | 17 | 0 | HR | Report |
| #39 | | 8,672,244 | 96.42% | Ephoenix | 683 | 476&nbsp&nbsp/ 27 / 0 | 68 | 22 | 0 | HR | Report |
| #40 | | 8,671,238 | 96.82% | CHAS | 683 | 479&nbsp&nbsp/ 24 / 0 | 76 | 14 | 0 | HD | Report |
| #41 | | 8,667,974 | 96.29% | Vizrock | 683 | 475&nbsp&nbsp/ 28 / 0 | 72 | 18 | 0 | HR | Report |
| #42 | | 8,654,694 | 96.42% | Wind of world | 683 | 476&nbsp&nbsp/ 27 / 0 | 72 | 18 | 0 | HR | Report |
| #43 | | 8,648,997 | 91.65% | bobsta14 | 683 | 440&nbsp&nbsp/ 63 / 0 | 55 | 35 | 0 | HD,HR | Report |
| #44 | | 8,648,918 | 96.16% | EmertxE | 683 | 474&nbsp&nbsp/ 29 / 0 | 65 | 25 | 0 | HR | Report |
| #45 | | 8,637,473 | 96.52% | Elfen_Lied | 683 | 477&nbsp&nbsp/ 25 / 1 | 74 | 15 | 0 | HR | Report |
| #46 | | 8,636,780 | 96.16% | Reclude | 683 | 474&nbsp&nbsp/ 29 / 0 | 69 | 21 | 0 | HR | Report |
| #47 | | 8,634,621 | 96.69% | Vendar | 683 | 478&nbsp&nbsp/ 25 / 0 | 74 | 16 | 0 | HR | Report |
| #48 | | 8,629,990 | 96.39% | sherring | 683 | 476&nbsp&nbsp/ 26 / 1 | 72 | 17 | 0 | HD | Report |
| #49 | | 8,626,712 | 96.16% | honey | 683 | 474&nbsp&nbsp/ 29 / 0 | 69 | 21 | 0 | HR | Report |
| #50 | | 8,622,747 | 95.49% | Vmx | 683 | 469&nbsp&nbsp/ 34 / 0 | 66 | 24 | 0 | HR | Report |