Beatmap Listing » Tomoya Ohtani feat. nana hatori - Moonlight Battlefield - Aqua Road (short ver)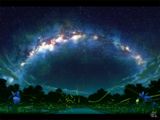 Moonlight all around
(My eyes are shining)
Shadows on the ground
(My mind is flying)
Will there ever be an end?
(There's no dividing)
Forever running from this lunacy

Moonlight coming down
(My hope igniting)
Beaming through the clouds
(My thoughts colliding)
Will we never see the end?
(Just keep surviving)
Forever searching for my destiny

Battlefield...
Illuminated...
What will be when it's over?
Can you see?