Beatmap Listing » BanYa & Warak - Beethoven Influenza
Artist:
BanYa & Warak
Key Amount:

Approach Rate:

Title:
Beethoven Influenza
HP Drain:

Star Difficulty:

(4.91)
Creator:
Another Lie
Accuracy:

Length:
2:36 (2:34 drain)
Source:
Pump It Up 2015 PRIME
Genre:
Unspecified (Other)
BPM:
170
Tags:
beethoven remix influenza virus
User Rating:
Success Rate:
Points of Failure:


(graph is accumulative, based on % at fail/retry)

18.0% (1034 of 5738 plays)

Submitted:
Loved:
Mar 13, 2017
May 26, 2017
Rating Spread:

Favourited 67 times in total

Users that love this map: Eternalie, JunixSrankAkatsuki, DoNotMess, Janko, Ezze, MEGAtive, Liffeh, Surono, KimKim, Joy-, KcHecKa, PaladinKill, Culedesu, Genuine, EFP, Hiraa-, kingrobin, Dovahbear1, krujka, kucin94 and many more!
Options:
Modding / Discussion
This map is in a LOVED state.
As such, it will not award any pp and leaderboards may be reset by the beatmap creator.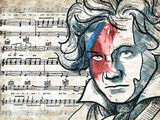 Not an ordinary jack map :P
Also download the original in
here
by
ExPew
Waiting Razor's GD, Surono's GD & [Need 1 STD diff] [I don't have much hope for them. Took long enough for waiting]
Will re-make those SVs
No need
Log
18-03-2017 00:50 AM - SV issue fixed, better LN, only 1 part that contain 1/8 notes, & moved some jack parts.
22-03-2017 09:21 PM Reduced HP & OD to 8.5
27-03-2017 09:30 PM Added new diff without SV
30-03-2017 11:29 AM A Lie's Plague less jacks & no SV
26-04-2017 06:10 PM Major change for LN on Infection diff & Renaming all diff name
ADDICTIVE SV INSIDE!!
A Quote
Another Lie wrote:
I'm sure this diff is harder than
lombit's.
This diff may can't be SS-ed by anyone"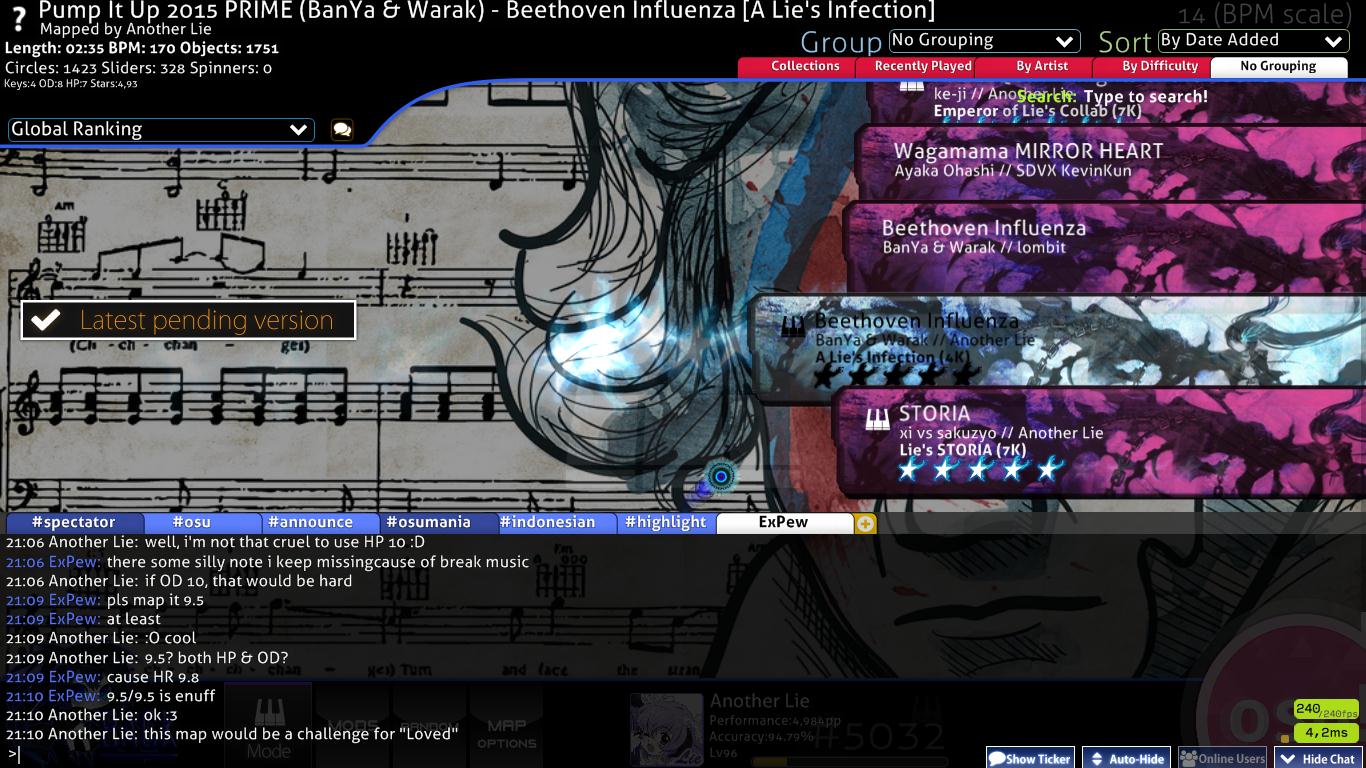 wonder5193 is in the lead! ()
Score
987,187 (99.58%)
Max Combo
2114
MAX / 300 / 200
1419 / 332 / 12
100 / 50 / Misses
2 / 0 / 2
Mods
None
Top 50 Scoreboard
Rank
Score
Accuracy
Player
Max Combo
MAX
300
200
100
50
Miss
Mods
#1
987,187
99.58%
wonder5193
2114
1419
332
12
2
0
2
None
Report
#2
979,273
99.49%
cheetose
1598
1441
303
21
0
0
2
None
Report
#3
978,835
99.25%
Lothus
1384
1463
272
26
4
1
1
None
Report
#4
959,493
98.85%
leqek
891
1417
301
42
2
0
5
None
Report
#5
952,750
98.64%
jakads
913
1485
231
38
5
0
8
None
Report
#6
949,780
98.25%
Gekido-
1984
1305
390
58
7
0
7
None
Report
#7
948,138
98.34%
Turrim
1608
1188
498
76
3
0
2
None
Report
#8
942,296
97.98%
sebaex
716
1216
468
68
6
0
9
None
Report
#9
941,276
98.47%
Dawt
680
1385
322
44
10
2
4
None
Report
#10
927,499
97.18%
DawnX
1284
1277
379
80
23
1
7
None
Report
#11
917,350
97.33%
[Crz]Player
927
1253
410
76
17
3
8
None
Report
#12
916,681
97.40%
LovelySerenade
1622
1189
467
89
17
0
5
None
Report
#13
910,994
96.79%
itsjake
1255
1239
404
93
15
2
14
None
Report
#14
908,292
96.93%
Traps Are Cute
1605
1241
406
88
21
0
11
None
Report
#15
905,102
96.33%
Razzy
1463
1271
376
66
31
5
18
None
Report
#16
903,101
97.25%
RemFangirl
885
1261
401
74
21
0
10
None
Report
#17
902,297
97.05%
Celcious
864
1098
535
118
8
3
5
None
Report
#18
899,077
96.72%
Civilization
919
1161
490
78
17
2
19
None
Report
#19
888,145
96.40%
OTL
1622
1184
436
111
28
0
8
None
Report
#20
884,994
96.16%
andykaakmald
1608
1068
550
110
23
1
15
None
Report
#21
880,752
96.68%
kloi34
566
1118
528
85
17
0
19
None
Report
#22
877,987
96.30%
SDMseven
684
1214
425
81
23
6
18
None
Report
#23
876,325
96.47%
Genuine
658
1118
513
100
18
6
12
None
Report
#24
876,013
96.15%
Misaka-sama
662
1233
384
114
17
2
17
None
Report
#25
872,359
96.51%
[ Special ]
1239
1186
455
87
18
2
19
None
Report
#26
869,013
95.57%
Toss
846
1170
432
119
22
0
24
None
Report
#27
866,201
95.31%
Asrielly
680
1330
284
90
29
3
31
None
Report
#28
865,908
96.42%
Or1g1n
880
1237
394
96
26
0
14
None
Report
#29
863,969
95.74%
Rio1-
700
1155
459
100
28
10
15
None
Report
#30
863,567
95.49%
ByeForNow
574
951
664
94
28
2
28
None
Report
#31
861,533
95.40%
Das-[Hikari]-
684
1150
447
118
30
0
22
None
Report
#32
861,329
95.20%
Pope Gadget
912
1219
387
100
28
1
32
None
Report
#33
859,447
95.55%
Domblade
426
1189
415
113
26
2
22
None
Report
#34
858,819
96.10%
Bae_DDong
684
1165
464
93
20
2
23
None
Report
#35
858,215
95.42%
RemiFlan
475
1085
520
106
28
6
22
HD
Report
#36
857,395
95.24%
lombit
378
1225
391
85
28
5
33
None
Report
#37
856,717
95.11%
AnMaO
917
1014
564
144
19
2
24
None
Report
#38
855,661
96.05%
Mr_ZenlIfeJa
474
1129
510
74
25
3
26
None
Report
#39
855,509
95.53%
[ Vento ]
683
1188
415
117
20
2
25
None
Report
#40
850,322
94.50%
Paralit
456
1219
360
117
37
3
31
None
Report
#41
848,656
95.08%
Kizunuko-P
721
1115
456
150
26
2
18
None
Report
#42
846,670
95.69%
Rain-
637
1142
465
115
19
5
21
None
Report
#43
845,789
95.37%
DAENGXicisae-
675
1191
422
91
34
1
28
None
Report
#44
839,157
95.59%
IdanDan
684
1084
508
137
13
8
17
None
Report
#45
836,955
95.42%
WalterToro
557
1099
484
141
25
4
14
None
Report
#46
834,647
94.75%
Pipper
680
1148
444
108
26
9
32
None
Report
#47
833,348
94.69%
SleepyDarkrai
557
1168
408
132
24
7
28
None
Report
#48
832,379
95.14%
xSnaggles
687
1100
477
139
32
5
14
None
Report
#49
831,559
94.27%
qqqant
585
1079
469
162
28
3
26
None
Report
#50
831,390
95.18%
frolica
776
940
638
143
25
1
20
None
Report