Beatmap Listing » Chroma - Sayonara Planet Wars
Artist:
Chroma
Circle Size:

Approach Rate:

Title:
Sayonara Planet Wars
HP Drain:

Star Difficulty:

(6.21)
Creator:
BrambleClaw
Accuracy:

Length:
2:00 (1:58 drain)
Source:
SOUND VOLTEX III GRAVITY WARS
Genre:
Unspecified (Other)
BPM:
224
Tags:
sdvx
User Rating:
Success Rate:
Points of Failure:


(graph is accumulative, based on % at fail/retry)

21.1% (72 of 342 plays)

Submitted:
Loved:
Aug 9, 2015
Feb 11, 2018
Rating Spread:

Favourited 17 times in total

Users that love this map: SaRyuKB, Serial Dreemurr, sed234rrr, Catgirl, kolishimona, Raphalge, Warwick, sjfd, Eiuh, _DUSK_, [-TSG-], le gagoguigo3, WrigleyWarrior, Dargin, imzkw, ZethZ161, -Penny-
Options:
Modding / Discussion
This map is in a LOVED state.
As such, it will not award any pp and leaderboards may be reset by the beatmap creator.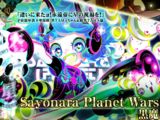 Guys, TWC 2016 HYPE!!!!
Okay, so I got REALLY tired of me saying I'm gonna try to rank this mapset, just to abandon it the next month. SO, what I've done now is speedmap! Because of this, the set might be a little bad, I completed it in less than 24 hours. It's ready for mods, so if anyone wants to do it, have at it! This WILL be my first ranked mapset, or else I am not BrambleClaw!
Changelog:
08/11/15 - Fixed audio volumes, no redownload necessary
uone is in the lead! ()
Score
1,229,304 (100.00%)
Max Combo
1034
300 / 100 / 50
1034 / 0 / 0
Misses
0
Geki (Elite Beat!)
26
Katu (Beat!)
0
Mods
HD,PF
Top 50 Scoreboard
| | Rank | Score | Accuracy | Player | Max Combo | 300 / 100 / 50 | Geki | Katu | Misses | Mods | |
| --- | --- | --- | --- | --- | --- | --- | --- | --- | --- | --- | --- |
| #1 | | 1,229,304 | 100.00% | uone | 1034 | 1034&nbsp&nbsp/ 0 / 0 | 26 | 0 | 0 | HD,PF | Report |
| #2 | | 1,228,416 | 99.90% | Das | 1034 | 1032&nbsp&nbsp/ 2 / 0 | 9 | 0 | 0 | HD | Report |
| #3 | | 1,228,164 | 99.90% | MetalStream | 1034 | 1032&nbsp&nbsp/ 2 / 0 | 14 | 0 | 0 | HD | Report |
| #4 | | 1,226,910 | 99.81% | le gagoguigo3 | 1034 | 1030&nbsp&nbsp/ 4 / 0 | 12 | 0 | 0 | HD | Report |
| #5 | | 1,225,884 | 99.90% | Jerry | 1034 | 1032&nbsp&nbsp/ 2 / 0 | 26 | 0 | 0 | HD | Report |
| #6 | | 1,223,034 | 99.52% | pagr42 | 1034 | 1024&nbsp&nbsp/ 10 / 0 | 12 | 0 | 0 | HD | Report |
| #7 | | 1,222,464 | 99.61% | KitajimaYN | 1034 | 1026&nbsp&nbsp/ 8 / 0 | 3 | 0 | 0 | HD | Report |
| #8 | | 1,220,526 | 99.27% | goheegy | 1034 | 1019&nbsp&nbsp/ 15 / 0 | 21 | 0 | 0 | HR | Report |
| #9 | | 1,186,820 | 100.00% | Dargin | 1034 | 1034&nbsp&nbsp/ 0 / 0 | 13 | 0 | 0 | None | Report |
| #10 | | 1,180,550 | 99.76% | sed234rrr | 1034 | 1029&nbsp&nbsp/ 5 / 0 | 11 | 0 | 0 | None | Report |
| #11 | | 1,175,110 | 98.94% | MikuWRS | 1034 | 1012&nbsp&nbsp/ 22 / 0 | 47 | 0 | 0 | None | Report |
| #12 | | 1,174,596 | 98.45% | georgedpcarlin | 989 | 1003&nbsp&nbsp/ 30 / 0 | 32 | 0 | 1 | HD | Report |
| #13 | | 1,172,850 | 98.98% | Lalamomo4 | 1034 | 1013&nbsp&nbsp/ 21 / 0 | 40 | 2 | 0 | None | Report |
| #14 | | 1,168,230 | 99.95% | ZethZ161 | 1034 | 1033&nbsp&nbsp/ 1 / 0 | 7 | 0 | 0 | None | Report |
| #15 | | 1,161,800 | 98.07% | Faputa | 1034 | 994&nbsp&nbsp/ 40 / 0 | 0 | 0 | 0 | None | Report |
| #16 | | 1,161,220 | 99.23% | yea | 1034 | 1018&nbsp&nbsp/ 16 / 0 | 13 | 0 | 0 | None | Report |
| #17 | | 1,161,012 | 98.98% | koyomi_222 | 578 | 1014&nbsp&nbsp/ 19 / 0 | 3 | 0 | 1 | HD | Report |
| #18 | | 1,149,210 | 97.82% | Supersonic12 | 1034 | 989&nbsp&nbsp/ 45 / 0 | 32 | 1 | 0 | None | Report |
| #19 | | 1,146,580 | 99.52% | owatanimal | 984 | 1025&nbsp&nbsp/ 8 / 0 | 38 | 0 | 1 | None | Report |
| #20 | | 1,145,980 | 98.84% | tytdoge | 1034 | 1010&nbsp&nbsp/ 24 / 0 | 23 | 0 | 0 | None | Report |
| #21 | | 1,128,970 | 99.56% | masa20096 | 578 | 1026&nbsp&nbsp/ 7 / 0 | 4 | 0 | 1 | None | Report |
| #22 | | 1,117,830 | 97.53% | jyake_ou | 986 | 985&nbsp&nbsp/ 47 / 0 | 35 | 0 | 2 | None | Report |
| #23 | | 1,113,310 | 98.26% | Miyasan | 1034 | 998&nbsp&nbsp/ 36 / 0 | 0 | 0 | 0 | None | Report |
| #24 | | 1,111,878 | 96.62% | R-18 | 554 | 965&nbsp&nbsp/ 68 / 0 | 19 | 2 | 1 | HR | Report |
| #25 | | 1,105,330 | 98.98% | MDsBerg | 695 | 1016&nbsp&nbsp/ 15 / 0 | 26 | 1 | 3 | None | Report |
| #26 | | 1,098,240 | 98.74% | Fantazy | 578 | 1010&nbsp&nbsp/ 22 / 0 | 2 | 0 | 2 | None | Report |
| #27 | | 1,090,315 | 94.39% | applerss | 399 | 923&nbsp&nbsp/ 106 / 0 | 1 | 0 | 5 | DT | Report |
| #28 | | 1,065,618 | 98.02% | D3kuu | 554 | 998&nbsp&nbsp/ 31 / 0 | 1 | 0 | 5 | HR | Report |
| #29 | | 1,036,140 | 95.41% | Don Omar | 498 | 967&nbsp&nbsp/ 39 / 0 | 5 | 0 | 28 | None | Report |
| #30 | | 987,190 | 96.95% | Rouen | 559 | 985&nbsp&nbsp/ 35 / 0 | 0 | 0 | 14 | None | Report |
| #31 | | 967,540 | 94.49% | SchneeValzer | 508 | 938&nbsp&nbsp/ 78 / 0 | 9 | 0 | 18 | None | Report |
| #32 | | 963,610 | 94.05% | [Yuochan-0206] | 458 | 950&nbsp&nbsp/ 45 / 0 | 1 | 0 | 39 | None | Report |
| #33 | | 958,940 | 94.83% | Braixen- | 449 | 948&nbsp&nbsp/ 65 / 0 | 4 | 0 | 21 | None | Report |
| #34 | | 934,400 | 92.60% | Gundham | 441 | 922&nbsp&nbsp/ 71 / 0 | 16 | 2 | 41 | None | Report |
| #35 | | 934,180 | 95.50% | Yaminoma | 452 | 969&nbsp&nbsp/ 37 / 0 | 0 | 0 | 28 | None | Report |
| #36 | | 927,780 | 96.91% | senfla | 383 | 982&nbsp&nbsp/ 40 / 0 | 0 | 0 | 12 | None | Report |
| #37 | | 924,900 | 95.70% | Carolyn | 553 | 972&nbsp&nbsp/ 35 / 0 | 2 | 0 | 27 | None | Report |
| #38 | | 921,096 | 93.23% | apaajaboleh10 | 451 | 944&nbsp&nbsp/ 40 / 0 | 29 | 0 | 50 | None | Report |
| #39 | | 912,720 | 88.97% | 1Rize | 469 | 854&nbsp&nbsp/ 132 / 0 | 7 | 0 | 48 | None | Report |
| #40 | | 908,878 | 95.79% | perro chocapic | 364 | 961&nbsp&nbsp/ 59 / 0 | 41 | 3 | 14 | None | Report |
| #41 | | 903,179 | 91.25% | Y u w a n | 351 | 895&nbsp&nbsp/ 97 / 0 | 4 | 1 | 42 | DT | Report |
| #42 | | 863,660 | 92.60% | Q____X | 350 | 917&nbsp&nbsp/ 81 / 0 | 46 | 1 | 36 | None | Report |
| #43 | | 854,302 | 89.89% | JarvisGaming | 493 | 869&nbsp&nbsp/ 121 / 0 | 1 | 0 | 44 | None | Report |
| #44 | | 849,468 | 91.83% | TheMadnessLady | 395 | 906&nbsp&nbsp/ 87 / 0 | 20 | 0 | 41 | None | Report |
| #45 | | 809,642 | 86.36% | metalS | 445 | 824&nbsp&nbsp/ 138 / 0 | 7 | 1 | 72 | None | Report |
| #46 | | 794,840 | 88.88% | froon | 430 | 866&nbsp&nbsp/ 106 / 0 | 5 | 0 | 62 | None | Report |
| #47 | | 792,012 | 90.62% | -------Yuzliliy | 288 | 882&nbsp&nbsp/ 110 / 0 | 5 | 0 | 42 | None | Report |
| #48 | | 777,259 | 90.33% | Pohm | 352 | 874&nbsp&nbsp/ 120 / 0 | 1 | 0 | 40 | HR | Report |
| #49 | | 765,942 | 88.39% | moonnight0520 | 394 | 854&nbsp&nbsp/ 120 / 0 | 9 | 0 | 60 | None | Report |
| #50 | | 764,824 | 85.30% | Acetylcholine | 389 | 783&nbsp&nbsp/ 198 / 0 | 2 | 0 | 53 | None | Report |