Artist:
kensuke ushio
Circle Size:

Approach Rate:

Title:
lit(var)
HP Drain:

Star Difficulty:

(2.62)
Creator:
Monstrata
Accuracy:

Length:
2:04 (2:01 drain)
Source:
聲の形
Genre:
Anime (Instrumental)
BPM:
70
Tags:
koe no katachi shoko nishimiya shoya ishida shouko shouya the shape of voice piano ost soundtrack ending theme light original
User Rating:
Success Rate:
Points of Failure:


(graph is accumulative, based on % at fail/retry)

36.8% (33453 of 90846 plays)

Submitted:
Ranked:
Jun 8, 2017
Sep 11, 2017
Rating Spread:

Favourited 319 times in total

Users that love this map: vinavina, dormantlemon, MrsPerfect, garry19980510, walaowey, StevenDANK, Ringer, wilber9503, xxremigiuszxx, Mamansita, willster79, Monstrata, amyou, [Shana Lesus], Kinuki, Novixion, leon8866, The Anohana, fangchunxi1999, [Scooty] and many more!
Options:
Modding / Discussion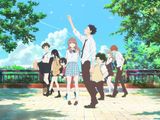 A brilliant movie about redemption.
Object placement begins only at the bottom of the screen to emulate Ishida's hesitance in interacting and connecting with people around him. As a result, he only looks down at the ground, and the map begins at the bottom of the screen.
The sliders only move upward, an attempt to climb upward and move forward, but the flow of the map continues to push the player back down.
As the song progresses, especially entering the more upbeat chorus, the map uses more and more of the screen to emulate Ishida opening up to the world around him. Sliders become faster, flows push down harder and sharper, but the player continues to fight their way back up and push forward (or upward in this case!).
Protonori is in the lead! ()
Score
340,610 (95.29%)
Max Combo
329
300 / 100 / 50
298 / 31 / 0
Misses
0
Geki (Elite Beat!)
13
Katu (Beat!)
3
Mods
HD,HR,FL
Top 50 Scoreboard
| | Rank | Score | Accuracy | Player | Max Combo | 300 / 100 / 50 | Geki | Katu | Misses | Mods | |
| --- | --- | --- | --- | --- | --- | --- | --- | --- | --- | --- | --- |
| #1 | | 340,610 | 95.29% | Protonori | 329 | 298&nbsp&nbsp/ 31 / 0 | 13 | 3 | 0 | HD,HR,FL | Report |
| #2 | | 321,756 | 100.00% | kevin3333g | 329 | 329&nbsp&nbsp/ 0 / 0 | 27 | 0 | 0 | HR | Report |
| #3 | | 309,810 | 96.35% | ARJNC | 329 | 305&nbsp&nbsp/ 24 / 0 | 18 | 1 | 0 | HR | Report |
| #4 | | 308,566 | 96.66% | Kolo71 | 329 | 307&nbsp&nbsp/ 22 / 0 | 9 | 0 | 0 | HR | Report |
| #5 | | 299,164 | 98.33% | Lunatic_Moon | 329 | 318&nbsp&nbsp/ 11 / 0 | 22 | 2 | 0 | None | Report |
| #6 | | 298,968 | 96.05% | shotzombin | 329 | 303&nbsp&nbsp/ 26 / 0 | 4 | 1 | 0 | None | Report |
| #7 | | 298,036 | 95.59% | love5270 | 329 | 300&nbsp&nbsp/ 29 / 0 | 17 | 3 | 0 | None | Report |
| #8 | | 295,926 | 97.87% | Mashimaroo16 | 329 | 315&nbsp&nbsp/ 14 / 0 | 5 | 1 | 0 | None | Report |
| #9 | | 295,152 | 95.29% | iamthelag | 325 | 299&nbsp&nbsp/ 29 / 0 | 16 | 3 | 1 | None | Report |
| #10 | | 294,926 | 95.74% | yodonaime | 325 | 302&nbsp&nbsp/ 26 / 0 | 3 | 0 | 1 | None | Report |
| #11 | | 290,930 | 93.47% | Gus- | 321 | 287&nbsp&nbsp/ 41 / 0 | 21 | 5 | 1 | HR | Report |
| #12 | | 289,046 | 94.98% | Toddynho_1 | 315 | 297&nbsp&nbsp/ 31 / 0 | 15 | 3 | 1 | HR | Report |
| #13 | | 289,016 | 95.44% | MinexID | 329 | 299&nbsp&nbsp/ 30 / 0 | 7 | 1 | 0 | None | Report |
| #14 | | 287,206 | 96.05% | LuckyMatu | 329 | 303&nbsp&nbsp/ 26 / 0 | 12 | 3 | 0 | None | Report |
| #15 | | 286,064 | 97.87% | newme96 | 329 | 315&nbsp&nbsp/ 14 / 0 | 0 | 0 | 0 | None | Report |
| #16 | | 284,502 | 94.98% | hypnotism | 321 | 298&nbsp&nbsp/ 29 / 0 | 10 | 1 | 2 | None | Report |
| #17 | | 282,724 | 96.35% | vmmb | 329 | 305&nbsp&nbsp/ 24 / 0 | 0 | 0 | 0 | None | Report |
| #18 | | 282,636 | 93.01% | KyouxSaya | 321 | 284&nbsp&nbsp/ 44 / 0 | 1 | 1 | 1 | None | Report |
| #19 | | 281,308 | 92.10% | OoKirisakuraoO | 329 | 277&nbsp&nbsp/ 52 / 0 | 8 | 5 | 0 | None | Report |
| #20 | | 281,184 | 97.26% | Kubusgameplay | 329 | 311&nbsp&nbsp/ 18 / 0 | 0 | 0 | 0 | None | Report |
| #21 | | 279,794 | 96.66% | jason210671 | 321 | 309&nbsp&nbsp/ 18 / 0 | 0 | 0 | 2 | None | Report |
| #22 | | 278,378 | 92.55% | cake222666 | 311 | 282&nbsp&nbsp/ 45 / 0 | 11 | 4 | 2 | None | Report |
| #23 | | 277,402 | 91.64% | 0910866774 | 311 | 279&nbsp&nbsp/ 45 / 0 | 15 | 3 | 5 | None | Report |
| #24 | | 276,362 | 91.64% | henryjr923 | 325 | 275&nbsp&nbsp/ 53 / 0 | 0 | 0 | 1 | None | Report |
| #25 | | 274,760 | 94.83% | sunghou1995 | 329 | 295&nbsp&nbsp/ 34 / 0 | 4 | 0 | 0 | None | Report |
| #26 | | 274,166 | 89.21% | panachai02 | 317 | 261&nbsp&nbsp/ 65 / 0 | 15 | 6 | 3 | None | Report |
| #27 | | 272,350 | 92.25% | feredo54 | 329 | 278&nbsp&nbsp/ 51 / 0 | 0 | 0 | 0 | None | Report |
| #28 | | 268,366 | 89.06% | SenranKafuru | 321 | 259&nbsp&nbsp/ 68 / 0 | 3 | 2 | 2 | None | Report |
| #29 | | 268,112 | 93.16% | sinc12 | 316 | 286&nbsp&nbsp/ 41 / 0 | 11 | 6 | 2 | None | Report |
| #30 | | 252,164 | 93.92% | DasiaPL | 180 | 293&nbsp&nbsp/ 32 / 0 | 4 | 1 | 4 | None | Report |
| #31 | | 251,906 | 94.07% | tld_Homura | 220 | 291&nbsp&nbsp/ 37 / 0 | 8 | 4 | 1 | None | Report |
| #32 | | 250,272 | 86.17% | andreur466 | 306 | 241&nbsp&nbsp/ 85 / 0 | 14 | 9 | 3 | None | Report |
| #33 | | 245,512 | 92.40% | Sarter | 273 | 280&nbsp&nbsp/ 48 / 0 | 0 | 0 | 1 | None | Report |
| #34 | | 241,412 | 91.64% | bambooturtle_ | 202 | 276&nbsp&nbsp/ 51 / 0 | 17 | 7 | 2 | None | Report |
| #35 | | 240,970 | 90.43% | Viewland | 221 | 268&nbsp&nbsp/ 59 / 0 | 11 | 3 | 2 | None | Report |
| #36 | | 240,532 | 88.30% | stqz | 254 | 258&nbsp&nbsp/ 65 / 0 | 7 | 6 | 6 | None | Report |
| #37 | | 211,500 | 83.89% | juice233 | 241 | 231&nbsp&nbsp/ 90 / 0 | 0 | 0 | 8 | None | Report |
| #38 | | 209,092 | 90.73% | artificial-id | 176 | 275&nbsp&nbsp/ 47 / 0 | 21 | 5 | 7 | None | Report |
| #39 | | 204,620 | 88.60% | Toleihadolete | 130 | 265&nbsp&nbsp/ 53 / 0 | 18 | 0 | 11 | None | Report |
| #40 | | 202,652 | 85.41% | zopr86342 | 142 | 246&nbsp&nbsp/ 70 / 0 | 0 | 0 | 13 | None | Report |
| #41 | | 195,926 | 89.36% | AnimeFan2471 | 144 | 269&nbsp&nbsp/ 50 / 0 | 10 | 2 | 10 | None | Report |
| #42 | | 187,726 | 83.13% | detangorintedig | 142 | 237&nbsp&nbsp/ 73 / 0 | 0 | 0 | 19 | None | Report |
| #43 | | 186,938 | 87.99% | DrWhomstdve | 133 | 256&nbsp&nbsp/ 67 / 0 | 0 | 0 | 6 | None | Report |
| #44 | | 185,852 | 86.93% | roy0807 | 120 | 253&nbsp&nbsp/ 66 / 0 | 8 | 2 | 10 | None | Report |
| #45 | | 181,274 | 87.84% | xxjanoxproxx | 104 | 261&nbsp&nbsp/ 56 / 0 | 8 | 5 | 12 | None | Report |
| #46 | | 164,345 | 85.11% | BLEACH TOUSHIROU | 87 | 240&nbsp&nbsp/ 80 / 0 | 3 | 2 | 9 | HR | Report |
| #47 | | 162,300 | 82.37% | DaRKMaRoWaK | 108 | 231&nbsp&nbsp/ 80 / 0 | 16 | 3 | 18 | None | Report |
| #48 | | 158,308 | 78.57% | TheBladeSharp | 120 | 211&nbsp&nbsp/ 95 / 0 | 10 | 7 | 23 | None | Report |
| #49 | | 153,858 | 81.61% | man2468 | 133 | 219&nbsp&nbsp/ 99 / 0 | 0 | 0 | 11 | None | Report |
| #50 | | 147,588 | 78.42% | Myr | 143 | 206&nbsp&nbsp/ 104 / 0 | 0 | 0 | 19 | None | Report |