Artist:
USAO
Circle Size:

Approach Rate:

Title:
Miracle 5ympho X
HP Drain:

Star Difficulty:

(4.25)
Creator:
Mel
Accuracy:

Length:
2:00 (1:58 drain)
Source:
beatmania IIDX 21 SPADA
Genre:
Unspecified (Other)
BPM:
210
Tags:
frey sionkotori kokodoko ナウい 一年一片 frenchcore dubstep intensity fullerene kurokami gezo
User Rating:
Success Rate:
Points of Failure:


(graph is accumulative, based on % at fail/retry)

15.3% (321 of 2093 plays)

Submitted:
Loved:
Dec 27, 2013
Nov 14, 2016
Rating Spread:

Favourited 571 times in total

Users that love this map: pandagraph, wongfung, Jerimaya, 0pen, CriticalDex, yuh25, Bonzomi, nobody-, Zenonia, CrazyStar, flips30240, Aleppie, manzoi, Outeaux, lineqtxz, kairasu, Brett6455, Karukami, alexDaleITA, Penguinz and many more!
Options:
This Beatmap's Thread
This map is in a LOVED state.
As such, it will not award any pp and leaderboards may be reset by the beatmap creator.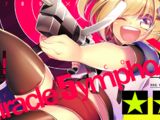 _Asriel is in the lead! ()
Score
17,256,328 (99.90%)
Max Combo
705
300 / 100 / 50
683 / 22 / 258
Misses
0
Geki (Elite Beat!)
89
Droplet misses
1
Mods
HD,HR
Top 50 Scoreboard
| | Rank | Score | Accuracy | Player | Max Combo | 300 / 100 / 50 | Geki | Droplet Miss | Misses | Mods | |
| --- | --- | --- | --- | --- | --- | --- | --- | --- | --- | --- | --- |
| #1 | | 17,256,328 | 99.90% | _Asriel | 705 | 683&nbsp&nbsp/ 22 / 258 | 89 | 1 | 0 | HD,HR | Report |
| #2 | | 15,434,380 | 100.00% | noraRcat | 705 | 683&nbsp&nbsp/ 22 / 259 | 89 | 0 | 0 | HD | Report |
| #3 | | 15,432,170 | 99.90% | Megpoid | 705 | 683&nbsp&nbsp/ 22 / 258 | 89 | 1 | 0 | HD | Report |
| #4 | | 14,574,170 | 100.00% | rullu | 705 | 683&nbsp&nbsp/ 22 / 259 | 89 | 0 | 0 | PF | Report |
| #5 | | 14,570,860 | 99.90% | Funtastic | 705 | 683&nbsp&nbsp/ 22 / 258 | 89 | 1 | 0 | None | Report |
| #6 | | 14,567,550 | 99.79% | Marvv | 705 | 683&nbsp&nbsp/ 22 / 257 | 89 | 2 | 0 | None | Report |
| #7 | | 14,562,060 | 99.90% | Rizki | 705 | 683&nbsp&nbsp/ 22 / 258 | 89 | 1 | 0 | None | Report |
| #8 | | 14,559,830 | 99.59% | Machine | 705 | 683&nbsp&nbsp/ 22 / 255 | 89 | 4 | 0 | None | Report |
| #9 | | 10,796,122 | 99.38% | Beatrice- | 575 | 678&nbsp&nbsp/ 22 / 258 | 87 | 1 | 5 | HD | Report |
| #10 | | 10,752,828 | 99.17% | Rain Maker | 572 | 678&nbsp&nbsp/ 22 / 256 | 87 | 3 | 5 | HD | Report |
| #11 | | 8,743,776 | 99.69% | - N a g i - | 431 | 681&nbsp&nbsp/ 22 / 258 | 87 | 1 | 2 | HD,HR | Report |
| #12 | | 8,092,150 | 99.38% | [-naniwa-] | 480 | 679&nbsp&nbsp/ 22 / 257 | 87 | 2 | 4 | None | Report |
| #13 | | 7,603,240 | 99.27% | _Spectrum | 421 | 681&nbsp&nbsp/ 22 / 254 | 87 | 5 | 2 | None | Report |
| #14 | | 7,154,906 | 99.69% | Motion | 372 | 681&nbsp&nbsp/ 22 / 258 | 88 | 1 | 2 | HR | Report |
| #15 | | 6,734,090 | 99.17% | MorsayFanGirl | 402 | 679&nbsp&nbsp/ 22 / 255 | 86 | 4 | 4 | None | Report |
| #16 | | 6,362,760 | 99.17% | Dolboyasher | 390 | 680&nbsp&nbsp/ 22 / 254 | 86 | 5 | 3 | None | Report |
| #17 | | 6,235,503 | 99.27% | chickenbible | 356 | 678&nbsp&nbsp/ 22 / 257 | 84 | 2 | 5 | HR | Report |
| #18 | | 6,094,700 | 99.69% | nikolai | 378 | 681&nbsp&nbsp/ 22 / 258 | 87 | 1 | 2 | None | Report |
| #19 | | 5,891,530 | 98.86% | -Nirfu- | 407 | 679&nbsp&nbsp/ 21 / 253 | 85 | 6 | 5 | None | Report |
| #20 | | 5,877,170 | 98.55% | [225]Zeus | 408 | 675&nbsp&nbsp/ 22 / 253 | 85 | 6 | 8 | None | Report |
| #21 | | 5,526,130 | 98.86% | Rukairi | 405 | 674&nbsp&nbsp/ 22 / 257 | 82 | 2 | 9 | None | Report |
| #22 | | 5,488,830 | 99.17% | TRaZe | 320 | 679&nbsp&nbsp/ 22 / 255 | 86 | 4 | 4 | None | Report |
| #23 | | 4,965,820 | 98.96% | bastoo0 | 378 | 674&nbsp&nbsp/ 22 / 258 | 81 | 1 | 9 | None | Report |
| #24 | | 4,803,640 | 99.38% | Paula | 300 | 680&nbsp&nbsp/ 22 / 256 | 86 | 3 | 3 | None | Report |
| #25 | | 4,624,970 | 98.65% | Del | 309 | 677&nbsp&nbsp/ 22 / 252 | 83 | 7 | 6 | HR | Report |
| #26 | | 4,624,586 | 99.48% | [224]Hyperw7 | 239 | 680&nbsp&nbsp/ 22 / 257 | 86 | 2 | 3 | HR | Report |
| #27 | | 4,046,710 | 98.13% | Nakiri erina | 331 | 667&nbsp&nbsp/ 22 / 257 | 82 | 2 | 16 | None | Report |
| #28 | | 3,973,110 | 98.96% | - Nippa - | 275 | 675&nbsp&nbsp/ 22 / 257 | 83 | 2 | 8 | None | Report |
| #29 | | 3,924,150 | 99.07% | [BDB]WINNY | 278 | 676&nbsp&nbsp/ 22 / 257 | 83 | 2 | 7 | None | Report |
| #30 | | 3,843,720 | 98.76% | Asrasz | 291 | 674&nbsp&nbsp/ 22 / 256 | 81 | 3 | 9 | None | Report |
| #31 | | 3,705,397 | 98.55% | hisukoha | 255 | 674&nbsp&nbsp/ 22 / 254 | 80 | 5 | 9 | HD | Report |
| #32 | | 3,433,180 | 99.07% | Chatie | 269 | 675&nbsp&nbsp/ 22 / 258 | 83 | 1 | 8 | None | Report |
| #33 | | 3,420,856 | 98.34% | Ginoshi | 287 | 669&nbsp&nbsp/ 22 / 257 | 77 | 2 | 14 | HD | Report |
| #34 | | 3,379,490 | 97.82% | sonjuuw | 267 | 666&nbsp&nbsp/ 22 / 255 | 76 | 4 | 17 | None | Report |
| #35 | | 3,362,080 | 98.96% | piercethejavi | 269 | 674&nbsp&nbsp/ 22 / 258 | 80 | 1 | 9 | None | Report |
| #36 | | 3,333,237 | 98.44% | DevilJiro | 218 | 672&nbsp&nbsp/ 22 / 255 | 81 | 4 | 11 | HD | Report |
| #37 | | 3,159,850 | 98.34% | Maxbel | 277 | 671&nbsp&nbsp/ 22 / 255 | 78 | 4 | 12 | None | Report |
| #38 | | 3,038,360 | 98.34% | XeroX_Orion | 207 | 672&nbsp&nbsp/ 22 / 254 | 80 | 5 | 11 | None | Report |
| #39 | | 3,008,760 | 98.65% | [PTM]Jorockeur | 267 | 671&nbsp&nbsp/ 22 / 258 | 79 | 1 | 12 | None | Report |
| #40 | | 2,978,380 | 98.44% | R E C | 267 | 671&nbsp&nbsp/ 22 / 256 | 81 | 3 | 12 | None | Report |
| #41 | | 2,940,750 | 97.61% | -[ Zim ]- | 190 | 673&nbsp&nbsp/ 21 / 247 | 80 | 12 | 11 | None | Report |
| #42 | | 2,905,600 | 98.03% | ga1337 | 253 | 669&nbsp&nbsp/ 22 / 254 | 77 | 5 | 14 | None | Report |
| #43 | | 2,854,570 | 98.76% | [Lilly] | 196 | 673&nbsp&nbsp/ 22 / 257 | 81 | 2 | 10 | None | Report |
| #44 | | 2,810,960 | 97.72% | Unirem | 240 | 666&nbsp&nbsp/ 22 / 254 | 78 | 5 | 17 | None | Report |
| #45 | | 2,777,270 | 97.72% | HavengelioN | 245 | 665&nbsp&nbsp/ 22 / 255 | 76 | 4 | 18 | None | Report |
| #46 | | 2,681,580 | 96.68% | dracoV | 249 | 660&nbsp&nbsp/ 22 / 250 | 78 | 9 | 23 | None | Report |
| #47 | | 2,666,720 | 97.93% | Nagirops | 246 | 664&nbsp&nbsp/ 22 / 258 | 77 | 1 | 19 | None | Report |
| #48 | | 2,663,752 | 97.82% | Aprodhite- | 209 | 666&nbsp&nbsp/ 22 / 255 | 77 | 4 | 17 | HD | Report |
| #49 | | 2,585,980 | 96.27% | enjoyit1025 | 248 | 658&nbsp&nbsp/ 22 / 248 | 73 | 11 | 25 | None | Report |
| #50 | | 2,572,110 | 98.34% | [Salad-chan] | 216 | 670&nbsp&nbsp/ 21 / 257 | 79 | 2 | 14 | None | Report |