Beatmap Listing » Demetori ft. Red Parka - Emotional Skyscraper ~ World's End (Extended Broken Wear Remix)
Artist:
Demetori ft. Red Parka
Circle Size:

Approach Rate:

Title:
Emotional Skyscraper ~ World's End (Extended Broken Wear Remix)
HP Drain:

Star Difficulty:

(4.45)
Creator:
happy30
Accuracy:

Length:
10:23 (7:57 drain)
Source:
Genre:
Unspecified (Other)
BPM:
178
Tags:
User Rating:
Success Rate:
Points of Failure:


(graph is accumulative, based on % at fail/retry)

5.5% (993 of 17952 plays)

Submitted:
Loved:
Apr 1, 2013
Feb 14, 2017
Rating Spread:

Favourited 80 times in total

Users that love this map: bmin11, MetalStream, Pokie, Garven, jonathanlfj, Verdisphena, laport, Synchrostar, Regou, Foggen, Kazuo, lolcubes, Robin_8515, kira2409, Jenna, Rad-, GLoriA, Ikkun, Noiraku, Marco and many more!
Options:
Modding / Discussion
This map is in a LOVED state.
As such, it will not award any pp and leaderboards may be reset by the beatmap creator.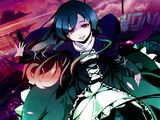 After seeing many people enjoy Demetori - World's End, I decided to map the longer version made by Red Parka. I hope you will enjoy this as much as the original!
sorry, it's kinda a jumpy jump map
Designed by me and
Taizsa
April Fools map (2013)
Download the map with the GLORIOUS VIDEO
Original video:
https://www.youtube.com/watch?v=vTEIb8cg-t8
WubWoofWolf is in the lead! ()
Score
47,609,548 (97.78%)
Max Combo
1638
300 / 100 / 50
1009 / 32 / 1
Misses
1
Geki (Elite Beat!)
243
Katu (Beat!)
24
Mods
HD,NC
Top 50 Scoreboard
| | Rank | Score | Accuracy | Player | Max Combo | 300 / 100 / 50 | Geki | Katu | Misses | Mods | |
| --- | --- | --- | --- | --- | --- | --- | --- | --- | --- | --- | --- |
| #1 | | 47,609,548 | 97.78% | WubWoofWolf | 1638 | 1009&nbsp&nbsp/ 32 / 1 | 243 | 24 | 1 | HD,NC | Report |
| #2 | | 45,102,597 | 96.87% | Doomsday | 1645 | 994&nbsp&nbsp/ 49 / 0 | 231 | 38 | 0 | DT | Report |
| #3 | | 44,891,042 | 96.61% | Kenny | 1645 | 990&nbsp&nbsp/ 53 / 0 | 224 | 45 | 0 | DT | Report |
| #4 | | 42,448,398 | 96.09% | pyrowar56 | 1645 | 982&nbsp&nbsp/ 60 / 1 | 220 | 48 | 0 | HD | Report |
| #5 | | 41,506,790 | 99.42% | Chaoslitz | 1649 | 1034&nbsp&nbsp/ 9 / 0 | 262 | 7 | 0 | None | Report |
| #6 | | 41,371,338 | 98.96% | Rlsc | 1648 | 1027&nbsp&nbsp/ 15 / 1 | 256 | 12 | 0 | None | Report |
| #7 | | 41,325,226 | 99.04% | Tetla | 1649 | 1028&nbsp&nbsp/ 15 / 0 | 257 | 12 | 0 | None | Report |
| #8 | | 41,237,442 | 98.59% | -N a n a k o- | 1649 | 1021&nbsp&nbsp/ 22 / 0 | 253 | 16 | 0 | None | Report |
| #9 | | 41,043,494 | 98.53% | rustbell | 1647 | 1021&nbsp&nbsp/ 18 / 4 | 251 | 14 | 0 | None | Report |
| #10 | | 40,865,525 | 92.91% | niemi | 1646 | 932&nbsp&nbsp/ 111 / 0 | 195 | 74 | 0 | HR | Report |
| #11 | | 40,760,606 | 97.79% | Zemqu | 1647 | 1009&nbsp&nbsp/ 32 / 2 | 242 | 25 | 0 | None | Report |
| #12 | | 39,992,638 | 96.50% | dacuber | 1641 | 989&nbsp&nbsp/ 52 / 1 | 229 | 38 | 1 | None | Report |
| #13 | | 39,377,456 | 95.45% | ColaSoft0 | 1635 | 973&nbsp&nbsp/ 66 / 3 | 222 | 43 | 1 | None | Report |
| #14 | | 39,303,332 | 94.81% | Rabb | 1647 | 962&nbsp&nbsp/ 80 / 1 | 214 | 54 | 0 | None | Report |
| #15 | | 37,540,584 | 94.18% | big boob | 1569 | 952&nbsp&nbsp/ 91 / 0 | 209 | 60 | 0 | HR | Report |
| #16 | | 33,989,332 | 97.06% | -perper- | 1498 | 997&nbsp&nbsp/ 46 / 0 | 231 | 38 | 0 | None | Report |
| #17 | | 32,053,104 | 97.76% | DigitalHypno | 1414 | 1008&nbsp&nbsp/ 35 / 0 | 243 | 26 | 0 | HD | Report |
| #18 | | 30,537,690 | 97.67% | Sosochek | 1422 | 1007&nbsp&nbsp/ 35 / 0 | 239 | 29 | 1 | None | Report |
| #19 | | 30,445,050 | 97.95% | Neab | 1413 | 1011&nbsp&nbsp/ 32 / 0 | 248 | 21 | 0 | None | Report |
| #20 | | 29,775,592 | 96.74% | Kotori-Chan | 1407 | 993&nbsp&nbsp/ 48 / 0 | 228 | 39 | 2 | None | Report |
| #21 | | 29,534,013 | 90.70% | Nope | 1400 | 898&nbsp&nbsp/ 144 / 0 | 182 | 86 | 1 | HR | Report |
| #22 | | 21,792,146 | 94.93% | ABYSS10001 | 868 | 966&nbsp&nbsp/ 71 / 3 | 212 | 53 | 3 | NC | Report |
| #23 | | 21,435,495 | 91.21% | Prophet | 1106 | 907&nbsp&nbsp/ 131 / 4 | 183 | 81 | 1 | NC | Report |
| #24 | | 21,179,498 | 96.80% | teamplayer51 | 1003 | 993&nbsp&nbsp/ 50 / 0 | 230 | 39 | 0 | None | Report |
| #25 | | 21,115,986 | 90.84% | ricoel | 1210 | 903&nbsp&nbsp/ 132 / 3 | 177 | 85 | 5 | None | Report |
| #26 | | 20,821,900 | 92.35% | faceless user | 1056 | 925&nbsp&nbsp/ 111 / 7 | 188 | 75 | 0 | None | Report |
| #27 | | 20,127,588 | 93.03% | Snowwy | 994 | 935&nbsp&nbsp/ 105 / 2 | 198 | 68 | 1 | None | Report |
| #28 | | 19,868,890 | 95.14% | TyrantsEye2014 | 1024 | 970&nbsp&nbsp/ 66 / 2 | 220 | 43 | 5 | None | Report |
| #29 | | 18,466,871 | 93.34% | Bass | 1046 | 941&nbsp&nbsp/ 96 / 3 | 199 | 64 | 3 | HR | Report |
| #30 | | 18,116,486 | 94.38% | LoidKun | 886 | 957&nbsp&nbsp/ 80 / 4 | 205 | 58 | 2 | HD | Report |
| #31 | | 17,985,653 | 96.80% | Jeby | 885 | 995&nbsp&nbsp/ 44 / 0 | 231 | 34 | 4 | DT | Report |
| #32 | | 17,679,994 | 95.94% | mmi- | 870 | 981&nbsp&nbsp/ 57 / 4 | 219 | 45 | 1 | None | Report |
| #33 | | 17,449,099 | 94.17% | xasuma | 912 | 954&nbsp&nbsp/ 84 / 1 | 206 | 58 | 4 | HD,HR | Report |
| #34 | | 17,441,820 | 96.23% | Arx Alveria | 951 | 985&nbsp&nbsp/ 55 / 2 | 229 | 37 | 1 | None | Report |
| #35 | | 17,232,044 | 95.27% | Henkayy | 721 | 970&nbsp&nbsp/ 71 / 0 | 218 | 49 | 2 | DT | Report |
| #36 | | 17,114,666 | 92.73% | Rixia Mao | 740 | 931&nbsp&nbsp/ 107 / 3 | 199 | 65 | 2 | DT | Report |
| #37 | | 17,024,954 | 95.57% | King Hong | 1017 | 975&nbsp&nbsp/ 65 / 1 | 220 | 46 | 2 | None | Report |
| #38 | | 16,863,256 | 96.32% | Nephren | 942 | 987&nbsp&nbsp/ 53 / 0 | 226 | 40 | 3 | None | Report |
| #39 | | 16,828,042 | 94.06% | FailureAtOsu | 1001 | 952&nbsp&nbsp/ 86 / 2 | 203 | 61 | 3 | None | Report |
| #40 | | 16,803,311 | 91.34% | Exstinxi | 897 | 910&nbsp&nbsp/ 123 / 10 | 183 | 78 | 0 | HR | Report |
| #41 | | 16,668,250 | 93.32% | Kealamauloa | 1005 | 951&nbsp&nbsp/ 63 / 8 | 215 | 34 | 21 | None | Report |
| #42 | | 16,356,316 | 92.91% | Franek DziDT | 1038 | 936&nbsp&nbsp/ 97 / 4 | 190 | 70 | 6 | None | Report |
| #43 | | 16,321,154 | 94.76% | Mythed | 1002 | 964&nbsp&nbsp/ 73 / 0 | 202 | 61 | 6 | None | Report |
| #44 | | 16,293,724 | 94.22% | siwu320 | 947 | 955&nbsp&nbsp/ 82 / 2 | 206 | 58 | 4 | None | Report |
| #45 | | 15,925,350 | 95.05% | Dynamic | 1000 | 970&nbsp&nbsp/ 62 / 4 | 213 | 48 | 7 | None | Report |
| #46 | | 15,843,362 | 93.59% | Mahmood1 | 869 | 945&nbsp&nbsp/ 91 / 5 | 191 | 72 | 2 | None | Report |
| #47 | | 15,755,494 | 93.45% | Minos with qsc | 889 | 944&nbsp&nbsp/ 90 / 4 | 203 | 58 | 5 | DT | Report |
| #48 | | 15,605,562 | 89.76% | - Addict - | 806 | 884&nbsp&nbsp/ 156 / 1 | 171 | 95 | 2 | HR | Report |
| #49 | | 15,527,884 | 94.44% | formi | 726 | 957&nbsp&nbsp/ 83 / 2 | 205 | 61 | 1 | None | Report |
| #50 | | 15,502,926 | 95.09% | L1NKED | 725 | 968&nbsp&nbsp/ 71 / 1 | 217 | 50 | 3 | None | Report |