Beatmap Listing » UNISON SQUARE GARDEN - Haru ga Kite Bokura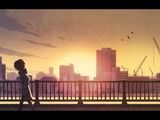 OK asked a mod from kroytz on his stream and there were some rhythm problems and structure mostly, so I've tried to fix some of that problems by remapping Insane. ~50% is done but there is more vocal focusing and better structure so then the old. So hopefully it's improved.
Log
02.14 Remapped some parts on the Insane that would fit better.

02.13
A few changes to Insane from a small mod.

02.10
Changes to Easy, Normal and Insane has been made.

02.09
Changed the Insane diff with sliders instead of overmapped streams. "+ star at the end"
Normal has more circles.

01.29
Have made some changes to Insane, Easy (if I remember right.)
Have fixed with audio on hit-sounds.

01.27
Hard finished!

01.22
Changes to normal and Insane.
Hard is going slowly.

01.21
Finished easy.
Finished normal. (Need's more difficulty to it...)
Hard is WIP.
added video.
More changes to Insane.
Check this cover out! (The song I mapped on first.)
https://soundcloud.com/neotwenty1/harugakitebokura
All backgrounds come from the official site:
http://3lion-usa.com/special/endcard/
Just edited for 1920x1080 resolution.