Beatmap Listing » Colorful Sounds Port - ETERNAL DRAIN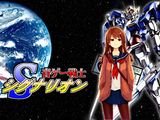 For those who says that I'm pp mapper all the time, then try to farm from it!
That map is going to make you suffer with long 1/8 patterns, non-stop rhythm and 1/4 finishers!
Aiming for rank, WIP.
Little notice and explanations about the map
Why 1/4 finishers on ETERNAL diff?


Because I think it's only way to represent this sound. It can't be represented by using 1/8 kdkdkdkd... or 1/4 kkkkkkkk. Also, current RC stands for this style.

I also have to state that I followed vocal and background music for Oni and lower difficulties, when ETERNAL is mapped by crazy rhythm in the song itself.
ETERNAL: 100% finished.
Nishizumi's Inner Oni: 100% finished by Nishizumi.
Oni: 100% finished.
_yu68's Muzukashii: 100% finished by _yu68.
_yu68's Futsuu: 100% finished by _yu68.
Mid's Kantan: 100% finished by Midnaait.