Beatmap Listing » Nekomata Master - fallen leaves -IIDX edition-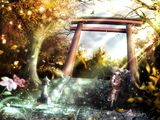 Hello! First of all,thank you for visiting this page. This is the first map I made,so I really appreciate if someone is willing to mod this map,and don't hesitate to slap me in the face if I've made some simple mistakes.
"Fallen leaves" is originally from the arcade ReflecBeat(a.k.a. RB) but I choose the IIDX version for the SV change before the final part,but for the mapping concept I went for the RB mapping style with reduced randomness,but still retain the left and right burst (I don't know what they're called) of the original.