Beatmap Listing » Shinji Hosoe - GIGA WRECKER Title Theme
Artist:
Shinji Hosoe
Circle Size:

Approach Rate:

Title:
GIGA WRECKER Title Theme
HP Drain:

Star Difficulty:

(4.40)
Creator:
HighTec
Accuracy:

Length:
1:25 (1:22 drain)
Source:
GIGA WRECKER
Genre:
Video Game (Instrumental)
BPM:
95
Tags:
game freak inc. arche lowcombofc ost soundtrack
User Rating:
Success Rate:
Points of Failure:


(graph is accumulative, based on % at fail/retry)

12.2% (3501 of 28755 plays)

Submitted:
Ranked:
Aug 13, 2017
Oct 4, 2017
Rating Spread:

Favourited 35 times in total

Users that love this map: Mokona Modoki, clairvoyant, [ Kyle ], ruslanTAL, Cheeen, Freesms, Killerlees, Lotragon, Goten1, _Phoenix, rockyrevard, Overlord05, Reyoto, jgrady90, Metronome, Aluas Gwinblade, Perfidie, HoloPLUS, Sebexx, thom13579 and many more!
Options:
Modding / Discussion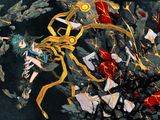 Top diffname reference
Concept is "time travel"
You constantly go back to go through the same thing 4 times (which is fitting for the story funnily enough) but with little variations to justify the changes that are made with every travel taken.
Normal by
LowComboFC
Since the shaping in a Normal can't differ all too much, it was decided to have the slidershape change everytime you go back to the start again. Yes this also happens 4 times. Ending has straight sliders again due to the story getting worse and more sad overall.
Hitsounds credits to
Celektus
Toy is in the lead! ()
Score
3,989,759 (99.79%)
Max Combo
435
300 / 100 / 50
313 / 1 / 0
Misses
0
Geki (Elite Beat!)
69
Katu (Beat!)
1
Mods
HD,DT
Top 50 Scoreboard
| | Rank | Score | Accuracy | Player | Max Combo | 300 / 100 / 50 | Geki | Katu | Misses | Mods | |
| --- | --- | --- | --- | --- | --- | --- | --- | --- | --- | --- | --- |
| #1 | | 3,989,759 | 99.79% | Toy | 435 | 313&nbsp&nbsp/ 1 / 0 | 69 | 1 | 0 | HD,DT | Report |
| #2 | | 3,789,549 | 100.00% | Node | 435 | 314&nbsp&nbsp/ 0 / 0 | 70 | 0 | 0 | HD,HR | Report |
| #3 | | 3,782,805 | 99.79% | Rizer | 435 | 313&nbsp&nbsp/ 1 / 0 | 69 | 1 | 0 | HD,HR | Report |
| #4 | | 3,773,180 | 99.15% | Lexion | 435 | 310&nbsp&nbsp/ 4 / 0 | 66 | 4 | 0 | HD,HR | Report |
| #5 | | 3,757,735 | 98.94% | respektive | 435 | 309&nbsp&nbsp/ 5 / 0 | 65 | 5 | 0 | HD,HR | Report |
| #6 | | 3,755,886 | 99.15% | Latrio | 435 | 310&nbsp&nbsp/ 4 / 0 | 66 | 4 | 0 | HD,HR | Report |
| #7 | | 3,754,073 | 99.36% | MarianCap [AR] | 435 | 311&nbsp&nbsp/ 3 / 0 | 67 | 3 | 0 | HD,HR | Report |
| #8 | | 3,753,605 | 99.36% | Franc[e]sco | 435 | 311&nbsp&nbsp/ 3 / 0 | 67 | 3 | 0 | HD,HR | Report |
| #9 | | 3,751,788 | 99.15% | Mijn Aim Zuigt | 435 | 310&nbsp&nbsp/ 4 / 0 | 66 | 4 | 0 | HD,HR | Report |
| #10 | | 3,731,144 | 98.73% | daminski | 435 | 308&nbsp&nbsp/ 6 / 0 | 64 | 6 | 0 | HD,HR | Report |
| #11 | | 3,726,388 | 97.88% | Arsene | 435 | 304&nbsp&nbsp/ 10 / 0 | 62 | 8 | 0 | HD,HR | Report |
| #12 | | 3,725,696 | 98.51% | Orangebanana | 435 | 307&nbsp&nbsp/ 7 / 0 | 65 | 5 | 0 | HD,HR | Report |
| #13 | | 3,716,331 | 98.73% | YuaKKuma | 435 | 308&nbsp&nbsp/ 6 / 0 | 67 | 3 | 0 | HD,HR | Report |
| #14 | | 3,708,295 | 97.45% | Skidayo | 435 | 302&nbsp&nbsp/ 12 / 0 | 63 | 7 | 0 | HD,HR | Report |
| #15 | | 3,675,484 | 96.82% | Furry Trash | 435 | 299&nbsp&nbsp/ 15 / 0 | 60 | 10 | 0 | HD,HR | Report |
| #16 | | 3,645,503 | 95.75% | Elirac | 435 | 294&nbsp&nbsp/ 20 / 0 | 58 | 12 | 0 | HD,HR | Report |
| #17 | | 3,633,401 | 97.03% | _verto_ | 435 | 300&nbsp&nbsp/ 14 / 0 | 61 | 9 | 0 | HD,HR | Report |
| #18 | | 3,629,500 | 95.33% | sstareven | 435 | 292&nbsp&nbsp/ 22 / 0 | 59 | 11 | 0 | HD,HR | Report |
| #19 | | 3,608,524 | 94.06% | r1sel | 435 | 286&nbsp&nbsp/ 28 / 0 | 52 | 18 | 0 | HD,HR | Report |
| #20 | | 3,605,015 | 94.90% | lioseulbi | 434 | 290&nbsp&nbsp/ 24 / 0 | 52 | 18 | 0 | HD,HR | Report |
| #21 | | 3,598,873 | 96.18% | v6842951370 | 435 | 296&nbsp&nbsp/ 18 / 0 | 56 | 14 | 0 | HD,HR | Report |
| #22 | | 3,584,124 | 95.33% | Swiftis | 435 | 292&nbsp&nbsp/ 22 / 0 | 53 | 17 | 0 | HD,HR | Report |
| #23 | | 3,580,778 | 100.00% | EMPNUTS | 435 | 314&nbsp&nbsp/ 0 / 0 | 70 | 0 | 0 | HD | Report |
| #24 | | 3,580,778 | 100.00% | Nussegge | 435 | 314&nbsp&nbsp/ 0 / 0 | 70 | 0 | 0 | HD | Report |
| #25 | | 3,580,778 | 100.00% | GrischuG | 435 | 314&nbsp&nbsp/ 0 / 0 | 70 | 0 | 0 | HD | Report |
| #26 | | 3,580,778 | 100.00% | -Tochi | 435 | 314&nbsp&nbsp/ 0 / 0 | 70 | 0 | 0 | HD | Report |
| #27 | | 3,580,778 | 100.00% | Ahmnesia | 435 | 314&nbsp&nbsp/ 0 / 0 | 70 | 0 | 0 | HD | Report |
| #28 | | 3,580,778 | 100.00% | Gruzzli | 435 | 314&nbsp&nbsp/ 0 / 0 | 70 | 0 | 0 | HD | Report |
| #29 | | 3,580,778 | 100.00% | YSoAggressive | 435 | 314&nbsp&nbsp/ 0 / 0 | 70 | 0 | 0 | HD | Report |
| #30 | | 3,580,778 | 100.00% | ZerrX | 435 | 314&nbsp&nbsp/ 0 / 0 | 70 | 0 | 0 | HD | Report |
| #31 | | 3,578,678 | 99.79% | Swerro | 435 | 313&nbsp&nbsp/ 1 / 0 | 69 | 1 | 0 | HD | Report |
| #32 | | 3,575,647 | 94.27% | Softdeth | 435 | 287&nbsp&nbsp/ 27 / 0 | 53 | 17 | 0 | HD,HR | Report |
| #33 | | 3,575,320 | 99.79% | This Acc Sucks | 435 | 313&nbsp&nbsp/ 1 / 0 | 69 | 1 | 0 | HD | Report |
| #34 | | 3,574,846 | 99.79% | Astral Rin | 435 | 313&nbsp&nbsp/ 1 / 0 | 69 | 1 | 0 | HD | Report |
| #35 | | 3,572,990 | 99.15% | paruuu | 435 | 310&nbsp&nbsp/ 4 / 0 | 68 | 2 | 0 | HD | Report |
| #36 | | 3,572,641 | 99.79% | yubid | 435 | 313&nbsp&nbsp/ 1 / 0 | 69 | 1 | 0 | HD | Report |
| #37 | | 3,571,725 | 99.79% | Grimsever | 435 | 313&nbsp&nbsp/ 1 / 0 | 69 | 1 | 0 | HD | Report |
| #38 | | 3,570,300 | 99.79% | Morimiya Aono | 435 | 313&nbsp&nbsp/ 1 / 0 | 69 | 1 | 0 | HD | Report |
| #39 | | 3,566,942 | 99.79% | - Castaway - | 435 | 313&nbsp&nbsp/ 1 / 0 | 69 | 1 | 0 | HD | Report |
| #40 | | 3,565,558 | 99.79% | disclosure | 434 | 313&nbsp&nbsp/ 1 / 0 | 69 | 1 | 0 | HD | Report |
| #41 | | 3,565,259 | 92.78% | dokuro_piko | 435 | 280&nbsp&nbsp/ 34 / 0 | 48 | 22 | 0 | HD,HR | Report |
| #42 | | 3,565,080 | 99.58% | big boob | 435 | 312&nbsp&nbsp/ 2 / 0 | 68 | 2 | 0 | HR | Report |
| #43 | | 3,564,232 | 99.58% | Shinsekai yuri | 435 | 312&nbsp&nbsp/ 2 / 0 | 68 | 2 | 0 | HD | Report |
| #44 | | 3,564,131 | 99.58% | Shizuku- | 435 | 312&nbsp&nbsp/ 2 / 0 | 68 | 2 | 0 | HD | Report |
| #45 | | 3,561,485 | 99.58% | lemu lemu | 435 | 312&nbsp&nbsp/ 2 / 0 | 68 | 2 | 0 | HR | Report |
| #46 | | 3,557,007 | 99.58% | Mixanik | 435 | 312&nbsp&nbsp/ 2 / 0 | 68 | 2 | 0 | HD | Report |
| #47 | | 3,556,980 | 99.15% | KayKey | 435 | 310&nbsp&nbsp/ 4 / 0 | 66 | 4 | 0 | HR | Report |
| #48 | | 3,553,452 | 99.15% | Imouto koko | 435 | 310&nbsp&nbsp/ 4 / 0 | 66 | 4 | 0 | HD | Report |
| #49 | | 3,551,108 | 99.36% | Banerider | 435 | 311&nbsp&nbsp/ 3 / 0 | 67 | 3 | 0 | HR | Report |
| #50 | | 3,550,160 | 99.36% | __Oceanelle__ | 435 | 311&nbsp&nbsp/ 3 / 0 | 69 | 1 | 0 | HD | Report |