Beatmap Listing » ROMO ft. Hatsune Miku - My Dream, My Melody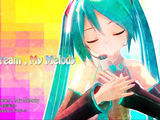 My first (well, second actually. The first one was dead) map. I noticed there's no beatmap of this song so I figured I'd make it.
Edited:
-Timing issue: BPM (From 132.22 to 132)
-Normal mode is now more smooth (flowing)
-More hitsounds has been added
more edits coming soon.
Thanks
Poivila_qwq
for the mod, it was great and very helpful.