Artist:
BTS
Circle Size:

Approach Rate:

Title:
Spring Day
HP Drain:

Star Difficulty:

(3.83)
Creator:
- Magic Bomb -
Accuracy:

Length:
2:06 (1:44 drain)
Source:
Genre:
Pop (Korean)
BPM:
107
Tags:
mbomb bangtan boys sonyeondan bangtansonyeondan beyond the scene bulletproof scouts bighit entertainment 빅히트엔터테인먼트 wings repackage you never walk alone 2nd
User Rating:
Success Rate:
Points of Failure:


(graph is accumulative, based on % at fail/retry)

4.8% (243 of 5022 plays)

Submitted:
Ranked:
Aug 8, 2017
Sep 27, 2017
Rating Spread:

Favourited 84 times in total

Users that love this map: _shiroinu, Manuxz, DragonSlayer96, krittmet, Xiaolin, Snow-s-m, Nerdudel, sunny0629, Ceryuia, sakebra17, OWO2333, Pat-Chan2002, Kapuze, KingAldon, pony755490, Simonax3, Hwa Yang, Akiminii, NoisyBoy11226, Calvixx and many more!
Options:
Modding / Discussion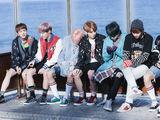 "How many more nights do I have to stay up until I can see you?"
If you want to play this song in standard, check out
Tae's set
! Hitsounds were also taken from the standard set, with some changes by me.
T s u m i is in the lead! ()
Score
6,923,288 (98.80%)
Max Combo
452
300 / 100 / 50
430 / 22 / 369
Misses
0
Geki (Elite Beat!)
46
Droplet misses
10
Mods
HD,HR
Top 50 Scoreboard
| | Rank | Score | Accuracy | Player | Max Combo | 300 / 100 / 50 | Geki | Droplet Miss | Misses | Mods | |
| --- | --- | --- | --- | --- | --- | --- | --- | --- | --- | --- | --- |
| #1 | | 6,923,288 | 98.80% | T s u m i | 452 | 430&nbsp&nbsp/ 22 / 369 | 46 | 10 | 0 | HD,HR | Report |
| #2 | | 6,567,895 | 98.44% | Motion | 452 | 430&nbsp&nbsp/ 22 / 366 | 46 | 13 | 0 | HD,DT | Report |
| #3 | | 6,565,805 | 99.76% | skvix | 452 | 430&nbsp&nbsp/ 22 / 377 | 46 | 2 | 0 | HD,DT | Report |
| #4 | | 6,565,785 | 99.52% | Spectator | 452 | 430&nbsp&nbsp/ 22 / 375 | 46 | 4 | 0 | HD,DT | Report |
| #5 | | 6,561,285 | 98.32% | Snow-s-m | 452 | 430&nbsp&nbsp/ 22 / 365 | 46 | 14 | 0 | HD,DT | Report |
| #6 | | 6,209,399 | 100.00% | b-a-d-s123 | 452 | 430&nbsp&nbsp/ 22 / 379 | 46 | 0 | 0 | HD,PF | Report |
| #7 | | 6,207,189 | 99.88% | Fli | 452 | 430&nbsp&nbsp/ 22 / 378 | 46 | 1 | 0 | HD | Report |
| #8 | | 6,204,999 | 100.00% | noraRcat | 452 | 430&nbsp&nbsp/ 22 / 379 | 46 | 0 | 0 | HD | Report |
| #9 | | 6,204,999 | 100.00% | mjj741 | 452 | 430&nbsp&nbsp/ 22 / 379 | 46 | 0 | 0 | HD | Report |
| #10 | | 6,202,759 | 99.52% | YERTI | 452 | 430&nbsp&nbsp/ 22 / 375 | 46 | 4 | 0 | HD | Report |
| #11 | | 6,201,659 | 99.52% | lechuguin | 452 | 430&nbsp&nbsp/ 22 / 375 | 46 | 4 | 0 | HD | Report |
| #12 | | 6,200,509 | 98.92% | Playboy | 452 | 430&nbsp&nbsp/ 22 / 370 | 46 | 9 | 0 | DT | Report |
| #13 | | 6,199,369 | 98.44% | Derunax | 452 | 430&nbsp&nbsp/ 22 / 366 | 46 | 13 | 0 | NC | Report |
| #14 | | 6,175,259 | 99.52% | chickennando | 452 | 430&nbsp&nbsp/ 22 / 375 | 46 | 4 | 0 | HD | Report |
| #15 | | 5,868,090 | 100.00% | Nikolai | 452 | 430&nbsp&nbsp/ 22 / 379 | 46 | 0 | 0 | None | Report |
| #16 | | 5,866,990 | 100.00% | Convert | 452 | 430&nbsp&nbsp/ 22 / 379 | 46 | 0 | 0 | None | Report |
| #17 | | 5,866,990 | 100.00% | Tenshichan | 452 | 430&nbsp&nbsp/ 22 / 379 | 46 | 0 | 0 | None | Report |
| #18 | | 5,865,870 | 99.76% | fairytail1110 | 452 | 430&nbsp&nbsp/ 22 / 377 | 46 | 2 | 0 | None | Report |
| #19 | | 5,865,860 | 99.64% | FruktoLove | 452 | 430&nbsp&nbsp/ 22 / 376 | 46 | 3 | 0 | None | Report |
| #20 | | 5,864,760 | 99.64% | MBomb | 452 | 430&nbsp&nbsp/ 22 / 376 | 46 | 3 | 0 | None | Report |
| #21 | | 5,864,740 | 99.40% | Jafett | 452 | 430&nbsp&nbsp/ 22 / 374 | 46 | 5 | 0 | None | Report |
| #22 | | 5,864,680 | 98.68% | sxy62146214 | 452 | 430&nbsp&nbsp/ 22 / 368 | 46 | 11 | 0 | SD | Report |
| #23 | | 5,863,670 | 99.76% | oWaterJaMo | 452 | 430&nbsp&nbsp/ 22 / 377 | 46 | 2 | 0 | None | Report |
| #24 | | 5,863,600 | 98.92% | Just Awake | 452 | 430&nbsp&nbsp/ 22 / 370 | 46 | 9 | 0 | None | Report |
| #25 | | 5,862,590 | 100.00% | Sternenstab | 452 | 430&nbsp&nbsp/ 22 / 379 | 46 | 0 | 0 | PF | Report |
| #26 | | 5,862,590 | 100.00% | Shadow3344 | 452 | 430&nbsp&nbsp/ 22 / 379 | 46 | 0 | 0 | PF | Report |
| #27 | | 5,862,560 | 99.64% | evilwallpaper | 452 | 430&nbsp&nbsp/ 22 / 376 | 46 | 3 | 0 | None | Report |
| #28 | | 5,862,540 | 99.40% | ROMAMANOS | 452 | 430&nbsp&nbsp/ 22 / 374 | 46 | 5 | 0 | None | Report |
| #29 | | 5,861,480 | 99.88% | Nelly | 452 | 430&nbsp&nbsp/ 22 / 378 | 46 | 1 | 0 | None | Report |
| #30 | | 5,861,410 | 99.04% | Cute_Monster | 452 | 430&nbsp&nbsp/ 22 / 371 | 46 | 8 | 0 | None | Report |
| #31 | | 5,860,360 | 99.64% | Paranoid Grapes | 452 | 430&nbsp&nbsp/ 22 / 376 | 46 | 3 | 0 | None | Report |
| #32 | | 5,860,320 | 99.16% | enjoyit1025 | 452 | 430&nbsp&nbsp/ 22 / 372 | 46 | 7 | 0 | None | Report |
| #33 | | 5,860,320 | 99.16% | SkaylleexSamaFR | 452 | 430&nbsp&nbsp/ 22 / 372 | 46 | 7 | 0 | None | Report |
| #34 | | 5,859,290 | 100.00% | Groex | 452 | 430&nbsp&nbsp/ 22 / 379 | 46 | 0 | 0 | None | Report |
| #35 | | 5,859,210 | 99.04% | -Sikk- | 452 | 430&nbsp&nbsp/ 22 / 371 | 46 | 8 | 0 | None | Report |
| #36 | | 5,859,200 | 98.92% | XeroX_Orion | 452 | 430&nbsp&nbsp/ 22 / 370 | 46 | 9 | 0 | None | Report |
| #37 | | 5,859,190 | 98.80% | Inu-senpai | 452 | 430&nbsp&nbsp/ 22 / 369 | 46 | 10 | 0 | None | Report |
| #38 | | 5,858,150 | 99.52% | Dohland | 452 | 430&nbsp&nbsp/ 22 / 375 | 46 | 4 | 0 | None | Report |
| #39 | | 5,858,130 | 99.28% | Riria Rakira | 452 | 430&nbsp&nbsp/ 22 / 373 | 46 | 6 | 0 | None | Report |
| #40 | | 5,858,110 | 99.04% | Xicydi | 452 | 430&nbsp&nbsp/ 22 / 371 | 46 | 8 | 0 | None | Report |
| #41 | | 5,857,070 | 99.76% | DamnEasy | 452 | 430&nbsp&nbsp/ 22 / 377 | 46 | 2 | 0 | None | Report |
| #42 | | 5,857,040 | 99.40% | ljjmk94 | 452 | 430&nbsp&nbsp/ 22 / 374 | 46 | 5 | 0 | None | Report |
| #43 | | 5,857,010 | 99.04% | DarkLaw | 452 | 430&nbsp&nbsp/ 22 / 371 | 46 | 8 | 0 | None | Report |
| #44 | | 5,856,950 | 98.32% | Wakay | 452 | 430&nbsp&nbsp/ 22 / 365 | 46 | 14 | 0 | None | Report |
| #45 | | 5,856,940 | 98.19% | tomaszto | 452 | 430&nbsp&nbsp/ 22 / 364 | 46 | 15 | 0 | None | Report |
| #46 | | 5,855,960 | 99.64% | kon7336 | 452 | 430&nbsp&nbsp/ 22 / 376 | 46 | 3 | 0 | None | Report |
| #47 | | 5,852,580 | 98.68% | EnigmaIsBoss | 452 | 430&nbsp&nbsp/ 22 / 368 | 46 | 11 | 0 | None | Report |
| #48 | | 5,849,340 | 99.40% | BlueSparklez | 452 | 430&nbsp&nbsp/ 22 / 374 | 46 | 5 | 0 | None | Report |
| #49 | | 5,827,350 | 99.52% | Zoggoth | 452 | 430&nbsp&nbsp/ 22 / 375 | 46 | 4 | 0 | None | Report |
| #50 | | 5,805,300 | 99.28% | -Duarna- | 447 | 429&nbsp&nbsp/ 22 / 374 | 45 | 5 | 1 | None | Report |