Beatmap Listing » Waterflame - Glorious Morning 2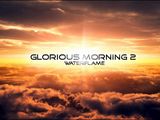 Osu! needs more Waterflame!
Completed Difficulties:
Glorious War 2
Hyper
Victorfernando's Normal
Victorfernado's Hard
Audio bitrate was fixed, and a fade out was applied to the end. Currently working on redoing hyper's repeating sliders in the beginning, where as Glorious War 2's are finished.
Since it's been mentioned alot: I'm aware that the repeating sliders in the beginning do not perfectly follow the beat, I'm trying to find a way to make them do so, but it's very difficult using a 1/3rd divisor.