Artist:
Diao ye zong
Circle Size:

Approach Rate:

Title:
Lost
HP Drain:

Star Difficulty:

(3.83)
Creator:
Suissie
Accuracy:

Length:
6:00 (5:56 drain)
Source:
東方地霊殿 ~ Subterranean Animism.
Genre:
Video Game (Japanese)
BPM:
140
Tags:
meramipop touhou chireiden c91 comiket91 koishi komeiji 古明地 こいし 凋叶棕 diao ye zong rd-sounds th11 ハルトマンの妖怪少女 harutoman no youkai shoujo
User Rating:
Success Rate:
Points of Failure:


(graph is accumulative, based on % at fail/retry)

25.1% (2034 of 8109 plays)

Submitted:
Ranked:
Jul 30, 2017
Nov 1, 2017
Rating Spread:

Favourited 27 times in total

Users that love this map: iyasine, big boob, Mirash, Swell, My Love Emilia, leslyyose, David-, Kiseki no Sekai, GTonic, Hailie, shariaLian, osuskrub, Szwaners23, RifleRed, Kishio02, HongTaoKing, Be-rg, - Mayday -, sdolnicek, _myr17 and many more!
Options:
Modding / Discussion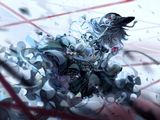 Me and Deramok started to map this at the same time. His map:
https://osu.ppy.sh/s/653691
Information about the song and translations by eiki
ロスト・■ // 凋叶棕 lyrics
Explanation of the Diffname
In the original lyrics is a hidden word replaced by a black box. It's also in the title. If I got the information right it should mean smile.
<3 Special Thanks Box <3
Thanks dqs01733 and okorin for being my former Mentors :3
Thanks Deramok and Xenok for helping me Hitsounding this
Thanks for Bubbles Kibbleru and Okorin <3
Thanks for Mods
Halfslashed, Mirash, Gottagof4st, Swell, Mir, _83 (bor), Deramok, Hailie, Yaspo, Okorin
thx for helping me hitsounding xenok and deramok
xasuma is in the lead! ()
Score
25,761,085 (99.48%)
Max Combo
1171
300 / 100 / 50
757 / 6 / 0
Misses
0
Geki (Elite Beat!)
186
Katu (Beat!)
6
Mods
HD,DT
Top 50 Scoreboard
| | Rank | Score | Accuracy | Player | Max Combo | 300 / 100 / 50 | Geki | Katu | Misses | Mods | |
| --- | --- | --- | --- | --- | --- | --- | --- | --- | --- | --- | --- |
| #1 | | 25,761,085 | 99.48% | xasuma | 1171 | 757&nbsp&nbsp/ 6 / 0 | 186 | 6 | 0 | HD,DT | Report |
| #2 | | 25,668,588 | 99.21% | Rika Furude | 1169 | 754&nbsp&nbsp/ 9 / 0 | 187 | 5 | 0 | HD,DT | Report |
| #3 | | 25,632,302 | 99.21% | Schlomo | 1171 | 754&nbsp&nbsp/ 9 / 0 | 184 | 8 | 0 | HD,DT | Report |
| #4 | | 25,624,986 | 99.13% | Baim | 1169 | 753&nbsp&nbsp/ 10 / 0 | 184 | 8 | 0 | HD,NC | Report |
| #5 | | 25,616,565 | 98.95% | Rohulk | 1169 | 751&nbsp&nbsp/ 12 / 0 | 185 | 7 | 0 | HD,DT | Report |
| #6 | | 25,534,034 | 98.51% | Cream | 1168 | 746&nbsp&nbsp/ 17 / 0 | 182 | 10 | 0 | HD,DT | Report |
| #7 | | 25,416,585 | 98.25% | Skidayo | 1171 | 743&nbsp&nbsp/ 20 / 0 | 175 | 17 | 0 | HD,DT | Report |
| #8 | | 25,357,153 | 97.71% | Glacial | 1169 | 737&nbsp&nbsp/ 25 / 1 | 176 | 15 | 0 | HD,DT | Report |
| #9 | | 24,339,757 | 99.74% | Reclude | 1171 | 760&nbsp&nbsp/ 3 / 0 | 189 | 3 | 0 | DT | Report |
| #10 | | 24,252,684 | 98.86% | GGBY | 1171 | 750&nbsp&nbsp/ 13 / 0 | 181 | 11 | 0 | DT | Report |
| #11 | | 24,039,130 | 98.69% | Bloody R Enryu | 1171 | 748&nbsp&nbsp/ 15 / 0 | 180 | 12 | 0 | DT | Report |
| #12 | | 24,002,687 | 98.58% | ToucheDeVelour | 1168 | 747&nbsp&nbsp/ 15 / 1 | 178 | 13 | 0 | DT | Report |
| #13 | | 23,971,371 | 97.90% | Yukiin0 | 1171 | 739&nbsp&nbsp/ 24 / 0 | 174 | 18 | 0 | DT | Report |
| #14 | | 23,102,084 | 99.74% | Coppola | 1171 | 760&nbsp&nbsp/ 3 / 0 | 189 | 3 | 0 | HD | Report |
| #15 | | 23,054,936 | 99.48% | Koltay | 1170 | 757&nbsp&nbsp/ 6 / 0 | 187 | 5 | 0 | HD | Report |
| #16 | | 23,038,923 | 99.65% | Nussegge | 1171 | 759&nbsp&nbsp/ 4 / 0 | 188 | 4 | 0 | HD | Report |
| #17 | | 22,975,249 | 99.30% | Amity-Senpai | 1171 | 755&nbsp&nbsp/ 8 / 0 | 187 | 5 | 0 | HD | Report |
| #18 | | 22,973,785 | 99.21% | Vararaup | 1171 | 754&nbsp&nbsp/ 9 / 0 | 184 | 8 | 0 | HD | Report |
| #19 | | 22,945,376 | 99.04% | paruuu | 1171 | 752&nbsp&nbsp/ 11 / 0 | 182 | 10 | 0 | HD | Report |
| #20 | | 22,843,733 | 98.34% | QAQ | 1170 | 744&nbsp&nbsp/ 19 / 0 | 179 | 13 | 0 | HD | Report |
| #21 | | 22,730,533 | 98.21% | Kotori-Chan | 1171 | 743&nbsp&nbsp/ 18 / 2 | 174 | 16 | 0 | HD | Report |
| #22 | | 22,335,291 | 95.98% | _myr17 | 1170 | 717&nbsp&nbsp/ 46 / 0 | 155 | 37 | 0 | HD | Report |
| #23 | | 22,301,769 | 97.47% | Morimiya Aono | 1170 | 734&nbsp&nbsp/ 29 / 0 | 173 | 19 | 0 | HD | Report |
| #24 | | 22,153,212 | 96.24% | IrexLin | 1169 | 720&nbsp&nbsp/ 43 / 0 | 159 | 33 | 0 | HD | Report |
| #25 | | 21,826,802 | 100.00% | Suissie | 1171 | 763&nbsp&nbsp/ 0 / 0 | 192 | 0 | 0 | None | Report |
| #26 | | 21,770,178 | 99.83% | CoLouRed GlaZeE | 1171 | 761&nbsp&nbsp/ 2 / 0 | 190 | 2 | 0 | None | Report |
| #27 | | 21,760,686 | 99.65% | Andrea | 1171 | 759&nbsp&nbsp/ 4 / 0 | 188 | 4 | 0 | None | Report |
| #28 | | 21,755,258 | 99.56% | [Lucky] | 1171 | 758&nbsp&nbsp/ 5 / 0 | 187 | 5 | 0 | None | Report |
| #29 | | 21,737,302 | 99.56% | Cyanogenoid | 1171 | 758&nbsp&nbsp/ 5 / 0 | 187 | 5 | 0 | None | Report |
| #30 | | 21,713,388 | 99.74% | Moly | 1168 | 760&nbsp&nbsp/ 3 / 0 | 190 | 2 | 0 | None | Report |
| #31 | | 21,705,590 | 99.56% | Senpai-chan | 1171 | 758&nbsp&nbsp/ 5 / 0 | 187 | 5 | 0 | None | Report |
| #32 | | 21,699,710 | 98.95% | Hiro-chan | 1171 | 751&nbsp&nbsp/ 12 / 0 | 184 | 8 | 0 | None | Report |
| #33 | | 21,658,938 | 99.28% | Susurrus | 1170 | 755&nbsp&nbsp/ 7 / 1 | 186 | 5 | 0 | None | Report |
| #34 | | 21,611,692 | 99.04% | Zhuriel | 1170 | 752&nbsp&nbsp/ 11 / 0 | 182 | 10 | 0 | None | Report |
| #35 | | 21,597,964 | 93.73% | motome | 1167 | 692&nbsp&nbsp/ 68 / 3 | 143 | 46 | 0 | HD | Report |
| #36 | | 21,597,574 | 98.86% | [ Everlasting Snow ] | 1171 | 750&nbsp&nbsp/ 13 / 0 | 182 | 10 | 0 | None | Report |
| #37 | | 21,591,746 | 99.21% | Arx Alveria | 1167 | 754&nbsp&nbsp/ 9 / 0 | 185 | 7 | 0 | None | Report |
| #38 | | 21,583,104 | 99.10% | iskilz | 1169 | 753&nbsp&nbsp/ 9 / 1 | 184 | 7 | 0 | None | Report |
| #39 | | 21,545,277 | 97.90% | mugikoEX | 1064 | 739&nbsp&nbsp/ 24 / 0 | 174 | 18 | 0 | HD,DT | Report |
| #40 | | 21,508,346 | 98.17% | beetflasher | 1171 | 742&nbsp&nbsp/ 21 / 0 | 172 | 20 | 0 | None | Report |
| #41 | | 21,478,064 | 97.88% | Tulas | 1171 | 739&nbsp&nbsp/ 23 / 1 | 176 | 15 | 0 | None | Report |
| #42 | | 21,469,750 | 97.90% | Jushandanda | 1169 | 739&nbsp&nbsp/ 24 / 0 | 173 | 19 | 0 | None | Report |
| #43 | | 21,457,610 | 98.17% | googlego | 1171 | 742&nbsp&nbsp/ 21 / 0 | 171 | 21 | 0 | None | Report |
| #44 | | 21,448,310 | 98.17% | Snow-- | 1171 | 742&nbsp&nbsp/ 21 / 0 | 176 | 16 | 0 | None | Report |
| #45 | | 21,446,018 | 98.32% | MashaMix | 1170 | 744&nbsp&nbsp/ 18 / 1 | 176 | 15 | 0 | None | Report |
| #46 | | 21,336,604 | 97.47% | Xenok | 1170 | 734&nbsp&nbsp/ 29 / 0 | 170 | 22 | 0 | None | Report |
| #47 | | 21,329,265 | 97.84% | OrangebananaHD | 1090 | 739&nbsp&nbsp/ 22 / 1 | 177 | 13 | 1 | DT | Report |
| #48 | | 21,311,542 | 97.99% | - Mayday - | 1171 | 740&nbsp&nbsp/ 23 / 0 | 171 | 21 | 0 | None | Report |
| #49 | | 21,247,026 | 97.73% | Krestonosec | 1169 | 737&nbsp&nbsp/ 26 / 0 | 172 | 20 | 0 | None | Report |
| #50 | | 21,226,880 | 97.90% | MerelySatele | 1170 | 739&nbsp&nbsp/ 24 / 0 | 172 | 20 | 0 | None | Report |