Artist:
sana
Circle Size:

Approach Rate:

Title:
Senpai.
HP Drain:

Star Difficulty:

(5.03)
Creator:
Kyuukai
Accuracy:

Length:
3:41 (3:31 drain)
Source:
好きになるその瞬間を。~告白実行委員会~
Genre:
Anime (Japanese)
BPM:
162
Tags:
the moment you fall in love suki ni naru sono shunkan wo kokuhaku jikkou iinkai opening honeyworks meets trysail litoluna
User Rating:
Success Rate:
Points of Failure:


(graph is accumulative, based on % at fail/retry)

5.6% (4167 of 74043 plays)

Submitted:
Ranked:
Jul 10, 2017
Oct 20, 2017
Rating Spread:

Favourited 123 times in total

Users that love this map: Gravified, MrsPerfect, itsNeko, YamaRya, [Scooty], Flicklicious, silverkok, Elvis_Go, Aulow, Paulix66, Blue Wells, zxc9030123, edgerrdz, Possessium, [De][La][Gheto], xmeileix, Arua, nyfyishu, rayorlana, -[Kazuma]- and many more!
Options:
Modding / Discussion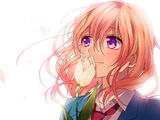 Kyuumi's Easy by Me & Umi
Umi's Normal by Umi
Advanced by Me
Hard by Me
Lasse's Insane by Lasse
Umi's Insane
by Umi
litoluna's Insane by litoluna
log

: -Mo-

: -Mo-

: pishifat

: -Mo-

: pishifat

: Okorin

: -Mo-

: pishifat
Why is this mapset the same as Umi's mapset ?
Here's the message he sent me (french)

Translation : "Hi, so I'm really sorry I thought I had the time for it but I was wrong... Too much traveling and other stuff so do what you want with the set ! litoluna did not replied to my message but if he told you he was okay for you (about taking his mapset) then I think it's still on. Good luck my time on Osu is definitely over, if you can rank this map it will be the last mark I leave haha"
Emperorpenguin83 is in the lead! ()
Score
38,430,090 (99.39%)
Max Combo
1209
300 / 100 / 50
873 / 8 / 0
Misses
0
Geki (Elite Beat!)
181
Katu (Beat!)
7
Mods
HD,DT
Top 50 Scoreboard
| | Rank | Score | Accuracy | Player | Max Combo | 300 / 100 / 50 | Geki | Katu | Misses | Mods | |
| --- | --- | --- | --- | --- | --- | --- | --- | --- | --- | --- | --- |
| #1 | | 38,430,090 | 99.39% | Emperorpenguin83 | 1209 | 873&nbsp&nbsp/ 8 / 0 | 181 | 7 | 0 | HD,DT | Report |
| #2 | | 37,815,020 | 98.09% | Myst1k | 1207 | 856&nbsp&nbsp/ 24 / 1 | 169 | 18 | 0 | HD,DT | Report |
| #3 | | 37,580,703 | 98.37% | Piggey | 1201 | 860&nbsp&nbsp/ 20 / 0 | 172 | 15 | 1 | HD,DT | Report |
| #4 | | 36,159,843 | 98.94% | ReaL motion | 1209 | 867&nbsp&nbsp/ 14 / 0 | 177 | 11 | 0 | HD,HR | Report |
| #5 | | 36,086,643 | 98.79% | Where is honey | 1209 | 865&nbsp&nbsp/ 16 / 0 | 177 | 11 | 0 | HD,HR | Report |
| #6 | | 35,922,667 | 98.41% | [ Mystic ] | 1209 | 860&nbsp&nbsp/ 21 / 0 | 172 | 16 | 0 | HD,HR | Report |
| #7 | | 35,794,358 | 98.16% | yykkrr | 1207 | 857&nbsp&nbsp/ 23 / 1 | 167 | 20 | 0 | HD,HR | Report |
| #8 | | 35,785,895 | 97.64% | Orangebanana | 1208 | 850&nbsp&nbsp/ 30 / 1 | 163 | 24 | 0 | HD,HR | Report |
| #9 | | 35,680,037 | 97.58% | Alleros | 1209 | 849&nbsp&nbsp/ 32 / 0 | 166 | 22 | 0 | HD,HR | Report |
| #10 | | 35,565,341 | 97.03% | [ Steph ] | 1209 | 842&nbsp&nbsp/ 38 / 1 | 160 | 27 | 0 | HD,HR | Report |
| #11 | | 35,366,294 | 97.81% | AvPXx | 1201 | 853&nbsp&nbsp/ 25 / 2 | 166 | 19 | 1 | HD,HR | Report |
| #12 | | 35,190,745 | 96.86% | Potla | 1208 | 840&nbsp&nbsp/ 39 / 2 | 156 | 30 | 0 | HD,HR | Report |
| #13 | | 35,120,342 | 95.91% | KII0 | 1207 | 827&nbsp&nbsp/ 54 / 0 | 148 | 40 | 0 | HD,HR | Report |
| #14 | | 34,596,670 | 100.00% | xasuma | 1209 | 881&nbsp&nbsp/ 0 / 0 | 188 | 0 | 0 | HD | Report |
| #15 | | 34,595,570 | 100.00% | Rucker | 1209 | 881&nbsp&nbsp/ 0 / 0 | 188 | 0 | 0 | HD | Report |
| #16 | | 34,594,470 | 100.00% | rosshi | 1209 | 881&nbsp&nbsp/ 0 / 0 | 188 | 0 | 0 | HD | Report |
| #17 | | 34,567,002 | 99.92% | adoragirl | 1209 | 880&nbsp&nbsp/ 1 / 0 | 187 | 1 | 0 | HD | Report |
| #18 | | 34,549,024 | 99.92% | Koltay | 1209 | 880&nbsp&nbsp/ 1 / 0 | 187 | 1 | 0 | HD | Report |
| #19 | | 34,546,295 | 99.77% | RedLeaf | 1209 | 878&nbsp&nbsp/ 3 / 0 | 185 | 3 | 0 | HD | Report |
| #20 | | 34,546,235 | 96.67% | Ma yin | 1197 | 838&nbsp&nbsp/ 40 / 2 | 155 | 31 | 1 | HD,HR | Report |
| #21 | | 34,540,274 | 99.77% | Black Magic | 1209 | 878&nbsp&nbsp/ 3 / 0 | 185 | 3 | 0 | HD | Report |
| #22 | | 34,537,393 | 99.85% | Wilchq | 1208 | 879&nbsp&nbsp/ 2 / 0 | 186 | 2 | 0 | HD | Report |
| #23 | | 34,526,752 | 99.85% | Swishi | 1208 | 879&nbsp&nbsp/ 2 / 0 | 186 | 2 | 0 | HD | Report |
| #24 | | 34,515,452 | 99.85% | -n4 | 1208 | 879&nbsp&nbsp/ 2 / 0 | 186 | 2 | 0 | HD | Report |
| #25 | | 34,511,654 | 99.77% | MiyohashiKoori | 1209 | 878&nbsp&nbsp/ 3 / 0 | 185 | 3 | 0 | HD | Report |
| #26 | | 34,482,765 | 99.70% | YelllowRIVER | 1209 | 877&nbsp&nbsp/ 4 / 0 | 184 | 4 | 0 | HR | Report |
| #27 | | 34,479,993 | 99.70% | sora_25 | 1209 | 877&nbsp&nbsp/ 4 / 0 | 186 | 2 | 0 | HD | Report |
| #28 | | 34,478,448 | 99.55% | D non | 1209 | 875&nbsp&nbsp/ 6 / 0 | 182 | 6 | 0 | HD | Report |
| #29 | | 34,471,895 | 99.70% | NotTheRealJohn | 1209 | 877&nbsp&nbsp/ 4 / 0 | 184 | 4 | 0 | HD | Report |
| #30 | | 34,452,189 | 99.62% | Blue Wells | 1209 | 876&nbsp&nbsp/ 5 / 0 | 184 | 4 | 0 | HD | Report |
| #31 | | 34,445,865 | 99.77% | Gebhuza | 1207 | 878&nbsp&nbsp/ 3 / 0 | 185 | 3 | 0 | HD | Report |
| #32 | | 34,414,706 | 99.62% | [ Hyung ] | 1207 | 876&nbsp&nbsp/ 5 / 0 | 184 | 4 | 0 | HD | Report |
| #33 | | 34,407,911 | 99.39% | Spork Lover | 1208 | 873&nbsp&nbsp/ 8 / 0 | 180 | 8 | 0 | HD | Report |
| #34 | | 34,403,019 | 99.62% | val0108 | 1208 | 876&nbsp&nbsp/ 5 / 0 | 183 | 5 | 0 | HD | Report |
| #35 | | 34,398,355 | 99.55% | kasuga-ayumu | 1209 | 875&nbsp&nbsp/ 6 / 0 | 183 | 5 | 0 | HD | Report |
| #36 | | 34,389,241 | 99.24% | Penguin UwU | 1209 | 871&nbsp&nbsp/ 10 / 0 | 180 | 8 | 0 | HD | Report |
| #37 | | 34,371,336 | 99.55% | Niklazy | 1205 | 875&nbsp&nbsp/ 6 / 0 | 183 | 5 | 0 | HD | Report |
| #38 | | 34,367,370 | 99.32% | big boob | 1209 | 872&nbsp&nbsp/ 9 / 0 | 181 | 7 | 0 | HR | Report |
| #39 | | 34,366,314 | 99.53% | YSoAggressive | 1209 | 875&nbsp&nbsp/ 5 / 1 | 183 | 4 | 0 | HD | Report |
| #40 | | 34,349,834 | 99.49% | Chinox | 1209 | 875&nbsp&nbsp/ 3 / 3 | 183 | 2 | 0 | HD | Report |
| #41 | | 34,341,336 | 99.47% | F O R C E S | 1208 | 874&nbsp&nbsp/ 7 / 0 | 181 | 7 | 0 | HD | Report |
| #42 | | 34,323,228 | 99.72% | Chronomarly | 1206 | 878&nbsp&nbsp/ 1 / 1 | 185 | 1 | 1 | HD | Report |
| #43 | | 34,272,373 | 99.15% | Satellite | 1209 | 870&nbsp&nbsp/ 10 / 1 | 179 | 8 | 0 | HD | Report |
| #44 | | 34,258,660 | 99.17% | Ntmmchu | 1208 | 870&nbsp&nbsp/ 11 / 0 | 179 | 9 | 0 | HD | Report |
| #45 | | 34,245,800 | 99.02% | Knabiis | 1209 | 868&nbsp&nbsp/ 13 / 0 | 176 | 12 | 0 | HD | Report |
| #46 | | 34,238,627 | 99.32% | AliceThirdMacy | 1209 | 872&nbsp&nbsp/ 9 / 0 | 179 | 9 | 0 | HD | Report |
| #47 | | 34,235,358 | 99.15% | [ Tetris ] | 1209 | 870&nbsp&nbsp/ 10 / 1 | 178 | 9 | 0 | HD | Report |
| #48 | | 34,206,588 | 98.96% | Femtoooo | 1207 | 868&nbsp&nbsp/ 11 / 1 | 176 | 10 | 1 | HD | Report |
| #49 | | 34,186,086 | 99.09% | Baba Ganoush | 1207 | 869&nbsp&nbsp/ 12 / 0 | 176 | 12 | 0 | HD | Report |
| #50 | | 34,185,611 | 98.64% | Deppyforce | 1209 | 863&nbsp&nbsp/ 18 / 0 | 177 | 11 | 0 | HD | Report |