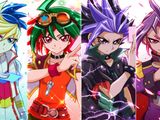 Redownload if downloaded before the 29th of October, 2017
If someone has a creditless video of this ED, please send it to me. <3
Collab Insane by Mykaterasu and
Kergio
- sb by Mykaterasu
Hello's Rain by
Hi_Hello
All others by Mykaterasu
The hardest 4 STD diffs are designed to reflect each parallel Yuya. Can you guess which one is which?
Answer:
Yugo = Insane; an impulsive duellist that goes with the flow - matched by simple flow & design concepts.
Yuto = Extra; an obtrusive and reserved person - his sliders focus on pointing in the wrong direction.
Yuri = Extreme; a sadistic fusioner of the academy who lusts for power - he uses extremely contrasting jumps and continuous circular flow to create an uncomfortable experience.
Yuya = Talking; the fated creator of the pendulum summon - he draws long arcs throughout his difficulty.