Artist:
Camellia
Circle Size:

Approach Rate:

Title:
WHAT THE CAT!?
HP Drain:

Star Difficulty:

(6.66)
Creator:
Akali
Accuracy:

Length:
2:53 (2:52 drain)
Source:
Genre:
Unspecified (Other)
BPM:
200
Tags:
twerk trap edm cametek kamel tf40k e.p thanks twitter followers 40k e.p.
User Rating:
Success Rate:
Points of Failure:


(graph is accumulative, based on % at fail/retry)

6.1% (5491 of 89511 plays)

Submitted:
Loved:
Mar 19, 2017
May 26, 2017
Rating Spread:

Favourited 230 times in total

Users that love this map: Miu Matsuoka, Sheepcraft, Hoto Cocoa, Attack, Ayakura Mei, doKXiD, [-obee58-], timpipi123, WEIRD FACE, Shady, xxxgabrysxxx, Kaine, DWShin, Yaong, Nattu, -Trigger, Yocake, Ruhok, Azer, Antares- and many more!
Options:
This Beatmap's Thread
This map is in a LOVED state.
As such, it will not award any pp and leaderboards may be reset by the beatmap creator.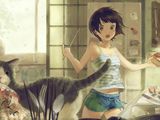 lovd????
Thanks PandaHero, Antares, Stjpa, LuckyTowk, diraimur, Anxient, hi-mei, Irate, Hobbes2, CraEZy, Fookiezi and Lilyanna for stars!
Yaong is in the lead! ()
Score
38,674,950 (98.39%)
Max Combo
1670
300 / 100 / 50
932 / 23 / 0
Misses
0
Geki (Elite Beat!)
435
Katu (Beat!)
21
Mods
None
Top 50 Scoreboard
| | Rank | Score | Accuracy | Player | Max Combo | 300 / 100 / 50 | Geki | Katu | Misses | Mods | |
| --- | --- | --- | --- | --- | --- | --- | --- | --- | --- | --- | --- |
| #1 | | 38,674,950 | 98.39% | Yaong | 1670 | 932&nbsp&nbsp/ 23 / 0 | 435 | 21 | 0 | None | Report |
| #2 | | 31,830,388 | 97.36% | idke | 1529 | 918&nbsp&nbsp/ 34 / 3 | 423 | 31 | 0 | None | Report |
| #3 | | 22,709,321 | 97.92% | Azer | 1219 | 927&nbsp&nbsp/ 24 / 1 | 429 | 23 | 3 | HD | Report |
| #4 | | 22,151,740 | 97.91% | Vaxei | 1154 | 925&nbsp&nbsp/ 30 / 0 | 432 | 24 | 0 | None | Report |
| #5 | | 20,200,986 | 97.19% | Piggey | 1180 | 916&nbsp&nbsp/ 36 / 1 | 417 | 36 | 2 | None | Report |
| #6 | | 18,404,036 | 94.21% | Doomsday | 1145 | 875&nbsp&nbsp/ 72 / 4 | 388 | 63 | 4 | None | Report |
| #7 | | 16,487,018 | 94.68% | Wilchq | 1046 | 882&nbsp&nbsp/ 64 / 5 | 394 | 53 | 4 | None | Report |
| #8 | | 15,598,980 | 97.42% | Spare | 863 | 920&nbsp&nbsp/ 31 / 0 | 422 | 31 | 4 | None | Report |
| #9 | | 13,115,807 | 95.81% | Woey | 858 | 900&nbsp&nbsp/ 43 / 4 | 414 | 38 | 8 | HD | Report |
| #10 | | 13,068,182 | 95.76% | Mathi | 851 | 898&nbsp&nbsp/ 49 / 1 | 414 | 36 | 7 | None | Report |
| #11 | | 12,721,407 | 97.50% | Toy | 840 | 922&nbsp&nbsp/ 26 / 3 | 431 | 20 | 4 | HD | Report |
| #12 | | 12,711,984 | 95.78% | Jameslike | 812 | 896&nbsp&nbsp/ 53 / 6 | 403 | 52 | 0 | None | Report |
| #13 | | 12,628,792 | 96.86% | FunOrange | 641 | 915&nbsp&nbsp/ 28 / 4 | 425 | 26 | 8 | HD | Report |
| #14 | | 12,597,681 | 95.60% | he rack | 832 | 900&nbsp&nbsp/ 37 / 4 | 415 | 32 | 14 | HD | Report |
| #15 | | 12,477,199 | 96.56% | Xilver | 813 | 909&nbsp&nbsp/ 39 / 1 | 419 | 32 | 6 | HD | Report |
| #16 | | 12,431,472 | 96.28% | My Angel Yaz | 770 | 905&nbsp&nbsp/ 43 / 1 | 412 | 38 | 6 | HD | Report |
| #17 | | 12,136,022 | 94.69% | Topoi | 828 | 883&nbsp&nbsp/ 61 / 6 | 397 | 52 | 5 | None | Report |
| #18 | | 12,114,251 | 96.28% | Lunirs | 708 | 904&nbsp&nbsp/ 46 / 1 | 407 | 44 | 4 | HD | Report |
| #19 | | 12,098,645 | 95.88% | Tem | 807 | 898&nbsp&nbsp/ 52 / 2 | 408 | 44 | 3 | HD | Report |
| #20 | | 11,494,622 | 96.95% | Bubbleman | 633 | 916&nbsp&nbsp/ 28 / 3 | 421 | 26 | 8 | HD | Report |
| #21 | | 11,197,240 | 94.43% | Spook | 691 | 877&nbsp&nbsp/ 74 / 1 | 395 | 58 | 3 | None | Report |
| #22 | | 11,153,024 | 95.50% | Yaong Loli | 734 | 895&nbsp&nbsp/ 50 / 2 | 406 | 41 | 8 | None | Report |
| #23 | | 11,016,332 | 96.81% | fieryrage | 701 | 910&nbsp&nbsp/ 43 / 1 | 416 | 38 | 1 | None | Report |
| #24 | | 10,888,504 | 96.27% | xElectroGH | 706 | 905&nbsp&nbsp/ 42 / 2 | 414 | 36 | 6 | HD | Report |
| #25 | | 10,884,830 | 95.71% | -akiz- | 763 | 896&nbsp&nbsp/ 54 / 0 | 412 | 40 | 5 | None | Report |
| #26 | | 10,825,924 | 96.09% | SpajdeR | 747 | 900&nbsp&nbsp/ 51 / 4 | 408 | 46 | 0 | None | Report |
| #27 | | 10,775,976 | 95.95% | Rohulk | 688 | 900&nbsp&nbsp/ 48 / 2 | 409 | 42 | 5 | HD,HR | Report |
| #28 | | 10,724,426 | 94.76% | Epiphany | 761 | 883&nbsp&nbsp/ 64 / 4 | 398 | 52 | 4 | None | Report |
| #29 | | 10,682,099 | 95.08% | Emilia | 673 | 886&nbsp&nbsp/ 65 / 2 | 404 | 50 | 2 | HD | Report |
| #30 | | 10,230,270 | 92.11% | Crystal | 755 | 847&nbsp&nbsp/ 96 / 4 | 379 | 68 | 8 | None | Report |
| #31 | | 10,125,754 | 94.33% | waywern2012 | 689 | 880&nbsp&nbsp/ 60 / 5 | 394 | 53 | 10 | None | Report |
| #32 | | 10,050,480 | 93.66% | nickle7654 | 779 | 872&nbsp&nbsp/ 65 / 5 | 389 | 60 | 13 | None | Report |
| #33 | | 9,922,889 | 94.36% | Haganenno | 686 | 878&nbsp&nbsp/ 69 / 1 | 392 | 57 | 7 | HD | Report |
| #34 | | 9,491,514 | 96.28% | Enns | 686 | 906&nbsp&nbsp/ 39 / 3 | 415 | 34 | 7 | None | Report |
| #35 | | 9,429,664 | 94.57% | 404 AimNotFound | 663 | 880&nbsp&nbsp/ 68 / 3 | 390 | 60 | 4 | None | Report |
| #36 | | 9,320,782 | 94.92% | Hundur | 688 | 886&nbsp&nbsp/ 60 / 3 | 394 | 55 | 6 | None | Report |
| #37 | | 9,255,524 | 94.43% | Tiger Claw | 600 | 879&nbsp&nbsp/ 68 / 1 | 389 | 61 | 7 | None | Report |
| #38 | | 9,227,077 | 95.22% | Sadness | 689 | 890&nbsp&nbsp/ 58 / 0 | 402 | 50 | 7 | HD | Report |
| #39 | | 9,140,266 | 91.90% | Pray | 685 | 843&nbsp&nbsp/ 102 / 4 | 376 | 71 | 6 | None | Report |
| #40 | | 8,934,228 | 93.23% | Spark-desu | 644 | 863&nbsp&nbsp/ 78 / 8 | 384 | 62 | 6 | None | Report |
| #41 | | 8,878,936 | 92.88% | fartownik | 632 | 859&nbsp&nbsp/ 81 / 6 | 386 | 59 | 9 | None | Report |
| #42 | | 8,863,294 | 95.36% | Mekuru | 581 | 894&nbsp&nbsp/ 49 / 2 | 407 | 41 | 10 | HD | Report |
| #43 | | 8,760,292 | 94.52% | ftg | 654 | 883&nbsp&nbsp/ 57 / 4 | 398 | 43 | 11 | None | Report |
| #44 | | 8,756,496 | 94.90% | HappyStick | 627 | 885&nbsp&nbsp/ 63 / 2 | 398 | 51 | 5 | None | Report |
| #45 | | 8,742,178 | 93.05% | jackylam5 | 551 | 857&nbsp&nbsp/ 93 / 4 | 394 | 57 | 1 | None | Report |
| #46 | | 8,623,442 | 95.85% | Red_Pixel | 688 | 897&nbsp&nbsp/ 54 / 2 | 409 | 44 | 2 | None | Report |
| #47 | | 8,584,794 | 94.07% | MURROX | 564 | 875&nbsp&nbsp/ 66 / 8 | 388 | 58 | 6 | None | Report |
| #48 | | 8,583,480 | 93.96% | zaqlev | 634 | 873&nbsp&nbsp/ 73 / 0 | 391 | 60 | 9 | HD | Report |
| #49 | | 8,520,150 | 94.80% | Tetla | 544 | 886&nbsp&nbsp/ 56 / 4 | 399 | 49 | 9 | None | Report |
| #50 | | 8,429,132 | 92.53% | Zerophyne | 541 | 851&nbsp&nbsp/ 97 / 2 | 361 | 88 | 5 | None | Report |