Artist:
Thaehan
Circle Size:

Approach Rate:

Title:
Doki-Doki
HP Drain:

Star Difficulty:

(7.09)
Creator:
BarkingMadDog
Accuracy:

Length:
1:42 (1:42 drain)
Source:
Power Up
Genre:
Unspecified (Other)
BPM:
180
Tags:
loki electronic soundcloud featured artists
User Rating:
Success Rate:
Points of Failure:


(graph is accumulative, based on % at fail/retry)

6.1% (2214 of 36288 plays)

Submitted:
Loved:
Feb 21, 2017
Jan 2, 2018
Rating Spread:

Favourited 116 times in total

Users that love this map: SKaiBlue, Splinter572, Hexas, Bear, White Tiger, 0198, AtHeoN, aquarus91, TheMati117, Amphibios, AlexSucks24, T i, muffinlover1234, Kakku, Muuki, Eiikon, Too Slow, kablaze, AnteeeK, Cynomeg and many more!
Options:
Modding / Discussion
This map is in a LOVED state.
As such, it will not award any pp and leaderboards may be reset by the beatmap creator.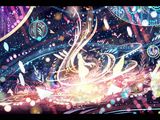 A nice song from Loki/Thaehan!

oshit one more? thanks <3
firebat92 is in the lead! ()
Score
23,682,782 (99.44%)
Max Combo
1063
300 / 100 / 50
853 / 6 / 1
Misses
0
Geki (Elite Beat!)
185
Katu (Beat!)
6
Mods
HR
Top 50 Scoreboard
| | Rank | Score | Accuracy | Player | Max Combo | 300 / 100 / 50 | Geki | Katu | Misses | Mods | |
| --- | --- | --- | --- | --- | --- | --- | --- | --- | --- | --- | --- |
| #1 | | 23,682,782 | 99.44% | firebat92 | 1063 | 853&nbsp&nbsp/ 6 / 1 | 185 | 6 | 0 | HR | Report |
| #2 | | 23,228,028 | 98.84% | Toy | 1056 | 846&nbsp&nbsp/ 12 / 0 | 181 | 9 | 2 | HD | Report |
| #3 | | 22,671,156 | 96.12% | Flask | 1063 | 810&nbsp&nbsp/ 50 / 0 | 166 | 26 | 0 | HR | Report |
| #4 | | 22,537,124 | 98.53% | kablaze | 1029 | 842&nbsp&nbsp/ 16 / 0 | 177 | 14 | 2 | HD | Report |
| #5 | | 22,462,112 | 99.92% | Musty | 1064 | 859&nbsp&nbsp/ 1 / 0 | 191 | 1 | 0 | None | Report |
| #6 | | 22,351,458 | 99.46% | _AvA | 1063 | 853&nbsp&nbsp/ 7 / 0 | 185 | 7 | 0 | None | Report |
| #7 | | 22,330,024 | 99.38% | Mooha | 1064 | 852&nbsp&nbsp/ 8 / 0 | 184 | 8 | 0 | None | Report |
| #8 | | 22,282,474 | 99.22% | Doomsday | 1063 | 850&nbsp&nbsp/ 10 / 0 | 184 | 8 | 0 | None | Report |
| #9 | | 22,187,136 | 98.99% | BeasttrollMC | 1064 | 847&nbsp&nbsp/ 13 / 0 | 179 | 13 | 0 | None | Report |
| #10 | | 22,166,572 | 99.26% | Alumetri | 1062 | 851&nbsp&nbsp/ 8 / 0 | 186 | 5 | 1 | None | Report |
| #11 | | 22,066,340 | 98.68% | Mlaw22 | 1062 | 844&nbsp&nbsp/ 12 / 4 | 183 | 8 | 0 | None | Report |
| #12 | | 21,967,772 | 98.49% | uyghti | 1060 | 841&nbsp&nbsp/ 18 / 0 | 181 | 10 | 1 | None | Report |
| #13 | | 21,887,674 | 97.81% | -Hebel- | 1062 | 832&nbsp&nbsp/ 27 / 1 | 173 | 18 | 0 | None | Report |
| #14 | | 21,812,344 | 97.98% | Hellotomlol225 | 1064 | 834&nbsp&nbsp/ 26 / 0 | 181 | 11 | 0 | None | Report |
| #15 | | 21,693,218 | 97.29% | GHAngeloid | 1055 | 825&nbsp&nbsp/ 35 / 0 | 167 | 25 | 0 | None | Report |
| #16 | | 21,600,110 | 97.33% | [Bloo] | 1063 | 826&nbsp&nbsp/ 32 / 2 | 178 | 12 | 0 | None | Report |
| #17 | | 20,890,642 | 97.60% | Shirone | 1021 | 832&nbsp&nbsp/ 21 / 2 | 176 | 12 | 5 | None | Report |
| #18 | | 20,059,760 | 97.52% | Wakson | 1008 | 831&nbsp&nbsp/ 21 / 4 | 183 | 5 | 4 | None | Report |
| #19 | | 17,609,384 | 96.07% | Dumii | 949 | 813&nbsp&nbsp/ 39 / 1 | 167 | 23 | 7 | None | Report |
| #20 | | 17,065,159 | 91.71% | TheBlueEight | 929 | 759&nbsp&nbsp/ 87 / 4 | 151 | 33 | 10 | HD | Report |
| #21 | | 15,449,092 | 91.12% | Linkle | 922 | 749&nbsp&nbsp/ 104 / 0 | 145 | 43 | 7 | None | Report |
| #22 | | 13,489,994 | 90.21% | iamVill | 846 | 737&nbsp&nbsp/ 116 / 1 | 147 | 43 | 6 | None | Report |
| #23 | | 13,206,822 | 97.77% | hot anime girl | 757 | 835&nbsp&nbsp/ 17 / 1 | 179 | 10 | 7 | None | Report |
| #24 | | 11,859,022 | 98.08% | MrBooM | 683 | 836&nbsp&nbsp/ 22 / 1 | 178 | 12 | 1 | None | Report |
| #25 | | 11,613,274 | 96.34% | Maiaz | 660 | 814&nbsp&nbsp/ 42 / 3 | 172 | 18 | 1 | None | Report |
| #26 | | 11,358,390 | 99.30% | Commy | 730 | 852&nbsp&nbsp/ 6 / 0 | 185 | 5 | 2 | None | Report |
| #27 | | 11,308,582 | 99.67% | -GN | 1062 | 857&nbsp&nbsp/ 0 / 1 | 190 | 0 | 2 | EZ | Report |
| #28 | | 10,831,080 | 98.45% | -PC | 568 | 843&nbsp&nbsp/ 10 / 2 | 183 | 8 | 5 | None | Report |
| #29 | | 10,477,810 | 96.18% | -Trigger | 620 | 814&nbsp&nbsp/ 39 / 1 | 172 | 17 | 6 | None | Report |
| #30 | | 10,356,266 | 96.20% | Elegant Loli | 640 | 812&nbsp&nbsp/ 44 / 4 | 170 | 21 | 0 | None | Report |
| #31 | | 10,306,302 | 96.34% | La Valse | 515 | 817&nbsp&nbsp/ 33 / 3 | 175 | 12 | 7 | None | Report |
| #32 | | 10,193,472 | 95.00% | Koalazy | 586 | 798&nbsp&nbsp/ 55 / 4 | 172 | 17 | 3 | None | Report |
| #33 | | 10,000,272 | 98.64% | Hasawa Kraenes | 495 | 845&nbsp&nbsp/ 10 / 0 | 183 | 8 | 5 | None | Report |
| #34 | | 9,978,888 | 95.45% | Tank A13 | 601 | 807&nbsp&nbsp/ 39 / 5 | 169 | 19 | 9 | None | Report |
| #35 | | 9,833,214 | 96.30% | Firstus | 598 | 816&nbsp&nbsp/ 33 / 7 | 171 | 14 | 4 | None | Report |
| #36 | | 9,746,374 | 89.73% | Syfou | 671 | 729&nbsp&nbsp/ 128 / 0 | 141 | 48 | 3 | None | Report |
| #37 | | 9,727,182 | 96.36% | er1cch3n | 577 | 820&nbsp&nbsp/ 23 / 6 | 178 | 7 | 11 | None | Report |
| #38 | | 9,475,681 | 97.58% | MouseEasy | 572 | 832&nbsp&nbsp/ 21 / 1 | 178 | 11 | 6 | HD | Report |
| #39 | | 9,117,644 | 96.80% | thaibuy | 533 | 822&nbsp&nbsp/ 31 / 1 | 172 | 17 | 6 | None | Report |
| #40 | | 9,105,248 | 97.77% | ExGon | 950 | 837&nbsp&nbsp/ 11 / 1 | 181 | 7 | 11 | EZ | Report |
| #41 | | 9,045,549 | 93.86% | _RyuK | 620 | 788&nbsp&nbsp/ 56 / 3 | 159 | 27 | 13 | HD,HR | Report |
| #42 | | 9,003,128 | 96.55% | T i a | 553 | 821&nbsp&nbsp/ 25 / 6 | 178 | 10 | 8 | None | Report |
| #43 | | 8,788,554 | 97.73% | Cappy | 489 | 834&nbsp&nbsp/ 17 / 5 | 176 | 12 | 4 | None | Report |
| #44 | | 8,646,458 | 93.20% | Astana | 630 | 775&nbsp&nbsp/ 78 / 3 | 158 | 30 | 4 | None | Report |
| #45 | | 8,632,210 | 95.21% | DraguinZZ | 618 | 809&nbsp&nbsp/ 26 / 7 | 171 | 11 | 18 | None | Report |
| #46 | | 8,407,122 | 96.32% | Rampax | 585 | 814&nbsp&nbsp/ 43 / 0 | 171 | 18 | 3 | None | Report |
| #47 | | 7,924,632 | 89.59% | Battlefront18 | 481 | 728&nbsp&nbsp/ 127 / 1 | 134 | 55 | 4 | None | Report |
| #48 | | 7,908,904 | 95.76% | Zabijaka | 551 | 811&nbsp&nbsp/ 36 / 3 | 163 | 22 | 10 | None | Report |
| #49 | | 7,820,438 | 95.54% | issacCLAKE124 | 579 | 807&nbsp&nbsp/ 43 / 2 | 161 | 24 | 8 | None | Report |
| #50 | | 7,637,260 | 85.45% | LoidKun | 603 | 678&nbsp&nbsp/ 168 / 5 | 116 | 70 | 9 | None | Report |