Artist:
AKB48
Circle Size:

Approach Rate:

Title:
Songs Compilation
HP Drain:

Star Difficulty:

(5.08)
Creator:
P A N
Accuracy:

Length:
18:05 (16:28 drain)
Source:
Genre:
Pop (Japanese)
BPM:
192
Tags:
会いたかった aitakatta bingo! akb参上! akb sanjou! 10年桜 10nen zakura 涙サプライズ! namida surprise! 言い訳maybe iiwake maybe ポニーテールとシュシュ ponytail to shushu 大声ダイヤモンド
User Rating:
Success Rate:
Points of Failure:


(graph is accumulative, based on % at fail/retry)

6.6% (1822 of 27722 plays)

Submitted:
Ranked:
Feb 13, 2017
Apr 27, 2017
Rating Spread:

Favourited 80 times in total

Users that love this map: Peekii, Master_Gs, Sin041, P A N, colin05103, Namie, Luna-, scanter, Kosmit, -Rmdy, Natsu, smoncrazy, [Epicz], Tacosniper, Mayoler, Quandrie, glunt, MichellesTears, To Love Rudy, ray930151 and many more!
Options:
Modding / Discussion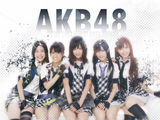 "I want it to be organized by oldest song to newest song because the feel I want to impress the player is the nostalgia of akb48. I want player to listen since the old song to a new one. You will never hear old members singing those old songs again. I knew it much better if it is organized by the difficulty." How about respect my idea? I spent 2 months mapping this map. ty. :D.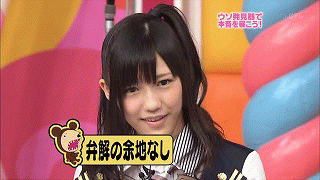 their cuteness:
https://www.youtube.com/watch?v=Bky0oCs87I4&t
https://www.youtube.com/watch?v=oOEcanymUfw
AKB48 Nostalgia ♥
Max combo: 4988
♥-♥-♥ Song List ♥-♥-♥
Oldest song ---> Newest song in order
Aitakatta - 192
Bingo! - 150
Akb Sanjou! - 160
Oogoe Diamond - 174
Relax! - 124
10nen Zakura - 173.400
Namida Surprise - 136.790
Maybe - 160
RIVER - 106.5
Ponytail to Shushu - 160
Heavy Rotation - 178
Beginner - 160
Everyday, Kachuusha - 172.435


Flying get - 131


Koi suru Fortune Cookie - 122
bg source:
http://www.showwallpaper.com/show.php?wid=060610
please redownload if you download it before 24/03/2017
Rohulk is in the lead! ()
Score
498,264,526 (99.03%)
Max Combo
4986
300 / 100 / 50
3676 / 52 / 2
Misses
0
Geki (Elite Beat!)
743
Katu (Beat!)
32
Mods
HD,HR
Top 50 Scoreboard
| | Rank | Score | Accuracy | Player | Max Combo | 300 / 100 / 50 | Geki | Katu | Misses | Mods | |
| --- | --- | --- | --- | --- | --- | --- | --- | --- | --- | --- | --- |
| #1 | | 498,264,526 | 99.03% | Rohulk | 4986 | 3676&nbsp&nbsp/ 52 / 2 | 743 | 32 | 0 | HD,HR | Report |
| #2 | | 470,249,015 | 99.09% | Toy | 4987 | 3679&nbsp&nbsp/ 51 / 0 | 741 | 36 | 0 | HD | Report |
| #3 | | 466,121,917 | 98.50% | Haganenno | 4988 | 3647&nbsp&nbsp/ 79 / 4 | 716 | 57 | 0 | HD | Report |
| #4 | | 445,483,374 | 99.37% | Woey | 4985 | 3695&nbsp&nbsp/ 34 / 1 | 748 | 28 | 0 | None | Report |
| #5 | | 445,060,396 | 99.28% | Sure | 4988 | 3690&nbsp&nbsp/ 39 / 1 | 750 | 26 | 0 | None | Report |
| #6 | | 441,172,100 | 98.64% | Cappy | 4987 | 3654&nbsp&nbsp/ 76 / 0 | 725 | 52 | 0 | None | Report |
| #7 | | 439,459,278 | 98.20% | er1cch3n | 4988 | 3630&nbsp&nbsp/ 98 / 2 | 709 | 66 | 0 | None | Report |
| #8 | | 438,659,594 | 98.00% | Loli_Schwi | 4980 | 3618&nbsp&nbsp/ 112 / 0 | 699 | 78 | 0 | None | Report |
| #9 | | 436,877,570 | 97.98% | greeeenpanda | 4983 | 3617&nbsp&nbsp/ 112 / 1 | 694 | 82 | 0 | None | Report |
| #10 | | 436,189,870 | 97.48% | Deramok | 4988 | 3589&nbsp&nbsp/ 141 / 0 | 682 | 95 | 0 | None | Report |
| #11 | | 435,887,804 | 97.26% | gooder101 | 4988 | 3578&nbsp&nbsp/ 147 / 5 | 682 | 93 | 0 | None | Report |
| #12 | | 435,614,212 | 97.24% | Kirinya | 4986 | 3576&nbsp&nbsp/ 153 / 1 | 673 | 103 | 0 | None | Report |
| #13 | | 435,000,014 | 97.37% | No A Rank | 4879 | 3588&nbsp&nbsp/ 126 / 12 | 695 | 68 | 4 | HD | Report |
| #14 | | 430,614,590 | 96.85% | Pray | 4984 | 3554&nbsp&nbsp/ 176 / 0 | 666 | 111 | 0 | None | Report |
| #15 | | 430,593,210 | 97.08% | tomatosiruco | 4986 | 3568&nbsp&nbsp/ 156 / 6 | 675 | 98 | 0 | None | Report |
| #16 | | 430,217,690 | 95.97% | _YuriNee | 4985 | 3505&nbsp&nbsp/ 224 / 1 | 651 | 125 | 0 | None | Report |
| #17 | | 422,439,714 | 95.22% | EncoreW | 4986 | 3463&nbsp&nbsp/ 265 / 2 | 612 | 164 | 0 | None | Report |
| #18 | | 422,207,598 | 95.00% | ToucheDeVelour | 4972 | 3451&nbsp&nbsp/ 277 / 2 | 616 | 159 | 0 | None | Report |
| #19 | | 417,488,076 | 94.44% | Conyoh | 4983 | 3419&nbsp&nbsp/ 311 / 0 | 600 | 177 | 0 | None | Report |
| #20 | | 416,391,671 | 98.62% | Wilchq | 4737 | 3656&nbsp&nbsp/ 63 / 10 | 735 | 35 | 1 | HD | Report |
| #21 | | 409,217,020 | 96.42% | Deppyforce | 4737 | 3531&nbsp&nbsp/ 194 / 5 | 653 | 120 | 0 | HD | Report |
| #22 | | 358,469,570 | 95.77% | Coppola | 4563 | 3495&nbsp&nbsp/ 228 / 7 | 645 | 127 | 0 | None | Report |
| #23 | | 353,947,662 | 95.42% | Kiriiin | 4546 | 3475&nbsp&nbsp/ 251 / 2 | 607 | 167 | 2 | None | Report |
| #24 | | 350,604,710 | 98.26% | HazzardFreak | 4404 | 3634&nbsp&nbsp/ 91 / 5 | 707 | 69 | 0 | None | Report |
| #25 | | 332,133,778 | 98.28% | WiMpN | 4262 | 3635&nbsp&nbsp/ 93 / 0 | 713 | 63 | 2 | None | Report |
| #26 | | 317,555,574 | 96.32% | 6564862 | 4204 | 3528&nbsp&nbsp/ 190 / 8 | 667 | 104 | 4 | None | Report |
| #27 | | 309,449,391 | 97.49% | Ldd-D | 4009 | 3594&nbsp&nbsp/ 124 / 6 | 690 | 78 | 6 | HD | Report |
| #28 | | 294,921,056 | 96.32% | Baim | 4012 | 3526&nbsp&nbsp/ 199 / 2 | 650 | 122 | 3 | None | Report |
| #29 | | 292,692,372 | 95.98% | YuNaHiTo | 4009 | 3507&nbsp&nbsp/ 218 / 3 | 638 | 135 | 2 | None | Report |
| #30 | | 292,687,378 | 98.20% | Dark PHOENIX | 3965 | 3631&nbsp&nbsp/ 94 / 4 | 706 | 69 | 1 | None | Report |
| #31 | | 278,871,382 | 97.19% | Skyo | 3819 | 3575&nbsp&nbsp/ 150 / 1 | 673 | 99 | 4 | None | Report |
| #32 | | 273,659,624 | 97.17% | NPJn00bs | 3819 | 3574&nbsp&nbsp/ 149 / 5 | 679 | 92 | 2 | None | Report |
| #33 | | 266,787,820 | 96.52% | shigurin | 3795 | 3538&nbsp&nbsp/ 185 / 3 | 650 | 122 | 4 | None | Report |
| #34 | | 263,168,370 | 95.86% | Williemeister | 3663 | 3499&nbsp&nbsp/ 229 / 1 | 620 | 155 | 1 | None | Report |
| #35 | | 259,821,445 | 96.90% | clayton | 3308 | 3557&nbsp&nbsp/ 172 / 0 | 661 | 115 | 1 | HD | Report |
| #36 | | 257,898,324 | 98.66% | Saping | 3448 | 3655&nbsp&nbsp/ 75 / 0 | 717 | 60 | 0 | None | Report |
| #37 | | 250,472,520 | 97.65% | Ryuti | 3655 | 3605&nbsp&nbsp/ 112 / 1 | 685 | 83 | 12 | None | Report |
| #38 | | 248,264,782 | 97.28% | [ Xfrogman43 ] | 3616 | 3582&nbsp&nbsp/ 138 / 4 | 678 | 94 | 6 | None | Report |
| #39 | | 244,749,994 | 95.86% | big boob | 3502 | 3500&nbsp&nbsp/ 227 / 0 | 634 | 140 | 3 | HR | Report |
| #40 | | 241,467,942 | 98.01% | Yelloworange | 3495 | 3623&nbsp&nbsp/ 96 / 4 | 704 | 64 | 7 | HD | Report |
| #41 | | 240,343,416 | 96.36% | Choilicious | 3607 | 3528&nbsp&nbsp/ 198 / 2 | 633 | 141 | 2 | None | Report |
| #42 | | 240,328,818 | 97.80% | SoraRoxas01 | 3326 | 3607&nbsp&nbsp/ 123 / 0 | 691 | 86 | 0 | None | Report |
| #43 | | 236,303,340 | 93.78% | - Gyaku Koi- | 3597 | 3388&nbsp&nbsp/ 322 / 15 | 581 | 182 | 5 | None | Report |
| #44 | | 234,326,922 | 94.18% | a12456 | 3337 | 3406&nbsp&nbsp/ 318 / 5 | 579 | 195 | 1 | None | Report |
| #45 | | 233,135,198 | 96.18% | MyAngelChino | 3552 | 3519&nbsp&nbsp/ 204 / 3 | 644 | 128 | 4 | None | Report |
| #46 | | 228,168,000 | 95.79% | TheMefisto | 3415 | 3496&nbsp&nbsp/ 231 / 0 | 630 | 144 | 3 | None | Report |
| #47 | | 227,918,554 | 97.82% | Kinoro | 3366 | 3610&nbsp&nbsp/ 114 / 3 | 699 | 74 | 3 | None | Report |
| #48 | | 227,906,662 | 94.83% | Queryshi | 3371 | 3443&nbsp&nbsp/ 278 / 8 | 617 | 152 | 1 | None | Report |
| #49 | | 224,731,948 | 93.03% | Aswababa | 3494 | 3343&nbsp&nbsp/ 380 / 2 | 571 | 200 | 5 | None | Report |
| #50 | | 222,216,420 | 98.10% | Palace | 2534 | 3624&nbsp&nbsp/ 104 / 2 | 697 | 79 | 0 | None | Report |