Artist:
DearDream
Circle Size:

Approach Rate:

Title:
SAKURA LETTER
HP Drain:

Star Difficulty:

(1.82)
Creator:
Regraz
Accuracy:

Length:
1:51 (1:48 drain)
Source:
ドリフェス!
Genre:
Video Game (Japanese)
BPM:
95
Tags:
dream festival mug bandai criware d4 production 松井洋平 渡邉沙志 天宮 奏 石原 壮馬 及川 慎 溝口 琢矢 佐々木 純哉 富田
User Rating:
Success Rate:
Points of Failure:


(graph is accumulative, based on % at fail/retry)

40.4% (5130 of 12706 plays)

Submitted:
Ranked:
Jan 25, 2017
Mar 19, 2017
Rating Spread:

Favourited 41 times in total

Users that love this map: swonic, Lunatic Witch, HabiHolic, KittyAdventure, fengbehfeng, xXAlyGeekBVBXx, Tysiiia, teddyharjono, Siarcno, IAAIVocaloid, lyphilong110, MelonShip, Akuza0, crafty_grl, LaraAnimes, Penny Ch, Sakura Pie, bartek1q, Yukurisi, lisiasa and many more!
Options:
This Beatmap's Thread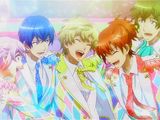 30th.
Genre Suggestion: Video Game; Japanese
Basic - me
Intermediate - me
Storyboard - Sun Rainbow
Thank you!
Metadata:
http://www.dream-fes.com/cd/dd_1stalbum.php
TemaZpro is in the lead! ()
Score
1,479,275 (100.00%)
Max Combo
307
300 / 100 / 50
178 / 0 / 0
Misses
0
Geki (Elite Beat!)
46
Katu (Beat!)
0
Mods
HD,HR,DT,FL
Top 50 Scoreboard
| | Rank | Score | Accuracy | Player | Max Combo | 300 / 100 / 50 | Geki | Katu | Misses | Mods | |
| --- | --- | --- | --- | --- | --- | --- | --- | --- | --- | --- | --- |
| #1 | | 1,479,275 | 100.00% | TemaZpro | 307 | 178&nbsp&nbsp/ 0 / 0 | 46 | 0 | 0 | HD,HR,DT,FL | Report |
| #2 | | 1,395,401 | 100.00% | Siarcno | 307 | 178&nbsp&nbsp/ 0 / 0 | 46 | 0 | 0 | HD,DT,FL | Report |
| #3 | | 1,392,301 | 100.00% | Juzio | 307 | 178&nbsp&nbsp/ 0 / 0 | 46 | 0 | 0 | HR,DT,FL | Report |
| #4 | | 1,372,705 | 99.25% | Parapluutje | 306 | 176&nbsp&nbsp/ 2 / 0 | 44 | 2 | 0 | HR,DT,FL | Report |
| #5 | | 1,363,320 | 98.41% | djskapp | 307 | 174&nbsp&nbsp/ 3 / 1 | 42 | 3 | 0 | HR,DT,FL | Report |
| #6 | | 1,330,309 | 100.00% | Yakumo09 | 307 | 178&nbsp&nbsp/ 0 / 0 | 46 | 0 | 0 | HD,HR,NC | Report |
| #7 | | 1,328,109 | 100.00% | twin-nic | 307 | 178&nbsp&nbsp/ 0 / 0 | 46 | 0 | 0 | HD,HR,DT | Report |
| #8 | | 1,328,109 | 100.00% | ojosummer | 307 | 178&nbsp&nbsp/ 0 / 0 | 46 | 0 | 0 | HD,HR,DT | Report |
| #9 | | 1,325,909 | 100.00% | Tanya the Evil | 307 | 178&nbsp&nbsp/ 0 / 0 | 46 | 0 | 0 | HD,HR,DT | Report |
| #10 | | 1,325,909 | 100.00% | EMPNUTS | 307 | 178&nbsp&nbsp/ 0 / 0 | 46 | 0 | 0 | HD,HR,DT | Report |
| #11 | | 1,325,909 | 100.00% | S2K | 307 | 178&nbsp&nbsp/ 0 / 0 | 46 | 0 | 0 | HD,HR,DT | Report |
| #12 | | 1,325,909 | 100.00% | Drowsy | 307 | 178&nbsp&nbsp/ 0 / 0 | 46 | 0 | 0 | HD,HR,DT | Report |
| #13 | | 1,325,909 | 100.00% | Silwer | 307 | 178&nbsp&nbsp/ 0 / 0 | 46 | 0 | 0 | HD,HR,DT | Report |
| #14 | | 1,324,809 | 100.00% | bartek1q | 307 | 178&nbsp&nbsp/ 0 / 0 | 46 | 0 | 0 | HD,HR,DT | Report |
| #15 | | 1,324,809 | 100.00% | SweetWarrior | 307 | 178&nbsp&nbsp/ 0 / 0 | 46 | 0 | 0 | HD,HR,DT,PF | Report |
| #16 | | 1,324,809 | 100.00% | ViciousMisty | 307 | 178&nbsp&nbsp/ 0 / 0 | 46 | 0 | 0 | HD,HR,FL | Report |
| #17 | | 1,324,809 | 100.00% | - SS or Quit - | 307 | 178&nbsp&nbsp/ 0 / 0 | 46 | 0 | 0 | HD,HR,DT | Report |
| #18 | | 1,324,809 | 100.00% | Dynzyn | 307 | 178&nbsp&nbsp/ 0 / 0 | 46 | 0 | 0 | HD,HR,DT | Report |
| #19 | | 1,324,466 | 99.63% | Jhalen | 307 | 177&nbsp&nbsp/ 1 / 0 | 45 | 1 | 0 | HD,HR,DT | Report |
| #20 | | 1,323,709 | 100.00% | [Dode] | 307 | 178&nbsp&nbsp/ 0 / 0 | 46 | 0 | 0 | HD,HR,DT | Report |
| #21 | | 1,323,709 | 100.00% | anikiii | 307 | 178&nbsp&nbsp/ 0 / 0 | 46 | 0 | 0 | HD,HR,DT | Report |
| #22 | | 1,323,709 | 100.00% | Flying Spoon | 307 | 178&nbsp&nbsp/ 0 / 0 | 46 | 0 | 0 | HD,HR,DT | Report |
| #23 | | 1,323,709 | 100.00% | 6927 | 307 | 178&nbsp&nbsp/ 0 / 0 | 46 | 0 | 0 | HD,HR,DT | Report |
| #24 | | 1,322,609 | 100.00% | Mikusu | 307 | 178&nbsp&nbsp/ 0 / 0 | 46 | 0 | 0 | HD,HR,NC,PF | Report |
| #25 | | 1,322,609 | 100.00% | Vernien | 307 | 178&nbsp&nbsp/ 0 / 0 | 46 | 0 | 0 | HD,HR,NC | Report |
| #26 | | 1,322,581 | 99.63% | Walshy | 307 | 177&nbsp&nbsp/ 1 / 0 | 45 | 1 | 0 | HD,HR,DT | Report |
| #27 | | 1,321,601 | 99.63% | [God]Death-Sama | 307 | 177&nbsp&nbsp/ 1 / 0 | 45 | 1 | 0 | HD,HR,DT | Report |
| #28 | | 1,321,509 | 100.00% | Miyumi | 307 | 178&nbsp&nbsp/ 0 / 0 | 46 | 0 | 0 | HD,HR,DT | Report |
| #29 | | 1,321,509 | 100.00% | Arizu Aoki | 307 | 178&nbsp&nbsp/ 0 / 0 | 46 | 0 | 0 | HD,HR,DT | Report |
| #30 | | 1,321,509 | 100.00% | Jokermafia | 307 | 178&nbsp&nbsp/ 0 / 0 | 46 | 0 | 0 | HD,HR,DT | Report |
| #31 | | 1,321,509 | 100.00% | Sl00wy | 307 | 178&nbsp&nbsp/ 0 / 0 | 46 | 0 | 0 | HD,HR,DT | Report |
| #32 | | 1,321,509 | 100.00% | Coppola | 307 | 178&nbsp&nbsp/ 0 / 0 | 46 | 0 | 0 | HD,HR,DT | Report |
| #33 | | 1,321,509 | 100.00% | Ferpoleon | 307 | 178&nbsp&nbsp/ 0 / 0 | 46 | 0 | 0 | HD,HR,NC | Report |
| #34 | | 1,320,409 | 100.00% | DeluxeMirror19 | 307 | 178&nbsp&nbsp/ 0 / 0 | 46 | 0 | 0 | HD,HR,DT | Report |
| #35 | | 1,320,409 | 100.00% | LosingCrayon | 307 | 178&nbsp&nbsp/ 0 / 0 | 46 | 0 | 0 | HD,HR,NC | Report |
| #36 | | 1,320,409 | 100.00% | K0019 | 307 | 178&nbsp&nbsp/ 0 / 0 | 46 | 0 | 0 | HD,HR,DT | Report |
| #37 | | 1,320,409 | 100.00% | LeCalvert | 307 | 178&nbsp&nbsp/ 0 / 0 | 46 | 0 | 0 | HD,HR,DT | Report |
| #38 | | 1,320,409 | 100.00% | Kuro-tan_N | 307 | 178&nbsp&nbsp/ 0 / 0 | 46 | 0 | 0 | HD,HR,FL | Report |
| #39 | | 1,320,409 | 100.00% | -Drawxy- | 307 | 178&nbsp&nbsp/ 0 / 0 | 46 | 0 | 0 | HD,HR,DT | Report |
| #40 | | 1,320,409 | 100.00% | Hotori | 307 | 178&nbsp&nbsp/ 0 / 0 | 46 | 0 | 0 | HD,HR,DT | Report |
| #41 | | 1,319,309 | 100.00% | honehone567 | 307 | 178&nbsp&nbsp/ 0 / 0 | 46 | 0 | 0 | HD,HR,DT | Report |
| #42 | | 1,319,309 | 100.00% | czyza | 307 | 178&nbsp&nbsp/ 0 / 0 | 46 | 0 | 0 | HD,HR,NC | Report |
| #43 | | 1,319,309 | 100.00% | Hirokise | 307 | 178&nbsp&nbsp/ 0 / 0 | 46 | 0 | 0 | HD,HR,DT,PF | Report |
| #44 | | 1,319,309 | 100.00% | Id_Beat | 307 | 178&nbsp&nbsp/ 0 / 0 | 46 | 0 | 0 | HD,HR,DT,SD | Report |
| #45 | | 1,319,281 | 99.63% | Shiny Mint | 307 | 177&nbsp&nbsp/ 1 / 0 | 45 | 1 | 0 | HD,HR,DT | Report |
| #46 | | 1,318,412 | 99.25% | PP-Bizon | 307 | 176&nbsp&nbsp/ 2 / 0 | 44 | 2 | 0 | HD,HR,DT | Report |
| #47 | | 1,318,209 | 100.00% | Noob-as | 307 | 178&nbsp&nbsp/ 0 / 0 | 46 | 0 | 0 | HD,HR,DT | Report |
| #48 | | 1,318,209 | 100.00% | Nussegge | 307 | 178&nbsp&nbsp/ 0 / 0 | 46 | 0 | 0 | HD,HR,DT | Report |
| #49 | | 1,317,866 | 99.63% | Phizyz | 307 | 177&nbsp&nbsp/ 1 / 0 | 45 | 1 | 0 | HD,HR,DT | Report |
| #50 | | 1,317,780 | 99.63% | My Angel Kouko | 307 | 177&nbsp&nbsp/ 1 / 0 | 45 | 1 | 0 | HD,HR,DT | Report |