Artist:
Ito Kanako
Circle Size:

Approach Rate:

Title:
Uncontrollable
HP Drain:

Star Difficulty:

(5.56)
Creator:
Yumeno Himiko
Accuracy:

Length:
1:30 (1:29 drain)
Source:
CHAOS;CHILD
Genre:
Anime (Japanese)
BPM:
210
Tags:
chäos;child opening op tv size 5pb. 科学アドベンチャーシリーズ science adventure series 妄想科学adv mousou kagaku adv 伊藤香奈子 examination exam
User Rating:
Success Rate:
Points of Failure:


(graph is accumulative, based on % at fail/retry)

2.7% (306 of 11421 plays)

Submitted:
Ranked:
Jan 17, 2017
Nov 5, 2017
Rating Spread:

Favourited 32 times in total

Users that love this map: Danilo, light44, rew0825, iroN12, Awsumi, -Luminate, DavidZX, Time Series, Zylin, Party3336, Masterpeachy03, Kiera, Enderstyle, ZokaiSh, Rodrigo Oguz, Deepierro, AlbertoDC, AliceBlack7, ]KagamineRin[, TheFouGame and many more!
Options:
Modding / Discussion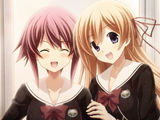 If you are God, and the delusion becomes reality. About what kind of the noids you get?
Is it the sensual world? The despotic society? The destructive sanctions? Or...
Redl 1/22, changed BG
Ready for mods
Thanks to Shad0w1and for the video.
skvix is in the lead! ()
Score
10,610,335 (98.84%)
Max Combo
577
300 / 100 / 50
535 / 42 / 188
Misses
0
Geki (Elite Beat!)
76
Droplet misses
9
Mods
HR
Top 50 Scoreboard
| | Rank | Score | Accuracy | Player | Max Combo | 300 / 100 / 50 | Geki | Droplet Miss | Misses | Mods | |
| --- | --- | --- | --- | --- | --- | --- | --- | --- | --- | --- | --- |
| #1 | | 10,610,335 | 98.84% | skvix | 577 | 535&nbsp&nbsp/ 42 / 188 | 76 | 9 | 0 | HR | Report |
| #2 | | 10,580,495 | 97.03% | ekr | 577 | 535&nbsp&nbsp/ 42 / 174 | 76 | 23 | 0 | HR | Report |
| #3 | | 10,057,271 | 100.00% | mjj741 | 577 | 535&nbsp&nbsp/ 42 / 197 | 76 | 0 | 0 | HD | Report |
| #4 | | 10,057,201 | 99.10% | alienflybot | 577 | 535&nbsp&nbsp/ 42 / 190 | 76 | 7 | 0 | HD | Report |
| #5 | | 10,056,011 | 97.93% | VagaNNN | 577 | 535&nbsp&nbsp/ 42 / 181 | 76 | 16 | 0 | HD | Report |
| #6 | | 10,055,071 | 100.00% | noraRcat | 577 | 535&nbsp&nbsp/ 42 / 197 | 76 | 0 | 0 | HD | Report |
| #7 | | 10,055,051 | 99.74% | Fli | 577 | 535&nbsp&nbsp/ 42 / 195 | 76 | 2 | 0 | HD | Report |
| #8 | | 10,055,031 | 99.48% | Callionet | 577 | 535&nbsp&nbsp/ 42 / 193 | 76 | 4 | 0 | HD | Report |
| #9 | | 10,055,001 | 99.10% | monstratorfull | 577 | 535&nbsp&nbsp/ 42 / 190 | 76 | 7 | 0 | HD,SD | Report |
| #10 | | 10,054,971 | 98.71% | LechuCzechu | 577 | 535&nbsp&nbsp/ 42 / 187 | 76 | 10 | 0 | HD | Report |
| #11 | | 10,053,901 | 99.10% | Spectator | 577 | 535&nbsp&nbsp/ 42 / 190 | 76 | 7 | 0 | HD | Report |
| #12 | | 10,052,841 | 99.61% | Awsumi | 577 | 535&nbsp&nbsp/ 42 / 194 | 76 | 3 | 0 | HD | Report |
| #13 | | 10,052,781 | 98.84% | [-naniwa-] | 577 | 535&nbsp&nbsp/ 42 / 188 | 76 | 9 | 0 | HD | Report |
| #14 | | 10,052,771 | 98.71% | FABninja | 577 | 535&nbsp&nbsp/ 42 / 187 | 76 | 10 | 0 | HD | Report |
| #15 | | 10,052,761 | 98.58% | lechuguin | 577 | 535&nbsp&nbsp/ 42 / 186 | 76 | 11 | 0 | HD | Report |
| #16 | | 10,051,631 | 98.19% | Crowley | 577 | 535&nbsp&nbsp/ 42 / 183 | 76 | 14 | 0 | HD | Report |
| #17 | | 10,050,611 | 99.22% | -Ken | 577 | 535&nbsp&nbsp/ 42 / 191 | 76 | 6 | 0 | HD | Report |
| #18 | | 10,045,001 | 97.80% | Lilah | 577 | 535&nbsp&nbsp/ 42 / 180 | 76 | 17 | 0 | HD | Report |
| #19 | | 9,499,930 | 100.00% | ItsLexii | 577 | 535&nbsp&nbsp/ 42 / 197 | 76 | 0 | 0 | None | Report |
| #20 | | 9,499,930 | 100.00% | Guillotine | 577 | 535&nbsp&nbsp/ 42 / 197 | 76 | 0 | 0 | None | Report |
| #21 | | 9,499,900 | 99.61% | Yume[K] | 577 | 535&nbsp&nbsp/ 42 / 194 | 76 | 3 | 0 | None | Report |
| #22 | | 9,498,760 | 99.10% | AutoLs | 577 | 535&nbsp&nbsp/ 42 / 190 | 76 | 7 | 0 | None | Report |
| #23 | | 9,498,700 | 98.32% | syu | 577 | 535&nbsp&nbsp/ 42 / 184 | 76 | 13 | 0 | None | Report |
| #24 | | 9,497,690 | 99.48% | Matt_H | 577 | 535&nbsp&nbsp/ 42 / 193 | 76 | 4 | 0 | None | Report |
| #25 | | 9,497,690 | 99.48% | YERTI | 577 | 535&nbsp&nbsp/ 42 / 193 | 76 | 4 | 0 | None | Report |
| #26 | | 9,497,650 | 98.97% | KiritoSama974 | 577 | 535&nbsp&nbsp/ 42 / 189 | 76 | 8 | 0 | None | Report |
| #27 | | 9,497,630 | 98.71% | Cera- | 577 | 535&nbsp&nbsp/ 42 / 187 | 76 | 10 | 0 | None | Report |
| #28 | | 9,497,590 | 98.19% | FruitCatcher | 577 | 535&nbsp&nbsp/ 42 / 183 | 76 | 14 | 0 | None | Report |
| #29 | | 9,496,630 | 100.00% | Groex | 577 | 535&nbsp&nbsp/ 42 / 197 | 76 | 0 | 0 | None | Report |
| #30 | | 9,496,610 | 99.74% | Nipah | 577 | 535&nbsp&nbsp/ 42 / 195 | 76 | 2 | 0 | None | Report |
| #31 | | 9,496,600 | 99.61% | - S a k u r a - | 577 | 535&nbsp&nbsp/ 42 / 194 | 76 | 3 | 0 | None | Report |
| #32 | | 9,496,590 | 99.48% | Ken Doll | 577 | 535&nbsp&nbsp/ 42 / 193 | 76 | 4 | 0 | None | Report |
| #33 | | 9,496,560 | 99.10% | -Story- | 577 | 535&nbsp&nbsp/ 42 / 190 | 76 | 7 | 0 | None | Report |
| #34 | | 9,496,540 | 98.84% | Nikolai | 577 | 535&nbsp&nbsp/ 42 / 188 | 76 | 9 | 0 | None | Report |
| #35 | | 9,496,540 | 98.84% | -Luminate | 577 | 535&nbsp&nbsp/ 42 / 188 | 76 | 9 | 0 | None | Report |
| #36 | | 9,496,510 | 98.45% | Astrea | 577 | 535&nbsp&nbsp/ 42 / 185 | 76 | 12 | 0 | None | Report |
| #37 | | 9,496,510 | 98.45% | Myle | 577 | 535&nbsp&nbsp/ 42 / 185 | 76 | 12 | 0 | None | Report |
| #38 | | 9,496,500 | 98.32% | Yukaa- | 577 | 535&nbsp&nbsp/ 42 / 184 | 76 | 13 | 0 | None | Report |
| #39 | | 9,496,460 | 97.80% | dazzulay | 577 | 535&nbsp&nbsp/ 42 / 180 | 76 | 17 | 0 | None | Report |
| #40 | | 9,495,480 | 99.35% | -Nicotine | 577 | 535&nbsp&nbsp/ 42 / 192 | 76 | 5 | 0 | None | Report |
| #41 | | 9,495,440 | 98.84% | YukaRei | 577 | 535&nbsp&nbsp/ 42 / 188 | 76 | 9 | 0 | None | Report |
| #42 | | 9,495,390 | 98.19% | customCat | 577 | 535&nbsp&nbsp/ 42 / 183 | 76 | 14 | 0 | None | Report |
| #43 | | 9,495,350 | 97.67% | GrochuZJ | 577 | 535&nbsp&nbsp/ 42 / 179 | 76 | 18 | 0 | None | Report |
| #44 | | 9,494,370 | 99.22% | Nelly | 577 | 535&nbsp&nbsp/ 42 / 191 | 76 | 6 | 0 | None | Report |
| #45 | | 9,494,290 | 98.19% | Rimura-sama | 577 | 535&nbsp&nbsp/ 42 / 183 | 76 | 14 | 0 | None | Report |
| #46 | | 9,494,280 | 98.06% | Toggeni | 577 | 535&nbsp&nbsp/ 42 / 182 | 76 | 15 | 0 | None | Report |
| #47 | | 9,494,230 | 97.42% | F D Flourite | 577 | 535&nbsp&nbsp/ 42 / 177 | 76 | 20 | 0 | None | Report |
| #48 | | 9,493,310 | 99.74% | Kustzlov | 577 | 535&nbsp&nbsp/ 42 / 195 | 76 | 2 | 0 | None | Report |
| #49 | | 9,493,250 | 98.97% | Hareimu | 577 | 535&nbsp&nbsp/ 42 / 189 | 76 | 8 | 0 | None | Report |
| #50 | | 9,493,220 | 98.58% | Onjouji Toki | 577 | 535&nbsp&nbsp/ 42 / 186 | 76 | 11 | 0 | None | Report |