Beatmap Listing » Tomatsu Haruka, Hikasa Yoko, Amamiya Sora - Eyecatch! Too Much!
Artist:
Tomatsu Haruka, Hikasa Yoko, Amamiya Sora
Circle Size:

Approach Rate:

Title:
Eyecatch! Too Much!
HP Drain:

Star Difficulty:

(6.00)
Creator:
Volta
Accuracy:

Length:
3:13 (3:12 drain)
Source:
WWW.WORKING!!
Genre:
Anime (Japanese)
BPM:
240
Tags:
taiko opening full www.wagnaria!! 宮越華 村主さゆり 鎌倉志保 hana miyakoshi sayuri muranushi shiho kamakura judydanny nishizumi
User Rating:
Success Rate:
Points of Failure:


(graph is accumulative, based on % at fail/retry)

16.8% (279 of 1665 plays)

Submitted:
Ranked:
Jan 6, 2017
Jan 6, 2018
Rating Spread:

Favourited 24 times in total

Users that love this map: OzzyOzrock, Garalulu, Crash423, Ryozuakira, Hiicantpk, IControl, Akyuu, Surono, Kqrth, iloveyou4ever, sing216, Paupaulo007, juanilp4evr, hikikochan, -Ryan, Puppyluv1728, goheegy, [Belajar-Osu], Maxikapo, AnarchyOfAnime and many more!
Options:
Modding / Discussion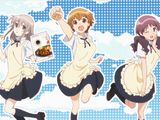 Beginner... 100%
Kantan... 100%
Futsuu... 100%
Muzukashii... 100% by
JUDYDANNY
Oni (1)... 100% by
Nishizumi
Oni (2)... 100%
Inner Oni! Too Much!... 100%
Download with Kantan SV 100
mp3 by Skylish, offset by JUDYDANNY. thanks a lot.
applerss is in the lead! ()
Score
1,735,456 (98.45%)
Max Combo
1358
300 / 100 / 50
1316 / 42 / 0
Misses
0
Geki (Elite Beat!)
5
Katu (Beat!)
0
Mods
DT
Top 50 Scoreboard
| | Rank | Score | Accuracy | Player | Max Combo | 300 / 100 / 50 | Geki | Katu | Misses | Mods | |
| --- | --- | --- | --- | --- | --- | --- | --- | --- | --- | --- | --- |
| #1 | | 1,735,456 | 98.45% | applerss | 1358 | 1316&nbsp&nbsp/ 42 / 0 | 5 | 0 | 0 | DT | Report |
| #2 | | 1,700,558 | 96.80% | kiyozi11 | 1358 | 1271&nbsp&nbsp/ 87 / 0 | 6 | 0 | 0 | DT | Report |
| #3 | | 1,679,026 | 99.23% | goheegy | 1358 | 1337&nbsp&nbsp/ 21 / 0 | 17 | 0 | 0 | HR | Report |
| #4 | | 1,677,745 | 95.73% | qwappy797 | 1358 | 1242&nbsp&nbsp/ 116 / 0 | 1 | 1 | 0 | NC | Report |
| #5 | | 1,671,823 | 98.82% | HiroK | 1358 | 1326&nbsp&nbsp/ 32 / 0 | 0 | 0 | 0 | HD | Report |
| #6 | | 1,646,814 | 95.80% | numamuto1 | 1298 | 1251&nbsp&nbsp/ 100 / 0 | 34 | 2 | 7 | DT | Report |
| #7 | | 1,636,833 | 96.94% | ILOVEMARISA | 1358 | 1275&nbsp&nbsp/ 83 / 0 | 2 | 0 | 0 | HD | Report |
| #8 | | 1,632,636 | 100.00% | sing216 | 1358 | 1358&nbsp&nbsp/ 0 / 0 | 28 | 0 | 0 | None | Report |
| #9 | | 1,632,636 | 100.00% | uone | 1358 | 1358&nbsp&nbsp/ 0 / 0 | 36 | 0 | 0 | PF | Report |
| #10 | | 1,632,086 | 99.96% | Ceryuia | 1358 | 1357&nbsp&nbsp/ 1 / 0 | 42 | 0 | 0 | None | Report |
| #11 | | 1,630,216 | 99.85% | Taka030 | 1358 | 1354&nbsp&nbsp/ 4 / 0 | 38 | 0 | 0 | None | Report |
| #12 | | 1,621,240 | 99.19% | MikuWRS | 1358 | 1336&nbsp&nbsp/ 22 / 0 | 45 | 0 | 0 | None | Report |
| #13 | | 1,621,196 | 99.30% | Topreflex | 1358 | 1339&nbsp&nbsp/ 19 / 0 | 12 | 0 | 0 | None | Report |
| #14 | | 1,620,790 | 99.15% | my821220 | 1358 | 1335&nbsp&nbsp/ 23 / 0 | 13 | 0 | 0 | None | Report |
| #15 | | 1,620,756 | 99.26% | john571 | 1358 | 1338&nbsp&nbsp/ 20 / 0 | 24 | 0 | 0 | None | Report |
| #16 | | 1,619,656 | 99.19% | Ryoko | 1358 | 1336&nbsp&nbsp/ 22 / 0 | 29 | 1 | 0 | None | Report |
| #17 | | 1,618,986 | 99.34% | AMGS | 1358 | 1340&nbsp&nbsp/ 18 / 0 | 16 | 0 | 0 | None | Report |
| #18 | | 1,618,934 | 99.15% | Mikalodo | 1358 | 1335&nbsp&nbsp/ 23 / 0 | 46 | 0 | 0 | None | Report |
| #19 | | 1,615,794 | 98.97% | tatatat | 1358 | 1330&nbsp&nbsp/ 28 / 0 | 39 | 0 | 0 | None | Report |
| #20 | | 1,615,424 | 98.86% | Alchyr | 1358 | 1327&nbsp&nbsp/ 31 / 0 | 0 | 0 | 0 | None | Report |
| #21 | | 1,614,546 | 99.08% | hidiki | 1358 | 1333&nbsp&nbsp/ 25 / 0 | 23 | 1 | 0 | None | Report |
| #22 | | 1,610,916 | 98.90% | Fantazy | 1358 | 1328&nbsp&nbsp/ 30 / 0 | 33 | 0 | 0 | None | Report |
| #23 | | 1,610,510 | 98.64% | j9696410 | 1358 | 1321&nbsp&nbsp/ 37 / 0 | 0 | 0 | 0 | None | Report |
| #24 | | 1,608,636 | 98.45% | bobson860412 | 1358 | 1316&nbsp&nbsp/ 42 / 0 | 28 | 0 | 0 | None | Report |
| #25 | | 1,608,106 | 98.49% | Aizawa Nagisa | 1358 | 1317&nbsp&nbsp/ 41 / 0 | 20 | 0 | 0 | None | Report |
| #26 | | 1,605,328 | 98.31% | Chaosfan | 1358 | 1312&nbsp&nbsp/ 46 / 0 | 18 | 0 | 0 | SD | Report |
| #27 | | 1,604,326 | 98.27% | Kaemz | 1358 | 1311&nbsp&nbsp/ 47 / 0 | 33 | 1 | 0 | None | Report |
| #28 | | 1,603,164 | 98.09% | Misieuroo | 1358 | 1306&nbsp&nbsp/ 52 / 0 | 31 | 0 | 0 | None | Report |
| #29 | | 1,601,306 | 98.09% | Igor Sprite | 1358 | 1306&nbsp&nbsp/ 52 / 0 | 35 | 1 | 0 | None | Report |
| #30 | | 1,598,736 | 97.90% | Arnon | 1358 | 1301&nbsp&nbsp/ 57 / 0 | 16 | 0 | 0 | None | Report |
| #31 | | 1,598,098 | 97.94% | -Ryan | 1358 | 1302&nbsp&nbsp/ 56 / 0 | 40 | 3 | 0 | None | Report |
| #32 | | 1,597,226 | 98.82% | Yawarakan | 1358 | 1326&nbsp&nbsp/ 32 / 0 | 4 | 0 | 0 | None | Report |
| #33 | | 1,595,122 | 97.94% | kogachai1125 | 1358 | 1302&nbsp&nbsp/ 56 / 0 | 31 | 0 | 0 | None | Report |
| #34 | | 1,593,542 | 97.57% | Dark G Reaper | 1358 | 1292&nbsp&nbsp/ 66 / 0 | 46 | 0 | 0 | None | Report |
| #35 | | 1,590,418 | 97.50% | ____ReFFeN____ | 1358 | 1290&nbsp&nbsp/ 68 / 0 | 37 | 0 | 0 | None | Report |
| #36 | | 1,590,000 | 97.50% | terryyoyof | 1358 | 1290&nbsp&nbsp/ 68 / 0 | 18 | 0 | 0 | None | Report |
| #37 | | 1,587,940 | 97.24% | Ichibanboshi | 1358 | 1283&nbsp&nbsp/ 75 / 0 | 42 | 0 | 0 | None | Report |
| #38 | | 1,582,508 | 97.02% | suama1 | 1358 | 1277&nbsp&nbsp/ 81 / 0 | 38 | 0 | 0 | None | Report |
| #39 | | 1,578,708 | 96.94% | krsfantasy | 1358 | 1275&nbsp&nbsp/ 83 / 0 | 22 | 1 | 0 | None | Report |
| #40 | | 1,578,662 | 96.50% | Tofu1222 | 1358 | 1263&nbsp&nbsp/ 95 / 0 | 26 | 0 | 0 | None | Report |
| #41 | | 1,562,170 | 99.12% | ZethZ161 | 1182 | 1335&nbsp&nbsp/ 22 / 0 | 16 | 0 | 1 | None | Report |
| #42 | | 1,559,254 | 98.31% | Miyasan | 1358 | 1312&nbsp&nbsp/ 46 / 0 | 0 | 0 | 0 | None | Report |
| #43 | | 1,557,254 | 98.23% | aoe | 696 | 1311&nbsp&nbsp/ 46 / 0 | 3 | 0 | 1 | None | Report |
| #44 | | 1,553,310 | 98.56% | ankohime | 1133 | 1330&nbsp&nbsp/ 17 / 0 | 10 | 1 | 11 | None | Report |
| #45 | | 1,551,690 | 94.92% | sakura of piano | 1358 | 1220&nbsp&nbsp/ 138 / 0 | 20 | 3 | 0 | None | Report |
| #46 | | 1,551,402 | 97.79% | -byakuya- | 1358 | 1298&nbsp&nbsp/ 60 / 0 | 0 | 0 | 0 | None | Report |
| #47 | | 1,547,790 | 98.16% | IControl | 885 | 1316&nbsp&nbsp/ 34 / 0 | 26 | 0 | 8 | None | Report |
| #48 | | 1,546,884 | 97.61% | DukeDukeDura | 1358 | 1293&nbsp&nbsp/ 65 / 0 | 0 | 0 | 0 | None | Report |
| #49 | | 1,543,618 | 97.39% | Sansift | 681 | 1288&nbsp&nbsp/ 69 / 0 | 36 | 0 | 1 | None | Report |
| #50 | | 1,542,338 | 97.86% | Lamery | 1192 | 1301&nbsp&nbsp/ 56 / 0 | 37 | 0 | 1 | None | Report |