Beatmap Listing » Camellia feat. Nanahira - PAPAYAPA BASS
Artist:
Camellia feat. Nanahira
Circle Size:

Approach Rate:

Title:
PAPAYAPA BASS
HP Drain:

Star Difficulty:

(4.32)
Creator:
Mir
Accuracy:

Length:
1:59 (1:53 drain)
Source:
beatmania IIDX 24 SINOBUZ
Genre:
Unspecified (Other)
BPM:
147
Tags:
mondo groove basshouse vocal konami bemani japanese commandoblack jakomo73
User Rating:
Success Rate:
Points of Failure:


(graph is accumulative, based on % at fail/retry)

12.9% (4411 of 34293 plays)

Submitted:
Loved:
Nov 6, 2016
Feb 14, 2017
Rating Spread:

Favourited 106 times in total

Users that love this map: Naphistim, kh953149, xanox100, Livia, Mr HeliX, Old K, Simplexive, Chocolat, MetaPixel, Flauxy, Cactuar, Happy, HighTec, Dongwon, Reporine24, Steffen, Wrathm, AMX, apolonioale, Tauroesschen and many more!
Options:
This Beatmap's Thread
This map is in a LOVED state.
As such, it will not award any pp and leaderboards may be reset by the beatmap creator.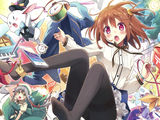 Loved!
Papayapa!
Mania set by
CommandoBlack
.
Easy GD by
Jakomo73
Well it was a fun ride. I didn't really want to push this for ranked after a certain point because my mapping had improved so much since I uploaded this. Thanks for all the favorites and stars by everyone, as they were the only reason this got Loved. Thanks to Shiirn for helping me with the set, Jakomo and CommandoBlack for the GDs, and everyone that supported the set in its prime.
Papayapa is for the players now. I hope you enjoy it. :3
If you want something
crazier...
Epiphany is in the lead! ()
Score
13,224,391 (98.37%)
Max Combo
786
300 / 100 / 50
480 / 12 / 0
Misses
0
Geki (Elite Beat!)
95
Katu (Beat!)
10
Mods
HD,DT
Top 50 Scoreboard
| | Rank | Score | Accuracy | Player | Max Combo | 300 / 100 / 50 | Geki | Katu | Misses | Mods | |
| --- | --- | --- | --- | --- | --- | --- | --- | --- | --- | --- | --- |
| #1 | | 13,224,391 | 98.37% | Epiphany | 786 | 480&nbsp&nbsp/ 12 / 0 | 95 | 10 | 0 | HD,DT | Report |
| #2 | | 12,848,381 | 99.46% | Toy | 790 | 488&nbsp&nbsp/ 4 / 0 | 101 | 4 | 0 | HD,HR | Report |
| #3 | | 12,696,899 | 98.51% | DualAkira | 788 | 481&nbsp&nbsp/ 11 / 0 | 95 | 10 | 0 | HD,HR | Report |
| #4 | | 12,669,657 | 93.73% | talala | 776 | 446&nbsp&nbsp/ 45 / 1 | 72 | 32 | 0 | HD,DT | Report |
| #5 | | 12,636,096 | 97.56% | Koni Kinmo | 790 | 474&nbsp&nbsp/ 18 / 0 | 89 | 16 | 0 | HD,HR | Report |
| #6 | | 12,629,212 | 98.10% | waywern2012 | 790 | 478&nbsp&nbsp/ 14 / 0 | 92 | 13 | 0 | HD,HR | Report |
| #7 | | 12,627,472 | 97.29% | Lazer | 790 | 472&nbsp&nbsp/ 20 / 0 | 90 | 15 | 0 | HD,HR | Report |
| #8 | | 12,600,363 | 97.29% | Deramok | 789 | 472&nbsp&nbsp/ 20 / 0 | 91 | 14 | 0 | HD,HR | Report |
| #9 | | 12,535,131 | 97.43% | TCN | 790 | 473&nbsp&nbsp/ 19 / 0 | 89 | 16 | 0 | HD,HR | Report |
| #10 | | 12,520,296 | 97.39% | - Daichi - | 790 | 473&nbsp&nbsp/ 18 / 1 | 89 | 15 | 0 | HD,HR | Report |
| #11 | | 12,505,123 | 97.26% | Pupper | 788 | 472&nbsp&nbsp/ 19 / 1 | 90 | 14 | 0 | HD,HR | Report |
| #12 | | 12,499,304 | 97.56% | SyoZohma | 787 | 474&nbsp&nbsp/ 18 / 0 | 90 | 15 | 0 | HD,HR | Report |
| #13 | | 12,478,425 | 96.58% | DvxNL | 789 | 467&nbsp&nbsp/ 24 / 1 | 90 | 14 | 0 | HD,HR | Report |
| #14 | | 12,432,688 | 97.02% | DigiDrake | 789 | 470&nbsp&nbsp/ 22 / 0 | 87 | 18 | 0 | HD,HR | Report |
| #15 | | 12,430,415 | 96.65% | Hayasaka Mirei | 789 | 468&nbsp&nbsp/ 21 / 3 | 86 | 18 | 0 | HD,HR | Report |
| #16 | | 12,409,523 | 95.26% | twofor199 | 789 | 457&nbsp&nbsp/ 35 / 0 | 74 | 31 | 0 | HD,HR | Report |
| #17 | | 12,392,460 | 95.60% | Rugakot | 789 | 460&nbsp&nbsp/ 30 / 2 | 81 | 22 | 0 | HD,HR | Report |
| #18 | | 12,307,970 | 95.46% | Kanjer | 789 | 459&nbsp&nbsp/ 31 / 2 | 78 | 25 | 0 | HD,HR | Report |
| #19 | | 12,306,635 | 94.58% | r3venger | 789 | 452&nbsp&nbsp/ 40 / 0 | 75 | 30 | 0 | HD,HR | Report |
| #20 | | 12,273,448 | 94.58% | waaiiru | 789 | 452&nbsp&nbsp/ 40 / 0 | 75 | 30 | 0 | HD,HR | Report |
| #21 | | 12,250,723 | 94.72% | Lolis4Lyfe | 789 | 453&nbsp&nbsp/ 39 / 0 | 75 | 30 | 0 | HD,HR | Report |
| #22 | | 12,231,193 | 96.54% | -E l S A- | 781 | 467&nbsp&nbsp/ 24 / 0 | 85 | 19 | 1 | HD,HR | Report |
| #23 | | 12,222,751 | 95.39% | Subject000016 | 787 | 458&nbsp&nbsp/ 34 / 0 | 76 | 29 | 0 | HD,HR | Report |
| #24 | | 12,163,856 | 100.00% | BonanzaBlast | 790 | 492&nbsp&nbsp/ 0 / 0 | 105 | 0 | 0 | HD | Report |
| #25 | | 12,150,448 | 94.58% | Linkle | 786 | 452&nbsp&nbsp/ 40 / 0 | 78 | 27 | 0 | HD,HR | Report |
| #26 | | 12,139,076 | 99.73% | Ishkiz | 790 | 490&nbsp&nbsp/ 2 / 0 | 103 | 2 | 0 | HD | Report |
| #27 | | 12,132,797 | 93.36% | Snowwy | 788 | 443&nbsp&nbsp/ 49 / 0 | 72 | 33 | 0 | HD,HR | Report |
| #28 | | 12,126,610 | 99.73% | Seouless | 790 | 490&nbsp&nbsp/ 2 / 0 | 103 | 2 | 0 | HD | Report |
| #29 | | 12,121,068 | 99.59% | ASMaRthXD | 790 | 489&nbsp&nbsp/ 3 / 0 | 102 | 3 | 0 | HD | Report |
| #30 | | 12,108,675 | 99.73% | Azer | 790 | 490&nbsp&nbsp/ 2 / 0 | 103 | 2 | 0 | HD | Report |
| #31 | | 12,094,496 | 99.46% | Snase | 790 | 488&nbsp&nbsp/ 4 / 0 | 102 | 3 | 0 | HD | Report |
| #32 | | 12,075,542 | 99.46% | Leftiezi | 790 | 488&nbsp&nbsp/ 4 / 0 | 103 | 2 | 0 | HD | Report |
| #33 | | 12,074,937 | 99.59% | eLy | 790 | 489&nbsp&nbsp/ 3 / 0 | 102 | 3 | 0 | HD | Report |
| #34 | | 12,064,695 | 98.92% | quickiez | 790 | 484&nbsp&nbsp/ 8 / 0 | 97 | 8 | 0 | HD | Report |
| #35 | | 12,056,772 | 99.32% | SunglassesEmoji | 790 | 487&nbsp&nbsp/ 5 / 0 | 100 | 5 | 0 | HD | Report |
| #36 | | 12,051,949 | 99.19% | Starger | 790 | 486&nbsp&nbsp/ 6 / 0 | 99 | 6 | 0 | HD | Report |
| #37 | | 12,050,532 | 99.19% | odenrod_mkw | 788 | 486&nbsp&nbsp/ 6 / 0 | 102 | 3 | 0 | HD | Report |
| #38 | | 12,049,333 | 99.05% | mooningham | 790 | 485&nbsp&nbsp/ 7 / 0 | 99 | 6 | 0 | HD | Report |
| #39 | | 12,046,472 | 99.05% | Palace | 788 | 485&nbsp&nbsp/ 7 / 0 | 98 | 7 | 0 | HD | Report |
| #40 | | 12,045,596 | 99.19% | Floob | 789 | 486&nbsp&nbsp/ 6 / 0 | 100 | 5 | 0 | HD | Report |
| #41 | | 12,045,289 | 98.78% | Davyroo | 789 | 483&nbsp&nbsp/ 9 / 0 | 100 | 5 | 0 | HD | Report |
| #42 | | 12,039,111 | 98.64% | Damach | 789 | 482&nbsp&nbsp/ 10 / 0 | 98 | 7 | 0 | HD | Report |
| #43 | | 12,030,405 | 99.19% | iok144 | 787 | 486&nbsp&nbsp/ 6 / 0 | 100 | 5 | 0 | HD | Report |
| #44 | | 12,030,363 | 99.32% | sk0 | 789 | 487&nbsp&nbsp/ 5 / 0 | 100 | 5 | 0 | HD | Report |
| #45 | | 12,028,128 | 90.92% | Reishara | 786 | 425&nbsp&nbsp/ 67 / 0 | 70 | 35 | 0 | HD,HR | Report |
| #46 | | 12,019,046 | 98.24% | www | 790 | 479&nbsp&nbsp/ 13 / 0 | 94 | 11 | 0 | HD | Report |
| #47 | | 12,017,594 | 98.64% | waste of oxygen | 788 | 482&nbsp&nbsp/ 10 / 0 | 95 | 10 | 0 | HD | Report |
| #48 | | 12,013,795 | 98.64% | Shield | 790 | 482&nbsp&nbsp/ 10 / 0 | 96 | 9 | 0 | HD | Report |
| #49 | | 12,013,032 | 98.64% | jehlp | 790 | 482&nbsp&nbsp/ 10 / 0 | 97 | 8 | 0 | HD | Report |
| #50 | | 12,011,853 | 98.37% | HonzaUrbis | 789 | 480&nbsp&nbsp/ 12 / 0 | 95 | 10 | 0 | HD | Report |