Artist:
Rise Against
Circle Size:

Approach Rate:

Title:
Savior
HP Drain:

Star Difficulty:

(6.37)
Creator:
pishifat
Accuracy:

Length:
3:05 (2:17 drain)
Source:
Genre:
Rock (English)
BPM:
181
Tags:
punk metal appeal to reason milan- smokeman fieryrage raiden
User Rating:
Success Rate:
Points of Failure:


(graph is accumulative, based on % at fail/retry)

11.4% (197 of 1729 plays)

Submitted:
Qualified:
Sep 17, 2016
Jul 17, 2017
Rating Spread:

Favourited 55 times in total

Users that love this map: _crumbling, Kiitah, timpipi123, Moly, _Layfon, Hiicantpk, Smokeman, HKrecords_, direday, Azerite, toybot, Nuggel, Tibbles, dymm, BurningPain, fieryrage, Javiqz, Bullhax, Daisy Dubarium, TheOnlyLeon and many more!
Options:
This Beatmap's Thread
This map is in a QUALIFIED state.
Beware that the leaderboard will be reset before it is ranked!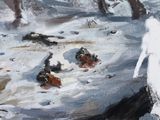 1/2
Arua is in the lead! ()
Score
16,813,095 (98.42%)
Max Combo
866
300 / 100 / 50
599 / 12 / 2
Misses
0
Geki (Elite Beat!)
128
Katu (Beat!)
8
Mods
HD
Top 50 Scoreboard
| | Rank | Score | Accuracy | Player | Max Combo | 300 / 100 / 50 | Geki | Katu | Misses | Mods | |
| --- | --- | --- | --- | --- | --- | --- | --- | --- | --- | --- | --- |
| #1 | | 16,813,095 | 98.42% | Arua | 866 | 599&nbsp&nbsp/ 12 / 2 | 128 | 8 | 0 | HD | Report |
| #2 | | 16,034,600 | 99.46% | Mlaw22 | 866 | 608&nbsp&nbsp/ 5 / 0 | 133 | 4 | 0 | None | Report |
| #3 | | 15,992,860 | 99.10% | Sonoda-Umi | 866 | 605&nbsp&nbsp/ 7 / 1 | 129 | 7 | 0 | None | Report |
| #4 | | 15,957,500 | 99.13% | Legestrophe | 864 | 605&nbsp&nbsp/ 8 / 0 | 130 | 7 | 0 | None | Report |
| #5 | | 15,933,560 | 98.80% | GHAngeloid | 866 | 602&nbsp&nbsp/ 11 / 0 | 128 | 9 | 0 | None | Report |
| #6 | | 15,456,130 | 96.41% | Prophet | 863 | 580&nbsp&nbsp/ 33 / 0 | 111 | 26 | 0 | None | Report |
| #7 | | 13,182,444 | 97.28% | -Crazy- | 760 | 588&nbsp&nbsp/ 25 / 0 | 118 | 19 | 0 | HD | Report |
| #8 | | 12,987,387 | 96.52% | My Angel Chippy | 758 | 581&nbsp&nbsp/ 32 / 0 | 114 | 23 | 0 | HR | Report |
| #9 | | 10,314,020 | 90.65% | iamjack | 729 | 530&nbsp&nbsp/ 76 / 2 | 87 | 46 | 5 | None | Report |
| #10 | | 10,089,177 | 98.21% | -akiz- | 621 | 597&nbsp&nbsp/ 15 / 0 | 124 | 12 | 1 | HD | Report |
| #11 | | 9,806,590 | 96.17% | bubbagumperson | 677 | 579&nbsp&nbsp/ 31 / 1 | 116 | 18 | 2 | None | Report |
| #12 | | 9,708,100 | 96.52% | Fawx | 669 | 582&nbsp&nbsp/ 29 / 0 | 119 | 16 | 2 | None | Report |
| #13 | | 9,567,115 | 95.38% | QbaDoo | 655 | 572&nbsp&nbsp/ 38 / 0 | 107 | 25 | 3 | HD | Report |
| #14 | | 9,398,650 | 96.79% | Bullhax | 634 | 584&nbsp&nbsp/ 28 / 0 | 114 | 22 | 1 | None | Report |
| #15 | | 9,150,130 | 94.02% | Freddie | 657 | 560&nbsp&nbsp/ 48 / 2 | 101 | 32 | 3 | None | Report |
| #16 | | 9,089,290 | 94.97% | Dextro | 647 | 569&nbsp&nbsp/ 36 / 7 | 110 | 25 | 1 | None | Report |
| #17 | | 8,494,050 | 97.09% | Choke Lord | 617 | 588&nbsp&nbsp/ 21 / 1 | 121 | 12 | 3 | None | Report |
| #18 | | 7,459,860 | 98.48% | Gomo Pslvarh | 445 | 599&nbsp&nbsp/ 14 / 0 | 126 | 11 | 0 | None | Report |
| #19 | | 7,141,050 | 96.25% | Legless | 448 | 580&nbsp&nbsp/ 29 / 2 | 113 | 20 | 2 | None | Report |
| #20 | | 6,947,000 | 94.07% | Yusomi | 571 | 562&nbsp&nbsp/ 43 / 2 | 103 | 26 | 6 | None | Report |
| #21 | | 6,521,280 | 96.63% | Vanaely | 545 | 584&nbsp&nbsp/ 25 / 0 | 114 | 19 | 4 | None | Report |
| #22 | | 6,289,170 | 97.28% | Adam_tw | 486 | 589&nbsp&nbsp/ 22 / 0 | 119 | 16 | 2 | None | Report |
| #23 | | 6,101,600 | 94.64% | Fookiezi | 521 | 571&nbsp&nbsp/ 25 / 5 | 107 | 18 | 12 | None | Report |
| #24 | | 5,734,395 | 93.15% | Raiho | 474 | 553&nbsp&nbsp/ 54 / 0 | 96 | 36 | 6 | HR | Report |
| #25 | | 5,106,695 | 94.13% | ffstar | 361 | 562&nbsp&nbsp/ 45 / 0 | 101 | 29 | 6 | HD | Report |
| #26 | | 4,947,304 | 97.55% | Veth | 356 | 593&nbsp&nbsp/ 15 / 0 | 119 | 13 | 5 | HR | Report |
| #27 | | 4,902,734 | 96.79% | Deppyforce | 338 | 586&nbsp&nbsp/ 22 / 0 | 118 | 15 | 5 | HD | Report |
| #28 | | 4,885,298 | 96.19% | Nuggel | 362 | 579&nbsp&nbsp/ 32 / 0 | 111 | 24 | 2 | HR | Report |
| #29 | | 4,703,020 | 95.27% | FastClicking | 353 | 571&nbsp&nbsp/ 39 / 0 | 110 | 24 | 3 | None | Report |
| #30 | | 4,678,930 | 94.73% | XxCheesesteak | 338 | 568&nbsp&nbsp/ 36 / 4 | 112 | 19 | 5 | None | Report |
| #31 | | 4,625,489 | 94.07% | Ritsumi | 357 | 563&nbsp&nbsp/ 40 / 2 | 104 | 23 | 8 | HD | Report |
| #32 | | 4,623,509 | 96.52% | Timpai | 314 | 585&nbsp&nbsp/ 20 / 0 | 122 | 10 | 8 | HD | Report |
| #33 | | 4,514,524 | 96.28% | Absolutelumi | 320 | 582&nbsp&nbsp/ 24 / 1 | 114 | 17 | 6 | HD | Report |
| #34 | | 4,311,410 | 94.15% | Oddyse | 354 | 563&nbsp&nbsp/ 41 / 3 | 103 | 28 | 6 | None | Report |
| #35 | | 4,264,427 | 96.03% | FeddyYeh777 | 325 | 581&nbsp&nbsp/ 23 / 0 | 112 | 17 | 9 | HD | Report |
| #36 | | 4,216,486 | 96.47% | QonQuest | 298 | 583&nbsp&nbsp/ 25 / 0 | 115 | 17 | 5 | HR | Report |
| #37 | | 4,116,570 | 97.31% | -Kanzaki | 355 | 592&nbsp&nbsp/ 13 / 1 | 122 | 9 | 7 | None | Report |
| #38 | | 4,027,518 | 94.51% | deyo | 341 | 568&nbsp&nbsp/ 34 / 0 | 106 | 24 | 11 | HD | Report |
| #39 | | 4,018,290 | 88.72% | Coni | 399 | 517&nbsp&nbsp/ 78 / 5 | 82 | 45 | 13 | None | Report |
| #40 | | 4,009,680 | 95.27% | pudingkokoro | 332 | 572&nbsp&nbsp/ 35 / 2 | 111 | 21 | 4 | None | Report |
| #41 | | 3,987,270 | 95.24% | Bredzeus | 354 | 572&nbsp&nbsp/ 35 / 1 | 110 | 22 | 5 | None | Report |
| #42 | | 3,979,900 | 95.81% | KII0 | 353 | 578&nbsp&nbsp/ 28 / 0 | 112 | 20 | 7 | None | Report |
| #43 | | 3,862,410 | 95.87% | AYellowPerson | 387 | 578&nbsp&nbsp/ 29 / 0 | 113 | 17 | 6 | None | Report |
| #44 | | 3,734,270 | 94.40% | Sillintor | 299 | 565&nbsp&nbsp/ 41 / 0 | 108 | 24 | 7 | None | Report |
| #45 | | 3,708,902 | 98.04% | Silver_Cr0w | 315 | 597&nbsp&nbsp/ 12 / 0 | 122 | 11 | 4 | HD | Report |
| #46 | | 3,698,690 | 96.14% | gulp | 319 | 581&nbsp&nbsp/ 25 / 0 | 114 | 17 | 7 | None | Report |
| #47 | | 3,686,090 | 93.47% | Kujinn | 312 | 558&nbsp&nbsp/ 45 / 0 | 95 | 34 | 10 | None | Report |
| #48 | | 3,677,800 | 93.58% | VRainbow | 358 | 561&nbsp&nbsp/ 37 / 2 | 106 | 19 | 13 | HD,HR | Report |
| #49 | | 3,644,490 | 95.43% | Antares- | 280 | 575&nbsp&nbsp/ 30 / 0 | 109 | 20 | 8 | None | Report |
| #50 | | 3,643,490 | 94.48% | ig188 | 360 | 565&nbsp&nbsp/ 42 / 1 | 107 | 24 | 5 | None | Report |