Artist:
Lorenzo
Circle Size:

Approach Rate:

Title:
Freestyle Du Sale
HP Drain:

Star Difficulty:

(4.88)
Creator:
Ovoui
Accuracy:

Length:
1:35 (1:19 drain)
Source:
Genre:
Unspecified (Other)
BPM:
120
Tags:
mamene
User Rating:
Success Rate:
Points of Failure:


(graph is accumulative, based on % at fail/retry)

21.7% (15966 of 73433 plays)

Submitted:
Loved:
Aug 26, 2016
Apr 2, 2017
Rating Spread:

Favourited 132 times in total

Users that love this map: Eirene, Kurai, Genesis, Gabe, Dynights, Secretpipe, wolfershd, Kev1n, [ Lusso-Kun ], hexmania, Mohahtn, Rosey Rys, Sendetsu, Methionylglutam, Starcaller, Fina, matiyo, Team Rocket, Thunderfire, Rinna and many more!
Options:
This Beatmap's Thread
This map is in a LOVED state.
As such, it will not award any pp and leaderboards may be reset by the beatmap creator.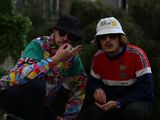 !
Lyrics
Hein
L'album arrive les srabs
Vous êtes pas prêts
On charbonne ça comme des chinois mon pote
Ahah

Lorenzo débarque foutre la merde
On saccage la baraque. On va fumer votre herbe
Briquet devant mon cul, j'crache le feu comme un dragon
On a pimpé ta meuf, sous ses fesses y a des néons !
J'suis le grand frère de Pascal le grand frère
Ce soir j'suis de garde, j'ai des très bons somnifères
Aux quatre coins de la France y a des traces de mon me-sper
J'les fait fumer pour les faire taire
Mamène mamène ! J'porte un 'sky à tous mes srabs
Et toutes les plus cocasses qui viennent nous sucer sous la table
J'suis le grand méchant loup qui fait peur dans les fables
J'ai 86 enfants et 132 femmes
Y a pas de cours de magie donc j'vais pas à la fac
Ma bite wingardium devant Emma Watson
Pas très Charlie celle la faut qu'tu la back
Les rappeurs s'inclinent, Tupac m'a demandé pardon
Avale, avale ; c'est riche en Oméga-3
Cavale cavale sur mon cheval de Troie
On drague les pucelles avec du Passoã
J'suis là pour piquer les beurettes de Booba
J'l'ai largué mais on peut toujours baiser
J'fais des périscopes plus sales que Serge Aurier
J'ai niqué la sœur de la mère de ta cousine
J'ai niqué la sœur de la mère de ta cousine !
J'veux mater le foot, elle veut manger mon foutre
J'aime les sports de baise et de combat
J'suis déshydraté mamène, j'éjacule en poudre
Il y a ceux qui m'aiment et ceux qui t'aiment pas
J't'envoie ta commande par pigeon voyageur
T'inquiète ils sont sous coke ça arrive dans l'quart d'heure
Désolé la miss, le sexe est baladeur
N'oublie jamais que, du sale, je suis l'empereur
Dans l'Hit Machine j'viens rajouter un tube
On zappe tous tes sons, comme si c'était la pub
Un verre à la patte tu peux m'appeler rouge-gorge
A l'école c'était moi qui venait donner les ordres
Une au bout de la queue et l'autre au bout du fil
J'les fourre à la chaîne comme un chinois à l'usine
Tu charbonnes des grosses, vas-y tu m'fais d'la peine
J'ai écris l'album et record en deux semaines

Heiiiiiiiiin
Est-ce que t'es toujours debout mamène ?
Ou mon freestile t'a mis à terre
Eh, retournes couler des grosses D, espèce de drogué !
On est là pour pervertir la jeunesse
Spare is in the lead! ()
Score
4,380,882 (97.63%)
Max Combo
464
300 / 100 / 50
325 / 12 / 0
Misses
0
Geki (Elite Beat!)
68
Katu (Beat!)
10
Mods
HD,DT
Top 50 Scoreboard
| | Rank | Score | Accuracy | Player | Max Combo | 300 / 100 / 50 | Geki | Katu | Misses | Mods | |
| --- | --- | --- | --- | --- | --- | --- | --- | --- | --- | --- | --- |
| #1 | | 4,380,882 | 97.63% | Spare | 464 | 325&nbsp&nbsp/ 12 / 0 | 68 | 10 | 0 | HD,DT | Report |
| #2 | | 4,320,630 | 96.19% | My Angel MrBooM | 465 | 318&nbsp&nbsp/ 18 / 1 | 63 | 14 | 0 | HD,DT | Report |
| #3 | | 4,295,040 | 96.24% | ItsKevZii | 465 | 318&nbsp&nbsp/ 19 / 0 | 68 | 10 | 0 | HD,DT | Report |
| #4 | | 4,277,523 | 96.04% | Toy | 464 | 317&nbsp&nbsp/ 20 / 0 | 65 | 13 | 0 | HD,DT | Report |
| #5 | | 4,139,430 | 96.44% | filsdelama | 465 | 319&nbsp&nbsp/ 18 / 0 | 65 | 13 | 0 | DT | Report |
| #6 | | 4,116,493 | 96.04% | My Angelsim | 465 | 317&nbsp&nbsp/ 20 / 0 | 63 | 15 | 0 | HD,HR | Report |
| #7 | | 4,065,908 | 94.41% | keryann | 465 | 309&nbsp&nbsp/ 27 / 1 | 58 | 19 | 0 | HD,HR | Report |
| #8 | | 4,033,424 | 94.46% | Squapple | 465 | 309&nbsp&nbsp/ 28 / 0 | 56 | 22 | 0 | HD,HR | Report |
| #9 | | 4,021,107 | 94.76% | Nalian | 464 | 311&nbsp&nbsp/ 24 / 2 | 58 | 18 | 0 | DT | Report |
| #10 | | 3,981,289 | 99.01% | Feyyy | 465 | 332&nbsp&nbsp/ 5 / 0 | 74 | 4 | 0 | HD | Report |
| #11 | | 3,979,220 | 99.01% | Preus | 465 | 332&nbsp&nbsp/ 5 / 0 | 73 | 5 | 0 | HD | Report |
| #12 | | 3,978,806 | 99.41% | DeviousPanda | 465 | 334&nbsp&nbsp/ 3 / 0 | 75 | 3 | 0 | HD | Report |
| #13 | | 3,977,997 | 99.21% | Mooha | 465 | 333&nbsp&nbsp/ 4 / 0 | 74 | 4 | 0 | HD | Report |
| #14 | | 3,976,479 | 98.62% | PajWoj | 465 | 330&nbsp&nbsp/ 7 / 0 | 72 | 6 | 0 | HD | Report |
| #15 | | 3,975,244 | 99.41% | minelolpride | 465 | 334&nbsp&nbsp/ 3 / 0 | 75 | 3 | 0 | HD | Report |
| #16 | | 3,970,739 | 91.89% | Unlucky Team | 465 | 296&nbsp&nbsp/ 41 / 0 | 51 | 27 | 0 | HD,HR | Report |
| #17 | | 3,970,200 | 92.24% | BoT-Shirt | 465 | 298&nbsp&nbsp/ 38 / 1 | 56 | 21 | 0 | HD,HR | Report |
| #18 | | 3,968,044 | 98.02% | Carbone | 465 | 327&nbsp&nbsp/ 10 / 0 | 71 | 7 | 0 | HD | Report |
| #19 | | 3,944,364 | 98.22% | Toyster | 465 | 328&nbsp&nbsp/ 9 / 0 | 71 | 7 | 0 | HD | Report |
| #20 | | 3,939,846 | 98.62% | S-e r v a l y | 465 | 330&nbsp&nbsp/ 7 / 0 | 72 | 6 | 0 | HD | Report |
| #21 | | 3,936,059 | 97.82% | NatChan | 465 | 326&nbsp&nbsp/ 11 / 0 | 69 | 9 | 0 | HD | Report |
| #22 | | 3,935,443 | 98.22% | seegii | 465 | 328&nbsp&nbsp/ 9 / 0 | 73 | 5 | 0 | HD | Report |
| #23 | | 3,933,850 | 93.37% | Kaanibaru | 464 | 304&nbsp&nbsp/ 31 / 2 | 59 | 17 | 0 | DT | Report |
| #24 | | 3,931,553 | 97.63% | [ G h o s t ] | 465 | 325&nbsp&nbsp/ 12 / 0 | 69 | 9 | 0 | HD | Report |
| #25 | | 3,927,281 | 97.43% | -Machine- | 465 | 324&nbsp&nbsp/ 13 / 0 | 70 | 8 | 0 | HD | Report |
| #26 | | 3,923,613 | 97.82% | nizhi | 465 | 326&nbsp&nbsp/ 11 / 0 | 67 | 11 | 0 | HD | Report |
| #27 | | 3,918,598 | 96.98% | SoloTek | 464 | 322&nbsp&nbsp/ 14 / 1 | 67 | 10 | 0 | HD | Report |
| #28 | | 3,915,356 | 96.64% | _Mattia_ | 465 | 320&nbsp&nbsp/ 17 / 0 | 66 | 12 | 0 | HD | Report |
| #29 | | 3,912,864 | 97.63% | Anticristo | 465 | 325&nbsp&nbsp/ 12 / 0 | 68 | 10 | 0 | HR | Report |
| #30 | | 3,910,485 | 97.82% | [ Splash ] | 465 | 326&nbsp&nbsp/ 11 / 0 | 70 | 8 | 0 | HD | Report |
| #31 | | 3,910,090 | 97.23% | [ Lili ] | 465 | 323&nbsp&nbsp/ 14 / 0 | 67 | 11 | 0 | HD | Report |
| #32 | | 3,909,236 | 97.63% | Baim | 465 | 325&nbsp&nbsp/ 12 / 0 | 68 | 10 | 0 | HD | Report |
| #33 | | 3,908,399 | 92.28% | Cebrian | 465 | 298&nbsp&nbsp/ 39 / 0 | 56 | 22 | 0 | HD,HR | Report |
| #34 | | 3,904,232 | 92.68% | nekz | 465 | 300&nbsp&nbsp/ 37 / 0 | 53 | 25 | 0 | HD,HR | Report |
| #35 | | 3,897,491 | 98.02% | Fina | 465 | 327&nbsp&nbsp/ 10 / 0 | 70 | 8 | 0 | HD | Report |
| #36 | | 3,891,994 | 95.94% | Thunderfire | 465 | 317&nbsp&nbsp/ 18 / 2 | 65 | 11 | 0 | HD | Report |
| #37 | | 3,887,532 | 97.23% | Pomroz | 465 | 323&nbsp&nbsp/ 14 / 0 | 68 | 10 | 0 | HD | Report |
| #38 | | 3,879,568 | 95.85% | - eKurea - | 464 | 316&nbsp&nbsp/ 21 / 0 | 61 | 17 | 0 | HD | Report |
| #39 | | 3,876,042 | 96.83% | AmericanPenguin | 465 | 321&nbsp&nbsp/ 16 / 0 | 64 | 14 | 0 | HD | Report |
| #40 | | 3,870,842 | 96.24% | Roxer99 | 464 | 318&nbsp&nbsp/ 19 / 0 | 63 | 15 | 0 | HD | Report |
| #41 | | 3,867,790 | 95.40% | Lyawi | 465 | 314&nbsp&nbsp/ 22 / 1 | 63 | 14 | 0 | HD | Report |
| #42 | | 3,867,470 | 96.79% | NIcky_JL | 465 | 321&nbsp&nbsp/ 15 / 1 | 66 | 11 | 0 | HD | Report |
| #43 | | 3,864,575 | 96.83% | davidercool | 464 | 321&nbsp&nbsp/ 16 / 0 | 66 | 12 | 0 | HD | Report |
| #44 | | 3,863,000 | 95.35% | ff06 | 465 | 314&nbsp&nbsp/ 21 / 2 | 62 | 14 | 0 | HD | Report |
| #45 | | 3,861,968 | 96.64% | Pyrocks | 465 | 320&nbsp&nbsp/ 17 / 0 | 66 | 12 | 0 | HD | Report |
| #46 | | 3,860,591 | 96.39% | Salopenidas | 465 | 319&nbsp&nbsp/ 17 / 1 | 69 | 8 | 0 | HD | Report |
| #47 | | 3,856,680 | 94.66% | BartekBBBBB | 465 | 310&nbsp&nbsp/ 27 / 0 | 61 | 17 | 0 | HD | Report |
| #48 | | 3,846,861 | 96.09% | Atsuhito | 465 | 318&nbsp&nbsp/ 16 / 3 | 68 | 7 | 0 | HD | Report |
| #49 | | 3,838,083 | 95.05% | [ Suly ] | 465 | 312&nbsp&nbsp/ 25 / 0 | 58 | 20 | 0 | HD | Report |
| #50 | | 3,834,148 | 94.96% | zedpenguin12 | 464 | 312&nbsp&nbsp/ 23 / 2 | 65 | 11 | 0 | HD | Report |