Artist:
Arzest
Circle Size:

Approach Rate:

Title:
Enemy
HP Drain:

Star Difficulty:

(6.28)
Creator:
-himei
Accuracy:

Length:
4:57 (4:53 drain)
Source:
Genre:
Unspecified (Other)
BPM:
175
Tags:
hardstyle hardbass hardcore lilium records llmr-011
User Rating:
Success Rate:
Points of Failure:


(graph is accumulative, based on % at fail/retry)

14.2% (5779 of 40561 plays)

Submitted:
Loved:
Aug 16, 2016
Feb 15, 2017
Rating Spread:

Favourited 122 times in total

Users that love this map: a3person, Cerulean Veyron, TheMati117, allUGHver, ElektroFire, Silvermask, Faces, misko007, Mitsume, Wanko, Kappakeepo, TikTak12, arianna009, Weeb Ass, Lothric, TaiTaN1c, Nekochiin_, livezi, -Nishiki-, ShadowBanned and many more!
Options:
This Beatmap's Thread
This map is in a LOVED state.
As such, it will not award any pp and leaderboards may be reset by the beatmap creator.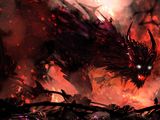 My first map.
I probably have to explain some stuff here:
Yes, this map is weird and thats the reason why its bad. I probably had to delete it a while ago, but due to my obstinacy I was pushing this further and further, some parts were remapped up to 10 times, this map contains different opinions from around 100 people who was modding it, or just expressed their opinions to me. Back then I was listening literally to everyone so as you can see theres some really good example of how people here can mislead you to something that isnt good. Even tho I spent around ~300 hours of my time on it, I could learn stuff way faster if I would drop it.
Im leaving this here as a reminder for me/new mappers, reminder that you should pursue you own ideals/style, develop ur own vision on stuff.
I had to leave this map long time ago, and try to map something else, but yea...
Even tho this map is super polished, most of the objects are placed in mathematically proper places, Im still not happy with it, cuz, eventually, its not the way I wanted to express my vision of music. Thats not how I wanted it to be.
Also, if you will try to dig in this map, you can find some cool eastern eggs
Map more & Have fun~
ps: big thanks to C00L, Nao Tomori, Natsu, Doyak, Sonnyc, Yahuri, Itasha_13 and some others that I forgot.
-----
Metadata:
http://lilium-rec.com/release/this-is-the-hell/
Special thanks to
Helblinde
, who inspired me to remap and push it further.
-----
General timeline:
15/feb/17 - loved, gg
11/feb/17 - remapping finished
6/feb/17 - remapping ;w;
5/feb/17 - #2 by Nao Tomori, pop by Stjpa
4/feb/17 - first bubble by Doyak <3
26/nov/16 - remapping done \o/ First version of Gloom can be found
>Here<
12/nov/16 - remapping
8/nov/16 - long time no see
4/nov/16 - quit w
17/oct/16 - redownload, bg got changed
30/sep/16 - redownload, mp3 got changed
------
Timeline
24/aug/16 - 1st day of mapping - 45% of design
25/aug/16 - 59% of design + small fixes
26/aug/16 - 75% (50seconds left)
27/aug/16 - 100% design
28/aug/16 -
14% hs
, design fixes
29/aug/16 - small fixes (not that small actually xd)
30/aug/16 - a bit of restructure (ty Rohulk and LawL4Ever), repatternized some details
31/aug/16 - thanks for mods, changed bg and mp3 due to rc, updated offset
1/sep/16 - fixes, restructure
2/sep/16 - fixes
3/sep/16 - ;w; remapping + fixes
4/sep/16 - fixes
5/sep/16 - fixed overlaps, restructure
6/sep/16 - fixes
24/sep/16 - restructure ... again
29/sep/16 - remapped first part (~44 sec)
30/sep/16 - r3m3pp1nG ayy
1/oct/16 - more r3m3pp1ing, possibly final fixes ayy
2/oct/16 - im tired... updated hitsounds, sliderstream reworked into normal stream
3/oct/16 - polishing, hs updated, first part restructured
4/oct/16 - awww shiet lmao
5/oct/16 - remapped 2nd spinner into the sliders ayyy, added the second spaced stream
11/oct/16 - remapped spaced stream, imrpoved first part. changed the diff name in accord to players feedback T_T
13/oct/16 - 00:11:976 - to 00:22:090 - changed flow to clockwise and anti-clockwise
15/oct/16 - 03:30:833 - to 03:50:205 - remapped
16/oct/16 - 03:04:776 - fixed fking curvature, fixed a lot of structure related stuff, thanks _Meep_
17/oct/16 - changed bg, polishing
18/oct/16 - remapped first part till the circle jumps (twice LMAO)
1/nov/16 - changed offset +10
13/nov/16 - remapped first 1:28 of the map
14/nov/16 - remapped tll 1:49
15/nov/16 - remapepd till 2:01
20/nov/16 - remapped till 2:45 (52% Hypeeeee)
17/dec/16 - im still alive
26/dec/16 - dis gono be gud
Thanks MrSergio, Yahuri, Remus, Rohulk, ThePooN, Mizuru, Vettel, DanyL, Kroytz, Akali, Clarity, Sonnyc, Bonsai, Hellblinde, Doyak for advices!
<3 for Mods Gloom v1:
- Ikaros
- DylanSan
- NeBuSC2
- PandaHero
- kjlfaklf
- Maq
- Toyosaki
- Plaudible
- FailureAtOsu
- deadpon3
- Myko
- zeroallies
- Itasha_S13
- Maelstrrom
- -Nishiki-
- Aaozora
- Nao Tomori
- Nerthar
- ksg
- Bubblun
- C00L
- Signum
- Alphabet
- Reimoe
- _Yiiiii
- Azure
- DeRandom Otaku
- Natsu
- Whirl
- Nherantelon
- FrostxE
Gloom v2 modders:
- Itasha_S13
- [ Drop ]
- Cryptic
- Yahuri
- Battle
- Karen
- Doyak
- Desperate-kun
- Bara-
- Sonnyc
- Stjpa
- MrSergio
Wilchq is in the lead! ()
Score
67,231,441 (99.90%)
Max Combo
1629
300 / 100 / 50
1273 / 2 / 0
Misses
0
Geki (Elite Beat!)
268
Katu (Beat!)
2
Mods
HD
Top 50 Scoreboard
| | Rank | Score | Accuracy | Player | Max Combo | 300 / 100 / 50 | Geki | Katu | Misses | Mods | |
| --- | --- | --- | --- | --- | --- | --- | --- | --- | --- | --- | --- |
| #1 | | 67,231,441 | 99.90% | Wilchq | 1629 | 1273&nbsp&nbsp/ 2 / 0 | 268 | 2 | 0 | HD | Report |
| #2 | | 67,066,569 | 99.69% | fartownik | 1629 | 1269&nbsp&nbsp/ 6 / 0 | 264 | 6 | 0 | HD | Report |
| #3 | | 66,958,414 | 99.62% | Rucker | 1629 | 1268&nbsp&nbsp/ 6 / 1 | 263 | 6 | 0 | HD | Report |
| #4 | | 66,825,783 | 99.48% | Malolat | 1627 | 1265&nbsp&nbsp/ 10 / 0 | 260 | 10 | 0 | HD | Report |
| #5 | | 66,805,237 | 99.42% | Lunirs | 1627 | 1264&nbsp&nbsp/ 11 / 0 | 260 | 10 | 0 | HD | Report |
| #6 | | 66,703,464 | 99.11% | Informous | 1629 | 1258&nbsp&nbsp/ 17 / 0 | 256 | 14 | 0 | HD | Report |
| #7 | | 66,422,434 | 98.80% | Ignite | 1628 | 1252&nbsp&nbsp/ 23 / 0 | 253 | 17 | 0 | HD | Report |
| #8 | | 65,066,903 | 96.97% | Dark PHOENIX | 1628 | 1217&nbsp&nbsp/ 58 / 0 | 233 | 37 | 0 | HD | Report |
| #9 | | 63,330,490 | 99.69% | Mlaw22 | 1630 | 1269&nbsp&nbsp/ 6 / 0 | 266 | 4 | 0 | None | Report |
| #10 | | 63,268,580 | 99.42% | -raizen- | 1629 | 1264&nbsp&nbsp/ 11 / 0 | 260 | 10 | 0 | None | Report |
| #11 | | 63,218,570 | 99.53% | Loli_Silica | 1628 | 1266&nbsp&nbsp/ 9 / 0 | 263 | 7 | 0 | None | Report |
| #12 | | 62,994,580 | 99.48% | Jameslike | 1627 | 1265&nbsp&nbsp/ 10 / 0 | 263 | 7 | 0 | None | Report |
| #13 | | 62,928,260 | 99.11% | -GN | 1629 | 1258&nbsp&nbsp/ 17 / 0 | 255 | 15 | 0 | None | Report |
| #14 | | 62,912,830 | 99.27% | Bonk | 1628 | 1261&nbsp&nbsp/ 14 / 0 | 259 | 11 | 0 | None | Report |
| #15 | | 62,856,540 | 99.16% | -Archangel- | 1627 | 1259&nbsp&nbsp/ 16 / 0 | 258 | 12 | 0 | None | Report |
| #16 | | 62,843,690 | 99.11% | Blank- | 1628 | 1258&nbsp&nbsp/ 17 / 0 | 258 | 12 | 0 | None | Report |
| #17 | | 62,836,280 | 98.90% | La Valse | 1627 | 1254&nbsp&nbsp/ 21 / 0 | 255 | 15 | 0 | None | Report |
| #18 | | 62,783,920 | 99.11% | Reyuza | 1625 | 1258&nbsp&nbsp/ 17 / 0 | 255 | 15 | 0 | None | Report |
| #19 | | 62,763,060 | 98.95% | dudey7ftw | 1627 | 1255&nbsp&nbsp/ 20 / 0 | 254 | 16 | 0 | None | Report |
| #20 | | 62,757,820 | 98.85% | MentaLoli | 1627 | 1253&nbsp&nbsp/ 22 / 0 | 254 | 16 | 0 | None | Report |
| #21 | | 62,523,870 | 98.69% | Aozyk | 1628 | 1250&nbsp&nbsp/ 25 / 0 | 253 | 17 | 0 | None | Report |
| #22 | | 62,433,010 | 98.64% | Prograf | 1624 | 1249&nbsp&nbsp/ 26 / 0 | 247 | 23 | 0 | None | Report |
| #23 | | 61,975,130 | 98.12% | c00kiezecky | 1626 | 1239&nbsp&nbsp/ 36 / 0 | 245 | 25 | 0 | None | Report |
| #24 | | 61,784,410 | 97.93% | Domal | 1621 | 1237&nbsp&nbsp/ 32 / 6 | 249 | 20 | 0 | None | Report |
| #25 | | 61,430,140 | 96.60% | Decay | 1627 | 1210&nbsp&nbsp/ 65 / 0 | 227 | 43 | 0 | None | Report |
| #26 | | 61,209,520 | 96.08% | SpinZee | 1625 | 1200&nbsp&nbsp/ 75 / 0 | 228 | 42 | 0 | None | Report |
| #27 | | 59,949,700 | 99.50% | -Shouta-Kun- | 1513 | 1266&nbsp&nbsp/ 8 / 0 | 262 | 7 | 1 | HD | Report |
| #28 | | 59,938,080 | 98.43% | qsc20010 | 1590 | 1246&nbsp&nbsp/ 27 / 0 | 247 | 21 | 2 | None | Report |
| #29 | | 59,910,030 | 94.39% | TomyAA | 1625 | 1168&nbsp&nbsp/ 106 / 1 | 213 | 56 | 0 | None | Report |
| #30 | | 59,284,975 | 98.35% | mrzomb | 1510 | 1245&nbsp&nbsp/ 27 / 0 | 250 | 19 | 3 | HD | Report |
| #31 | | 56,512,060 | 99.19% | - s t e n- | 1514 | 1260&nbsp&nbsp/ 14 / 0 | 257 | 12 | 1 | None | Report |
| #32 | | 56,241,240 | 98.65% | byfar | 1515 | 1250&nbsp&nbsp/ 23 / 1 | 251 | 17 | 1 | None | Report |
| #33 | | 56,195,570 | 99.35% | Baim | 1508 | 1263&nbsp&nbsp/ 11 / 0 | 259 | 10 | 1 | None | Report |
| #34 | | 55,992,890 | 98.77% | SylvieLism | 1511 | 1252&nbsp&nbsp/ 22 / 0 | 250 | 19 | 1 | None | Report |
| #35 | | 55,942,580 | 98.88% | Tyguyy | 1508 | 1254&nbsp&nbsp/ 20 / 0 | 252 | 17 | 1 | None | Report |
| #36 | | 55,734,631 | 98.93% | WubWoofWolf | 1401 | 1255&nbsp&nbsp/ 19 / 0 | 252 | 17 | 1 | HD,HR | Report |
| #37 | | 55,488,550 | 97.39% | Lnea | 1517 | 1225&nbsp&nbsp/ 50 / 0 | 238 | 32 | 0 | None | Report |
| #38 | | 55,378,940 | 98.04% | Railey2 | 1508 | 1238&nbsp&nbsp/ 36 / 0 | 245 | 24 | 1 | None | Report |
| #39 | | 55,288,520 | 97.67% | Legless | 1509 | 1231&nbsp&nbsp/ 43 / 0 | 239 | 30 | 1 | None | Report |
| #40 | | 55,232,410 | 97.24% | [-Prox-] | 1510 | 1224&nbsp&nbsp/ 46 / 3 | 241 | 25 | 2 | None | Report |
| #41 | | 54,968,380 | 97.15% | Bruh | 1507 | 1221&nbsp&nbsp/ 53 / 0 | 234 | 35 | 1 | None | Report |
| #42 | | 54,647,080 | 97.67% | Ophilion | 1504 | 1231&nbsp&nbsp/ 43 / 0 | 234 | 35 | 1 | None | Report |
| #43 | | 54,334,680 | 97.36% | SHASL | 1501 | 1225&nbsp&nbsp/ 49 / 0 | 233 | 36 | 1 | None | Report |
| #44 | | 53,531,700 | 97.80% | [ Larssen ] | 1473 | 1234&nbsp&nbsp/ 39 / 0 | 243 | 25 | 2 | None | Report |
| #45 | | 53,423,608 | 99.24% | Mathi | 1369 | 1261&nbsp&nbsp/ 13 / 0 | 258 | 11 | 1 | HD,HR | Report |
| #46 | | 52,411,210 | 98.12% | killerzombie453 | 1460 | 1241&nbsp&nbsp/ 30 / 0 | 245 | 22 | 4 | None | Report |
| #47 | | 51,729,800 | 99.22% | Pandadesu | 1440 | 1261&nbsp&nbsp/ 12 / 0 | 260 | 8 | 2 | None | Report |
| #48 | | 50,946,540 | 98.56% | DrakRainbow | 1425 | 1248&nbsp&nbsp/ 26 / 0 | 248 | 21 | 1 | None | Report |
| #49 | | 50,625,750 | 98.27% | cezgru | 1426 | 1242&nbsp&nbsp/ 33 / 0 | 246 | 24 | 0 | None | Report |
| #50 | | 50,046,540 | 99.25% | Piotrekol | 1436 | 1261&nbsp&nbsp/ 13 / 1 | 257 | 12 | 0 | None | Report |