Beatmap Listing » Kumagai Eri (cv.Seto Asami) - Winteright
Artist:
Kumagai Eri (cv.Seto Asami)
Circle Size:

Approach Rate:

Title:
Winteright
HP Drain:

Star Difficulty:

(5.61)
Creator:
Itasha_S13
Accuracy:

Length:
7:52 (7:39 drain)
Source:
音楽少女
Genre:
Unspecified (Other)
BPM:
175
Tags:
music girl ongaku shoujo justability electro.muster kato yoshihal taishi cosmic record drum and bass dnb
User Rating:
Success Rate:
Points of Failure:


(graph is accumulative, based on % at fail/retry)

7.4% (2231 of 30100 plays)

Submitted:
Loved:
Jun 9, 2016
Apr 1, 2017
Rating Spread:

Favourited 195 times in total

Users that love this map: Johalbert, Tamamo no Mae, Phenomz, Wishkey, galooo, Zweib, Invictus Tiberius, Kaori Nakaseko, True_kek, Leigendar, ToucheDeVelour, Pawlyk here, superuser1337, Kazamooo, Brook, - Wrath -, Kuboswirtuos, Andraxy, Kbludoh, plmnbvz and many more!
Options:
Modding / Discussion
This map is in a LOVED state.
As such, it will not award any pp and leaderboards may be reset by the beatmap creator.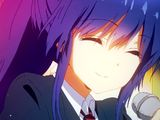 Loved
18/03/17 REACHED 100 FAVS WOOoOoOoOoO
BG Source
A lot of people have asked why I used this
BG
Is it even related to the song?
Yes, the girl on the BG is
Eri Kumagai
, the singer.
This song belongs to the circle
Ongaku Shoujo
.
Ongaku Shoujo has an
OVA
. the BG is a screenshot I took of
Eri
from that
OVA
.
Click the picture below or the banner for more info.
Rohulk is in the lead! ()
Score
179,653,789 (99.38%)
Max Combo
2707
300 / 100 / 50
1919 / 18 / 0
Misses
0
Geki (Elite Beat!)
332
Katu (Beat!)
16
Mods
HD,HR
Top 50 Scoreboard
| | Rank | Score | Accuracy | Player | Max Combo | 300 / 100 / 50 | Geki | Katu | Misses | Mods | |
| --- | --- | --- | --- | --- | --- | --- | --- | --- | --- | --- | --- |
| #1 | | 179,653,789 | 99.38% | Rohulk | 2707 | 1919&nbsp&nbsp/ 18 / 0 | 332 | 16 | 0 | HD,HR | Report |
| #2 | | 179,598,244 | 99.48% | Wilchq | 2709 | 1922&nbsp&nbsp/ 15 / 0 | 337 | 11 | 0 | HD,HR | Report |
| #3 | | 178,463,002 | 98.80% | Kumagai Eri | 2709 | 1903&nbsp&nbsp/ 30 / 4 | 324 | 23 | 0 | HD,HR | Report |
| #4 | | 172,547,916 | 96.40% | waaiiru | 2707 | 1835&nbsp&nbsp/ 92 / 10 | 298 | 47 | 0 | HD,HR | Report |
| #5 | | 170,301,166 | 99.66% | Malolat | 2710 | 1927&nbsp&nbsp/ 10 / 0 | 338 | 10 | 0 | HD | Report |
| #6 | | 169,890,590 | 99.24% | Doomsday | 2709 | 1915&nbsp&nbsp/ 22 / 0 | 330 | 18 | 0 | HD | Report |
| #7 | | 160,686,690 | 99.76% | SoraRoxas01 | 2708 | 1930&nbsp&nbsp/ 7 / 0 | 342 | 6 | 0 | None | Report |
| #8 | | 160,553,780 | 99.59% | Numbers | 2709 | 1925&nbsp&nbsp/ 12 / 0 | 338 | 10 | 0 | None | Report |
| #9 | | 160,241,180 | 99.35% | Noname0 | 2709 | 1918&nbsp&nbsp/ 19 / 0 | 334 | 14 | 0 | None | Report |
| #10 | | 160,160,690 | 99.48% | Aia | 2710 | 1922&nbsp&nbsp/ 15 / 0 | 336 | 12 | 0 | None | Report |
| #11 | | 160,090,130 | 99.41% | SanteriP | 2710 | 1920&nbsp&nbsp/ 17 / 0 | 334 | 14 | 0 | None | Report |
| #12 | | 159,933,550 | 99.52% | Duftende Pizza | 2710 | 1923&nbsp&nbsp/ 14 / 0 | 339 | 9 | 0 | None | Report |
| #13 | | 159,814,830 | 99.24% | -raizen- | 2710 | 1915&nbsp&nbsp/ 22 / 0 | 335 | 13 | 0 | None | Report |
| #14 | | 159,792,950 | 98.73% | Reegi | 2710 | 1900&nbsp&nbsp/ 37 / 0 | 321 | 27 | 0 | None | Report |
| #15 | | 159,756,220 | 99.28% | Niii-san | 2707 | 1916&nbsp&nbsp/ 21 / 0 | 329 | 19 | 0 | None | Report |
| #16 | | 159,656,100 | 99.14% | c2cg | 2709 | 1912&nbsp&nbsp/ 25 / 0 | 327 | 21 | 0 | None | Report |
| #17 | | 159,425,790 | 98.97% | Megure | 2710 | 1907&nbsp&nbsp/ 30 / 0 | 324 | 24 | 0 | None | Report |
| #18 | | 159,392,430 | 99.17% | Snakeq | 2704 | 1913&nbsp&nbsp/ 24 / 0 | 327 | 21 | 0 | None | Report |
| #19 | | 159,200,950 | 98.86% | Jameslike | 2708 | 1904&nbsp&nbsp/ 33 / 0 | 326 | 22 | 0 | None | Report |
| #20 | | 159,133,910 | 99.04% | Blazemon | 2708 | 1909&nbsp&nbsp/ 28 / 0 | 329 | 19 | 0 | None | Report |
| #21 | | 159,123,060 | 98.86% | Muuki | 2707 | 1905&nbsp&nbsp/ 28 / 4 | 329 | 18 | 0 | None | Report |
| #22 | | 159,118,450 | 98.93% | nizhi | 2710 | 1906&nbsp&nbsp/ 31 / 0 | 327 | 21 | 0 | None | Report |
| #23 | | 159,049,990 | 98.80% | HKrecords_ | 2710 | 1902&nbsp&nbsp/ 35 / 0 | 320 | 28 | 0 | None | Report |
| #24 | | 158,974,250 | 98.93% | [ Mystic ] | 2708 | 1906&nbsp&nbsp/ 31 / 0 | 326 | 22 | 0 | None | Report |
| #25 | | 158,727,180 | 98.62% | Xorts | 2709 | 1897&nbsp&nbsp/ 40 / 0 | 315 | 33 | 0 | None | Report |
| #26 | | 158,688,880 | 98.69% | ReusoL | 2707 | 1899&nbsp&nbsp/ 38 / 0 | 321 | 27 | 0 | None | Report |
| #27 | | 158,575,420 | 98.17% | Sakurauchi Riko | 2706 | 1884&nbsp&nbsp/ 52 / 1 | 317 | 30 | 0 | None | Report |
| #28 | | 158,242,260 | 98.59% | Leszke | 2707 | 1896&nbsp&nbsp/ 41 / 0 | 324 | 24 | 0 | None | Report |
| #29 | | 158,223,160 | 98.38% | Hippo | 2709 | 1890&nbsp&nbsp/ 47 / 0 | 318 | 30 | 0 | None | Report |
| #30 | | 157,986,230 | 98.28% | ToucheDeVelour | 2706 | 1887&nbsp&nbsp/ 50 / 0 | 317 | 31 | 0 | None | Report |
| #31 | | 157,905,550 | 98.64% | AxewB | 2709 | 1899&nbsp&nbsp/ 32 / 6 | 329 | 18 | 0 | None | Report |
| #32 | | 156,922,030 | 98.72% | Brook | 2662 | 1902&nbsp&nbsp/ 29 / 3 | 325 | 21 | 3 | None | Report |
| #33 | | 156,911,880 | 97.76% | Carbone | 2707 | 1873&nbsp&nbsp/ 60 / 4 | 316 | 30 | 0 | None | Report |
| #34 | | 156,754,530 | 97.52% | KHRiku | 2708 | 1865&nbsp&nbsp/ 72 / 0 | 302 | 46 | 0 | None | Report |
| #35 | | 155,834,460 | 99.16% | Pikachu7822osu | 2654 | 1913&nbsp&nbsp/ 23 / 0 | 329 | 18 | 1 | None | Report |
| #36 | | 155,125,750 | 97.06% | shawn0123 | 2709 | 1852&nbsp&nbsp/ 83 / 2 | 305 | 42 | 0 | None | Report |
| #37 | | 154,934,300 | 97.20% | Nap4d | 2707 | 1857&nbsp&nbsp/ 75 / 5 | 304 | 43 | 0 | None | Report |
| #38 | | 154,572,950 | 96.65% | zilu45g | 2706 | 1840&nbsp&nbsp/ 96 / 1 | 281 | 66 | 0 | None | Report |
| #39 | | 151,768,510 | 97.04% | Marry | 2655 | 1852&nbsp&nbsp/ 83 / 0 | 298 | 48 | 2 | None | Report |
| #40 | | 148,721,670 | 98.61% | Colors | 2608 | 1898&nbsp&nbsp/ 34 / 4 | 321 | 25 | 1 | None | Report |
| #41 | | 145,449,270 | 97.93% | Rimuru | 2590 | 1877&nbsp&nbsp/ 60 / 0 | 310 | 38 | 0 | None | Report |
| #42 | | 143,305,460 | 98.07% | Skrelz | 2562 | 1884&nbsp&nbsp/ 46 / 2 | 315 | 30 | 5 | None | Report |
| #43 | | 140,184,423 | 99.51% | hallowatcher | 2392 | 1923&nbsp&nbsp/ 13 / 1 | 337 | 10 | 0 | HD,HR | Report |
| #44 | | 137,947,074 | 98.57% | Ignite | 2448 | 1899&nbsp&nbsp/ 31 / 0 | 326 | 20 | 7 | HD | Report |
| #45 | | 137,758,350 | 95.19% | sentez | 2554 | 1798&nbsp&nbsp/ 137 / 1 | 257 | 89 | 1 | None | Report |
| #46 | | 137,140,340 | 99.36% | FastoFreezu | 2496 | 1919&nbsp&nbsp/ 17 / 0 | 332 | 15 | 1 | None | Report |
| #47 | | 136,275,650 | 99.09% | Kasen | 2494 | 1916&nbsp&nbsp/ 9 / 2 | 337 | 8 | 10 | None | Report |
| #48 | | 135,914,570 | 98.53% | IstackNeko | 2501 | 1895&nbsp&nbsp/ 39 / 3 | 316 | 30 | 0 | None | Report |
| #49 | | 135,454,163 | 99.50% | Rexeez | 2415 | 1923&nbsp&nbsp/ 13 / 0 | 335 | 12 | 1 | HD | Report |
| #50 | | 134,312,950 | 85.64% | Septembre | 2695 | 1526&nbsp&nbsp/ 386 / 25 | 196 | 140 | 0 | None | Report |