Beatmap Listing » Team Grimoire - C18H27NO3(extend)
Artist:
Team Grimoire
Circle Size:

Approach Rate:

Title:
C18H27NO3(extend)
HP Drain:

Star Difficulty:

(7.74)
Creator:
HighTec
Accuracy:

Length:
5:34 (5:17 drain)
Source:
Genre:
Unspecified (Other)
BPM:
210
Tags:
cheesecake grimoire of crimson pop'n music sunny park capsaicin sound voltex ii -infinite infection- sdvx
User Rating:
Success Rate:
Points of Failure:


(graph is accumulative, based on % at fail/retry)

5.5% (3310 of 59826 plays)

Submitted:
Loved:
Jan 17, 2016
Feb 14, 2017
Rating Spread:

Favourited 97 times in total

Users that love this map: Hakkero, MixAX20, naruto73, Larisa, Spyke-, respektive, ItsLingers, MippoEr, Niki-, Correlate, Pbl6uHa, Pittigbaasje, Kazamooo, xCancer, em9xdm, Valdyr, giumat, Trak Ragunzz, Tassadar, Tenderz and many more!
Options:
Modding / Discussion
This map is in a LOVED state.
As such, it will not award any pp and leaderboards may be reset by the beatmap creator.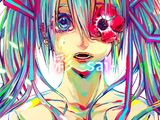 this map is legit so old lol
collapsed text
Into the Light

WARNING


Storyboard contains extreme flashing lights and potentially jumpscares, watch it at your own risk!
Beafowl wrote:
plz rank gud map
Mod Count: 29
BNs please check this map ;w;
Status: Loved?
reactionsaaa
Code:
2016-04-25 10:53 HighTec: hope you enjoyed the map tho, i know im a bad mapper ;;
2016-04-25 10:54 Beafowl: posted
2016-04-25 10:54 Beafowl: nah its nice
Code:
2016-02-08 20:30 Doomsday: I enjoyed it, but it's not the prettiest map tbh. Screenjumps for days
Code:
2016-02-14 17:27 Friendofox: hOI!! Just wanted to say that I really enjoy your map O:
2016-02-14 17:27 HighTec: hOI!
2016-02-14 17:27 HighTec: thanks!
2016-02-14 17:28 Friendofox: It's really difficult though... tried passing it HD, almost did it
2016-02-14 17:28 Friendofox: >o<
Explanation for the mapset
Let's start off with the big question: why rank this?
The real reason behind this is because I don't really care if anyone is going to hate me for ranking this as my first. To be completely honest, I put a lot of time in it to make the map fun and not too bad, and wanna try my best to show that with effort you can reach everything. I don't care if reddit is going to hate me for it, I don't use reddit anyways. If the community hates me, well too bad I'll probably quit mapping permanently after ranking this.

The song as you can hear is absolute nonsense, just a lot of random things thrown together. I wanted everything to be absolute nonsense but still good, therefor the insane spacing, the hitsounds and this background.

Wubs are made this difficult because they imo are a clear highlight in the song, the only problem is that I'd have too much kiai otherwise.
About C18H27NO3
C18H27NO3, also known as capsaicin, is the compound that is found a lot in certain types of pepper, being the compound that makes things taste spicy. If something is really spicy, capsaicin is in there a lot!
The systematic name of Capsaicin is (6E)-N-[(4-hydroxy-3-methoxyphenyl)methyl]-8-methylnon-6-enamide
Amazing play by Friendofox (14-02-2016 dd-mm-yyyy) (Old version FeelsBadMan)
The full bg
Cookiezi is in the lead! ()
Score
80,340,696 (99.60%)
Max Combo
1806
300 / 100 / 50
1594 / 8 / 0
Misses
1
Geki (Elite Beat!)
370
Katu (Beat!)
6
Mods
HD
Top 50 Scoreboard
| | Rank | Score | Accuracy | Player | Max Combo | 300 / 100 / 50 | Geki | Katu | Misses | Mods | |
| --- | --- | --- | --- | --- | --- | --- | --- | --- | --- | --- | --- |
| #1 | | 80,340,696 | 99.60% | Cookiezi | 1806 | 1594&nbsp&nbsp/ 8 / 0 | 370 | 6 | 1 | HD | Report |
| #2 | | 41,608,000 | 97.80% | HappyStick | 1262 | 1552&nbsp&nbsp/ 47 / 0 | 340 | 33 | 4 | None | Report |
| #3 | | 36,605,831 | 96.91% | 1E308 | 1241 | 1538&nbsp&nbsp/ 46 / 1 | 336 | 29 | 18 | HD | Report |
| #4 | | 31,333,900 | 97.56% | Rafis | 1144 | 1555&nbsp&nbsp/ 26 / 1 | 342 | 16 | 21 | None | Report |
| #5 | | 29,893,580 | 95.03% | Koalazy | 1166 | 1499&nbsp&nbsp/ 69 / 8 | 323 | 37 | 27 | None | Report |
| #6 | | 27,307,230 | 97.49% | waaiiru | 941 | 1550&nbsp&nbsp/ 38 / 1 | 337 | 30 | 14 | None | Report |
| #7 | | 26,558,470 | 97.46% | filsdelama | 968 | 1549&nbsp&nbsp/ 39 / 2 | 343 | 25 | 13 | None | Report |
| #8 | | 24,572,890 | 97.57% | Loli_Schwi | 1904 | 1545&nbsp&nbsp/ 57 / 0 | 342 | 34 | 1 | HT | Report |
| #9 | | 22,975,240 | 98.48% | _Shield | 696 | 1571&nbsp&nbsp/ 22 / 2 | 353 | 16 | 8 | None | Report |
| #10 | | 22,714,230 | 97.57% | Wilchq | 838 | 1549&nbsp&nbsp/ 45 / 0 | 339 | 29 | 9 | None | Report |
| #11 | | 22,455,900 | 96.46% | BeasttrollMC | 885 | 1528&nbsp&nbsp/ 54 / 2 | 333 | 32 | 19 | None | Report |
| #12 | | 22,185,250 | 97.85% | Vaxei | 939 | 1555&nbsp&nbsp/ 40 / 1 | 344 | 26 | 7 | None | Report |
| #13 | | 19,386,400 | 92.57% | ChronoNig | 906 | 1444&nbsp&nbsp/ 113 / 13 | 278 | 68 | 33 | None | Report |
| #14 | | 19,285,460 | 96.25% | Pyrocks | 633 | 1523&nbsp&nbsp/ 59 / 1 | 332 | 35 | 20 | None | Report |
| #15 | | 17,983,200 | 97.17% | Meltina | 528 | 1546&nbsp&nbsp/ 35 / 0 | 342 | 19 | 22 | None | Report |
| #16 | | 17,663,680 | 93.84% | KHRiku | 721 | 1466&nbsp&nbsp/ 114 / 2 | 304 | 57 | 21 | None | Report |
| #17 | | 15,675,700 | 97.48% | Plz Enjoy Game | 679 | 1551&nbsp&nbsp/ 35 / 0 | 339 | 24 | 17 | None | Report |
| #18 | | 15,486,350 | 96.94% | SoraRoxas01 | 679 | 1546&nbsp&nbsp/ 24 / 0 | 341 | 17 | 33 | None | Report |
| #19 | | 15,429,910 | 97.43% | _index | 461 | 1553&nbsp&nbsp/ 26 / 1 | 345 | 18 | 23 | None | Report |
| #20 | | 15,286,910 | 97.86% | Rhythm blue | 565 | 1559&nbsp&nbsp/ 29 / 0 | 342 | 22 | 15 | None | Report |
| #21 | | 15,078,227 | 94.87% | -Archangel- | 561 | 1493&nbsp&nbsp/ 83 / 1 | 310 | 51 | 26 | HD | Report |
| #22 | | 14,534,040 | 95.07% | Topoi | 537 | 1496&nbsp&nbsp/ 83 / 2 | 319 | 45 | 22 | None | Report |
| #23 | | 14,380,030 | 94.27% | Spark-desu | 655 | 1482&nbsp&nbsp/ 87 / 1 | 307 | 46 | 33 | None | Report |
| #24 | | 13,866,050 | 96.11% | EmertxE | 680 | 1521&nbsp&nbsp/ 59 / 0 | 324 | 33 | 23 | None | Report |
| #25 | | 13,464,589 | 94.14% | WubWoofWolf | 487 | 1483&nbsp&nbsp/ 72 / 12 | 325 | 26 | 36 | HD | Report |
| #26 | | 13,390,500 | 90.77% | Epikem | 610 | 1397&nbsp&nbsp/ 170 / 8 | 273 | 81 | 28 | None | Report |
| #27 | | 13,333,210 | 92.85% | egemenbsrms | 662 | 1455&nbsp&nbsp/ 91 / 18 | 304 | 43 | 39 | None | Report |
| #28 | | 13,282,620 | 96.44% | MINEMINE | 641 | 1529&nbsp&nbsp/ 51 / 0 | 335 | 24 | 23 | None | Report |
| #29 | | 13,199,900 | 95.09% | Recia | 638 | 1505&nbsp&nbsp/ 50 / 16 | 327 | 24 | 32 | None | Report |
| #30 | | 13,197,760 | 97.55% | LittleDan | 507 | 1551&nbsp&nbsp/ 35 / 6 | 345 | 21 | 11 | None | Report |
| #31 | | 13,111,860 | 96.43% | Jameslike | 475 | 1533&nbsp&nbsp/ 38 / 1 | 327 | 28 | 31 | None | Report |
| #32 | | 12,942,089 | 96.26% | Orbi | 469 | 1527&nbsp&nbsp/ 47 / 2 | 334 | 25 | 27 | HD | Report |
| #33 | | 12,775,090 | 93.78% | Ralyks | 596 | 1472&nbsp&nbsp/ 94 / 0 | 291 | 55 | 37 | None | Report |
| #34 | | 12,739,424 | 94.55% | Mystia | 570 | 1494&nbsp&nbsp/ 64 / 2 | 310 | 41 | 43 | HD | Report |
| #35 | | 12,497,840 | 97.63% | Korilak | 635 | 1556&nbsp&nbsp/ 27 / 0 | 341 | 16 | 20 | None | Report |
| #36 | | 11,759,294 | 95.01% | _iV_ | 448 | 1504&nbsp&nbsp/ 57 / 0 | 331 | 22 | 42 | HD | Report |
| #37 | | 11,735,660 | 98.15% | Rampax | 464 | 1564&nbsp&nbsp/ 28 / 0 | 340 | 27 | 11 | None | Report |
| #38 | | 11,568,660 | 94.89% | crisco13 | 545 | 1497&nbsp&nbsp/ 70 / 5 | 326 | 27 | 31 | None | Report |
| #39 | | 11,441,060 | 91.94% | - gero - | 515 | 1433&nbsp&nbsp/ 119 / 7 | 287 | 59 | 44 | None | Report |
| #40 | | 11,371,710 | 95.77% | Totoki | 359 | 1515&nbsp&nbsp/ 54 / 13 | 333 | 26 | 21 | None | Report |
| #41 | | 11,362,500 | 95.67% | Flask | 363 | 1513&nbsp&nbsp/ 59 / 6 | 332 | 26 | 25 | None | Report |
| #42 | | 11,286,980 | 98.34% | Queryshi | 899 | 1566&nbsp&nbsp/ 31 / 0 | 351 | 22 | 6 | HT | Report |
| #43 | | 11,012,710 | 95.52% | Informous | 506 | 1512&nbsp&nbsp/ 57 / 1 | 320 | 32 | 33 | None | Report |
| #44 | | 10,771,200 | 95.30% | Dumii | 446 | 1510&nbsp&nbsp/ 52 / 2 | 318 | 34 | 39 | None | Report |
| #45 | | 10,734,310 | 95.76% | Chamosiala | 514 | 1516&nbsp&nbsp/ 56 / 2 | 324 | 30 | 29 | None | Report |
| #46 | | 10,566,420 | 97.29% | Piggey | 402 | 1549&nbsp&nbsp/ 31 / 1 | 335 | 22 | 22 | None | Report |
| #47 | | 10,560,890 | 94.71% | Kosmonautas | 373 | 1490&nbsp&nbsp/ 82 / 5 | 322 | 36 | 26 | None | Report |
| #48 | | 10,409,660 | 92.93% | Idealism | 489 | 1460&nbsp&nbsp/ 87 / 4 | 305 | 36 | 52 | None | Report |
| #49 | | 10,302,560 | 94.73% | iok144 | 450 | 1499&nbsp&nbsp/ 57 / 3 | 312 | 29 | 44 | None | Report |
| #50 | | 10,236,060 | 96.61% | benki | 484 | 1534&nbsp&nbsp/ 44 / 0 | 331 | 27 | 25 | None | Report |