Beatmap Listing » UNDEAD CORPORATION - Flowering Night Fever
Artist:
UNDEAD CORPORATION
Circle Size:

Approach Rate:

Title:
Flowering Night Fever
HP Drain:

Star Difficulty:

(9.22)
Creator:
Alheak
Accuracy:

Length:
2:52 (2:52 drain)
Source:
東方Project
Genre:
Unspecified (Other)
BPM:
290
Tags:
nwolf harbyter puxtu ekoro pishifat onosakihito goldenwolf zun team shanghai alice 上海アリス幻樂団 瞬殺 touhou kaeidzuka 花映塚 phantasmagoria of flower view
User Rating:
Success Rate:
Points of Failure:


(graph is accumulative, based on % at fail/retry)

8.7% (1305 of 15004 plays)

Submitted:
Loved:
Dec 19, 2015
Feb 14, 2017
Rating Spread:

Favourited 381 times in total

Users that love this map: Okuu, 010010, n1ch, Koneko-, Orange, Qntm, Snow Note, Xarkes, PHzN, AYhaz, Cozzzy, Biwa Hoshi, Woddles, jjk52797, Mirtrax, bluxen, Viitrexx, NEET_s21, CreepyDuck, Colors and many more!
Options:
Modding / Discussion
This map is in a LOVED state.
As such, it will not award any pp and leaderboards may be reset by the beatmap creator.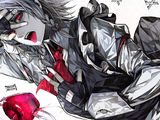 If you're a STD BN and you like to hurt yourself, we can arrange a M4M. Just send me a message!
Don't worry, Taiko and Mania are ready
and yes, this still applies even now that the set is Loved.
Flowering Night Fever
by UNDEAD CORPORATION
:: Album ::
瞬殺

Original track by ZUN - Flowering Night
from 東方花映塚 ~ Phantasmagoria of Flower View
Background image by RBY

Ekoro's Fever:
Ekoro

Wolf's Night:
GoldenWolf

Extra:
Alheak

Lunatic:
pishifat

Insane:
Alheak

Hard:
Alheak

Advanced:
Alheak

Normal:
Alheak
Ura Oni:
OnosakiHito

Oni:
OnosakiHito

Muzu:
NWolf

SHD:
puxtu

SC:
puxtu

MX:
Harbyter

HD:
Harbyter
fieryrage is in the lead! ()
Score
6,533,281 (92.35%)
Max Combo
669
300 / 100 / 50
1374 / 123 / 4
Misses
32
Geki (Elite Beat!)
214
Katu (Beat!)
53
Mods
HT
Top 50 Scoreboard
| | Rank | Score | Accuracy | Player | Max Combo | 300 / 100 / 50 | Geki | Katu | Misses | Mods | |
| --- | --- | --- | --- | --- | --- | --- | --- | --- | --- | --- | --- |
| #1 | | 6,533,281 | 92.35% | fieryrage | 669 | 1374&nbsp&nbsp/ 123 / 4 | 214 | 53 | 32 | HT | Report |
| #2 | | 6,066,091 | 93.47% | idke | 729 | 1398&nbsp&nbsp/ 102 / 5 | 213 | 49 | 28 | HT | Report |
| #3 | | 5,415,394 | 94.34% | mniminwoo | 626 | 1415&nbsp&nbsp/ 93 / 1 | 232 | 30 | 24 | HT | Report |
| #4 | | 5,402,200 | 97.35% | Ekoro | 1069 | 1485&nbsp&nbsp/ 22 / 0 | 262 | 10 | 26 | EZ,HT | Report |
| #5 | | 3,665,054 | 91.27% | Anroyz | 505 | 1351&nbsp&nbsp/ 144 / 1 | 220 | 41 | 37 | HT | Report |
| #6 | | 3,248,442 | 82.30% | Badcat | 549 | 1160&nbsp&nbsp/ 291 / 28 | 156 | 83 | 54 | HT | Report |
| #7 | | 2,786,643 | 82.80% | Loli_Schwi | 434 | 1160&nbsp&nbsp/ 320 / 16 | 158 | 90 | 37 | HT | Report |
| #8 | | 2,542,288 | 88.76% | waywern2012 | 434 | 1307&nbsp&nbsp/ 156 / 10 | 191 | 53 | 60 | HT | Report |
| #9 | | 2,427,488 | 78.35% | Braixen | 461 | 1082&nbsp&nbsp/ 343 / 29 | 124 | 111 | 79 | HD,HT | Report |
| #10 | | 2,370,912 | 89.07% | LittleDan | 325 | 1302&nbsp&nbsp/ 187 / 7 | 171 | 79 | 37 | HT | Report |
| #11 | | 1,745,235 | 88.83% | Orbi | 359 | 1318&nbsp&nbsp/ 128 / 7 | 205 | 41 | 80 | NF,HT | Report |
| #12 | | 1,667,998 | 85.63% | Riviclia | 434 | 1250&nbsp&nbsp/ 175 / 26 | 199 | 42 | 82 | EZ,HT | Report |
| #13 | | 1,486,466 | 85.07% | VanillaSandvich | 481 | 1251&nbsp&nbsp/ 146 / 27 | 181 | 43 | 109 | EZ,HT | Report |
| #14 | | 1,443,130 | 64.54% | Aireu | 192 | 870&nbsp&nbsp/ 323 / 70 | 110 | 61 | 270 | NF | Report |
| #15 | | 1,355,685 | 67.95% | Urania | 209 | 924&nbsp&nbsp/ 333 / 40 | 98 | 80 | 236 | NF | Report |
| #16 | | 1,266,172 | 69.33% | Cookziie | 242 | 873&nbsp&nbsp/ 544 / 51 | 61 | 154 | 65 | HT | Report |
| #17 | | 1,213,441 | 85.76% | SlimeDrippy | 244 | 1261&nbsp&nbsp/ 157 / 8 | 192 | 40 | 107 | NF,HT | Report |
| #18 | | 1,207,263 | 82.34% | Antares- | 298 | 1174&nbsp&nbsp/ 248 / 34 | 184 | 60 | 77 | NF,HT | Report |
| #19 | | 1,175,048 | 81.32% | sabergod | 261 | 1140&nbsp&nbsp/ 312 / 16 | 148 | 91 | 65 | NF,HT | Report |
| #20 | | 1,160,894 | 73.40% | Spinner | 277 | 981&nbsp&nbsp/ 392 / 81 | 131 | 98 | 79 | NF,HT | Report |
| #21 | | 1,090,103 | 66.14% | Pikaquim | 179 | 823&nbsp&nbsp/ 524 / 98 | 75 | 135 | 88 | HT | Report |
| #22 | | 1,074,193 | 79.51% | OskaRRRitoS | 326 | 1134&nbsp&nbsp/ 242 / 25 | 149 | 71 | 132 | NF,HT | Report |
| #23 | | 1,057,786 | 78.29% | AndroidxP | 257 | 1116&nbsp&nbsp/ 240 / 25 | 137 | 81 | 152 | NF,HT | Report |
| #24 | | 1,052,827 | 74.57% | Gatekeepers | 277 | 1034&nbsp&nbsp/ 305 / 45 | 137 | 76 | 149 | NF,HT | Report |
| #25 | | 1,052,380 | 65.01% | hot anime girl | 172 | 904&nbsp&nbsp/ 249 / 58 | 121 | 51 | 322 | NF | Report |
| #26 | | 1,031,881 | 60.63% | _AvA | 128 | 831&nbsp&nbsp/ 274 / 43 | 110 | 64 | 385 | NF,HD | Report |
| #27 | | 1,020,924 | 74.95% | My Angelsim | 296 | 1047&nbsp&nbsp/ 295 / 22 | 138 | 69 | 169 | NF,HT | Report |
| #28 | | 1,003,855 | 61.67% | Hellotomlol225 | 189 | 828&nbsp&nbsp/ 314 / 76 | 83 | 86 | 315 | NF | Report |
| #29 | | 1,003,219 | 78.15% | MegaMK | 213 | 1093&nbsp&nbsp/ 303 / 24 | 150 | 80 | 113 | NF,HT | Report |
| #30 | | 1,001,150 | 65.69% | My Aim Trash | 172 | 921&nbsp&nbsp/ 246 / 24 | 96 | 58 | 342 | NF | Report |
| #31 | | 971,485 | 77.25% | RMEfan | 269 | 1094&nbsp&nbsp/ 245 / 51 | 152 | 63 | 143 | NF,HT | Report |
| #32 | | 957,320 | 61.88% | Bubbleman | 116 | 834&nbsp&nbsp/ 290 / 108 | 112 | 47 | 301 | NF | Report |
| #33 | | 950,084 | 79.40% | fufu- | 281 | 1153&nbsp&nbsp/ 186 / 13 | 161 | 55 | 181 | NF,HT | Report |
| #34 | | 937,575 | 70.32% | Lettuce | 307 | 967&nbsp&nbsp/ 328 / 10 | 103 | 109 | 228 | NF,HT | Report |
| #35 | | 936,495 | 54.81% | Silent Spica | 217 | 701&nbsp&nbsp/ 383 / 69 | 60 | 86 | 380 | NF | Report |
| #36 | | 929,775 | 61.42% | he rack | 110 | 854&nbsp&nbsp/ 242 / 41 | 109 | 62 | 396 | NF,HD | Report |
| #37 | | 928,859 | 76.20% | rockstarrzz | 286 | 1062&nbsp&nbsp/ 307 / 23 | 115 | 95 | 141 | NF,HT | Report |
| #38 | | 888,040 | 64.44% | Wario | 149 | 891&nbsp&nbsp/ 279 / 23 | 98 | 64 | 340 | NF | Report |
| #39 | | 886,075 | 67.57% | Desekration | 317 | 879&nbsp&nbsp/ 459 / 23 | 80 | 129 | 172 | NF,HT | Report |
| #40 | | 878,729 | 78.95% | Drox- | 203 | 1111&nbsp&nbsp/ 281 / 34 | 147 | 71 | 107 | NF,HT | Report |
| #41 | | 875,835 | 67.51% | Ruuh | 328 | 889&nbsp&nbsp/ 428 / 20 | 73 | 144 | 196 | NF,HT | Report |
| #42 | | 866,255 | 59.11% | -Kazuki- | 142 | 787&nbsp&nbsp/ 317 / 81 | 90 | 65 | 348 | NF | Report |
| #43 | | 849,768 | 65.18% | Jon0leary | 136 | 780&nbsp&nbsp/ 629 / 57 | 37 | 166 | 67 | HT | Report |
| #44 | | 840,885 | 63.85% | Rohulk | 112 | 858&nbsp&nbsp/ 327 / 71 | 94 | 57 | 277 | NF | Report |
| #45 | | 831,225 | 67.41% | LoidKun | 103 | 901&nbsp&nbsp/ 368 / 58 | 90 | 84 | 206 | NF | Report |
| #46 | | 830,440 | 58.60% | Informous | 139 | 757&nbsp&nbsp/ 396 / 56 | 83 | 70 | 324 | NF | Report |
| #47 | | 826,960 | 58.63% | [ KamKurGi521 ] | 95 | 746&nbsp&nbsp/ 408 / 101 | 72 | 84 | 278 | NF | Report |
| #48 | | 808,066 | 76.86% | Dag | 184 | 1114&nbsp&nbsp/ 192 / 2 | 164 | 55 | 225 | NF,HT | Report |
| #49 | | 807,998 | 73.15% | -Levi- | 277 | 1042&nbsp&nbsp/ 223 / 30 | 143 | 47 | 238 | NF,HT | Report |
| #50 | | 807,030 | 73.98% | 999Winz | 164 | 1004&nbsp&nbsp/ 375 / 31 | 114 | 105 | 123 | NF,HT | Report |