Artist:
ZAQ
Circle Size:

Approach Rate:

Title:
Sparkling Daydream
HP Drain:

Star Difficulty:

(5.41)
Creator:
Chloe
Accuracy:

Length:
4:02 (3:43 drain)
Source:
中二病でも恋がしたい!
Genre:
Anime (Japanese)
BPM:
175
Tags:
opening chu-2 byo demo koi ga shitai natsu regraz csaq
User Rating:
Success Rate:
Points of Failure:


(graph is accumulative, based on % at fail/retry)

6.7% (1734 of 26047 plays)

Submitted:
Ranked:
Dec 11, 2015
Jul 25, 2017
Rating Spread:

Favourited 65 times in total

Users that love this map: Pixy_wow, Rumia-, youhot1148, zzzz134, Reia, crynetsystem, Atsuko Kagari, IzayaKun, dqs01733, s0lex1d, Lumision, Demon, Arua, Boxmanwoman, Brandon_p, STCMXN_JPY, SushiRogue, 503993210, Bemu016, Takarux and many more!
Options:
This Beatmap's Thread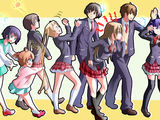 probably last mapset, hope you like it.
Rohulk is in the lead! ()
Score
69,929,698 (99.58%)
Max Combo
1623
300 / 100 / 50
1260 / 8 / 0
Misses
0
Geki (Elite Beat!)
243
Katu (Beat!)
6
Mods
HD,HR
Top 50 Scoreboard
| | Rank | Score | Accuracy | Player | Max Combo | 300 / 100 / 50 | Geki | Katu | Misses | Mods | |
| --- | --- | --- | --- | --- | --- | --- | --- | --- | --- | --- | --- |
| #1 | | 69,929,698 | 99.58% | Rohulk | 1623 | 1260&nbsp&nbsp/ 8 / 0 | 243 | 6 | 0 | HD,HR | Report |
| #2 | | 69,451,322 | 99.20% | ReaL motion | 1624 | 1253&nbsp&nbsp/ 14 / 1 | 238 | 10 | 0 | HD,HR | Report |
| #3 | | 66,219,804 | 99.95% | - Slice - | 1624 | 1267&nbsp&nbsp/ 1 / 0 | 248 | 1 | 0 | HD | Report |
| #4 | | 66,126,833 | 99.89% | Haynoru | 1624 | 1266&nbsp&nbsp/ 2 / 0 | 247 | 2 | 0 | HD | Report |
| #5 | | 66,028,240 | 99.63% | Karthy | 1623 | 1261&nbsp&nbsp/ 7 / 0 | 242 | 7 | 0 | HD | Report |
| #6 | | 65,970,843 | 99.63% | Tetla | 1621 | 1261&nbsp&nbsp/ 7 / 0 | 242 | 7 | 0 | HD | Report |
| #7 | | 65,940,939 | 99.58% | Arnbition | 1624 | 1260&nbsp&nbsp/ 8 / 0 | 243 | 6 | 0 | HR | Report |
| #8 | | 65,884,965 | 99.47% | little Agile | 1623 | 1258&nbsp&nbsp/ 10 / 0 | 240 | 9 | 0 | HD | Report |
| #9 | | 65,298,887 | 99.11% | [ Jewel Chino ] | 1621 | 1251&nbsp&nbsp/ 17 / 0 | 239 | 10 | 0 | HD | Report |
| #10 | | 64,912,628 | 98.25% | DigiDrake | 1622 | 1235&nbsp&nbsp/ 32 / 1 | 223 | 25 | 0 | HR | Report |
| #11 | | 64,692,916 | 97.96% | Rayne Sylvania | 1621 | 1230&nbsp&nbsp/ 35 / 3 | 223 | 24 | 0 | HD | Report |
| #12 | | 64,324,082 | 99.19% | pyrowar56 | 1600 | 1253&nbsp&nbsp/ 14 / 0 | 237 | 11 | 1 | HD | Report |
| #13 | | 64,137,653 | 97.61% | Happy New Year | 1613 | 1223&nbsp&nbsp/ 44 / 0 | 223 | 25 | 1 | HD | Report |
| #14 | | 62,371,050 | 99.68% | Neta | 1624 | 1262&nbsp&nbsp/ 6 / 0 | 244 | 5 | 0 | None | Report |
| #15 | | 62,346,800 | 99.79% | DeathAdderz | 1623 | 1264&nbsp&nbsp/ 4 / 0 | 245 | 4 | 0 | None | Report |
| #16 | | 62,308,940 | 99.63% | Golden-Lin | 1623 | 1261&nbsp&nbsp/ 7 / 0 | 243 | 6 | 0 | None | Report |
| #17 | | 62,255,020 | 99.68% | crynetsystem | 1623 | 1262&nbsp&nbsp/ 6 / 0 | 243 | 6 | 0 | None | Report |
| #18 | | 62,225,610 | 99.63% | zaqlev | 1624 | 1261&nbsp&nbsp/ 7 / 0 | 245 | 4 | 0 | None | Report |
| #19 | | 62,169,340 | 99.42% | rockrick | 1623 | 1257&nbsp&nbsp/ 11 / 0 | 240 | 9 | 0 | None | Report |
| #20 | | 62,051,660 | 99.42% | Ruchika | 1623 | 1257&nbsp&nbsp/ 11 / 0 | 242 | 7 | 0 | None | Report |
| #21 | | 62,032,850 | 99.42% | [ Kuro Usagi ] | 1622 | 1257&nbsp&nbsp/ 11 / 0 | 239 | 10 | 0 | None | Report |
| #22 | | 61,997,420 | 99.42% | Climate | 1623 | 1257&nbsp&nbsp/ 11 / 0 | 238 | 11 | 0 | None | Report |
| #23 | | 61,960,300 | 99.21% | Moegi | 1623 | 1253&nbsp&nbsp/ 15 / 0 | 239 | 10 | 0 | None | Report |
| #24 | | 61,933,410 | 99.16% | Gumi Rin | 1624 | 1252&nbsp&nbsp/ 16 / 0 | 237 | 12 | 0 | None | Report |
| #25 | | 61,903,940 | 99.11% | Pieisthetruth | 1621 | 1251&nbsp&nbsp/ 17 / 0 | 235 | 14 | 0 | None | Report |
| #26 | | 61,827,540 | 99.05% | zenya | 1621 | 1250&nbsp&nbsp/ 18 / 0 | 233 | 16 | 0 | None | Report |
| #27 | | 61,778,870 | 98.67% | tomatoh4wk | 1621 | 1243&nbsp&nbsp/ 24 / 1 | 231 | 17 | 0 | None | Report |
| #28 | | 61,723,410 | 98.74% | Rizia | 1624 | 1244&nbsp&nbsp/ 24 / 0 | 232 | 17 | 0 | None | Report |
| #29 | | 61,583,110 | 98.48% | l1mi | 1622 | 1239&nbsp&nbsp/ 29 / 0 | 228 | 21 | 0 | None | Report |
| #30 | | 61,546,160 | 98.73% | TenaPotato | 1623 | 1244&nbsp&nbsp/ 23 / 1 | 230 | 18 | 0 | None | Report |
| #31 | | 61,030,940 | 98.51% | D non | 1618 | 1240&nbsp&nbsp/ 27 / 1 | 228 | 20 | 0 | None | Report |
| #32 | | 60,869,250 | 98.21% | Garden | 1622 | 1234&nbsp&nbsp/ 34 / 0 | 229 | 20 | 0 | None | Report |
| #33 | | 60,556,740 | 97.27% | Prophet | 1621 | 1216&nbsp&nbsp/ 52 / 0 | 216 | 33 | 0 | None | Report |
| #34 | | 60,506,180 | 96.73% | Garch | 1621 | 1206&nbsp&nbsp/ 61 / 1 | 208 | 40 | 0 | None | Report |
| #35 | | 54,163,710 | 98.50% | Megami Aqua | 1521 | 1242&nbsp&nbsp/ 21 / 0 | 226 | 20 | 5 | None | Report |
| #36 | | 52,121,304 | 98.92% | [ Athena ] | 1442 | 1249&nbsp&nbsp/ 16 / 0 | 235 | 11 | 3 | HD | Report |
| #37 | | 49,443,490 | 97.59% | maximaxiU | 1452 | 1225&nbsp&nbsp/ 36 / 3 | 223 | 21 | 4 | None | Report |
| #38 | | 48,563,713 | 99.13% | Blazy | 1384 | 1252&nbsp&nbsp/ 15 / 0 | 235 | 13 | 1 | HD | Report |
| #39 | | 47,969,710 | 96.94% | Zenmaistermolla | 1436 | 1211&nbsp&nbsp/ 54 / 1 | 204 | 43 | 2 | None | Report |
| #40 | | 47,625,340 | 98.76% | Blackmantion | 1415 | 1245&nbsp&nbsp/ 22 / 0 | 234 | 14 | 1 | None | Report |
| #41 | | 44,158,737 | 99.11% | ABERON | 1320 | 1253&nbsp&nbsp/ 10 / 2 | 239 | 7 | 3 | HD | Report |
| #42 | | 42,222,670 | 99.32% | wallyk | 1313 | 1256&nbsp&nbsp/ 9 / 2 | 241 | 6 | 1 | None | Report |
| #43 | | 42,195,340 | 97.50% | Empowers | 1332 | 1222&nbsp&nbsp/ 42 / 2 | 218 | 28 | 2 | None | Report |
| #44 | | 41,570,880 | 98.08% | joolomasta | 1318 | 1232&nbsp&nbsp/ 35 / 0 | 226 | 22 | 1 | None | Report |
| #45 | | 41,475,370 | 98.11% | Loazo | 1290 | 1232&nbsp&nbsp/ 36 / 0 | 222 | 27 | 0 | None | Report |
| #46 | | 40,227,511 | 92.52% | My Angel Chippy | 1303 | 1131&nbsp&nbsp/ 123 / 7 | 160 | 80 | 7 | HR | Report |
| #47 | | 39,796,640 | 97.61% | [ ZanKrosS ] | 1287 | 1224&nbsp&nbsp/ 40 / 2 | 221 | 25 | 2 | None | Report |
| #48 | | 36,926,509 | 98.78% | Raindrop | 1110 | 1246&nbsp&nbsp/ 19 / 1 | 231 | 17 | 2 | HD | Report |
| #49 | | 35,987,630 | 98.84% | Coyri | 1160 | 1246&nbsp&nbsp/ 22 / 0 | 230 | 19 | 0 | None | Report |
| #50 | | 35,577,410 | 96.27% | -caban- | 1241 | 1200&nbsp&nbsp/ 62 / 0 | 204 | 41 | 6 | None | Report |