Artist:
ZAQ
Circle Size:

Approach Rate:

Title:
Sparkling Daydream
HP Drain:

Star Difficulty:

(5.41)
Creator:
Chloe
Accuracy:

Length:
4:02 (3:43 drain)
Source:
中二病でも恋がしたい!
Genre:
Anime (Japanese)
BPM:
175
Tags:
opening chu-2 byo demo koi ga shitai natsu regraz csaq
User Rating:
Success Rate:
Points of Failure:


(graph is accumulative, based on % at fail/retry)

10.0% (96 of 962 plays)

Submitted:
Qualified:
Dec 11, 2015
Jul 18, 2017
Rating Spread:

Favourited 9 times in total

Users that love this map: Pixy_wow, MoeMoeKyunNN, Reia, dqs01733, Lumision, Arua, Bemu016, Ricoocta, aj46 joseph
Options:
This Beatmap's Thread
This map is in a QUALIFIED state.
Beware that the leaderboard will be reset before it is ranked!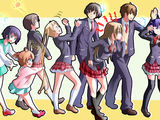 probably last mapset, hope you like it.
Teachu is in the lead! ()
Score
65,514,123 (98.84%)
Max Combo
1623
300 / 100 / 50
1246 / 22 / 0
Misses
0
Geki (Elite Beat!)
234
Katu (Beat!)
15
Mods
HD
Top 50 Scoreboard
| | Rank | Score | Accuracy | Player | Max Combo | 300 / 100 / 50 | Geki | Katu | Misses | Mods | |
| --- | --- | --- | --- | --- | --- | --- | --- | --- | --- | --- | --- |
| #1 | | 65,514,123 | 98.84% | Teachu | 1623 | 1246&nbsp&nbsp/ 22 / 0 | 234 | 15 | 0 | HD | Report |
| #2 | | 64,582,220 | 97.90% | pyrowar56 | 1615 | 1229&nbsp&nbsp/ 35 / 4 | 220 | 26 | 0 | HD | Report |
| #3 | | 62,325,260 | 99.74% | Schill Cyrene | 1623 | 1263&nbsp&nbsp/ 5 / 0 | 244 | 5 | 0 | None | Report |
| #4 | | 61,546,570 | 98.37% | B a k a N a | 1622 | 1237&nbsp&nbsp/ 31 / 0 | 223 | 26 | 0 | None | Report |
| #5 | | 61,099,810 | 97.88% | Sebu | 1623 | 1228&nbsp&nbsp/ 39 / 1 | 219 | 29 | 0 | None | Report |
| #6 | | 58,739,586 | 99.00% | AAA | 1624 | 1249&nbsp&nbsp/ 19 / 0 | 240 | 9 | 0 | HD,SO | Report |
| #7 | | 53,385,000 | 95.77% | Halfslashed | 1529 | 1188&nbsp&nbsp/ 79 / 0 | 198 | 50 | 1 | None | Report |
| #8 | | 42,984,750 | 99.42% | Rizia | 1321 | 1257&nbsp&nbsp/ 11 / 0 | 239 | 10 | 0 | None | Report |
| #9 | | 42,164,650 | 98.63% | Legestrophe | 1306 | 1243&nbsp&nbsp/ 23 / 0 | 233 | 15 | 2 | None | Report |
| #10 | | 39,864,960 | 98.16% | PantyDev | 1284 | 1235&nbsp&nbsp/ 28 / 2 | 230 | 16 | 3 | None | Report |
| #11 | | 34,583,450 | 98.73% | nuc | 1108 | 1246&nbsp&nbsp/ 16 / 3 | 235 | 10 | 3 | None | Report |
| #12 | | 34,059,077 | 95.53% | waaiiru | 1107 | 1188&nbsp&nbsp/ 68 / 4 | 198 | 46 | 8 | HD,HR | Report |
| #13 | | 27,563,040 | 97.07% | Vitara | 1056 | 1216&nbsp&nbsp/ 44 / 1 | 213 | 30 | 7 | None | Report |
| #14 | | 25,769,961 | 99.50% | Meg | 850 | 1259&nbsp&nbsp/ 8 / 0 | 241 | 7 | 1 | HD | Report |
| #15 | | 22,247,473 | 92.22% | terryaa | 700 | 1123&nbsp&nbsp/ 138 / 2 | 162 | 83 | 5 | HR | Report |
| #16 | | 20,780,330 | 97.46% | ruitica | 683 | 1223&nbsp&nbsp/ 38 / 1 | 216 | 28 | 6 | None | Report |
| #17 | | 20,285,770 | 97.59% | Elias- | 828 | 1225&nbsp&nbsp/ 36 / 3 | 222 | 21 | 4 | None | Report |
| #18 | | 19,325,170 | 98.30% | Didas | 806 | 1239&nbsp&nbsp/ 22 / 1 | 229 | 16 | 6 | None | Report |
| #19 | | 17,171,556 | 96.88% | RMEfan | 696 | 1214&nbsp&nbsp/ 41 / 5 | 214 | 30 | 8 | HD | Report |
| #20 | | 15,316,383 | 94.60% | Garch | 664 | 1172&nbsp&nbsp/ 80 / 5 | 193 | 45 | 11 | HD | Report |
| #21 | | 15,276,500 | 97.71% | CoLouRed GlaZeE | 529 | 1226&nbsp&nbsp/ 38 / 2 | 217 | 29 | 2 | None | Report |
| #22 | | 14,568,750 | 96.75% | UndeadCapulet | 534 | 1211&nbsp&nbsp/ 46 / 3 | 209 | 32 | 8 | None | Report |
| #23 | | 14,361,460 | 94.68% | Fen1ka | 687 | 1171&nbsp&nbsp/ 87 / 3 | 185 | 57 | 7 | None | Report |
| #24 | | 14,355,050 | 97.38% | Tinkle | 587 | 1223&nbsp&nbsp/ 33 / 5 | 222 | 20 | 7 | None | Report |
| #25 | | 13,693,950 | 93.57% | Superfinemike | 550 | 1157&nbsp&nbsp/ 84 / 9 | 194 | 45 | 18 | None | Report |
| #26 | | 13,339,342 | 96.96% | HaruTachi- | 366 | 1213&nbsp&nbsp/ 49 / 1 | 210 | 37 | 5 | HD,HR | Report |
| #27 | | 12,982,120 | 90.09% | ifrithellish | 669 | 1093&nbsp&nbsp/ 145 / 6 | 162 | 68 | 24 | None | Report |
| #28 | | 12,832,980 | 97.12% | james4515 | 523 | 1217&nbsp&nbsp/ 43 / 1 | 210 | 32 | 7 | None | Report |
| #29 | | 11,965,960 | 93.43% | Knyacki | 629 | 1154&nbsp&nbsp/ 85 / 14 | 182 | 49 | 15 | None | Report |
| #30 | | 11,794,200 | 95.69% | MegaMagicPencil | 442 | 1191&nbsp&nbsp/ 65 / 4 | 195 | 45 | 8 | None | Report |
| #31 | | 11,478,110 | 92.39% | Mikaela Hyakuya | 579 | 1131&nbsp&nbsp/ 121 / 1 | 164 | 72 | 15 | None | Report |
| #32 | | 11,114,760 | 97.41% | pffo | 478 | 1226&nbsp&nbsp/ 24 / 7 | 226 | 14 | 11 | None | Report |
| #33 | | 10,985,960 | 95.77% | dekepq | 528 | 1191&nbsp&nbsp/ 70 / 0 | 202 | 42 | 7 | None | Report |
| #34 | | 10,236,310 | 96.19% | Leopardsclaws | 510 | 1202&nbsp&nbsp/ 51 / 4 | 208 | 30 | 11 | None | Report |
| #35 | | 9,899,047 | 97.33% | Suimmy | 326 | 1223&nbsp&nbsp/ 33 / 1 | 223 | 19 | 11 | HD | Report |
| #36 | | 7,982,770 | 92.98% | Scarves | 442 | 1142&nbsp&nbsp/ 109 / 4 | 182 | 55 | 13 | None | Report |
| #37 | | 7,583,719 | 95.82% | Queno | 266 | 1196&nbsp&nbsp/ 54 / 6 | 206 | 35 | 12 | HD | Report |
| #38 | | 7,557,500 | 93.80% | -Raven- | 338 | 1158&nbsp&nbsp/ 91 / 6 | 192 | 44 | 13 | None | Report |
| #39 | | 7,501,250 | 93.13% | Rean1337 | 475 | 1153&nbsp&nbsp/ 83 / 1 | 170 | 53 | 31 | None | Report |
| #40 | | 7,464,260 | 96.81% | Wendy-chan | 439 | 1216&nbsp&nbsp/ 34 / 1 | 214 | 24 | 17 | None | Report |
| #41 | | 7,383,700 | 94.06% | GGisgay | 354 | 1160&nbsp&nbsp/ 96 / 4 | 184 | 54 | 8 | None | Report |
| #42 | | 7,251,059 | 92.97% | pzhxbz | 301 | 1142&nbsp&nbsp/ 110 / 1 | 175 | 60 | 15 | HD | Report |
| #43 | | 7,139,906 | 94.10% | IGLaDoSI | 336 | 1163&nbsp&nbsp/ 85 / 11 | 189 | 49 | 9 | HD | Report |
| #44 | | 7,139,520 | 94.81% | tiiiiick | 298 | 1176&nbsp&nbsp/ 75 / 7 | 192 | 45 | 10 | None | Report |
| #45 | | 6,650,110 | 93.43% | imoo | 345 | 1155&nbsp&nbsp/ 86 / 6 | 183 | 44 | 21 | None | Report |
| #46 | | 6,642,390 | 91.47% | -Tsukiko | 352 | 1121&nbsp&nbsp/ 109 / 15 | 174 | 56 | 23 | None | Report |
| #47 | | 6,642,040 | 86.86% | [ HDDT ] | 440 | 1034&nbsp&nbsp/ 196 / 12 | 124 | 100 | 26 | None | Report |
| #48 | | 6,315,730 | 93.85% | Lyyris | 331 | 1162&nbsp&nbsp/ 78 / 12 | 193 | 40 | 16 | None | Report |
| #49 | | 6,100,010 | 92.00% | 5higetora | 321 | 1138&nbsp&nbsp/ 82 / 7 | 180 | 37 | 41 | None | Report |
| #50 | | 6,084,670 | 94.62% | FarCost | 308 | 1178&nbsp&nbsp/ 65 / 1 | 187 | 42 | 24 | None | Report |